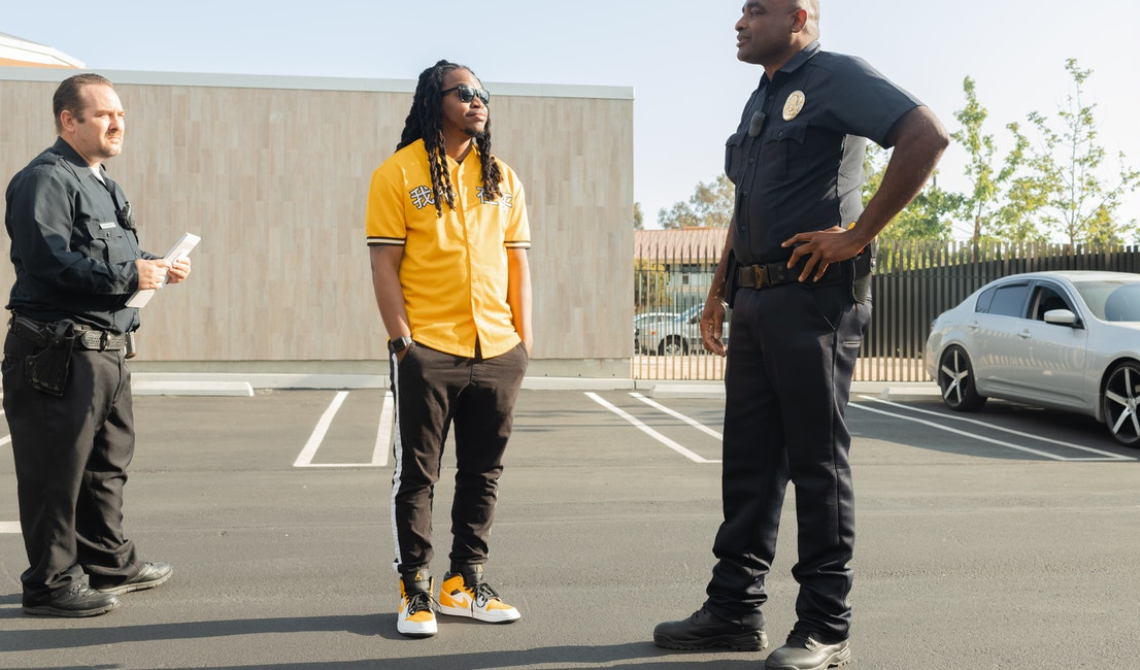 The United States releases over seven million individuals annually, including more than 600,000 people from prison.
Moreover, the Bureau of Justice Statistics reported an estimated 3,890,400 released adults were under community supervision in 2020. 
However, another study indicates that two-thirds of released individuals in the U.S. may face future rearrests. Additionally, 50% of these ex-offenders may experience imprisonment after their release. 
One crucial factor in lowering recidivism, or the tendency of former inmates to re-offend, is the availability of trained correctional officers. These specific law enforcement agents are parole and probation officers.
Are you wondering what a parole officer does? What is the difference between a probation and parole officer? How can these professionals help inmates' reentry into society? 
Additionally, you may ask questions about the requirements for becoming a correctional officer. Do you need a bachelor's degree? Do you need to have casework experience?
Moreover, you may also be curious about your sentence's status or that of your loved one. 
lookupinmate.org is a comprehensive resource for learning about inmates and correctional facilities nationwide. Read on if you want more information on parole officers' function in the criminal justice system.
What Is a Parole Officer?
Parole officers are law enforcement specialists who supervise released individuals, ensuring that these former inmates are not committing parole violations. 
Parole Officer Roles: What Is the Responsibility of a Parole Officer?
The following sections enumerate the possible roles and responsibilities of a parole officer.
Parole Officer Roles
The parole officer's roles may include:
Assessing an inmate's mental health, criminal record, and prison behavior to see if they merit consideration for parole
Lowering risks to public safety by regularly monitoring parole individuals' activities
Proactively curtailing parolees' harmful activities, e.g., imposing special curfews and substance abuse counseling sessions
Duties and Common Tasks
The following indicates a parole officer's job description:
Assist paroled individuals in finding employment opportunities
Supervise intense or lower-stakes caseloads
Apply advanced case management strategies to help rehabilitate ex-offenders
Refer parolees to social services, such as housing programs
Ensure paroled individuals adhere to periodic drug tests
Work with parole boards during candidates' pre-release interviews
How to Become a Parole Officer
Many parole board human resources require applicants to have a bachelor's degree in courses like psychology, criminal justice, corrections, or social work.
However, some parole agencies require a Master's Degree in Criminal Justice or a related field. 
In most states, applicants must be at least 21 years old and possess a driver's license. 
Some states also require parole officer aspirants to attend a unique training academy. For example, Georgia's parole officers must finish an eight-week Peace Officer Standards and Training (POST) at the Georgia Public Safety Training Center.
Listed below are some procedures you can take to become a parole officer:
Get a degree in criminal justice or any related field
If applicable, complete an internship in your region's department of corrections to gain relevant experience
Apply for a parole officer position with a hiring agency
Send in documents, such as your social security card, driver's license, and degree certificate
Submit to several background checks
In some cases, you may need to undergo additional training after an agency hires you.
Moreover, some regional or federal hiring agencies require an applicant to pass a civil service examination.
Parole Officer: Career Guide
Below are some pertinent details regarding the parole officer's job.
Parole Officer Job Training
Newly hired parole officers typically undergo agency training. This additional instruction entails shadowing a senior parole officer for a few weeks to learn how to work with offenders, monitor their progress, and keep thorough records that can serve as evidence in court. 
Moreover, parole officers should anticipate scenarios where the parolees under their supervision will return to custody, so training also often covers arrest techniques and using lethal weapons. 
Furthermore, a rookie parole officer would generally work with a parole supervisor for up to a year after completing initial training before being given cases to handle on their own.
Officers who focus on a particular demographic, such as sex offenders or children, may need advanced training. 
Some examples of unique demographic training include sensitivity training, family and child counseling, and sex offender treatment training.
Possible Job Titles for This Career
Here are a few job titles for parole officers:
Correctional Treatment Specialist
Parole Officer
Probation Officer
Community Supervision Officer
Other Helpful Skills and Experience
Parole officers must be able to work with various people, including criminals, police officers, and the general public. This job description means that parole officer aspirants should learn how to communicate, actively listen, instruct others effectively, and manage their own schedules.
Moreover, parole officers must always be aware of their environment and the attitude of those with whom they work, as their job can be dangerous. 
Additionally, prospective parole officers should be physically fit to meet the job's requirements. 
Furthermore, individuals seeking to become parole officers should have at least a bachelor's degree. 
For example, one survey showed that 88% of professionals in the field think that applicants should possess a bachelor's degree.
Probation Officer vs. Parole Officer: What Makes Them Different?
The confusion regarding the differences and similarities between probation and parole officers is understandable because these professions are similar. 
For instance, the disciplinary professions above are responsible for the community supervision of convicted individuals. 
However, parole and probation have crucial distinctions regarding their specific roles and responsibilities.
The following sections compare the duties and tasks of probation and parole officers.
Differences Between Probation and Parole Officers
The fundamental difference between parole and probation officers is their work contexts. For example, parole officers work with parole cases, while probation officers handle probation situations.
You can understand the subtle distinctions between the two disciplinary professions by knowing the difference between parole and probation.
For instance, courts frequently order probation before a defendant enters a correctional facility to fulfill a jail or prison term. In contrast, legal courts award parole with the assistance of a parole board after the convicted parties have served part of their criminal sentences. 
In other words, probation and parole officers have similar tasks as community supervisors for convicted criminals. However, these specialists differ regarding the status of individuals they monitor.
Understanding the variations between probation and parole is vital for parole officers and parolees because these criminal sentences determine an inmate's release conditions.
For example, probationers (individuals under probation) can have different supervision conditions than parolees.
Who They Work With
Parole officers work with defendants who have served a portion of their criminal sentences. In contrast, probation officers monitor individuals who have received a conditional release instead of a jail or prison sentence.
The Nature of the Crime
The criminal records of probationers and parolees may differ regarding severity. 
In most cases, those who receive probation instead of incarceration have committed misdemeanors or less grave criminal acts and hardly ever engage in violent crimes. 
On the other hand, individuals who have received prison sentences are more likely to have a history of grave offenses, even though they may be eligible for early release through parole grants. 
In addition to the specifics of an individual's offenses, parole boards also consider the inmates' personalities and behaviors.
Probation Officer Overview
A probation officer is a member of the police force responsible for keeping an eye on criminals who have received conditional release orders but are still under the jurisdiction of the criminal court system.
Moreover, parole officers typically have credentials in law and sociology. These professionals also have the authority to arrest and detain offenders. 
Parole specialists also work at the city, county, and state levels.
While the general public views probation officers as little more than the criminals' supervisors, their functions inside the legal system are more extensive and intricate. 
For instance, the role of probation officers is necessary even before the court imposes a probation sentence. These officials can advise the prosecution, the jury, and the judges well before the trial starts.
In many regions, probation officials also take on the duty of parole officers, who supervise felons' reintegration into society.
Similarities Between Probation and Parole Officers
Parole and probation are comparable in significant ways. For example, these criminal sentences refer to criminal justice procedures that require keeping an offender under watch.
As a result, probation officers and parole officers perform similar supervision.  
For instance, parole and probation officers implement standard requirements for criminals, including paying fines, abstaining from drugs and alcohol, reporting to supervising officers regularly, maintaining a job, and residing in approved housing. 
The correction professionals also ensure that there is no violation of parole or probation conditions. These specialists can impose sanctions if an individual under their supervision fails to observe the requirements.
Probation vs. Parole Officer: Which Is Right for You?
After knowing the distinctions between a probation officer and a parole officer, you have equipped yourself with the knowledge to make an excellent career decision. 
Remember that a parole officer's job is very similar to that of a correctional probation officer. 
Suppose you take an interest in criminal justice and in giving ex-offenders the tools they need to stop committing crimes in the future. In that case, you may perceive that either career is suitable. 
However, you can also decide using the nuances of the parole and probation officer jobs.
For instance, parole officers often work with fewer individuals and check on their supervisees more often, so a job as a parole specialist can be an excellent option if you want to develop better relationships with the criminals you monitor.
On the other hand, working as a probation officer can be a better option if you want to interact with a larger group of people.
Lastly, probation and parole officers work to keep offenders from committing new crimes or repeating old ones that go against the court-imposed regulations. However, you may also consider the different supervision approaches they employ.
FAQs
What type of work schedule is usual for a parole officer?
Parole officers have different work schedules depending on their department's requirements. 
However, some agencies require parole officials to be available for calls 24 hours a day, seven days a week.
Do you need a certification to work as a parole officer?
States and the federal government require parole officers and probation officers to have the necessary certification to work as correctional officers.
You may check with your state's Department of Corrections to determine the eligibility requirements for becoming a parole officer in your area.
How do you become a parole agent in California?
You need to meet the following requirements to become a parole agent in California:
One year of experience managing individual caseloads in parole, probation, or social casework areas.
A bachelor's degree or any equivalent to earning a bachelor's degree. 
Candidates can be eligible for admission to an exam if they register as seniors at a recognized institution. However, they must show proof of graduation or its equivalent before the agency can qualify them for an appointment.
How much do parole agents make in California?
A parole officer's salary in California can range from $6,155 to $10,227, depending on seniority status.
What are the functions of parole?
The following list shows the possible functions of parole:
Facilitate parolees' reentry to society by assisting them in their residential, employment, and personal needs
Protect public safety by preventing the paroled individual from committing a new crime
Reduce unnecessary imprisonment of individuals who are less likely to commit further offenses
References
1. Incarceration
https://www.healthypeople.gov/2020/topics-objectives/topic/social-determinants-health/interventions-resources/incarceration
2. Probation and Parole in the United States, 2020
https://bjs.ojp.gov/content/pub/pdf/ppus20.pdf
3. Parole Officer Careers
https://pap.georgia.gov/employment/parole-officer-careers
4. Probation Officers and Correctional Treatment Specialists 21-1092.00
https://www.onetonline.org/link/summary/21-1092.00
5. Probation Officers and Correctional Treatment Specialists 21-1092.00
https://www.onetonline.org/link/summary/21-1092.00
6. Shift Schedule
https://www.in.gov/idoc/careers-in-corrections/parole-officer/shift-schedule/
7. Parole Agent I, Adult Parole (9765)
https://www.calhr.ca.gov/state-hr-professionals/Pages/9765.aspx
8. Classifications, Salary Ranges, and Exams
https://www.cdcr.ca.gov/careers/career-opportunities/it/it-classifications/