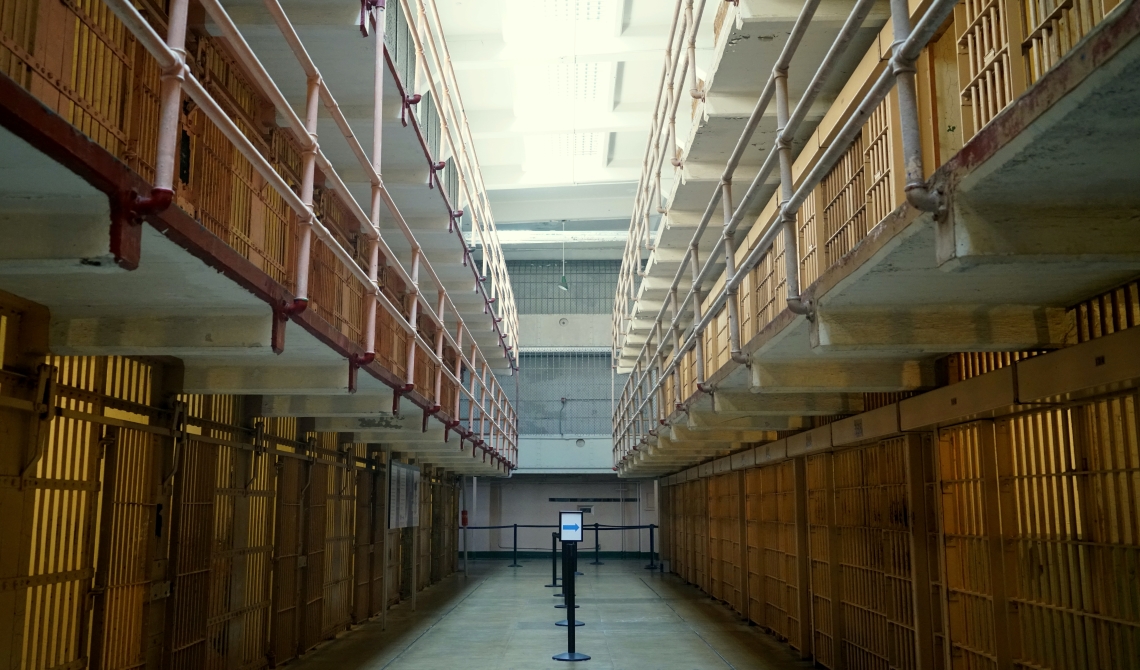 All inmates wait for the day they complete their sentences and meet their family members and friends again outside prison walls. 
However, inmates' release from prison is not just a matter of leaving their cell and correctional facility. Prisoners follow a process. 
In some cases, people become returning citizens (a term for an ex-offender) earlier than their release dates due to good behavior and other considerations. 
What is an early release from prison, and who is eligible for this privilege? What factors matter when seeking an early release and who are the decision-makers involved in granting it?
This guide will discuss everything you need to know about early releases and the steps involved in securing such privilege for yourself or your loved one.
lookupinmate.org is a prisoner search portal that gives you access to information about more than 7,000 jails and prisons across the United States. 
This website also offers plenty of educational resources on different aspects of prison life, including preparation for one's release.
What Is an Early Release From Prison?
Early release from prison means that the Department of Corrections and Rehabilitation or the Federal Bureau of Prisons has allowed you to leave the correctional facility before the end of your sentence.
Inmates have to know if they are eligible for early release and how soon they can file a motion for this program.
What Is Early Release From Prison Called?
Parole is the term that generally pertains to one's early release from prison. Offenders with an indeterminate prison term, or a range of years (like one to five years) instead of a fixed time, can be released before the five years are over. 
Meanwhile, prisoners with a determinate sentence or a definite sentence length must serve the minimum required years before becoming eligible for parole.
Who Can Grant an Early Release or Parole From Prison?
Inmates must apply to start parole proceedings. The parole board holds a hearing to review a prisoner's request and evaluate if the inmate is eligible for parole or conditional release. 
The governor appoints the members of state parole boards. Meanwhile, the U.S. Attorney-General's Office selects members of the U.S. Parole Commission for federal cases.
Who Is Eligible for Parole?
Parole application and eligibility can vary from one state to another. Some crimes may not be eligible for parole. The following are typically not eligible for early release:
Pretrial inmates
Immigration and Customs Enforcement detainees
Felons, or offenders involved in violent crimes and serving a sentence of more than a year, with current convictions involving:

The use of or attempt to use physical force against a person or the property of another
The ownership or use of a firearm, explosives, or a dangerous weapon
The sexual abuse of minors

Conspirators in violent crimes, such as murder, assault, kidnapping, robbery, and arson
Prisoners who previously received an early release under 18 U.S.C 3621 (e).  
Meanwhile, federal inmates who received a maximum sentence of one year or less are not eligible for parole.
Parole boards can also grant early release on compassionate grounds, including medical and elderly parole.
What Is Medical Parole?
Officials may grant compassionate release on medical grounds if the inmate has:
A terminal health issue and only has an expected 18 months or fewer to live
A debilitating injury with zero to a low chance of recovery or incurable and progressive illness
What Is Elderly Parole?
Senior prisoners can be eligible for elderly-medical parole if: 
They are 65 years or older.
They have an age-related chronic or serious medical condition that standard treatment cannot improve.
They have deteriorating physical or mental health that prevents them from functioning normally in jail or prison.
They have served at least half of their sentence.
Meanwhile, senior inmates who are 70 years or older and received a conviction for an offense committed on or after November 1, 1987, can file a nonmedical parole application. These applicants should have served 30 years or more of their term.
Prisoners 65 years old and above who have completed more than 10 years or 75% of their sentence are also eligible for nonmedical parole. 
However, incarcerated people with convictions under the "Categorization of Offenses"—primarily violent crimes—have to undergo further inspection. 
What Is Youth Offender Parole?
Officials can grant parole to youth offenders or individuals who committed crimes when they were 25 years old and below. 
Terms of this parole can vary by state. In California, sex offenders sentenced to life or death row during their youth are not eligible for this type of parole.
Options to Get Out Early: What Factors Are Considered by the Parole Board?
To determine a person's parole eligibility, the parole board considers the number of years an inmate has already completed their sentence and the severity of their crime.
The board also evaluates the prison conduct, health status, and specific characteristics of an inmate, such as their prior criminal record, age, mental stability, and marital status.
Moreover, parole board officials check if prisoners have solid housing and job prospects and would not be a threat to public safety after their early release.
Although states have their unique parole processes and eligibility standards, the following elements will undergo examination for all early release program aspirants:
Good Time Credit
Inmates earn good time credits—or good conduct time—for complying with prison rules or display of good conduct. These credits differ from earned time, which officials put on the prisoners' records for completing specific rehabilitation programs.
Prisoners can also earn 54 days of good time credit for every year of their total sentence through complete attendance in recidivism (re-offending) reduction programs. 
This credit is part of the First Step Act enacted in 2018 during the Trump administration. 
Retracting Good-Time Awards
The BOP can retract or cancel an inmate's good time credits when they get a disciplinary infraction or misconduct record before the good time counting starts. 
Officials can also withdraw any good time credits prisoners earned in the previous year if they participate in a food strike, riot, or committed a serious misconduct. 
In some states, authorities can revoke or invalidate one's good time credits if they violate the terms of their parole.
Residential Drug Awareness Program (RDAP)
Inmates can also earn good time if they complete the RDAP. These program finishers can receive up to a 12-month reduction in their sentences.
The RDAP, which is only open to federal prisoners, is a three-phase individual and group therapy program for those recovering from substance abuse. Inmates can finish the program in six to 12 months.
Compassionate Release
As mentioned in the section "Who Is Eligible for Parole?" officials can consider inmates for early release due to their old age and deteriorating or terminal medical conditions.
Other grounds for compassionate release include the death or incapacitation of a family member who is the primary caregiver of the prisoner's child. 
Incapacitation happens when people lose their normal physical functions due to an accident or sickness. Prisoners can also apply for compassionate release when their spouse becomes incapacitated.
COVID-19 Pandemic Exception  
The Attorney-General's Office enacted the Coronavirus Aid, Relief, and Economic Security or CARES Act at the height of the pandemic in March 2020. 
This measure granted home confinement to mainly low– or minimum-security level prisoners who have served half of their sentences. Inmates at least aged 60 and who had no incident report in the past 12 months also received priority.
Executive Clemency
The U.S. president has various executive clemency powers under the Constitution, including the authority to grant pardon to someone who has committed a federal crime. Meanwhile, governors can pardon state prisoners.
The president also has the authority to commute or shorten a prisoner's sentence. However, unlike pardons, commutations do not restore voting rights and other civil disabilities lost due to one's criminal conviction.
Preparing a Petition for Clemency
Federal offenders who qualify for a presidential pardon must apply in the Office of the Pardon Attorney, which belongs to the Department of Justice.
Applicants must wait for at least five years since their release from prison before applying. The release should refer to completing the most recent criminal conviction, which may or may not be the subject of the pardon request.
Pardon
When granting a pardon, the president exonerates inmates who accept responsibility for their crime and have a long record of good conduct during the completion of their sentence.
A pardon restores a person's right to vote, sit on a jury, and hold a state or local office.
Probation
When the circumstances of a crime suggest that the law offender does not pose a danger to society, the court can grant probation instead of issuing a jail or prison sentence.  
Probationers can live in the community but must comply with the conditions set by the court for the specified probation period.
How Do You Write a Letter to Prison for Early Release?
Letters requesting early release go to the parole board for review. The letter should express how they have remarkably changed since being sentenced to prison and why their case deserves a review.
The letter-writing process will involve the following:
Using letterhead containing the parole board's address and contact information
Writing the correct greeting and closing
The letter must begin with "Dear Honorable Members of the Parole Board" and end with a colon rather than a comma. 
Adopting the parole board's point of view
After expressing heartfelt regret for your wrongdoing, list the steps you have taken to reform. These steps can be how you pursued educational opportunities, avoided misconduct in prison, and worked while in custody.    
At the same time, you should assure the board that you could adequately integrate into society by sharing your future housing, employment, health, and plans.
Inmates can also get the written support of people who are looking forward to their reentry to society, like a business official that the prisoner worked for while incarcerated, family, friends, and community leaders. 
What Is the Process for Offenders Receiving Parole Hearings?
The parole board holds hearings to determine whether the offender is ready to reintegrate with society through early release. 
Getting a parole hearing date is different from approval for early release. The board still sets the prisoner's release date based on the gravity of the current and past convictions and how recent the violations are.
Federal offenders attend several hearings—every two years—before the board grants their application. 
What Happens When an Offender Is Released?
Being on parole means conditional release. You are free, but you must fulfill the terms of your parole, depending on the set timeframe. Doing so will ensure that you keep your freedom and stay out of prison.
What Are the Conditions of Parole?
Typical parole conditions include:
Reporting to and obeying one's parole officer
Paying supervision fees, fines, or victim restitution
Undergoing regular drug and alcohol testing and rehabilitation
Not using prohibited substances and owning any weapons
Agreeing with the parole officer's search of self, vehicle, residence
Accomplishing community service work
Not leaving a geographic area without permission
Maintaining school or work attendance and notifying the supervising officer immediately about the change in employment status
Not changing residence or jobs without permission
Avoiding contact with any victims and criminal activity 
How Is Parole Monitored and Restricted? Electronic Detention
Authorities can include electronic monitoring, or the wearing of devices like ankle monitors, as part of one's parole conditions.
These ankle bracelets transmit wireless signals that allow authorities to determine your location in real-time. Some of these devices have built-in microphones. Other units can also detect one's alcohol level and the wearer's sweat.
Release on Parole: Operational Period  
The maximum length of parole for federal cases is five years, except for terrorism, sex, and drug offenses. 
Authorities can mandate lifetime supervision for these serious violations.
Longer Supervision After Serious Offenses
Parolees who committed state-level violence or sex-related offenses also have longer sentences.
In Colorado, sex offenders with class four felony convictions who were released on parole stay under supervision for at least 10 years. The maximum parole period in the state is the remaining years covering the former inmate's lifetime.
In New Jersey, Massachusetts, and Pennsylvania, criminals can stay on indefinite or lifetime parole for sexual assault and child kidnapping.
Can a Paroled Defendant Be Sent Back to Prison?
A paroled defendant can return to prison when they commit a crime while on parole or break their parole terms. 
The parole board convenes for a revocation hearing, which the parolee needs to attend. 
If the panel establishes that a violation did occur, the parolee may receive orders to serve part or the remainder of their sentence. Or the board may decide to let the parolee stay free but impose additional parole conditions.
Do You Need a Lawyer for Assistance With Early Release?
A criminal defense lawyer with experience handling early release filings can help you navigate the application process. These attorneys can also explain your rights and options.
The Debate for Early Prison Releases
Americans have mixed views about programs involving early release from prison. 
The California Department of Corrections and Rehabilitation (CDCR) organized a public online conference last April 2022 to seek opinions on the state's Proposition 57. CDCR made a call for mailed and emailed comments until April 13. 
The state regulation—which nearly two-thirds of Californians voted "yes" to in 2016—boosts the parole chances of nonviolent felons through credit-earning activities.
 "Prop 57" was implemented in May 2021 as an emergency measure to address overcrowding at local correctional facilities.
After Deadline for Public Comment Ends, Critics Weigh In on Early Release for State Prisoners
California's Office of Administrative Law approved changes to Prop 57, and they took effect in May 2021.
The move will allow over 63,000 inmates with violent crime convictions to shorten their prison sentence by one-third instead of a fifth. Moreover, almost 20,000 "lifers" or prisoners on life sentences can receive parole eligibility.
Some Californians opposed the permanence of the policy due to a mass shooting in Sacramento about a week before CDCR sought the public's feedback. 
One of the suspected killers in the incident—Smiley Allen Martin—was released on probation in February after serving less than half of his current prison term. 
Supreme Court Rejected Early Release for Violent Felons
In January 2022, the California Supreme Court declared that based on their review of Prop 57 ballot materials, drafters of the regulation excluded violent felons from the privilege of early parole.
According to the court's ruling, prisoners initially charged with a nonviolent felony sentence but are then incarcerated for a "violent felony" are still considered violent felons. 
References