Recidivism is a fundamental concept in criminal justice. If you are interested in knowing more about recidivism, lookupinmate.org has all the information you need.
lookupinmate.org is a one-stop site where you can access pertinent information regarding inmates and correctional facilities across the country. 
What Is Recidivism?
From a criminal justice perspective, recidivism refers to specific individuals' reversion to criminal behavior after:
A court of law had convicted these individuals of a prior criminal offense.
These individuals have received distinct criminal sentences, such as prison sentences.
These former inmates have served time in correctional facilities.
The National Institute of Justice (NIJ) measures recidivism rates by criminal activities resulting in rearrest, reconviction, or reentry to prison with or without a new sentence three years following an individual's release.
Moreover, the agency above considers recidivism a relevant factor when examining issues in the criminal justice system, such as:
Incapacitation: This terminology refers to the impact of a sanction on deterring particular individuals' criminal behaviors by removing them from society.
Specific deterrence: This phrase indicates whether a court-imposed sanction prevents individuals from committing new crimes.
Rehabilitation: This topic refers to a program that contributes to crime reduction by addressing individuals' needs or flaws.
Additionally, studies related to recidivism can also help a local jurisdiction determine whether its treatment programs are cost-effective. For instance, a Minnesota Department of Corrections analysis showed that Minnesota's incarceration program has helped incarceration agencies save taxpayers' money by reducing recidivism. 
Furthermore, policymakers and criminology professionals concerned with improving the prison system, lowering incarceration rates, and ensuring public safety can benefit from investigating recidivism.
What Is an Example of Recidivism? 
The Marshall Project, a non-profit journalism organization, suggests the following examples of recidivism:
Lawbreaking
Getting arrested
Criminal conviction
Prisoner reentry to prison
What Is the Difference Between Recidivism and Reoffending?
A United Nations document considers the terms "recidivism" and "reoffending" as two interchangeable words. According to this definition, the two terminologies refer to whether an individual subject to a criminal justice intervention reoffends in the future.
Another study observed that the psychological and criminal literature used the words recidivism and reoffending synonymously. However, this report also made a proper distinction between the two terms.
For example, according to the research above, you can differentiate recidivism from reoffending in the following manner:
Reoffending involves an individual guilty of prior criminal activity committing any illegal act. This illegal activity may either be on an official criminal record (reconviction) or not.

In contrast, recidivism also refer to individuals relapsing into previous criminal behavior patterns. This definition implies that recidivism pertains to recidivists' law-breaking activities related to their previous criminal offense patterns.


Recidivism is a broader category incorporating reoffending and reconviction outcomes.
Key Findings on Recidivism
Below are some significant studies and outcomes regarding recidivism.
What Are the Three Reasons for High Recidivism?
A study on the rate of recidivism among New York youth showed that the three variables most consistently associated with recidivism risk are:
Age at discharge
Criminal history
Community characteristics
It may also interest you to know that over 95% of the recidivists in the study had issues in four or more of the following areas:
Substance abuse
Behavior at school
Educational handicaps
Academic performance
Mental health 
Household characteristics
Abusive family settings
Relationships with family members
Moreover, the factors that can influence reports on the risk of recidivism include: 
Gender
Geographical regions
Adjudication
Type of recidivism
What Are the Three Offense Categories With the Highest Recidivism?
As per the Bureau of Justice Statistics, or BJS analysis, the three categories of offense with the highest recidivism based on rearrest rates are:
Property
Drugs
Public order
However, you may note that an arrest does not necessarily mean a criminal conviction or official reincarceration. 
The Difference in Cumulative Five-Year Return-to-Prison Rates (2005 vs. 2012)
The cumulative five-year reincarceration rate for released individuals in 2012 (71%) was six percent lower than in 2005 (77%). 
Rearrest by Crime Type (2005 vs. 2012)
The column below compares the percentages of rearrests by crime type for 2005 and 2012.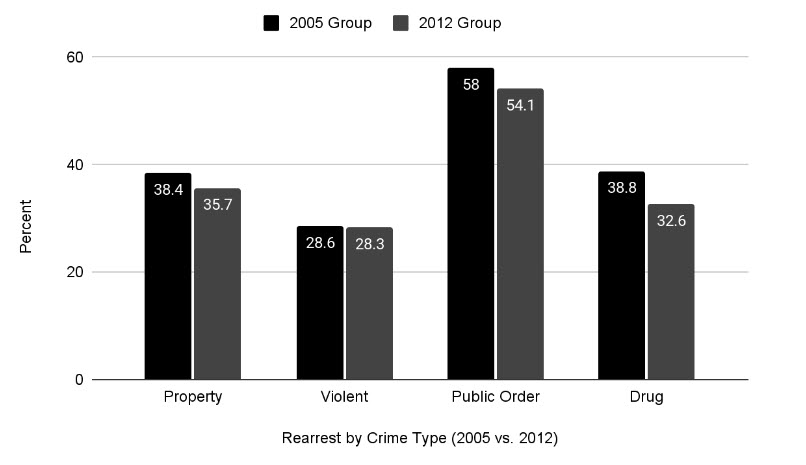 Recidivism Rates and Outcomes: What You Need to Know
A report highlighted the following observations on the rate and state of recidivism in the United States:
Rearrest rates are persistently high. 
Released offenders in 2012 had a cumulative five-year rearrest rate of 71%, six percentage points lower than those released in 2005 (77%).
Moreover, in the span of seven years, the rearrest rate for violent offenses remained relatively the same. However, rearrest rates for property, drug, and public order offenses have declined.
The reincarceration rate has dropped significantly.
Released individuals from state prison in 2012 were far less susceptible to prison reentry than those released in 2005. 
Furthermore, 19.9% of the 2012 group returned to prison the first year after release, compared to 30.4% of the 2005 group. 
Older individuals have a lower rate of returning to prison.
Released individuals under the age of 24 were 64% more likely to receive prison sentences again in the fifth year (56.8%) than those released over the age of 40 (36.3%).
Criminal activity is not highly specific.
The findings above are consistent with previous research showing that most criminal acts are not highly specific and that labeling someone as "violent" or "non-violent" is too simplistic.
For example, in 2012, individuals serving prison sentences for violent crimes had a risk of rearrest for property offenses (28.9%), almost the same as for violent crimes (32.4%). 
Similarly, people serving sentences for property crimes (29.6%) had a high rearrest risk for violent crimes (51.2%). 
The exact reason for the reduction in return-to-prison rates is unclear.
The decrease in recidivism rates can be due to either of the following causes:
Behavioral changes among the released individuals (i.e., committing fewer crimes or non-compliance with supervision)
Changes in the criminal justice system's programs (such as police arrest protocols or policies regarding how parole and probation bodies respond to oversight violations)
Different metrics state different narratives.
Historically, the rate at which individuals returned to prison within three years of release was the most prevalent measure of recidivism. 
Moreover, analysts widely assumed that the three-year state prison recidivism rate remained stable at around 50% because there were long gaps between national reports over the last few decades.
However, the BJS has recently reported recidivism rates more frequently and has used various measures, including the rearrest rate. These variations in the duration of follow-up reports can result in different explanations for recidivism data.
Rearrests are primarily due to public order offenses.
Public order offenses are the principal reason for the rearrests of individuals post-release. 
Moreover, rearrests for public order offenses account for 58% of 2005 releases and 54% of 2012 releases.
The severity of an initial conviction has no established correlation with recidivism risk.
The BJS report suggests that longer-term criminal records do not indicate recidivism risk.
For instance, released individuals in 2012 who had homicide convictions were the least susceptible to rearrest. 
This observation above follows from the study's outcome that 41.3% of these individuals have experienced rearrests at least once after five years. In contrast, individuals who received property crime convictions were most likely to experience rearrests (at 78.3% over five years). 
The State of Recidivism in the United States
Listed below are several reports on the state of recidivism in different regions in the United States.
Michigan Reduces Its Prison Population by 12% 
At the beginning of the 2000s, the state of Michigan's criminal justice system was experiencing problems regarding high crime rates, a rapidly rising prison population, and disappointing recidivism statistics. 
However, after less than a decade, the state was able to shrink its prison population by 12%. This success was due mainly to the Michigan Prisoner Reentry Initiative (MPRI). 
Moreover, the MPRI aimed to equip every released inmate with the tools to succeed in their respective communities.
For instance, the MPRI can help individuals improve their second chance at life following imprisonment by addressing specific needs, including:
Housing
Transportation
Employment
Mental health care, such as treatments for addiction or mental illness
Missouri Decreases Recidivism Rate by Dealing With Technical Violations
At the start of 2002, Missouri struggled with the problem of a rapid prison population increase and a lack of funding to expand prison capacity. 
Moreover, the Missouri policymakers observed that one of the chief causes of the rising number of inmates in the state was the rise in the number of probationers and parolees returning to prison due to technical violations.
However, Missouri legislators were able to turn the situation around by creating a new risk assessment tool that views imprisonment as a last resort for sanction if a parolee or probationer commits a violation.
Oregon Leads the Way in Reducing Recidivism
In the United States, Oregon is a leading state in reducing recidivism. For example, for released inmates in 2004, Oregon had the lowest total recidivism rate of 22.8% among the 41 reporting states.
Moreover, Oregon had the sharpest decline in recidivism from 1999 to 2004, a drop of nearly 32%. 
Oregon officials credit their accomplishment to two factors:
A comprehensive strategy to reform 
A commitment to change from the field supervisor to the judiciary, through the state corrections agency, and up to the positions of legislative governance
If you want to gain a more in-depth understanding of the topic of recidivism, you can read the available resources at:
In tackling the issue of recidivism, the first step in knowing what to do is to know which approaches have worked in the past and which strategies were not effective.
FAQs
Does recidivism hinder progress in America?
According to the Harvard Political Review, recidivism can clog the criminal justice system. 
Moreover, the high recidivism rate affects the economic well-being of the country. For instance, according to a report, if all the states decrease recidivism rates by 10%, they can save more than $635 million overall in averted prison costs.
Furthermore, if just the ten states with the highest cost savings potential lowered recidivism by 10%, they can save more than $470 million in a year. These regions include:
What approaches and strategies can reduce recidivism?
One study enumerated the following approaches and strategies as ways that can reduce recidivism:
Risk principle: This principle states that correctional institutions should reserve their strenuous intervention and rehabilitation programs for high-risk offenders.

In this context, "risk" pertains to the individual's tendency to recidivate. Moreover, using the limited correctional program resources for low-risk offenders who do not need them wastes these assets.

Furthermore, requiring low-risk offenders to participate in intense programs can increase recidivism rates.
Need principle: This principle pertains to a disciplinary approach that focuses on addressing crime-producing needs. These needs include anti-social personality traits, values and beliefs, lack of problem-solving and self-control abilities, anti-social peer relationships, and anti-social attitudes.


Treatment principle: This principle recognizes the importance of knowing how to deal with crime-producing needs. Moreover, this perspective emphasizes the benefits of behavioral programs.
Behavioral programs include cognitive-behavioral programs, family-based interventions, and structured social-learning programs. 
In contrast, non-behavioral interventions include fear tactics, bibliotherapy (reading books), lectures, and emotional appeals. The study also showed that little empirical research could confirm the long-term benefits of this type of program for recidivism.
Fidelity principle:  Various factors can improve correctional program effectiveness and can become significant aspects of program integrity or program value. This principle focuses on addressing motivational issues. 
Moreover, the principle requires a well-trained and interpersonally competent staff closely supervising offenders' activities and relationships.
References
1. Recidivism
https://nij.ojp.gov/topics/corrections/recidivism
2. Removing a Nail From the Boot Camp Coffin: An Outcome Evaluation of Minnesota's Challenge Incarceration Program
https://journals.sagepub.com/doi/abs/10.1177/0011128707301628
3. The Misleading Math of 'Recidivism'
https://www.themarshallproject.org/2014/12/04/the-misleading-math-of-recidivism
4. Introductory Handbook on the Prevention of Recidivism and the Social Reintegration of Offenders
https://www.unodc.org/documents/justice-and-prison-reform/18-02303_ebook.pdf
5. Assessing Reconviction, Reoffending and Recidivism in a Sample of UK Sexual Offenders
https://www.researchgate.net/publication/227965601_Assessing_reconviction_reoffending_and_recidivism_in_a_sample_of_UK_sexual_offenders
6. Factors Contributing To Recidivism Among Youth Placed With The New York State Division For Youth
https://www.criminaljustice.ny.gov/crimnet/ojsa/dfy/dfy_research_report.pdf
7. Recidivism of Sex Ofenders Released from State Prison: A 9-Year Follow-Up (2005-14)
https://bjs.ojp.gov/content/pub/pdf/rsorsp9yfu0514.pdf
8. Recidivism Rates: What You Need to Know
https://counciloncj.org/recidivism_report/
9. Recidivism of Prisoners Released in 30 States in 2005: Patterns from 2005 to 2010 (Table 9)
https://bjs.ojp.gov/content/pub/pdf/rprts05p0510.pdf
10. Recidivism of Prisoners Released in 34 States in 2012: A 5-Year Follow-Up Period (2012–2017) – Table 10
https://bjs.ojp.gov/sites/g/files/xyckuh236/files/media/document/rpr34s125yfup1217.pdf
11. Recidivism Rates: What You Need to Know
https://counciloncj.org/recidivism_report/
12. State of Recidivism
https://www.pewtrusts.org/en/research-and-analysis/reports/0001/01/01/state-of-recidivism
13. Recidivism Imprisons American Progress
https://harvardpolitics.com/recidivism-american-progress/
14. What Works in Reducing Recidivism?
https://ir.stthomas.edu/cgi/viewcontent.cgi?article=1095&context=ustlj