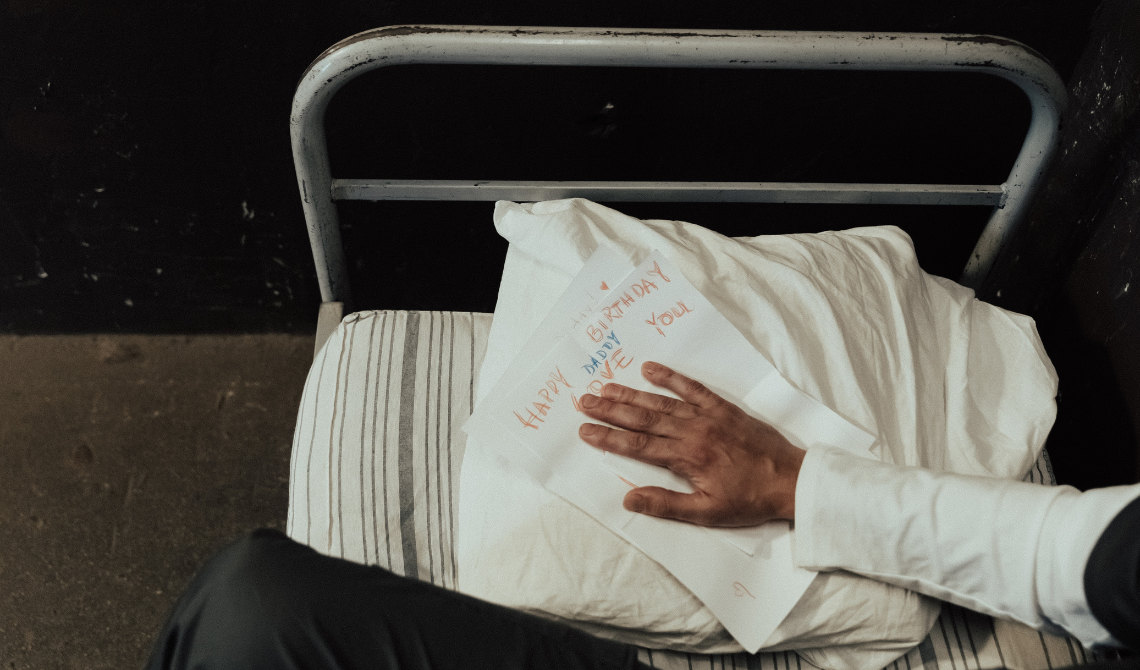 You may wonder how you can write a letter to one of the approximately two million inmates within the thousands of federal and state prisons and local jails throughout the United States. Examples include state and county jails in New York.
Potential questions when you write a prisoner include how to compose a letter to inmates, how to write an inmate for free, and what type of content the criminal justice system allows, discourages, or forbids. You may also experience issues when participating in pen pal programs for inmates. 
Friends and family members of inmates may pick among various options to communicate with prisoner pen pals. Other individuals may seek prison dating sites. 
One logistical issue is how individuals can find incarcerated loved ones among the thousands of federal, state, and local prisons and jails throughout the U.S. You should also know how to write a prisoner and what rules and regulations of correctional facilities to follow. 
When writing letters to inmates, sites like lookupinmate.org can help find prisoners housed in a particular correctional facility. 
lookupinmate.org is a one-stop site to access valuable information regarding inmates and correctional facilities throughout the U.S. To make the process easier, you can search by jail name, jail type, or state to find a friend or family member currently serving a prison sentence.
If you wish to know more about writing a letter to a jail or prison inmate, read on. 
A 2009 study by the Bureau of Justice Statistics (BJS) of the U.S. Department of Justice (USDOJ) estimated that U.S. prisons and jails housed approximately 2.3 million inmates. The total included federal, state, and local jail prisoners. 
When sending a paper-based letter, you should be aware of protocols. These include issues involving paper, envelopes, decorations, perfume, and books. 
You should also take particular safety precautions, such as what topics to avoid and information to not disclose. 
You can also select prison letter services to help ensure your loved one receives the correspondence. Such services can handle all the administrative issues to ensure the recipient gets the letter.   
How to Get in Touch With a Prisoner: A Basic Guide    
Staying in a prison cell can be lonely for inmates. Like other human beings, prisoners often want to contact the "outside world." Knowing friends and family care for them can help motivate inmates. 
A study by the Federal Bureau of Prisons (BOP) suggested that inmates, regardless of gender, want others to accept them after prisons or jails released them.
The BOP manages federal prisons and community-based facilities, providing employment and opportunities to assist offenders. 
Writing to inmates is a serious activity that includes rules and safety precautions. The rules that prisons set can differ depending on the U.S. states. 
Before you send a letter to an individual in prison, you should know the following:
General rules 
Content permitted for letters
Safety precautions
How to Write Letters to Prisoners and Ensure They Receive Them    
Here are some basic steps to write a letter to an inmate and then send it properly:
Step 1: Review the letter to prevent inappropriate content.
Step 2: Visit the prison's website to learn the rules and guidelines about what you may send to an inmate. You can also visit sites such as a state's Department of Corrections.
Step 3: Write the following information in the letter, such as the inmate's:
Address
Full name (first, middle and last)
Prisoner ID
Step 4: Write your full name and return or post office address.
Step 5: Mail your letter to the local post office.
General Rules for Writing to Inmates in Prison    
You should follow some basic rules to increase the chances of your letter reaching its destination. 
The rules for writing letters to prisoners differ among various states. Some guidelines include:
Write the prisoner's name and identification (ID) number in the letter.
Write both your full name and return address on the letter's envelope.
Select the correct envelope size.
Do not decorate the letter.
Do not place perfume on the letter.
Order books from a bookstore that will deliver them.
Remember that prison officials inspect all prison letters and packages.
Do not send hardback copies of books, as prisons often ban them.
Essential Information When Writing Letters to Prisoners
Here is some crucial information to be aware of when sending letters to prisoners: 
The Process Takes More Time Than Usual 
The reason is prisons inspect all items that inmates receive or send. 
Prison Staff Review and Control All Items Prisoners Receive
You should consider this fact in terms of the content of the letters you send to jail and prison inmates. 
Letters Can Be Meaningful to Inmates
Prisoners generally keep letters that loved ones send. They may read and reread any letters they receive. Hence, your words of encouragement can help cheer and motivate an inmate. 
Such encouragement can be especially beneficial for individuals serving life sentences or those on death row. 
Safety Precautions to Take When Writing to Prisoners    
Suppose you correspond with a prison pen pal and start feeling more relaxed and closer to the individual. You may feel comfortable about revealing your personal information. 
However, you should be cautious about what information you disclose. If you are corresponding with an individual you know, such as a family member or close friend, in that case, you may consider disclosing personal information such as your home address. 
However, consider all factors before making decisions.
Suppose you do not personally know the prisoner before their incarceration. Then you should think twice about sharing information that seems overly detailed or compromising. 
Try to be friendly when communicating with the prisoner and avoid judging them. However, when making new friends, take precautions to help keep yourself safe. 
Key Benefits of Writing Letters to Inmates    
The primary advantages of writing letters to prison inmates include:
Encourage and Comfort Inmates
Prisoners often lose contact with their friends and family. When individuals like pen pals offer friendship, it can help keep the inmates' spirits up and comfort them. 
Letters can also help inmates avoid boredom and help the time pass more quickly. 
Positive Relationships May Help Prevent Recidivism
Inmates who establish and sustain positive relationships with individuals outside of jail or prison may be less likely to become repeat offenders. One example is first-time offenders. 
Improved Reentry Into Society
When the judicial system releases prisoners, their positive relationships through letters received in prison may help them reintegrate successfully into society.
Improved Outlook on Life
Prisoners who receive letters may more likely develop a positive outlook on life. Letters can imply that the inmate deserves a second chance in society. This experience can provide them with hope. 
Benefits for Society 
The encouragement prisoners receive through letters can become life-changing. The encouragement may help the offender avoid becoming a repeat offender, which can lead them back to prison. 
Common Methods to Write Letters to Inmates
Writing to Someone That You Know
Suppose you want to write letters to someone you know serving time in prison. Write to them in prison to verify they would like to correspond with you. Do not assume incarcerated friends and family members want to be your pen pal.
You can write a simple letter requesting if these incarcerated individuals would like to correspond with you while the judicial system imprisons them. However, remember that the inmate chooses whether they want to correspond with you.  
If the loved one agrees to correspond with you, be certain to send updates about your life. Share information they would be interested to learn.
The inmate may feel like they are missing out on life outside of prison. Hence, getting updates can provide a positive experience during their incarceration within prison walls.
Some examples of information to share include recent birthdays, anniversaries, and graduations. Individuals can then track the years of age of friends and relatives. 
You can even share information like if you are dating someone new or funny stories about your spouse or kids. 
Locating a Prison Pen Pal 
Here are some of the main options:
Locate an inmate on a pen pal registry
The internet contains several inmate registries that provide inmate profiles and personal ads of individuals searching for pen pals. 
Read through the profiles to locate someone with which you wish to exchange letters.  
Here are some tips:
Find individuals with whom you share common interests.
Select an inmate with similar expectations you have.
Only select a pen pal who is looking for a romantic relationship if you also have that goal.
Participate in a Prison Program 
You can find inmate assistance programs in which to participate. Such programs can help inmates use their time productively while imprisoned. An example is tutoring support for inmates.  
Be cautious giving personal information 
This step is especially critical when the pen pal is not a close friend or family member. Remember that the criminal justice system has convicted the inmates. Hence, be cautious when providing information about you or your family.
Here are some helpful tips: 
Utilize a post office box (p.o. box) or mailbox rather than a home mailing address when corresponding with an inmate pen pal through postal mail or "snail mail."  
Limit the quantity of personal information you include in letters. You can share stories and details without compromising your security.
Tips for Corresponding With Prison Pen Pals 
These tips may help when writing letters to jail or prison inmates: 
Ask questions in the first letter: This step will help to "break the ice." It may also help make inmates more comfortable corresponding with you. You can discuss issues like hobbies and interests, movies, music, and books. Avoid discussing serious topics. 
Be open, honest, and friendly: Inmates are serving prison time for convictions. However, you should still treat them with the courtesy and respect that is given to anyone else in your life. 
Be a good friend: As a pen pal, you can help an inmate in various ways. They include being a connection to the outside world, finding their friends and family, and helping with substance addictions. A positive and supportive influence can help inmates after a correctional facility releases them.
Research a prison's guidelines: Research a prison's policy about receiving gifts. You can often search a prison's website about what the prison does and does not allow in care packages. 
You should also avoid using inflammatory language in your letters. Some prisons discourage such language while others forbid it. 
Remember any special occasions: Try sending a birthday card or special birthday letter on the prisoner's birthday. 
The individual's personal profile may include their date of birth. You can also send holiday greeting cards during the winter holiday season. 
Be patient if you do not get a quick reply: The process of receiving mail in jail is often slow. In addition, inmates may sometimes only receive mail on specific dates of the month. A non-immediate reply does not imply the inmate does not wish to communicate with you. 
FAQs    
1. How can I write letters to an inmate for free?    
Some websites and apps offer free services for sending letters and photo cards to prisoners. You may also receive updates for tracking your orders. Another possible option is to send items like photo collages and short stories. 
2. What other items can I send to inmates?      
You may sometimes send other items besides letters to prisoners, including:
Care packages
Books and magazines
Birthday and holiday cards
However, there are rules to follow to help ensure prison staff accepts the items, including:
Learn about any limits on the number of items. 
Research if you must select a particular vendor or shipper, such as Amazon and the United States Postal Service (USPS), respectively. 
Remember that prisons frequently reject explicit images and magazines. 
Send soft-cover books rather than hardcover books.
Avoid sending money, contraband, and gang-related items.
3. Is finding inmate pen pals possible?    
You can send letters to inmates even if you are not related to them or do not know them. You can write to a random inmate if you know their:
Name
ID number
Facility address
Several websites list inmates who want to find pen pals. Friends or relatives typically share the inmates' information.
As of July 2022, Some popular websites include:
Caged Ladies
Inmate Classified
Meet an Inmate
Prisoner Pen Pals
Write a Prisoner 
You may wonder whether sites like WriteAPrisoner.com are legitimate or a scam. This site's primary function is to allow you to search inmate pen pal ads or profiles. 
It is not a dedicated dating site. Instead, the website shows inmates who may seek friendship, education, employment, and housing.   
Whether WriteAPrisoner.com is legitimate, the site often receives generally positive customer reviews. 
In addition, the website's owner Adam Lovell addressed criticism that the site is a "commercial endeavor." 
He stated on the WriteAPrisoner.com page that the company spends 160 work hours weekly to maintain the site. 
Lovell also claimed he shared hundreds of letters with inmates before launching the website.  
Still, you should research the legitimacy of particular prison pen pal sites before using their services, such as social media pages. 
You should also research the payment options of such services, including ones like the correctional services of JPay.  
Be certain also to read any disclaimers provided by the inmate pen pal websites.  
Select an inmate, write down their address, then write a letter to them. Be very cautious not to share your personal information with inmates for safety. 
4. Can I call prisoners by phone?   
Prisoners generally cannot receive incoming phone calls. However, incarcerated individuals can often call people. They must provide a list of numbers they wish to call. 
In some states, offenders' friends and families must register their phone numbers online before they receive calls. 
Inmates can often make calls throughout the day. However, the calls' length may be limited. An example is 20 minutes. 
References    
1. Mass Incarceration: The Whole Pie 2022
https://www.prisonpolicy.org/reports/pie2022.html
2. Jail statistics
https://www.americanjail.org/jail-statistics
3. Bureau of prisons
https://www.usa.gov/federal-agencies/bureau-of-prisons