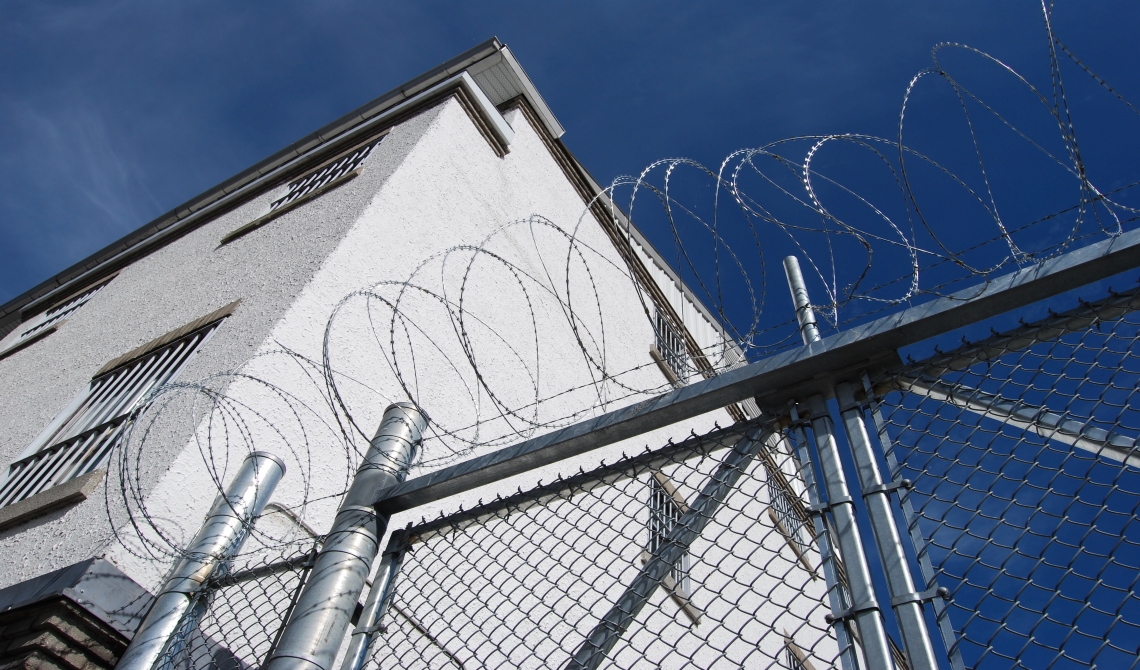 Many United States (U.S.) citizens have long been interested in topics regarding the criminal justice system and incarceration. 
You may be the one who wonders what happens after the judges announce their final decisions when witnessing the court proceedings. 
You may have asked questions regarding the whereabouts of convicted defendants or the accuracy of the representation of county jails and state prisons in television shows and movies. 
You may also ask about the difference between the two correctional facilities: state prisons and county jails. 
Our website, lookupinmate.org, can provide you with informative answers to those questions and a reliable search tool to find inmates held in a county jail or state prison. We have collected crucial information and links to relevant sites to help you search.
Main Differences Between County Jails and State Prisons
The significant distinction between county jails and state prisons lies in the time that convicted offenders must spend serving their entire sentences.
State-run prisons confine convicted criminals who are serving prison sentences of more than one year. 
In contrast, county jails detain jail inmates serving short-term jail sentences, typically one year or less, and detainees awaiting trial.   
Local law enforcement and jurisdictions operate county facilities, including county jails and detention centers. In most states, the county sheriff is the chief officer of local law enforcement.
Meanwhile, state legislation governs the establishment and operation of state prisons and the rights of convicted felons. 
The U.S. criminal justice system seeks to make incarceration an unpleasant experience for offenders. However, inmates' rights, privileges, and daily routines can differ significantly between a county jail and a state prison.
Length of Stay
Inmates confined in state facilities usually have a longer serving time than those in county jails.
Generally, county jails function as temporary holding facilities for accused individuals awaiting trial. People who cannot post bail also spend their waiting time in county jails.
In contrast, state prisons are where offenders usually serve longer sentences after their conviction. 
Demographics
County jails usually detain defendants who are awaiting trial. Therefore, these facilities can house male and female individuals. In contrast, most state prisons' entire population is either male or female.  
Security
While U.S. county jails are typically secure facilities, inmates may have more freedom than those who stay in state prisons. 
Usually, the housing area of county jails is less regulated than state government-run facilities. 
State prisons have more high-security options than others. 
Are There Similarities Between County Jails and State Prisons?
The following sections discuss the similarities between county jails and prisons.
Commissary
Whether your loved ones are serving time in a county jail or state prison, they can add funds to their commissary account.
Each facility has its own procedures for families to add funds to those accounts. You may consult with a criminal defense attorney if your loved ones experience difficulties managing their commissary accounts.
At the commissary, inmates can buy items to make their time in a state or county jail more bearable. For instance, using your commissary account budget, you can purchase shoes, snacks, and magazines
Work Detail
Inmates usually receive work assignments whether they are in a county jail or state prison. These jobs can range from kitchen duty to electrical repairs, painting, and groundskeeping. 
You can receive work detail if you serve time in a county jail for more or less a week. 
However, some defendants' trials may take months to begin after their arrest, and only convicted individuals can receive work assignments.
Therefore, more tasks are available for inmates in state prisons than in county jails.
Visitation
Your loved ones and criminal defense attorney can visit you in a county or state jail. However, remember that each facility has its own protocol for families and visitation hours.
You may also note that jail or prison authorities can take away your visitation privileges under specific circumstances.  
Inmate Programs
Each state's Department of Corrections can provide inmates access to various rehabilitation programs. For example, you may participate in educational and therapeutic classes.
Inmates who do not have high school diplomas can obtain their general equivalency diploma (G.E.D.'s) while serving their jail or prison time. 
Afterward, these individuals can attend life skills programs focusing on topics like parenting skills and how to successfully reenter society after release.
County jails and state prisons also have therapeutic programs for inmates. These programs help incarcerated individuals work through their mental health conditions and substance abuse.  
The Difference Between a Jail and a Prison
What Are Jails?
Jails are confinement facilities for short-term detainees. Specifically, jails are establishments under a local jurisdiction (such as a county) to hold individuals who are awaiting trial or those convicted of a minor criminal offense.
Most offenders in the U.S. are in confinement facilities because of misdemeanors or minor crimes rather than severe crimes.
Criminal offenses have two broad categories: felonies and misdemeanors. Misdemeanors are less severe than felonies and are punishable by a short-term sentence, usually less than 12 months of jail time. 
The initial goal of jails was to confine adult offenders. However, jails can also keep juveniles before or after adjudication (a judicial ruling) in some cases.
Here are several examples of jail facilities:
City and county corrections facilities
Special jail facilities, such as release or medical care centers 
Halfway houses
Temporary detention centers
Generally, jails offer inmates boot camps and work release programs. Some stations also provide substance abuse, educational, and vocational programs.
Correctional staff develops these jail programs to help prisoners enhance their lives and prevent their reentry into jail.
Jail programs can also benefit inmates by keeping them occupied and less likely to create problems for correctional officers.
According to the 2020 survey of the Bureau of Justice Statistics (B.J.S.), a 25% reduction in jail inmate population from midyear 2019 (734,500) to midyear 2020 (549,100) happened in the U.S.
The Problem With Jails
Jails tend to offer fewer programs than state prisons because the jail's purpose is to handle shorter stays.
Thus, inmates serving jail time may experience a lack of nutritious food options, inadequate medical care, and inappropriate movement restrictions, like minimal access to physical activities.
Moreover, inmates with existing criminal records or individuals expecting formal convictions may seek to accept a plea to transition from jail to prison. 
Furthermore, jails may detain innocent individuals. It is necessary to confine suspected people before their court trial. 
However, the "presumption of innocence" entails that nobody should receive punishment before a formal conviction. 
Poor jail conditions serve as a punishment for innocent or possibly guilty individuals. 
What Are State Prisons?
State prisons confine offenders who committed state felonies such as murder, arson, assault, or robbery.
Each state has laws and policies governing its prison system, and their variations can be significant.
For example, states vary in their stances regarding capital punishment, the number of individuals released on community supervision, and the racial makeup of their facility's populations.
What Is the Difference Between Local and State Prisons?
Local prisons refer to correctional facilities under the supervision of a local jurisdiction, such as a county. In contrast, state governments state prisons.
Is Prison Worse Than County Jail?
Prisons can be more effective than jails in addressing inmates' needs because prisons' design addresses long-term confinement scenarios. 
Meanwhile, jails may have a higher ratio of transients and poor facilities. 
Therefore, many inmates may prefer prison transfer because it can help them achieve a better lifestyle, engage in more activities, and have special access to amenities.
For example, many repeat offenders may face a plea for a prison sentence rather than jail time after their probation ends. 
Moreover, underfunded jails may offer lower-quality or inadequate meals. These difficulties typically lead to complaints against inmates' inhumane conditions.
The Problem With Jail and Prison Differences
The information from the preceding sections indicates that jail and prison differences can result in widely different conditions for inmates. 
However, jail inmates retain the same essential rights as any other prisoner. These rights include:
The right against inhumane and unusual penalties
The right to be free of sexual harassment or offense
The right to be treated humanely
The right to have access to the courts
The right to adequate medical care
The right to be free of racial discrimination
Inmates have fewer rights than ordinary citizens because of their legal position. However, prisoners still retain restricted rights to free speech, property ownership, and other human freedoms.
What Is a Federal Prison?
The Department of Justice's (DOJ's) Federal Bureau of Prisons (BOP) runs federal prisons.
Federal prisons confine individuals who are convicted of federal crimes. Generally, federal crimes breach federal law codes in the U.S.
Federal courts view various conducts as federal crimes, including drug trafficking, embezzlement, child pornography, or illegal possession of firearms.
The BOP categorizes federal prisons according to their security levels. The following list shows some elements that affect the prison system's categorization:
The presence of watchtowers, external patrols, security barriers, or detection technology
The staff-to-inmate ratio  
The institution's housing type
The internal security features
BOP facilities can have the security levels below. Each category seeks to address the specific needs of each prisoner.
Minimum Security: These facilities, also known as federal prison camps (FPCs), have the least security and confine offenders with no documentation of sex or violent offenses. Inmates in these establishments have a low risk of escaping.
Low Security: Low-security federal correctional institutions (FCIs) have dormitory or cubicle housing, double-fenced perimeters, and work and treatment programs.
Medium Security: Medium-security federal correctional institutions (FCIs) tend to hold more violent inmates.
These prisons have tougher perimeters, such as double fences with electronic detection devices. They also have facilities that offer cell-style housing, and many rehabilitation programs.
High Security: High-security prison facilities, sometimes called United States penitentiaries (USPs), have fortified perimeters with thick and high walls or reinforced fences and cell housing. 
Administrative: This prison type includes many facilities that the BOP specifically designed to confine offenders who need special attention. 
Administrative prisoners typically have severe medical issues, a high risk of escaping, or are extremely dangerous.
Complex: Institutions with different security levels close to one another constitute prison complexes.
Federal correctional complexes (FCCs) can boost efficiency by integrating their services. This feature allows workers to achieve expertise at institutions of distinct security levels. 
There are 122 BOP-run prison facilities in the U.S. 
A 2020 study indicated a 13% decrease in the federal prison population from 174,391 in 2019 to 151,283 in 2020.
Is a County Jail Worse Than a Federal Prison?
Federal prisons may offer better conditions than county jails since federal prisons have various facilities that address offenders' specific needs. 
For example, these correctional facilities have different options for confining inmates depending on risk levels and health conditions.
U.S. County Jails
County jails in the U.S. usually serve as temporary facilities for detainees and suspects awaiting trials. Moreover, as of September 2022, there are 4,031 county jails in the United States. 
U.S. Prisons
United States prisons usually hold convicted offenders who are serving long-term sentences. A 2022 Prison Policy Initiative report showed 1,566 state prisons and 102 federal prisons in the U.S.
Alternatives to County Jails: Private Jails
A corporate or private jail is a for-profit local correctional facility. 
Government agencies sometimes require more space than they can provide for inmates. In such cases, the local, state, and federal governments may arrange for a private, for-profit corporation to run a facility for them.
The Sentencing Project, a nonprofit organization, reported that corporate-run prisons in the U.S. held 99,754 convicted individuals in 2020. This data accounted for 8% of the total state and federal prison population.
Alternatives to Jail Time: House Arrest
Like correctional facilities, house arrest (also known as home confinement) restricts offenders' movements and activities to one location. 
House arrests typically use technologies like EM (electronic equipment) to determine program participants' locations at specific times.
References
1. Prisoners' rights
https://www.law.cornell.edu/wex/prisoners%27_rights
2. Jail
https://www.merriam-webster.com/dictionary/jail
3. Mass Incarceration: The Whole Pie 2022
https://www.prisonpolicy.org/reports/pie2022.html
4. Misdemeanor
https://www.law.cornell.edu/wex/misdemeanor
5. Prisoners in 2020 – Statistical Tables
https://bjs.ojp.gov/content/pub/pdf/p20st.pdf
6. Jail Inmates in 2020 – Statistical Tables
https://bjs.ojp.gov/content/pub/pdf/ji20st.pdf
7. Prisoners' Access to the Courts – Legal Requirements and Practical Realities
https://www.ojp.gov/ncjrs/virtual-library/abstracts/prisoners-access-courts-legal-requirements-and-practical-realities
8. Terms & Definitions: State And Federal Prison Facility Characteristics
https://www.bjs.gov/index.cfm/content/glance/index.cfm?ty=tdtp&tid=133
9. When Is a Crime Considered Federal?
https://www.hg.org/legal-articles/when-is-a-crime-considered-federal-49500
10. Fiscal Year 2020: Overview of Federal Criminal Cases
https://www.ussc.gov/sites/default/files/pdf/research-and-publications/research-publications/2021/FY20_Overview_Federal_Criminal_Cases.pdf
11. Federal Prisoner Statistics Collected under the First Step Act, 2021
https://bjs.ojp.gov/library/publications/federal-prisoner-statistics-collected-under-first-step-act-2021
12. County Jails Inmate Search and Directory List of the United States
https://prisonal.org/prisons/county-jail
13. Private Prisons in the United States
https://www.sentencingproject.org/publications/private-prisons-united-states/