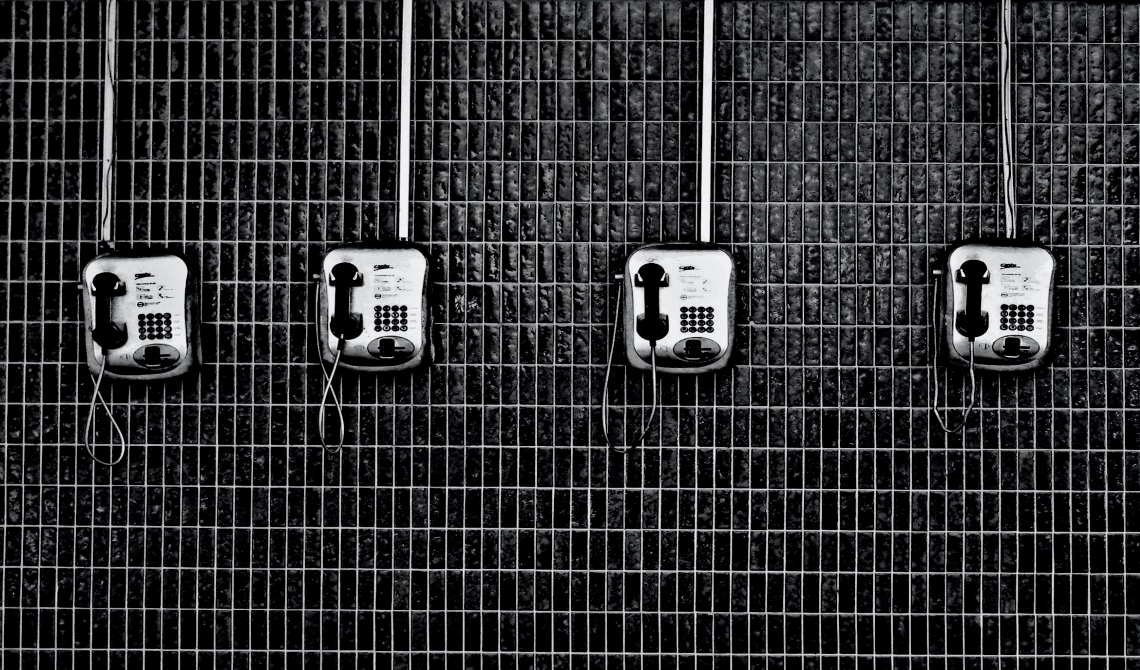 The Bureau of Prisons revealed that inmates make approximately 2,000 calls every day in the United States. This number shows the nationwide system of phone calls designed to cater to the needs of inmates and their families.
If you have a loved one currently incarcerated in a correctional facility, you may ask how inmate phone calls work, how many calls does an inmate have in a day, and how much a call costs.
This article will guide you on how prisoner calls work, how much they would cost, how to communicate with an inmate, and how to set up accounts to pay for the calls made by inmates.
Do you need the contact information of the correctional facility where an inmate is housed? Then you can check our website lookupinmate.org.
You can take advantage of our comprehensive search service to see not only contact information but also records, like an inmate's sentence status and the date of their admission.
How Often Do Prisoners Get Calls?
The criminal justice system acknowledges the need for communication between inmates and those outside correctional facilities. It is the reason why prisoners have access to phone calls as part of their prison life.
However, inmates have limited use of phone calls inside prison. They usually get 15 minutes per call and may have to wait an hour or more to make another. However, prison officials can provide policies on how many calls each prisoner has.
How Many Calls Do Prisoners Get?
When your family member or friend gets arrested, they get three free local phone calls.
If they need a long-distance phone call, they may do so, but the receiver of the call is the one to pay for the collect call.
Once in prison, inmates usually get 300 minutes of call time every month. The number of minutes may vary from prison to prison.
During the holidays like November and December, inmates may get an extra 100 minutes of calls for family communications.
Do Inmates Only Get One Call a Day?
Generally speaking, the number of calls an inmate can get depends on the prison. However, in most cases, inmates have access to a phone system inside the correctional facility.
Some prisons allow inmates to use up to five hours daily, with each call lasting 15 to 20 minutes. The phone access shuts off between 11:00 PM and 6:00 AM.
Inmates need equal access to telephones. However, many institutions have a limited number of phones available. In some prisons, detainees may wait up to an hour or more before they can use the jail phones again.
How Often Can an Inmate Make Calls?
It depends on how many prisoners are in the queue and the time of the day when the phones are available. Inmates generally can have 300 minutes of calls per month.
Incarcerated individuals may have to wait an hour or the next day for another opportunity to use the phones. Also, the called party's availability can determine how many calls an inmate makes daily.
Who Can Inmates Call?
Inmates will have a maximum of 15 numbers on their call list.
Prisoners may call their family, friends, and legal aid. The names and contact numbers on their call list must be authorized by the approving officer in the correctional facility.
How Long Can the Phone Calls Be?
Inmate calls can generally last from 15 to 20 minutes. The phone automatically disconnects when the allotted time is over, and an inmate needs to wait 30 minutes or more to use the phone again.
Prisons usually have a limited number of telephones for a few hundred prisoners resulting in long queues.
What Is the Latest Time an Inmate Can Call?
Prisoners are generally allowed to make phone calls every day, including holidays, between 7:00 AM to 11:00 PM.
Calls should not exceed 30 minutes. If there is a long line of phone users, the call duration may be shortened to accommodate the number of inmates wanting to communicate with their friends and loved ones.
How Can a Prisoner Call a Cell Phone?
For a prisoner to make a phone call, they must submit a list of contact numbers for approval. Once approved, the inmate can make collect calls to landlines.
Inmates can call a cell phone, but they must have a prepaid or debit-calling account.
Prepaid account – A prisoner is allowed to call only one designated number.
Debit account – Calls are paid by their friends or family. The prisoner can call any phone number as long as it is a valid contact number.
For an inmate to have these phone accounts, it must be created through the phone service connected with the correctional facility, county jail, or state prison.
How Long Does an Incarcerated Person Have to Wait Before Making a Phone Call?
The time inmates can make their first phone calls depends on each prison's policies. Generally, after booking, inmates are allowed to make a phone call.
After that, examinations for physical and mental health must be made before the prisoners can be permitted to make phone calls and have friends and family members create accounts for the inmate to use.
The time for this to be completed varies. This process can take as fast as one day or may last for weeks.
Inmate Telephones
Inmates within the Federal Bureau of Prisons must understand that prisons use a monitored phone system that allows calls to approved contacts.
Inmate calls are always monitored and recorded for security purposes.
How It Works
After booking, inmates usually get a chance to make a phone call.
However, because prison officers confiscate cell phones before booking due to these gadgets being contraband, inmates may not remember the phone numbers of their friends or family. It may take days before inmates can have their first phone call.
Making Contact
After a few days, an inmate's family member may receive a letter from prison authorities or a social worker. These individuals have the correctional facility's contact information where their relative or friend is booked.
However, if the inmate remembers your number, they can contact you by phone call and establish communication.
An alternative to getting contact information is to search our site lookupinmate.org and get the phone numbers of the prison facility where your incarcerated inmate is held.
Once you establish contact, you can create a phone call account for your imprisoned friend or family member.
Phone Calls and Voicemails
It is worth noting that only inmates can initiate calls. There are different ways to set up phone calls with inmates.
Collect calls – You pay for every inmate call. You can also receive or reject a phone call coming from an inmate.
Friends and Family Prepaid – You can create an account where you deposit money to pay for each call from the inmate.
Inmate Telephone Prepaid Debit Account – You can also create an account for the inmate and deposit money there. With a debit account, the inmate can quickly call their contacts compared to collect calls.
Note: For collect calls, inmates may only call landline phone numbers on the approved list and call collect on those that accept.
Another option for communicating with inmates is through voicemail messages.
The voicemail option is good for overseas contact where calls may be difficult to arrange. You can talk to the prison officers to know how to send voice messages to an inmate.
Call Information
Incarcerated people are allowed to have 15 telephone numbers on their approved list. Inmates can request to add or delete a number every quarter through the rehabilitation coordinator.
People receiving calls from inmates can accept or reject the call. If you wish not to be contacted, you can notify the prison officers to have your number removed from the list.
You can request the removal through writing, and once received, prison officials will notify the inmate that you do not want to be contacted.
Receiving Calls From Incarcerated People
Receiving phone calls may be a hassle for some, especially those that do not have landline phones in their homes.
In cases where landline phones are present, the receiver automatically pays for the call rates.
However, the inmate can not call collect on cellular or mobile phones, and most telecommunication providers do not offer a call collect option to mobile devices. You may need to sign up for a third-party service provider to handle the charges.
Telecommunications providers offer telephone services through different types of accounts and payment options.
You can set up a prepaid calling account, a direct bill account, or settle for the regular collect call rates. You can also open a debit account so that the inmate is the person responsible for paying for phone calls they make.
How Much Are Calls?
Here are the current rates of inmate calls across the United States.
15-minute call for local and interlata (long distance toll) – $0.375
15-minute call for interstate collect – $0.375
Calls for youth institutions – free of charge
Rates now are significantly lower compared to previous years when states like Arkansas charged $24.82 per 15-minute phone call.
Jails used to have higher rates compared to State prisons because of the monopoly over their deals with phone call providers.
However, the Department of Corrections and Rehabilitation stepped in and provided a method to significantly reduce the price of phone calls for incarcerated individuals.
Department of Corrections and Rehabilitation Announces Reduced Cost of Telephone Calls for Incarcerated Population
The Department of Corrections and Rehabilitation recognizes communication between incarcerated individuals and their friends and family. Therefore, the department has announced a reduction in the cost of telephone calls.
With the help of telecommunication companies, prison calls now cost 2.5 cents per minute for local calls.
Furthermore, standard 15-minute phone calls anywhere in the United States now cost 37.5 cents. For international calls, the charge is seven cents per minute.
These reductions have saved families of incarcerated people more than $17 million annually.
The new contract made by the Department of Corrections and Rehabilitation with telco providers also gave inmates free 15 minutes telephone calls every two weeks using the Personal Identification Number (PIN) system.
Funding Inmate Phone Calls
Once you contact the prison facility and have given a list of approved contact numbers the inmate can call, you can now fund the calls through two main methods.
AdvancePay for Family and Friends
If you choose to fund the calls through the AdvancePay system, the inmate will have an account without the restrictions linked to standard billing.
Moreover, when an inmate dials a blocked number, AdvancePay will provide a way to call the dialed party to create an account.
Collect calls will be available when the dialed person creates an account. The AdvancePay system also prompts the user when additional funds are required.
Inmate Pin Debit Accounts
Inmates can use a PIN debit account to make calls to anyone on their call list. The prisoner will manage the charges of each call, which will be deducted accordingly.
Security Measures
The security measures placed on inmate phone calls include recording, monitoring, and placing regulations and prohibitions on certain types of calls.
Prohibited Calls
In New York, there are regulations and prohibitions placed on specific calls made by incarcerated individuals. Calling the people listed below may result in disciplinary actions.
People who are not the inmate's immediate family members.
Present or former employees of the N.Y. State Department of Corrections and Community Supervision and their families.
Present or former employees of the local, state, and federal criminal justice agencies. These agencies include police agencies, federal and local correctional agencies, probation departments, district attorneys, and their families.
Calls to jurors involved in the conviction of the incarcerated individual and their families are also prohibited.
Judges who are involved in the conviction and incarceration of an inmate.
Criminal partners that are not imprisoned.
The inmate's victim and family unless with proper authorization from the superintendent.
People who are protected from telephone communication through a court order.
Loss of Phone Privileges
There are instances when inmates may lose their call privileges. A prisoner's phone privilege may be revoked or repealed if:
They placed an incoming call to another inmate.
They called an international number.
They charge calls to third parties, credit cards, or any billing service that is not a collect call or prepaid to the called person.
They transferred calls to another party aside from the intended called person.
They called pagers.
They called pay phones.
References