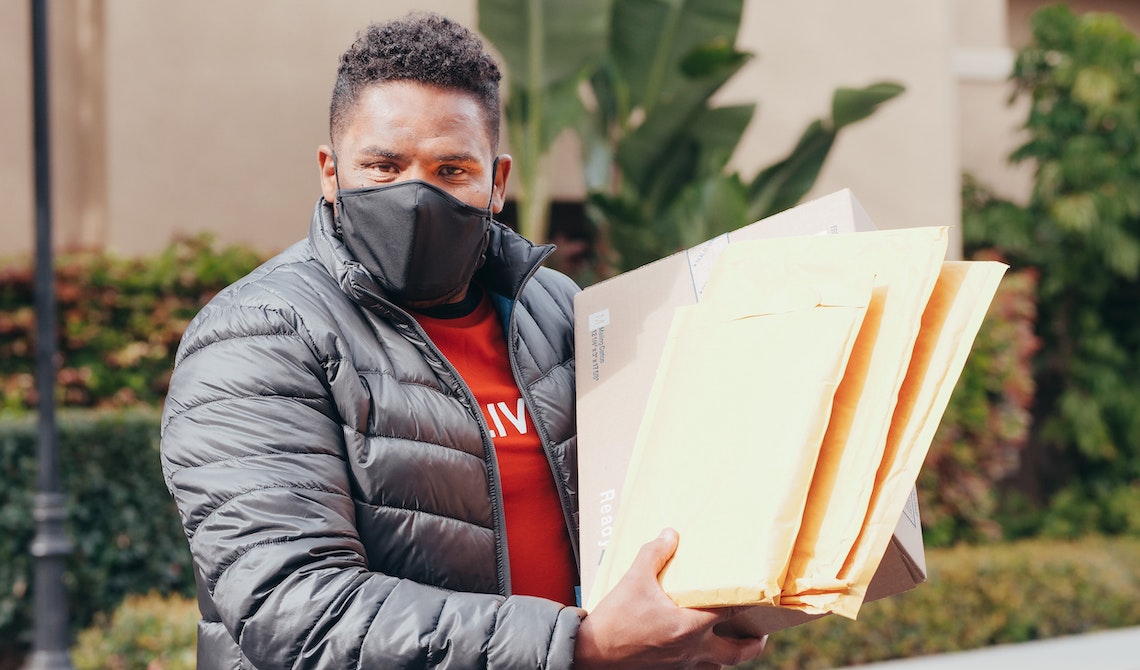 It may not be much for others, but a package full of food and treats can be enough to make the day of a person behind bars. A simple package of love and care may briefly brighten their time inside prison, but its effect can indeed be lasting. 
So, if you plan to make your loved one's day, you can give them packages full of items you've picked with loving care. Yet, some may ask how family members can send packages to their loved ones behind bars. 
Can you buy stuff from your local mall and send them to your loved one in prison? Also, can you send money to inmates? If so, how?
This article will help you take better care of your loved ones inside prison by giving you ideas on supporting them by sending packages.
So, if you plan to send packages to inmates, this write-up will show how you can send these gifts to people in jail.
Finally, you'll get more information about how to remain in contact with your loved one in prison. This write-up will tackle email communication, phone calls, and how to send money to your incarcerated loved one.
Sending packages to inmates isn't similar to sending packages to people outside prison. There are rules and regulations set in place by the prison facility authorities, the state's Department of Corrections, and the Bureau of Prisons.
Planning to send a package to an inmate? You can visit LookUpInmate.org and get the contact information of your loved one's incarceration facility.  
This information is useful when you want to review their rules about sending packages, visiting hours, and allowed forms of communication. You can access more than 7,000 correctional facilities through LookUpInmate.org.
Sending Packages
Incarcerated individuals live in emotional isolation. They are deprived of close contact with loved ones while bearing regret and remorse for their mistakes. 
Despite these circumstances, they may feel eased of their difficulties when they feel your continued love. One way to do this is to supply their needs while in prison.
Suppose you're planning to send packages to your loved one behind bars. In that case, you're doing something that can significantly help someone in prison for the better. 
However, sending packages to prison inmates is different from sending gifts to people outside. Here are some methods for sending items to your loved ones.
One way to send packages to inmates is through the services provided by third-party vendors like Union Supply Direct. 
This inmate package vendor allows family members to send packages to their loved ones in prisons across the U.S. (United States).
Monthly Package Program
Every state has its own programs designed to help prisoners. For instance, the New York Department of Corrections has a Monthly Packages Program that lets you order food items online for an inmate. You may need to inquire with your local correctional facility about its policies on how many packages one inmate can receive.
You can get this information through LookUpInmate.org and use its facility locator to get direct links to the correctional facility where your loved one is located. 
Monthly Property Packages
Care packages aren't limited to food. You may also send other items.
For example, through the Washington State Department of Corrections, you can send Monthly Property Packages consisting of "personal property items" like jewelry, electronics, beauty, and health products. 
Like the Monthly Package Program, you may need to inquire with your local correctional facility about the kinds of property items allowed. Some facilities may allow a particular item that another prison might not. 
Faith Item Packages
Religion is allowed inside prisons, and inmates can practice their beliefs while incarcerated. You can send religious or faith items through the "Faith Item Package" provided by suppliers like Union Supply Direct. These packages include spiritual or devotional items needed for rituals and worship services.
Bi-monthly Food Packages
Sometimes, sending a food package bi-monthly (sent every two months) is a preferred schedule for sending packages to inmates. Some correctional facilities, like those in Washington, have approved this delivery schedule. However, programs may vary in different correctional facilities in other states. 
Food Package Program Notice
Correctional facilities work with inmate package suppliers to ensure that every item you send is delivered on time. However, due to constraints, especially in the supply chain, shortages have plagued this support system.
One solution to this supply problem is to set an ordering schedule for people planning to send packages to their incarcerated loved ones. 
Ordering Schedule
Here is an example of an ordering schedule approved by a correctional facility. This sample comes from the Washington Department of Corrections: 
One order: February through March
One order: April through May 
One order: June through July
One order: August through September
One order: October through November
One order: December through January 
Note that this schedule may not be the case in different states. It's best to contact the jail or prison in question to find more information on when to order and send packages to inmates. 
General Correspondence
Aside from packages, you can send mail to your loved ones behind bars. The practice of writing to inmates and engaging them in correspondence is highly encouraged by the Bureau of Prisons (BOP). 
You can send letters to inmates via the courier system approved by the correctional facility where your loved one is. Note that general correspondence is subject to inspection to avoid contraband entry. 
Special Mail
You also need to know that when lawyers send letters to inmates, the correspondence is considered "special mail." This mail type can only be opened and inspected in the recipient prisoner's presence. 
Sending Packages From Approved Vendors
Another difference between sending packages to people outside prisons and sending items to inmates is where to buy the things you can give to your loved one behind bars. 
Suppose you want to send items to an inmate. In that case, you'll be directed by the correctional facility to approved vendors that sell items that the prison facility has approved. Examples of approved vendors are Access Securepak and Union Supply Group.
Message to Approved Vendors
In most cases, correctional facilities only transact with approved vendors. The California Department of Corrections and Rehabilitation (CDCR) states that purchases are made at the buyer's sole risk. The CDCR facility is not liable for purchases made between family members and their loved ones behind bars. 
The specifics of this agreement between the vendor and correctional facility may differ from state to state. It's best to contact your local prison authorities to know their guidelines about sending monthly, bi-monthly, and quarterly packages to inmates.
Package Contents
The only items you can include in a package are products approved and allowed by the prison authorities of a correctional facility. Generally speaking, things sold in a prison commissary are most likely what you can send to an inmate. 
Third-party vendors have a catalog of items you can send inmates.
You can check these vendors' product lists, including snacks, ready-to-eat meals, drinks, and clothing. 
How Do You Send an Amazon Package to Jail?
You might have already heard that the big eCommerce site Amazon has prison package services. Amazon can send packages to inmates, but the company advises that you check first the policies at the prison facility where your loved one is incarcerated. 
Shipping to Prisons
If you want to use Amazon to send items to inmates, you should follow these instructions:
The package's label should have the destination's address, the Amazon.com company name, and the return address
The package can't have special labels or instructions
The package can't be sent anonymously 
The collection address should appear on the order invoice
Amazon packages can be sent through U.S. Mail, UPS (United Parcel Service), and FedEx (Federal Express). However, Amazon advises shipping the package you've ordered to your place first. You can then send the item to the prison facility afterward through U.S. Mail. 
How Do You Send a Care Package to an Inmate in the U.S.?
A care package is a collection of items a family member sends to an inmate. You can order these items through third-party vendors via two main methods:
Online
You can order your package online. Just go to the website of your preferred approved vendor (e.g., Union Supply Group or Access Securepak). 
Go to the vendor's order form and type in your loved one's name or ID. You'll then choose the items you can include in your package and place your order.  
By Phone
Aside from ordering online, you can also do so via phone. You can contact their hotlines:
Union Supply Direct:  Phone (866) 404-8989, Fax (888) 857-6219
Access Securepak: Phone (636) 888-7003, 1-800-546-6283
Does UPS Deliver to Prisons?
Most prison facilities receive deliveries from USPS (United States Postal Service). However, other private couriers like FedEx and UPS can't deliver packages to inmates because inmates can't sign for deliveries. 
You can talk to the prison authorities of the facility where your loved one is incarcerated and inquire about their approved courier companies. 
How Many Packages Can an Inmate in the U.S. Receive?
Correction agencies may set different policies regarding how many packages an inmate can receive at a particular period. Some prisons allow inmates to receive a care package every three months, while others allow weekly deliveries. 
A handy facility locator like LookUpInmate.org can help you get direct links to a facility's website so you can learn about its policies regarding inmate packages. 
Sending Money
Similar to sending packages to inmates, correctional facilities have specific policies regarding money transfers to inmates. Generally, you can send money through the following methods:
Online
Third-party vendors have options to send inmate funds or money online. The funds are deposited into an inmate account, which your loved one behind bars can use when purchasing items from the facility commissary. 
By Phone
Like quick online transactions, third-party vendors like JPay can conveniently help you send money to your loved one behind bars by phone. You can contact JPay services by calling 1-800-574-JPay (5729).
In Person
You can visit the third-party vendor's offices and deposit the money in person. You can do so by credit card or money orders. 
Smart Phone App
Vendors like Access Corrections have smartphone apps you can download and install for quick deposits to an inmate's account. 
Sending Funds Using MoneyGram
You can send inmates money via MoneyGram. BOP facilities have authorized MoneyGram as one of the third-party vendors for money transfers. You can send funds through MoneyGram electronically.
Sending Funds Using Western Union
Another third-party vendor approved by the BOP is Western Union. You can send money to inmates online, by phone, or in person. You can visit the Western Union site or the nearby prison facility to send money to your incarcerated loved ones. 
Sending Funds Using the United States Postal Service (USPS)
Finally, you can send money through USPS via money order. You only need to complete the money order form and send the amount you want your loved one behind bars to have. You can't send personal checks or physical cash through the mail. 
Phone Calls
Another way to show support and love to your incarcerated family member or friend is to talk to them occasionally via phone. However, you can only phone inmates through the network providers allowed by the inmate's facility. 
Who Pays?
Family members can set up a phone call account for an inmate to use. They can fund an account by sending money through third-party services like GTL and Securus. Inmates can make collect calls to people outside and have family members pay the cost. 
Restrictions
Inmates can't call anyone outside anytime they want. Telephone calls are a privilege allowed by prisons, and different facilities have different call restrictions. These rules may include a cap on the total number of minutes allowed for monthly calls. 
Monitoring
When you call an inmate, remember that calls are monitored for security reasons. There are instances where calls remained unmonitored, especially between your incarcerated loved one and an attorney. 
Email
Sending emails to prison is different than sending emails using platforms like Google. The BOP has an email service called TRULINCS (Trust Fund Limited Inmate Computer System). This application allows the general public to communicate with inmates securely. 
Who Pays?
The Inmate Trust Fund, not taxpayer money, pays for email messaging services provided by the BOP. The maintenance funds come from inmate commissary purchases, telephone services, and the fees inmates pay for using the TRULINCS email service. 
Restrictions
TRULINCS is a restricted version of the email messaging service that people outside of prison enjoy. Inmates must be approved first to use the system. Messages can't include attachments and only allow text. Also, each message is limited to 13,000 characters or approximately two pages.
Monitoring
The inmates and their family contacts must consent to use the TRULINCS system. You must know that the BOP monitors emails transmitted through this system. The BOP screens all messages for security.  
Relevant Regulations and Policy
The BOP provides the following regulations and policies about inmates receiving packages from family members. Different correctional facilities may modify these policies based on current state laws: 
Inmates are prohibited from receiving packages from outside the facility without approval from an authorized staff member.
Inmates can receive mail as the First Amendment protects this right
Sending packages to inmates may not be that convenient, but each time these packages get to your loved one in prison, they'll feel your love and support. Inmates are incarcerated not only for punishment but also for a chance to ponder one's mistakes and decide to reform and rehabilitate. A single care package could mean the world and help motivate inmates to work harder for rehabilitation.
References