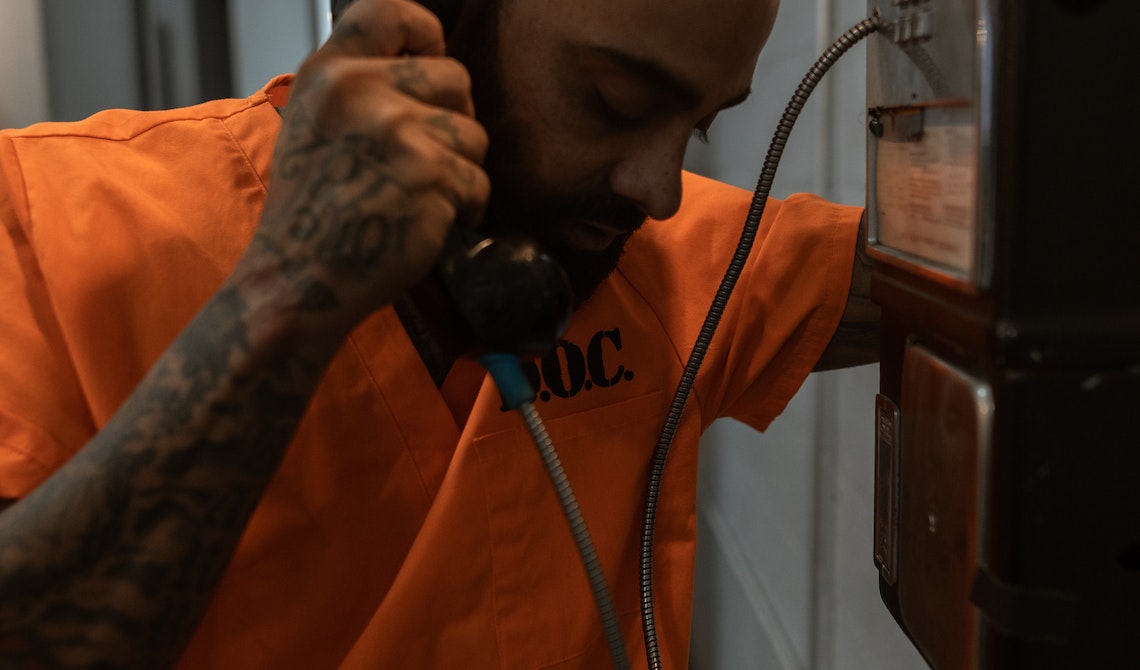 In 1984, the United State's Federal Bureau of Prisons installed telephone-recording equipment in five federal correctional facilities on a pilot basis.
Today, the agency records all calls in federal prisons except those arranged between inmates and their attorneys.
Alexander Graham Bell received the first U.S. patent for the telephone in March 1876. Nearly a century later, Dr. Martin Cooper and his team of Motorola developers invented the cell phone in 1973.
Inmates' friends and family members may find it challenging to locate prisoners among thousands in federal, state, and local prisons and jails.
As of 2022, the U.S. criminal justice system houses approximately 2 million individuals. You may have difficulty locating an inmate without specific information.
lookupinmate.org is a one-stop site where you can find valuable information about inmates and correctional facilities across the U.S. You can find information on an inmate's jail records, court and arrest records, and judicial reports.
If you wish to know more about inmate phone calls, read on.
Overview: Inmate Phone Calls
Generally, jails and prisons only allow inmates to make outgoing calls. So, inmates cannot receive incoming calls. In addition, prisoners' friends and family cannot call correctional facilities and then leave a message for an inmate.
Jails and prisons typically allow recently arrested individuals to make one call. Arrested individuals often use the call to contact their family, attorney, or bail bondsman.
A bail bondsman is an individual providing bail bonds for someone charged with crimes who cannot pay the entire bail with a court, according to the Cornell Law School. The bail bondsman provides the arrested individual's bail to the court.
Here are various factors that affect an inmate's ability to make phone calls:
Completing the "intake process" after their arrest
The amount of funds in their phone account
If the jail or prison is on "lockdown." Lockdown restricts inmates in a unit or an entire prison to their cells for up to 24 hours per day.
Severe weather or power outages
If the inmate knows your phone number
If the period of the phone call falls during the hours set by the facility
Inmates may have various options for making calls. They include cell phones, collect calls, and prepaid phone accounts through third-party vendors.
Some correctional facilities require call recipients to be on an inmate's approved telephone list before they can talk to prisoners by phone. You may share your phone number in a letter to an inmate.
Meanwhile, some states like Texas maintain a website to register your phone number with the department of corrections (DOC). Following registration, you can then receive calls from an offender.
A prison or jail usually records all inmates' calls. You should avoid discussing topics such as any crimes for which the judicial system has accused the inmate. Otherwise, the judicial system may impose additional charges on the offender.
How Do Inmates Make Phone Calls?
The state's DOC supports inmates in contacting friends, family, and the community. A DOC contracts with one or more companies for inmate phone services.
Inmates can initiate phone calls, while friends and family can provide funds, so inmates can make prepaid calls. These funds must be on a prisoner's allowed numbers list.
There is no need for recipients of inmates' calls to complete an application or verification process because DOCs do not require such actions.
Inmates sometimes receive an inmate personal identification number (IPIN) to initiate phone calls. Generally, they can only call individuals on an approved list with a maximum number of phone numbers. This list has names such as "personal allowed number."
Inmates and call recipients can use a telecommunications device for the deaf (TDD) to communicate with individuals with hearing or speech disabilities.
Inmate Phone Calls: General Rules
Inmates and loved ones considering communication through phone calls must follow particular phone call rules the BOP or DOCs impose. They may include:
The use of collect call-only phones
Prisons' recording and monitoring of calls for security and order purposes
Scheduling for the use of inmate telephones
Accommodations for scheduled non-recorded calls, such as to attorneys. Inmates must generally complete such calls within a set time limit
Using call-only phones is a privilege rather than an entitlement. Certain inmates may have less access to such phones for disciplinary reasons
Prisons may terminate calls for reasons that affect the correctional facility's order, safety, and security. Examples include violating unit rules, exceeding the time limit, disruptive behavior, or illegal activity
Inmate Calls: Information on Time Limits
Prisons may impose a shorter time limit for calls if other inmates are waiting to use the phone.
Recording of Inmate Phone Calls
Most U.S. jails and prisons record and monitor inmate phone calls. They conduct these actions for security purposes, like monitoring for a prison escape attempt or drug delivery.
Prison staff frequently listen to samples of inmates' phone calls and take steps to ensure the facilities' security. Inmates sometimes discuss their cases, crimes, and associates during phone calls.
Prohibited Inmate Calls
A prison prohibits inmates from calling:
Current or former employees of a state DOC
Current or former employees of the division of parole
Current and former employees of local, state, and federal criminal justice agencies
Jurors directly involved in the conviction of the inmate
Judges directly involved in the conviction or indictment of inmates
Crime partners not incarcerated
Residences of victims of crimes of which they were convicted or indicted
Inmate Telephone System
A prison or jail inmate technology service may include an inmate telephone system. The process of using such services typically includes these mechanics or processes:
Registration
Procedures for making calls
Rules for making calls
How Inmates Can Place Telephone Calls
Here are some general methods for using an inmate telephone system to make calls:
Collect calls: individuals accept charges when the inmate calls them
Friends and family prepaid: The telephone number's owner creates a prepaid account for depositing money to pay for an inmate's calls.
Inmate telephone prepaid debit account: The inmate and friends or family can deposit funds into the inmate's account.
Inmate Phone System Rules
Rules of particular inmate phone services may include:
Times phones are available
Call time limits
Limited or unlimited minutes per month
Possible recording and monitoring except for scheduled calls, such as to attorneys
Limits on calls to devices like landline telephones, prepaid phones, or post-paid phones
Registration requirements
If a Case's Victim Does or Does Not Wish to Receive Calls From Inmates, They Should Contact the Inmate Phone Service's Provider by Means of:
E-messaging Service
E-messages allow an inmate's friends and families to send electronic messages to inmates. E-messaging is an email-like system that supports text messages, photos, and e-cards.
Inmate Tablets
Inmate tablets allow qualified inmates to access secure tablets that can deliver vocational, educational, legal, and religious materials.
Complaints
Suppose an inmate has complaints about vendor services like the inmate telephone system. In that case, they should forward them to the service provider.
Scheduling and Receiving Inmate Calls
Scheduling Phone Calls
If you want to receive a phone call from an inmate, you must coordinate with them through mail, email, or visit.  
Receiving Phone Calls
You often hear a pre-recorded message identifying the facility and caller's name when you receive a call. You can then accept or deny the call. You must also create an account to make collect calls.
About Inmate Phone Calls
Phone calls are often limited to a set duration, like 20 minutes. The inmate phone system often notifies the two parties about the remaining time left for the call. The phone disconnects after the time limit ends or the fund's balance is zero.
You should avoid features such as:
Three-way call
Call forwarding
Call waiting
Payment Options for Inmate Telephone Services
Some service providers supply the option to create an inmate telephone account and use multiple payment options to purchase call minutes.
Payment options include:
Prepaid collect: A friend or family member can set up a calling account to their phone number while avoiding standard billing. When an inmate calls a prepaid number, the service provider deducts minutes from the account.
Several prepaid phone services are available, including AdvancePay offered at ConnectNetwork.com.
Debit: Debit calling gives inmates control of their phone account. They can purchase debit minutes from the jail or prison commissary. Inmates can use the minutes to call friends and family members.
Friends and relatives can also purchase phone numbers for an inmate's PIN debit account. Inmates can then use their debit account to call any approved phone numbers.
Collect: Inmates make calls to particular approved numbers. Inmates generally cannot make collect calls to cell phones or office phones.
What Is Currently the Best Inmate Phone Service?
You can select among various communications services that allow inmates to contact loved ones "on the outside." Popular inmate phone services include:
ICSolutions
Securus Technologies
Global Tel Link (GTL)
What Mobile Apps Can Facilitate Talking to Inmates?
You can download and install several "inmate call apps" using your mobile device to communicate with prisoners. Some mobile apps for smartphones and tablets include:
InmateAid
Flikshop
Pigeonly
Good and Bad Topics When Calling an Inmate
When making phone or video calls to inmates, you may be uncertain about what things to discuss. Here are some tips:
Know What Topics to Avoid
Avoid negative news like friends or family members' struggles. Discussing such issues may cause the inmate to feel more helpless.
You Can Be Emotional
Inmates can experience emotional pain and sadness while incarcerated. You can start the talk by discussing the inmate's feelings. Then you can finish the conversation with more positive topics.
Show They Are Loved
Simply talking with an inmate shows that you care. It is especially true if you talk in person at a federal or state prison or sheriff's office. However, if you call an inmate, you can still show that you care.
A prisoner may be experiencing guilt and remorse for their crime. Taking some time to make a phone call to an inmate can help them feel loved and valuable.
Be Wary of Future Planning
Talking about the future may seem like a good way to move forward. However, consider factors like uncertain release dates. It may be challenging for the prisoner to think about future events.
A better approach is to talk about past memories and fun times together. It is more "concrete" than the future since the events have already occurred.
Share Large and Small Joys
Positive events can be small ones instead of big celebrations. Your loved one will likely want to stay connected with your life. Some positive topics to consider include:
Birthdays and weddings
Job promotions
New babies
Dating and engagements
Good grades
Even sharing small joys can help the inmate feel connected to the outside world.
Be a Good Listener
While sharing joyous events with inmates can benefit them, simply providing a "listening ear" can also be effective.
The prisoner may not have an outlet for sharing their thoughts, feelings, and experiences. You can make a difference by listening to the inmate for a while.
Friendly Warnings: Taking the Risk Out of Inmate Calls
These practical tips can help avoid potential pitfalls when accepting a phone call from an inmate:
Inmates have a time limit for single calls, so make meaningful calls.
Prisons may restrict inmates' phone privileges for disciplinary reasons.
"Collect calls" by inmates may be charged to the prisoner.
Inmates can only call an individual on their approved phone list.
Prisons and jails may record or monitor calls inmates make
Prisons can share recorded calls with law enforcement.
Prisons often ban third-party calls. In such cases, an inmate calls a number, then the call's recipient connects the inmate to someone else.
Prisons may use voice recognition technology to verify the caller and call recipient.
FAQs
1. How can I receive calls from an inmate?
The offender usually completes and signs an offender telephone list. The list identifies up to a maximum number of names and phone numbers they can call.
Possible ways to receive calls from inmates include:
Collect
Prepaid collect
Inmate debit cards
Inmates can arrange that their phone company bills calls to a called party.
2. How can I block calls from an inmate?
You can block calls from inmates by refusing the call at any time. For example, you can press a number, like "1," during the process. This step disconnects the call, and the service provider informs the inmate that the call's recipient did not accept the call.
You can also permanently block incoming calls from a correctional facility.
3. How can I remove a block from an inmate's calls?
You can call the inmate phone service's provider and request to remove a block. The process may take an average number of business days, usually one or two.
4. How do I add money to my phone for inmate calls?
The process generally involves friends and family setting up an account. The options often include visiting the website or calling the company.
Afterward, the individual can add funds to the account in the inmate's name. If they have an existing account, you can add funds to it.
You can also indirectly add to an inmate's phone account by sending funds through methods like money orders. Then the inmate can add the funds to their telephone service account.
References