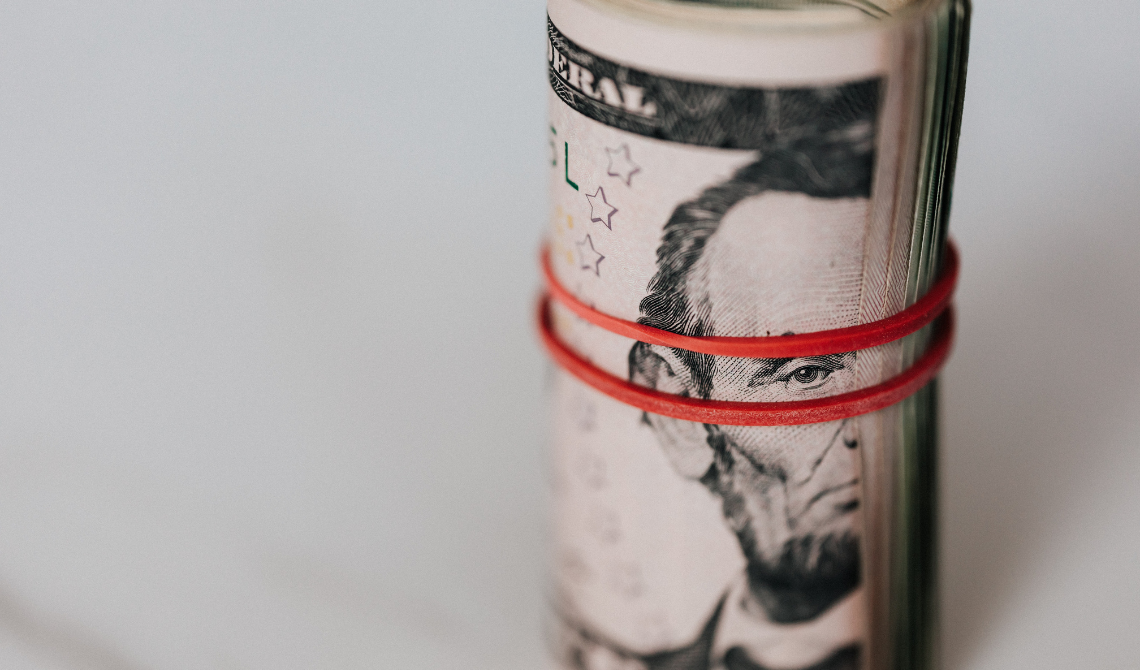 Inmates in state prisons throughout the United States earn an average hourly wage of approximately $0.63 per hour for prison maintenance, according to Kent State University.   
Meanwhile, The Marshall Project reported that arrested individuals pay $10,000, the median bail amount for felonies.  
Bail is the cash equivalent that arrested individuals pay to a court to ensure their appearance at trial. Consequently, you may need to make arrangements for financial assistance if you cannot post bail. 
The criminal justice system can affect individuals' finances if they become one of the approximately 2 million inmates in the U.S.'s federal, state, and local prisons and jails. 
Prison and jail inmates in the U.S., including those housed temporarily in detention centers, may wonder about jail funds. 
If you know someone in prison, adding funds to an inmate account of a family member or friend is possible. However, the process may be challenging if you do not know the exact location of the prisoner or are not familiar with the process of sending funds. 
lookupinmate.org is a one-stop site where you can access valuable information regarding inmates and correctional facilities throughout the U.S. You can also get information on inmates' public records and court and arrest records. 
Read on if you wish to know more about jail funds. 
Understanding Inmate Jail Funds: The Basics
The criminal justice system's guidelines for particular crimes affect where an offender's money goes. For example, the system may review whether convicted criminals like violent sex offenders benefited financially through their crimes. 
Sometimes, banks freeze convicted criminals' financial accounts as a safety measure. 
Two primary accounts are available to inmates. One is the commissary and phone account. After individuals deposit cash into these accounts, it becomes the inmate's money. They can use these jail funds for commissary items or debit calls. 
Another type of account is a phone account, which allows inmates to make calls to particular numbers. The calls work like collect calls, although the inmate's phone account covers the call's cost. 
The detainees and their loved ones should know the mechanics of inmate accounts. Such issues include how the inmate knows when someone has deposited money into their accounts. They should also be aware of which items they need to purchase. 
You can contact resources such as a sheriff's office to learn the particular inmate accounts available to detainees in federal, state, or local jails and prisons.    
Inmate Trust Funds
Prison systems have different methods for handling inmate funds. For example, several states' prison systems have an inmate trust fund (ITF) with a personal account number. Loved ones can deposit money on behalf of the prisoner into the inmate trust account.
In this case, the term "trust fund" does not refer to an estate planning tool to help minimize taxes. Instead, it is a financial account the prison system supplies for an offender in prison or jail. 
An ITF works like a bank account for incarcerated individuals. Inmates can deposit wages from a prison job into the account. In addition, they can use the account to buy items like:
Personal care products 
Snacks
Postal stamps 
However, prisoners usually earn small salaries while in prison. In 2014, the American Prospect reported the median hourly wage was $0.20 for state prisoners and $0.31 for federal prisoners. In addition, while ITFs may earn interest, the amount is often small. 
The judicial system can also garnish a prisoner's salary for:
Child support and alimony
Room and board 
Telephone calls
Fees
In addition, prisoners can request their loved ones to deposit funds into their inmate trust funds. Individuals outside the prison must also send funds to a particular address.
Inmate Accounts    
The two primary forms of inmate accounts include:
Commissary account: Individuals can deposit funds into the account, which becomes the inmate's funds. 
Phone account: This inmate account is strictly for phone calls. The inmate makes a "collect call" to loved ones who have agreed to accept calls from the individual. 
The prisoner's phone account must contain sufficient funds to pay for the call.
Inmate Commissary or Canteen
Prisoners can often use inmate accounts to purchase items at the prison commissary, jail canteen, or inmate canteen. Such items may include food and clothing.
The commissary essentially works like a warehouse of goods that the judicial system has approved for inmates to own. Prisoners receive a list of items and prices. They can also purchase commissary items on particular days. 
Since prisoners cannot carry cash, they can use their inmate account to pay for the items. Modern prisons link a prisoner ID card to their accounts, allowing it to function like a debit card. 
In some cases, prisons can use commissary stamps, which function like cash. 
The Prison Has Transferred the Inmate. What Happens to Their Money?    
The prison system automatically transfers an inmate's funds to the new location. However, the process may take a few weeks. 
The Prison Has Released the Inmate: How Do They Get Their Money?    
An inmate must complete a form following their release. Then, the commissary manager issues them a check via mail.
How Can One Learn How an Inmate Is Spending Their Money?    
Often, a prison or jail does not disclose the details of inmate accounts. 
Jails and prisons take steps to protect the privacy rights of individuals, including inmates. For example, the California constitution contains the Information Practices Act of 1977. 
California's Department of Corrections and Rehabilitation (CDCR) does not disclose an inmate's personal information without the individual's consent. The exception is when the law authorizes such disclosures. 
How to Send Money to Inmates
These are the options to consider when sending money to inmates: 
Money order or cashier's check
Monthly checking account debit 
America's Cash Express (ACE)
eCommDirect Store 
JPay
TouchPay Payment Systems
Each option has instructions and guidelines you must follow, so it is critical to read them. You should also read any disclaimers to help avoid scams. 
Sending Funds to Inmates' Accounts: Money Transfer Agents
Incarcerated individuals must use their inmate accounts for all financial transactions. Inmates usually cannot possess cash, which the criminal justice system classifies as contraband. Contraband is the illegal or prohibited trafficking of goods.
Prison visitors should also avoid handing cash to inmates. 
Today, friends and family members can use various money transfer agents to deposit funds into an inmate's account. The process is similar to "wiring" money after providing information like:
Inmate name  
Inmate ID
Correctional facility 
Here are the methods for adding money to inmate accounts: 
By phone: You can call the toll-free number of money transfer agents and pay using a credit or debit card. 
By internet: Log on to a money transfer agent's website. You can use a credit or debit card to pay. 
By Department of Corrections (DOC) public website: This process allows you to access a DOC's inmate lookup system. 
By walk-in: You go to a participating money transfer agent's office as you would wire money. You can utilize a credit card or debit card to pay.  
By kiosk: DOC cash offices have jail lobby kiosks for depositing money for inmates. Such kiosks accept payment options such as cash or credit cards like Mastercard or Visa. 
Usually, you cannot send cash or personal checks to inmates. 
JailATM is a service allowing family members of inmates in participating jails to send: 
Money 
Gift packs
Emails
Video calls 
Inmates can access funds immediately after the sender's credit card is processed.
Some jails offer physical ATMs in their lobbies allowing visitors to send money to inmates through JailATM. Such ATMs usually charge users a fee for using a credit or debit card to deposit money.
Here are the basic steps to add money to JailATM messaging:
Step 1: Go to the official JailATM website to "Add Money to JailATM messaging login"
Step 2: Click on the login option on the website
Step 3: Enter your username and password, then click on "login"
Step 4: Contact support if you forgot the username or password
Step 5: Research particular methods for sending funds through JailATM messaging. 
How Do Inmates Know Their Jail Fund Accounts Have Money?    
An inmate usually receives an invoice or transfer receipt reporting that an individual has deposited funds into their account. The amount of time required to receive the invoice or receipt varies. 
Individuals depositing money into an inmate's account can also contact inmates through email and texting. 
Some prisoner advocates argue that internet access is a human right. They argue that such access may improve rehabilitation and reduce recidivism rates. However, a debatable issue is whether prisoners should have the right to connect to the web. 
Most prisoners in the United States do not have internet access. Some correctional facilities also punish inmates when their families make online posts like blog posts and opinion pieces on their behalf. 
However, if inmates have internet access, their friends or family can inform them through email of deposits to their ITFs.  
Inmates' loved ones may also inform prisoners of deposits to their ITFs through "chirping devices." In addition, prisoners can send a link so their loved ones can add money to their chirp account.
So how does chirp work in jail? The inmate gets dedicated phone numbers and funds a chirping device through an account they set up via a chirp service provider. 
These devices that look like smartphones allow inmates to send and receive text messages. However, these text-only gadgets do not permit calls. It is also worth noting that the prison system of transferring or releasing detainees can affect their chirp accounts. 
What Items Do Inmates Generally Need to Purchase?    
A prison or jail meets the basic needs of inmates, including:
Food
Clothing
Shoes
Personal care items 
Haircuts
Bedding
However, inmates may supplement necessities by purchasing extra non-emergency items like sodas and snack foods from the prison's canteen.  
The Multi-Million Dollar Market for Sending Money to Prisoners
Today, jails and prisons are shifting certain costs to inmates and their families. Examples include: 
Copays for medical care
Clothing or hygiene items 
For-profit canteens 
Many incarcerated individuals lack money for such expenses, so the family often transfers money to inmate trust accounts. In the past, families often sent money to inmates through money orders. 
Increasingly more private companies use inmate accounts as a source of profits. No public data is available regarding the profits of companies providing services for sending money to inmates. 
However, some states have published data on the funds transferred in their state prison systems. In fiscal years 2011 and 2014, the average annual transfers per incarcerated individual was $737 for these states:
In terms of direct revenue, JPay is one of the largest payment processors for U.S. prisons and jails. In 2014, JPay earned $525 million through transfers and $53 million through fees. 
Some government agencies have developed options like no-cost electronic payments to prisoners as community services. 
However, correctional facilities often outsource the function to private for-profit companies, which increases the expenses of inmates' friends and relatives supporting their incarcerated loved ones.  
Non-monetary Methods to Support Inmates  
Here are some ways to support incarcerated individuals besides sending money:
Visit the inmate: Options may include in-person and video visit systems. Remember that such visits usually have time limits, and you must schedule them in advance. Visitor requirements and restrictions include: 
Age minimum (at least 18 years old) 
That the visitors, if more than one, should reside in the same household
That the visitor does not have physical contact with the inmate
That the guest should follow COVID-19 protocols
Receive phone calls: You should consider communicating with the inmate even if you are somewhat uneasy about talking to the person. Exceptions include toxic relationships. Prisons may also have in-house phone systems, which include features like free weekly minutes. 
Send gifts: This option is an alternative to sending money including access to music, magazines, and books. The correctional institution, like a detention facility, may require you to purchase the items through a prison commissary. So instead of one magazine, you can buy a magazine subscription. 
Write letters: This process allows you to communicate through inmate mail and share your thoughts and feelings. The prison or jail may also permit individuals to send non-explicit photos to inmates. 
Pick them up on release day: Make sure to confirm the release's date and time with law enforcement officials. For example, some prisons or jails may release or parole inmates on one day of the week. 
You can also bring the inmate's favorite food or drink so they can celebrate the big event.  
Nationwide statistics show that state prisons release at least 95% of inmates. Meanwhile, the judicial system releases nearly 80% to parole supervision.
References
1. The ins and outs of bail
https://www.themarshallproject.org/2020/10/28/the-ins-and-outs-of-bail
2. Mass Incarceration: The Whole Pie 2022
https://www.prisonpolicy.org/reports/pie2022.html
3. There are two different types of accounts for inmates 
https://www.somersetcounty-me.org/images/pdfs/Updated_Inmate_Account_Information.pdf
4. Reentry trends in the United States
https://bjs.ojp.gov/content/pub/pdf/reentry.pdf
5. Notice On Information Collection for the CDCR Public Website
https://www.cdcr.ca.gov/privacy-policy/
6. Trust fund/deposit fund manual 
https://www.bop.gov/policy/progstat/4500.12.pdf
7. Frequently Asked Questions Regarding Inmate Funds
http://www.dc.state.fl.us/ci/funds.html
8. Frequently asked questions
https://www.tdcj.texas.gov/faq/comm_trust.html
9. Send money 
https://www1.nyc.gov/site/doc/inmate-info/send-money.page
10. Sending money from a correctional facility to an inmate 
https://doc.nv.gov/Inmates/Inmate_Banking_Services/Facility_Money/
11. The multi-million dollar market of sending money to an incarcerated loved one
https://www.prisonpolicy.org/blog/2017/01/18/money-transfer/
12. How Much do Prisoners Make in Each State?
https://onlinedegrees.kent.edu/sociology/criminal-justice/community/how-much-do-prisoners-make-in-each-state