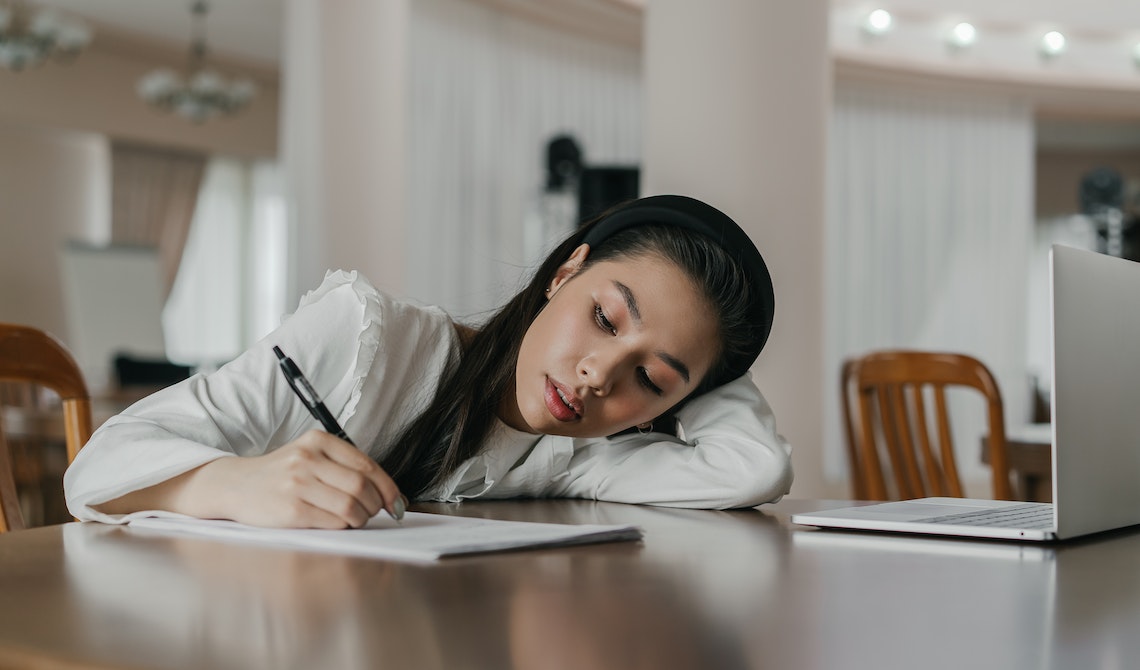 Did you know that a medical study suggests that frequent communication between prisoners and their family members improves positivity and may reduce the risk of recidivism or reverting to crime after release?
Anecdotes from different incarcerated individuals reveal how correspondence with family helped them move forward despite their depressing situation inside prison.
The Brennan Center for Justice, a non-partisan institute in New York City and Washington, D.C., shares the story of Tami Eldrige, who received a 21-year sentence.
She said that her children's lives became tangible through letters, keeping her company all those years. She added that a single letter could fill one thousand days.
This personal story shows the benefits of personal letters to incarcerated individuals.
This article is for individuals who have family or friends in prison or are interested in participating in an inmate pen pal program and want to learn how to compose and send letters to people behind bars.
Family and friends will learn more about sending letters to their loved ones behind bars. Also, this article will tell you what to send to prisoners, the kinds of letters you can give, and what you should include in your correspondence.
If you need an inmate and facility locator to get contact information for the facility where your loved one is housed, visit LookUpInmate.org. You'll have access to an extensive database of more than 7,000 correction facilities in the United States.
So, You're Interested in Writing to an Inmate…
Writing a letter, especially to an inmate, is a personal and private experience. You're spending time and effort translating deeply-held emotions, desires, and well-wishes into words. Writing for someone is a gesture that shows your care and concern for someone behind bars.
Why You Should Write a Letter to Someone in Jail
People behind bars have limited communication with the outside world. All forms of communication are monitored and regulated by prison authorities.
If an inmate's family or friends don't take the initiative to communicate, those behind bars can become totally cut off from the outside world.
Inmate phone calls have a limited time and may not be enough to catch up. In contrast, a letter gives you enough space to express and share your feelings without any time constraints. Also, inmates can keep your letter, even in their cells.
Deliver Hope to a Loved One Today
You can show your loving support to someone behind bars through letter writing. Sending inspiring quotes written on paper reminds inmates that there's hope beyond their current situation. Hope is powerful and can prevent a person from succumbing to despair.
A Guide on How to Get in Touch With a Prisoner
Here's a short guide to help family members and friends communicate with loved ones behind bars through letters. People who have joined prison pen pal programs can also use this guide to communicate effectively with prisoners through correspondence.
The General Rules of Writing an Inmate in Prison
Writing to people in prison differs from ordinary correspondence because of the specific mail rules and regulations most correctional facilities impose.
These rules are guided by the Federal Bureau of Prisons and your state's Department of Corrections (DOC).
You need to familiarise yourself with these general rules to ensure that your letters reach your loved one behind bars without any issues.
When writing to your incarcerated loved one, remember the following:
Write the prisoner's full name
Include the prisoner's identification number
Place your name and address on the envelope and in the letter itself (you can include your home address and street address)
Choose the correct envelope size
Some rules are in place to prevent the entry of contraband, like drugs, into prison. For instance, Michigan's prison correspondence policy prohibits scented letters with lipstick stains and oily substances.
How to Address Your Letter to a Prisoner
Write the facility's address in the middle of a plain envelope and place your return address in the upper left corner.
Here's an example of how to format the recipient's address:
Inmate's name (first and last name) # booking number
Name of the correctional facility
Address of the correctional facility
Facility's city, state ZIP code
For the return address, just write your name, address, and ZIP code. You can place it in the upper left corner of the envelope.
Where to Write a Letter to Someone in Jail
You can send letters the traditional way via post office or through email. However, inmates' access to email correspondence may vary by state.
You can visit LookUpInmate.org to check whether the facility holding your loved one provides email services for inmates.
Mailing a Letter via Email (Jail)
Here's a list of things you must do when you want to email an inmate in a county jail:
Step #1
First, check the facility where your loved one is detained. You can personally visit the facility or check the prison website. Ask for information about email correspondence, as only select facilities provide this service to inmates.
Step #2
Search for your loved one's booking number. You'll need this to deliver your email to the right individual.
Step #3
When you start writing your email, it's best to avoid sensitive or highly personal statements that can be used against you in court. It's important to remember that emails sent to inmates are subject to regulation and inspection by prison staff before they are sent to the intended inmate.
Mailing a Letter via Postage (Jail)
Here's a step-by-step guide for sending traditional letters to people in jail.
Step #1
Get the address of the institution housing your loved one. You can find this address through facility locators like LookUpInmate.org.
Step #2
Don't forget to ask for the inmate's booking number or identification number. You can also get this information from LookUpInmate.org.
Step #3
Write the recipient's address per the previous example provided (see How to Address Your Letter to a Prisoner). Attach the required postage stamps and recheck everything written outside of the envelope.
Step #4
Never forget that letters sent to inmates are monitored and inspected by prison officials. Be mindful of your letter's content to avoid uncomfortable and embarrassing situations.
Step #5
Ensure that you don't add stickers and perfume. Make sure that your envelope and letter do not have stains. Prison officials impose this regulation to avoid the entry of contraband.
Step #6
After checking if everything is in order, mail your letter through the post office or deposit it in a P.O. Box. It's recommended to avoid using third-party delivery services like FedEx and Amazon to send letters, as prison officials might not accept them.
Mailing a Letter via Postage (Prison)
Sending mail to jails isn't that different from sending a letter to prison.
Here are three differences that make prison correspondence a little more complicated.
Prisons in 14 states have started using mail scanning for incoming inmate correspondence. Prison authorities make photocopies of the scanned letter, which is then given to the inmate.
Prisons have the authority to inspect incoming mail to prevent the entry of contraband.
There's a limit to the weight of letters you can send to prison. In most cases, a 16oz limit is implemented in prisons.
Mailing a Letter via Email (Prison)
Sending emails to prison involves the same process. However, the subtle differences depend on the facility where your loved one is incarcerated.
Step #1
Prisons may require an approved contact list before allowing correspondence with an inmate. Ensure that the inmate includes your name in their list of contact numbers for approval.
Step #2
Once the prison facility approves your name, you'll get notified through the email service provider used by the prison. An example of an email messaging service provider is Corrlinks.
Step #3
Once notified, you'll receive the contact information of the incarcerated loved one you want to correspond with. Upon getting this notification, you can start sending emails regularly.
Appropriate Content in Letters for Prisoners
Writing to someone in prison is different from writing to people outside. Remember that your letter is not entirely private, and it will be inspected by prison authorities to prevent the entry of contraband.
What to Include
Consider the recipient's mood when writing your letter. Remember, they are already experiencing stress in prison. Keep your personal letters light and breezy. Focus on informing the inmate about what's happening outside and with those they care about.
Play Games
You can add games to your letters, especially if that's how you communicate. You can add a "game" section in your correspondence. So let your creativity shine and add exciting games to your communications.
Be Empathetic
The letters you send should help lessen your loved one's homesickness, but avoid blaming or finger-pointing about their predicament. Show empathy towards them, especially since they're serving time.
Always be sincere, positive, personal, and helpful in your letters. You can show emotion but don't be overly dramatic.
Talk a Little About Yourself
You can introduce yourself in the first letters if you are pen pals. Paint a picture of yourself by describing how you look, where you work, and your likes and hobbies. You can also inform your inmate pen pal about the expected timeframe for each letter reply.
Don't Judge
Avoid being judgmental in your letters. Passing judgment is the court's responsibility. Refrain from judgmental statements, even if the inmate is stubborn and unrepentant. Give them more time to ponder and reflect on their past mistakes.
Get Personal
When writing to someone in prison, use your voice to make them "hear" you through your writing. Make them remember you by including speech mannerisms that evoke memories of previous conversations. Use letters to make your loved one behind bars remember how it feels to talk to you.
Follow Up
Pen pals should follow up on plans you'll make to improve your correspondence with each other. You can tell the person in jail your contact information to ensure they send you their replies.
Remember: you don't have to disclose your home address if you aren't comfortable. You can use your work address, set up a P.O. Box, or ask for help from an organization dedicated to receiving and holding mail from your pen pal in prison.
Ask Questions to Meet Them
If you're a family member or a close friend of someone in prison, asking them for permission to visit may not be necessary, as most inmates want family visits.
However, for individuals not close to their incarcerated pen pal, it's better to ask the inmate if they want to arrange a prison or jail visit. Letters increase in value when the recipient and receiver know each other.
Really Get to Know Them
The purpose of writing letters to someone is to know each other better. Share more about yourself and encourage the person in jail to open up about their life. Once you've achieved this kind of connection with someone behind bars, correspondence will become easier.
Write a Letter With Inspirational Quotes to Someone in Jail
Inspirational quotes can be religious or non-religious. For religious individuals, biblical passages can be impactful. For non-religious inmates, you can still share biblical quotations or sayings from famous people. These quotes can serve as inmates' guiding principles.
Write a Letter With Bible Verses to Someone in Jail
You should choose bible verses that encourage, not condemn. The point is to help them repent and become better versions of themselves, not reiterate their past crimes.
What Are Some Safety Precautions You Need to Take When Writing to a Prisoner?
When you write to someone in prison, especially if you're doing this through a pen pal program, be cautious in providing highly personal information.
Though it's best to keep a friendly and easy mood in your correspondence, you should be wary of imparting confidential details about yourself, like phone numbers, bank accounts, and home or business addresses.
How to Write a Letter to a Prisoner by Yourself and Make Sure They Receive It
You can follow these simple rules:
Before sending the letter, ensure no inappropriate information is included. Remember, prison officers inspect your mail.
Follow the guidelines in the section The General Rules of Writing an Inmate in Prison. Refrain from using perfume, lipstick, or any other accessories.
Make sure you get all the address information correct. The wrong address will only delay your letters from reaching their intended destination.
Tips for Writing a Letter to a Prison Inmate
Here are other tips you can follow when writing to inmates in facilities like state or federal prisons.
Tip One: Ensure Your Letter Reaches the Inmate
You should contact the facility where you intend to send the letter. Rules and regulations about correspondence with inmates may vary depending on the correctional facility. Also, familiarize yourself with the DOC's regulations regarding inmate communication.
Tip Two: Set Your Procedures
If you're writing through a pen pal program, you should know how the program chooses who will be your inmate pen pal.
If you're a family member or friend, you should know how your letters are delivered from the post office and received in prison. You can get this information by asking the post office.
Tip Three: What to Write
Finally, you should mind the content of your letter. Avoid divisive topics like politics, religious ideologies, or sensitive cultural or societal issues. Always show that each inmate's letter boosts their positivity and encourages them to change.
Ensuring Your Letter Reaches Its Destination
Once you follow the tips this article provides, your letter will likely be accepted in prison. However, other factors can prevent letters from reaching an inmate on time.
Examples are prison transfers, disasters, prison lockdowns due to riots, the spread of infectious diseases, or cases like the COVID-19 pandemic.
Visit LookUpInmate.org and gain access to records of inmates from over 7,000 U.S. correctional facilities in Texas, Illinois, Ohio, Georgia, North Carolina, and other states, including federal and state prisons, jails, military prisons, and immigrant detention facilities.
You can obtain details about prison regulations, visiting hours, sending money to inmates, phone numbers, and mailing addresses. You may also find the inmate's release date marking their reintegration into society.
References
1. Behind Bars but Connected to Family: Evidence for the Benefits of Family Contact During Incarceration
https://www.ncbi.nlm.nih.gov/pmc/articles/PMC6625803/
2. Why Mail Service Is So Important to People in Prison
https://www.brennancenter.org/our-work/research-reports/why-mail-service-so-important-people-prison
3. Mail scanning: A harsh and exploitative new trend in prisons
https://www.prisonpolicy.org/blog/2022/11/17/mail-scanning/