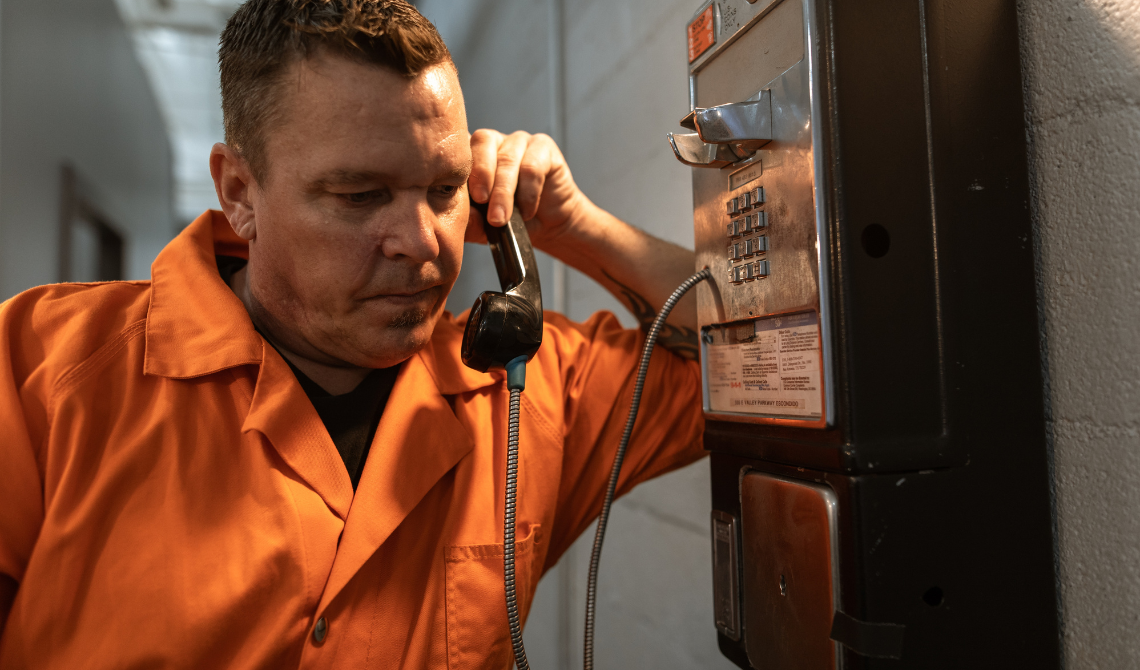 Suppose you have a family member who is in jail or prison. In that case, you may be familiar with the difficulty of maintaining the line of connection between families and their loved ones.
Phone calls are essential lines of connection for many inmates in America. However, in some county jails or state prisons, inflated costs of telephone services have hampered inmate access to their loved ones.
For example, according to a study in Prison Policy Initiative, a 15-minute in-state phone call from an Arkansas state prison ($4.80) costs 34 times more than a 15-minute in-state phone call from an Illinois state prison ($0.14 per 15-minute) in 2018.

Pricey telephone calls from correctional facilities may be one of the most significant reasons inmates do not call their friends or family members. 
According to one survey, 69% of respondents said that calling costs were the most challenging constraint when keeping in contact with an incarcerated family member. 
More than one-third of those survey respondents went into debt due to phone and visitation costs. Communication with loved ones while in a correctional facility is critical for the inmate's success after release. 
Communication is also important for the well-being of the inmate's family members, especially their children.
Phone calls are one of the primary ways incarcerated individuals communicate with family members who live long distances. This preference has been especially true since the COVID-19 pandemic in 2020.
For instance, one study noted that across the country, inmates in jails spent 8% more time on the phone for over three months in 2020 than in the same timespan in 2019.
Suppose you lost contact or received fewer calls from your loved one in jail or prison. In that case, you must understand how the prison phone system works and how private phone companies may influence the frequency of inmate calls.
Aside from expensive call rates, a sanction for violating rules is an equally important reason why inmates do not call their loved ones. As a form of penalty, correctional staff may restrict the phone use of an inmate.  
At our website, lookupinmate.org, we can provide you vital information to help assist you with such issues and provide you with a tool to search for an inmate. We have gathered all this critical information and links to relevant websites to help you with your search.
Things That Affect an Inmate's Ability to Make Phone Calls
Other reasons for why an inmate would not call include:
An inmate who did not complete the intake process may not have access to the inmate phone system.
The correctional facility is on lockdown, placing a temporary restriction on inmates' access to phone services.
Insufficient funds in an inmate's account (some county jails and state prisons would still allow outgoing collect calls)
Some correctional facilities limit inmates' contacts, permitting only confirmed family members or those on their official visitation list.
Severe weather conditions and power outages may hinder the reception of incoming calls.
The inmate does not have the phone number of their loved ones on their phone account.
How Prison Telecommunications Work
Inmates are free to use communication devices to correspond with their loved ones. These devices work through banks of three to four landline phones shared by groups of inmates. Usually, the amount of time for an inmate's telephone use is 5 to 15 minutes.
However, federal courts hold that inmates do not have the constitutional right to purchase unregulated phone services. 
According to Bureau of Prisons (BOP) regulations, inmate phone access must follow specific jail or prison management requirements. 
Despite differences in telephone use regulations, correctional facilities have commonalities in their rules for inmate calls. For example, correctional facilities do not allow inmates to receive incoming calls. 
 Inmates can call telephone numbers on their approved list that recognizes collect calls. In a collect call, the called party shoulders the expense of the call.
Inmates can also buy services from third-party contractors to create prepaid phone accounts.
The two major national companies competing for contracts in the correctional telecommunications industry are Global Tel*Link (GTL) and Securus. 
Becoming Eligible to Receive Calls
Usually, an inmate can only make a call to a phone number on their official phone list. This list may contain up to 30 phone numbers. 
The associate warden may permit the inclusion of additional phone numbers to an inmate's phone list based on the inmate's specific circumstances, such as family size.
After the inmates finish the intake process, they can submit a list of telephone numbers. If the inmate cannot remember your number, it may be because you are not on the list. 
However, the inmate can still add your phone number to the list later. One way for the inmate to get your phone number is for you to include it in a letter.
One of the most likely reasons family members cannot receive a call from a loved one in jail is that they only have a cell phone. Cell phones cannot recognize collect calls.
Prison telecommunication companies' (GTL or Securus) inmate telephone services facilitate communication with your loved ones through inmate calling accounts.
For example, GTL provides the following payment options:
Prepaid collect: AdvancePay®, which is GTL's prepaid collect option, enables subscribers to set up a calling account to their phone numbers without the constraints of standard billing. You can use prepaid accounts for phone numbers, including cell phone numbers.
Debit: Debit calling grants inmates ownership of their phone accounts. Inmates purchase debit minutes from the commissary, which they can use to contact a loved one.
Collect: Calls to specific approved numbers and call charges will continue to appear in your monthly phone bill as they do today. However, inmates cannot use their collect call accounts to contact cell phones, office phones, or hospital numbers.
Can Prisoners Make Phone Calls Everyday?
Inmates have 300 minutes of phone access per calendar month and are mainly responsible for how they use their phone time. However, correctional facilities can grant additional time for a good cause.
All correctional facilities have a fixed period for inmate calls. In general, depending on the type of facility, the penitentiary staff allows access to inmate telephones sometime between 8 AM to 11 PM. 
Typically, inmates cannot make outgoing calls until the morning roundup is over. If there are issues, staff may delay phone use in the correctional facility.
Why Do Inmates Lose Phone Privileges?
There is no legal prohibition against limiting inmates' phone privileges. 
Federal courts have ruled that inmates have a First Amendment right to telephone access. However, this right is subject to reasonable prison management and security constraints.
For example, correctional staff may restrict an inmate's phone use to punish insubordination and bad behavior.
How Can You Tell If Someone is Calling You From Jail?
Telecom companies differ regarding how called parties can receive a call notification. 
Typically, suppose an inmate is calling you from jail. In that case, you may receive a pre-recorded message stating the facility where the call is coming from and the inmate's name.
When the message is over, you may choose to accept or decline the call.
Does Everyone Get a Phone Call From Jail?
Inmates can only contact friends and family members whose phone numbers are on the approved phone numbers list. 
An inmate who intends to have phone privileges must prepare an initial phone numbers list during the intake process. 
At the time of submission, the inmate must acknowledge that the individuals on the list are willing to receive the inmate's phone call.
Reducing the Cost of Inmate Calls
One way to lessen the cost of contacting an individual in jail or prison is to reduce the amount of time you spend on the phone with that person and the frequency you call.
It is essential to know that making one extended phone call once a week is less expensive than making several short calls each day. Private phone companies may charge a connection fee for inmate calls.
Moreover, you can reduce the cost of your calls by having a number that is local to the institution. 
Long-distance calls through phone providers can drive up the cost of inmate calls. If you can create a local number, you can save a lot of money.
Due to a lack of market competition in the prison telecom industry, incarcerated people and their families frequently face unreasonably high phone bills.
You can file a complaint with the Federal Communications Commission (FCC)  if you think a prison telecom service provider has overcharged you or a family member.
By phone: 1-888-CALL-FCC (1-888-225-5322); TTY(text telephones): 1-888-TELL-FCC (1-888-835-5322); ASL (American Sign Language) 1-844-432-2275
File a grievance online at https://consumercomplaints.fcc.gov
By mail (include your name, address, contact information, and as much detail about your complaint as possible):

Federal Communications Commission
Consumer and Governmental Affairs Bureau
Consumer Inquiries and Complaints Division
45 L Street NE
Washington, DC 20554
Intake and Classification
It is critical to have proper intake and classification procedures to safeguard the jail and guarantee adherence to legal requirements and individual rights.
Correctional staff classifies inmates to some extent during the assignment of inmates' housing units. For instance, housing units have varying levels of custody or surveillance that the jail or prison staff believes to be suitable for specific inmates.
Jail classification also happens whenever the staff grants or denies inmates access to jail activities or services.
The correctional staff can observe and classify the inmates into their proper categories. 
The intake and classification process may result in the inmate's permanent assignment to one location. The procedure may also decide the rehabilitation treatment the staff may administer following what the panel thinks is the root cause of the inmate's crime.
References
1. State of Phone Justice: Local jails, state prisons and private phone providers
https://www.prisonpolicy.org/phones/state_of_phone_justice.html
2. Who Pays? (The True Cost of Incarceration on Families)
http://whopaysreport.org/wp-content/uploads/2015/09/Who-Pays-FINAL.pdf
3. Research roundup: The positive impacts of family contact for incarcerated people and their families
https://www.prisonpolicy.org/blog/2021/12/21/family_contact/
4. People in jails are using more phone minutes during the COVID-19 pandemic, despite decreased jail populations https://www.prisonpolicy.org/blog/2021/01/25/covid_call_volumes/
5. Detecting and Managing Cell Phone Contraband: An Overview of Technologies
for Managing Contraband Cell Phone Presence and Use in Correctional Facilities
https://www.ojp.gov/pdffiles1/nij/grants/302129.pdf
6. Chapter Three: Legal and Regulatory Background
https://oig.justice.gov/sites/default/files/archive/special/9908/callsp3.htm
7. Prison phone giant GTL gets bigger, again.
https://www.prisonpolicy.org/blog/2017/08/28/merger/
8.  28 CFR § 540.101 – Procedures.
https://www.law.cornell.edu/cfr/text/28/540.101
9. IN DOC Inmate Telephone Service
https://www.gtl.net/in-telephone-service/
10. Program Statement
https://www.bop.gov/policy/progstat/5264_008.pdf
11. Jail Classification and Discipline
https://www.ojp.gov/pdffiles1/Digitization/114436NCJRS.pdf