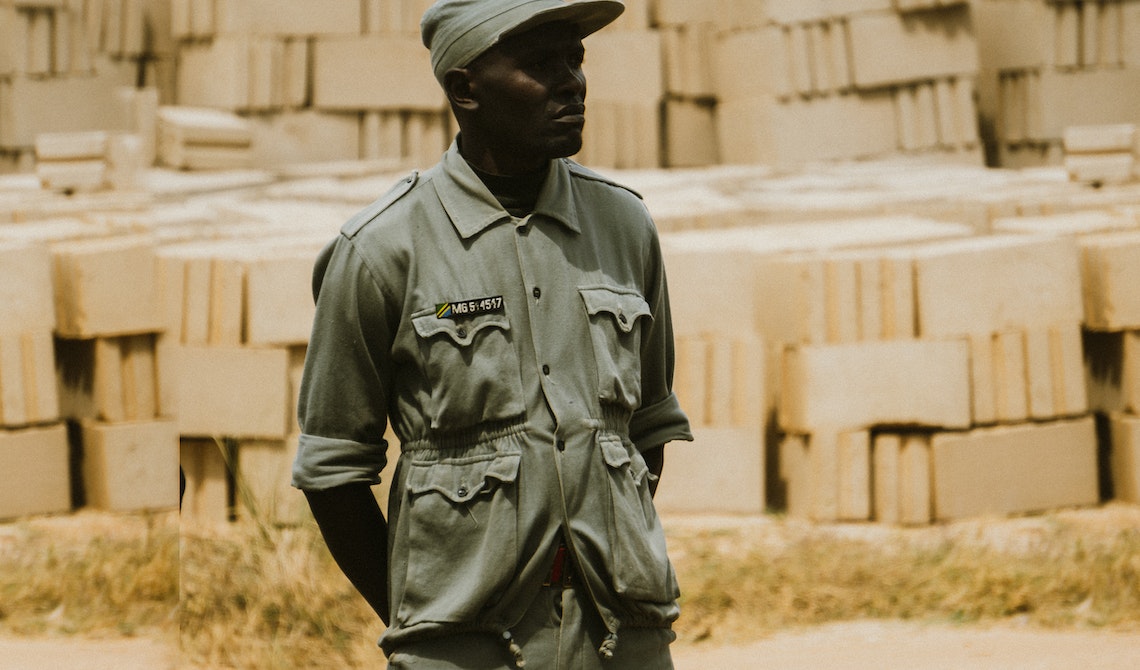 The popularity of television shows like Prison Break and Law & Order suggests that United States (U.S.) citizens are deeply interested in law enforcement work and the criminal justice system.
Working in correctional facilities may interest you if you are one of the many individuals who are fans of the TV shows above. 
What are the job opportunities available in prison, and what are the roles and responsibilities of these professions? Can inmates hold jobs while in prison and how much is the average pay for each position? 
lookupinmate.org is a one-stop online resource for essential information regarding inmates and the prison systems across the country. 
This article details possible jobs in the prison industry, including their roles, responsibilities, average salary, and work environment.
Read on for more information on prison jobs and what it is like to work in correctional institutions.
Work on the Inside
Becoming a correctional staff member gives you many opportunities to create critical changes in the country's prison system. 
For example, working as a healthcare professional in prison offers you a chance to improve prison inmates' overall physical and mental health.
Many exciting positions, like teaching and nursing, are also available at the Federal Bureau of Prisons (BOP) and other prison facilities. 
The following sections discuss job professions that may interest you. 
What Are the Different Types of Prison Jobs?
Correctional Teacher
Correctional teachers must be able to teach inmates, especially prisoners who are culturally and economically disadvantaged. 
These professionals are in charge of the following tasks:
Assessing inmates
Planning tasks and analysis
Implementing educational programs
Tracking inmates' academic progress
Evaluating and modifying curriculum 
Many prisons require applicants to complete a bachelor's degree program with at least one course in each of the following areas:
Human development
General psychology
Philosophy and history of education
Level-specific teaching methods
Moreover, some institutions require certifications or licensure for applicants. For the BOP, these credentials may come from the following jurisdictions:
A state 
The Commonwealth of Puerto Rico
A United States territory
Correctional teachers' salaries can vary depending on the complexity and nature of their work. 
However, as of August 2022, these professionals may have an average yearly pay of $47,562 in the United States.
Correctional Officer
Correctional officers work in jails and prisons to oversee inmates and detainees. 
These professionals perform routine checks to ensure the facility's security, they also record inmates' behavior and provide safe transportation for prisoners during transitions.
Correctional Officer Jobs and Job Description
Correctional officers have various duties. Here are some of the typical tasks involved in becoming a correctional officer:
Provide care, security, and direct supervision of inmates
Ensure the safety of housing units
Assign inmates to appropriate treatment programs and community support services
Help facilitate inmates' reentry into society
Collaborate with other external and internal stakeholders, including police officers, lawyers, and community members
The correctional officer position requires applicants to have a bachelor's degree or full-time general experience. 
Moreover, some institutions set an age limit for correctional officer aspirants. The BOP has a maximum job entry age of 37 years old.
Correctional Officer Salary Information
Correctional officers' wages can vary depending on their work experience or credentials. 
The Bureau of Labor Statistics (BLS) reported that correctional officers in the United States earned an average yearly pay of $53,420 in 2021.
Furthermore, the states with the highest correctional officer employment levels are:
Corrections Administrator
Corrections administrators have expertise in blending clerical and leadership roles in prison. 
These tasks may appeal to individuals who are looking for ways to significantly impact the country's correctional system.
Here are some of the responsibilities of corrections administrators:
Oversee the correctional facilities' operations
Plan the prison's budget
Ensure the safety and effectiveness of correctional programs
Moreover, corrections administrators thoroughly understand the state or federal Department of Corrections rules governing incarceration facilities.
In the United States, corrections administrators may make an average yearly pay of $270,831.
Probation Officer
A probation officer is a law enforcement agent who is responsible for supervising offenders who received conditional release orders but are still under the criminal court system's jurisdiction.
Probation officers' work may involve the following tasks:
Interviewing probationers and their loved ones to evaluate the offender's progress
Assessing probationers to determine the best rehabilitation approach
Performing background checks on former inmates
Documenting and updating reports to monitor offenders' progress or issues
Testing and assessing probationers for substance abuse
Assisting former inmates' reentry into society by providing them with necessary tools, such as job training and helping them find job vacancies
As of May 2021, probation officers in the U.S. can make a mean salary of $60,250.
Pretrial Services Officer
The role of the pretrial service officer is to focus on defendants who are awaiting trial. 
These prison staff members evaluate accused individuals' backgrounds to see if detainees can safely return to society while waiting for their scheduled trial. 
Pretrial services officers examine the defendant's flight risk and present their findings to a judge, who sets a bond fee. These professionals also monitor released individuals and ensure that they appear in court.
In 2021, the federal court system, one of the largest employers of pretrial services officers, paid their pretrial service agents an average salary of $111,323.41.
Juvenile Corrections Officer
Juvenile corrections officers supervise adolescents (people under 18) to ensure their safety and civility inside a detention center. These professionals are also responsible for providing young offenders with adequate healthcare.
The job may be incredibly challenging because many detained juveniles struggle with trauma, mental health conditions, abuse, and addiction. 
However, being a juvenile corrections officer can also enrich your work experience because you will oversee young people's rehabilitation and recovery. 
Many of these young offenders are working to make fundamental changes in their lives for their future.
As of August 2022, the average yearly wage for juvenile corrections officers is approximately $36,999.
Local Corrections Officer
There are different types of correctional officers who operate at the local, state, and federal levels. Local corrections officers typically work in county or city jails. 
Local corrections officers help other law enforcement detain arrested individuals and transport inmates to their destinations, like state or federal facilities and counseling centers.
Jails typically confine individuals awaiting trial or serving sentences of less than a year. In contrast, prison inmates have received sentences lasting longer than a year.
State Correctional Administrator
The state correctional administrators' primary duty is supervising state prisons' daily operations. 
These professionals are responsible for the following tasks:
Manage prison budget
Oversee officers' training
Ensure maximum security at all times
Modify internal procedures when necessary
Moreover, to fulfill their managerial roles, state correctional administrators typically have many years of work experience as correctional officers. 
Furthermore, most of these professionals hold a criminal justice degree. 
Federal Correctional Case Manager
Federal correctional case managers work with federal inmates. These professionals design and develop programs to help offenders develop the life skills necessary for their reintegration into society. 
Like many jobs in prison, federal corrections case managers usually have post-secondary education in criminal justice. These professionals may earn $62,446 yearly.
Bailiff
Bailiffs are law enforcement officers who are responsible for maintaining peace in courtrooms. 
The duties of these professionals include the following:
Ensuring safety by enforcing courtroom rules
Providing documents and other evidence to the judge 
Escorting witnesses, jurors, and defendants 
A bailiff's job is critical in maintaining a criminal trial's neutrality. These professionals monitor witnesses and attorneys to ensure they do not influence, bribe, or harass jurors outside the courtroom.
According to the BLS May 2021 report, bailiffs in the United States can earn $47,920 annually.
Recreation Specialist
Recreation specialists organize and facilitate productive events and leisure activities for inmates. 
These professionals ensure these planned activities are safe and that the programs nudge inmates toward becoming productive members of society. 
Consequently, recreational specialists foster social skills, self-awareness, and healthy competition among incarcerated individuals.
Rehabilitation Specialist
Rehabilitation specialists ensure that offenders never take any illegal substances while in custody. 
These professionals also help educate the prison staff and inmates on the signs and risks of substance abuse. 
Rehabilitation specialists also create programs to help treat individuals with addiction.
Chaplain
Chaplains supervise, administer, and lead spiritual welfare and religious guidance programs for incarcerated individuals. 
Prison human resources typically choose credentialed and experienced applicants. 
Here are some of the requirements for chaplain applicants: 
Have a membership or ordination in ecclesiastically recognized religious communities 
Possess an ecclesiastical endorsement by the endorsing body of a reputable faith tradition
Have a willingness to create and coordinate programs for inmates of various beliefs
Have the necessary credentials and the ability to provide worship services for different inmates
Some prisons require applicants to have work experience as a religious or spiritual leader in a church or specialized ministry setting.
As of September 2021, correctional chaplains can earn $65,684 yearly in the United States.
Correctional Records Technician
A correctional records technician processes and keeps inmate records. Some of the documents these professionals handle contain sensitive information, like crime or trial details. 
Moreover, records technicians are responsible for maintaining inmate confidentiality and upholding government statutory requirements. These professionals also work on updating inmate files with accuracy and integrity.
As of September 2022, the average yearly pay for correctional records technicians in the United States is approximately $54,957.
Judge
Judges are elected officials responsible for upholding the law in a courtroom and during court proceedings. They must maintain impartiality when issuing verdicts and sentences. 
Judges must also inform defendants regarding their rights and responsibilities in the court of law. The average pay for a judge can vary depending on their jurisdictions.
As of 2022, here are the possible yearly salaries for different types of judges:
District Judges: $223,400
Circuit Judges: $236,900
Associate Justices: $274,200
Chief Justice: $286,700
Superintendent
A superintendent in the correctional industry is responsible for managing a prison, including the inmates and prison staff. 
Superintendents must be able to develop strategies that ensure inmate and staff safety, oversee rehabilitation programs, and keep various facilities' security levels.
Attorney
Attorneys are licensed professionals who advocate for accused individuals. These lawyers attend meetings with witnesses and clients and conduct extensive case studies.
Moreover, attorneys must be experts in negotiating charges with opposing lawyers and providing client support by offering legal advice. 
These professionals are also skilled in cross-examining and defending their clients in court to maintain their innocence or refute opposing concerns.
Attorney salaries in the United States can vary depending on the region's labor market demand. 
However, the BLS report showed that in 2021, lawyers from the United States earned an average salary of $127,990 yearly.
Psychologist
Correctional facilities may need the services of the following psychologists:
Forensic psychologist
Specialty program coordinator
Drug abuse program coordinator
Advanced care level psychologist
Staff psychologist
Chief psychologist
Correctional psychologists should meet the following requirements:
Knowledge of corrections-appropriate treatment procedures and interventions 
Job-related experience, including conducting group and individual psychotherapy
Knowledge of psychological evaluation and report writing
Knowledge of program administration
Behavioral Specialist
Behavioral specialists monitor and evaluate inmate traits to target their negative behaviors and help treat them. 
These specialists typically collaborate with their colleagues, like psychologists, to collect information and make informed suggestions regarding treatment.
Behavioral specialists also conduct interviews with prisoners, administer specialized test procedures, and monitor inmate behavior in specific settings.
Healthcare Professionals
Prisons may require the expertise of the following healthcare professionals: 
Clinical director
General practitioner
Health system administrator
Dental hygienist
Dentist
Medical records technician
Physical therapist
Physician assistant
Nurse practitioner
Pharmacist
Psychiatrist
Registered nurse
Registered nurses, nurse practitioners, dentists, and physician assistants provide health care services to inmates. 
These professionals must meet state or national licensure requirements, including finishing an accredited degree program. 
Corrections Nurse
Correctional nurses conduct intake exams, administer inmates' daily medications, and determine whether a patient requires additional consultation with a specialist for further observation.
Registered nurses and nurse practitioners in correctional institutions must possess an active license and relevant work experience.
Substance Abuse Counselor
Substance abuse counselors assist incarcerated individuals in overcoming substance addiction, such as drugs or alcohol. 
These counselors evaluate inmates' mental and physical health in correctional contexts, design treatment plans, educate them about addiction, and help participants develop the necessary skills to change their behavior.
Group Counselor
Like other mental health professionals, group counselors address the mental health needs of inmates who are in prison and under community supervision.
Group counselors provide support in a group context by offering resources and treatment options to prisoners.
Corrections Counselor
The corrections counselor position may appeal to individuals interested in the rehabilitation and recovery of inmates. 
As the job title suggests, a corrections counselor provides counseling services or therapy to incarcerated individuals.
Moreover, a corrections counselor has the following tasks:
Writing up reports evaluating inmates' tendency to reoffend
Making treatment suggestions
Preparing inmates for their reentry into society
Helping former inmates find a job after their release 
Working with each inmate's family
Warden
Wardens are senior corrections officers that manage and oversee an entire correctional facility. Their role is similar to those of managers.
Wardens typically do the following tasks:
Manage the facility's budget 
Supervise the onboarding and training of new prison employees
Set policies and modify them when necessary
Oversee the prisons' day-to-day operations 
Work Programs
Correctional facilities also offer inmates the opportunity to work. Job assignments may include employment in food service and prison warehouses.
Consequently, inmates may also work as plumbers, painters, and groundskeepers.
What Kind of Jobs Can Prisoners Do?
Prison-Support
Incarcerated individuals typically work in prison-support jobs, including cooking, clerical work, cleaning, doing the laundry, and other prison maintenance chores.
Agriculture
In correctional facilities with agricultural programs, inmates may perform field work, raise livestock, or assist in maintaining farm equipment.
Manufacture
Some correctional facilities have manufacturing areas where inmates can make signages or license plates, create furniture, rebuild computers, process food, sew, or operate metal fabrication equipment.
Experience, Not Pay
Some states may pay prison inmates a small wage for their work. However, most states require inmates to work as part of their rehabilitation program. 
Prison jobs allow inmates to learn life skills and develop their work ethic. These skills may include:
Food preparation
Warehousing
Freight transportation 
Vehicle maintenance 
Animal husbandry
Farming
Carpentry 
Plumbing 
Welding
Benefits of Working in the Prison Industry
Here are several benefits of working in the prison industry:
Compensation packages: Many prison jobs offer employees competitive salary packages, including dental, medical, and vision insurance. These packages may also include paid leaves, retirement plans, and other forms of compensation.
Rewarding work: Prison staff members are in charge of keeping criminal justice policies, which provide safety and security to the inmates and the public.
Job security: State and federal positions within the prison industry usually offer high job security. Many facilities train their employees and provide significant benefits to prevent increases in turnover rates.
Learning about the law: Individuals working in the prison system should familiarize themselves with legal procedures. 
Is a Corrections Career in Your Future?
Do you think any of the above professions can be your future career? Working in corrections is an incredible challenge.
You will spend much time in the presence of individuals who are struggling through some of the most challenging days of their lives. 
However, those challenging experiences can make your work much more rewarding when you see how you can make positive changes in other people's lives.
FAQs
Are all prison jobs full-time? Do these jobs require 40 hours of work each week?
No. Some individuals working in prisons, like those in the unit orderly position, may have to work 10 hours each week. 
Are all of the jobs inside the prison?
No. Many prison jobs require employees to work outside the facility.  
For example, facilities workers, including those who work in HVAC (heating, ventilation, and air conditioning), plumbing, general maintenance, and pest control, typically work outside prison.
Are there prison jobs that compensate better than others?
Yes. Similar to other industries, other prison jobs may pay higher salaries depending on the employees' work experience, seniority, and competence. 
Do jobs in prison have the same schedule?
No. For example, individuals working in commissary jobs have a morning schedule that typically ends in the afternoon. In contrast, food service employees may have a morning, afternoon, or evening shift.
Are some prison jobs more sought-after than others?
Some prison jobs are more in-demand in the labor market than others. 
The BLS projects a 10% decline in the overall employment of bailiffs and correctional officers between 2021 and 2031.
Meanwhile, the BLS estimates that the employment of lawyers may increase by 10% between 2021 and 2031.
Are there any other types of prison and jail jobs?
There are various types of prison and jail jobs in the United States, such as correctional officers and healthcare professionals. You may refer to the sections above to learn more about the details of each profession.
What are the four types of prisons?
The four types of prisons are private correctional institutions, federal prisons, juvenile detention centers, and state prisons.
What are the workers in prisons called? 
There are various ways you can call professionals in the prison industry. These job titles vary depending on the individual's specific job position.
For example, prison chaplains may have the title of pastor or rabbi. On the other hand, you may call healthcare service providers doctors or nurses, depending on their particular professions.
References