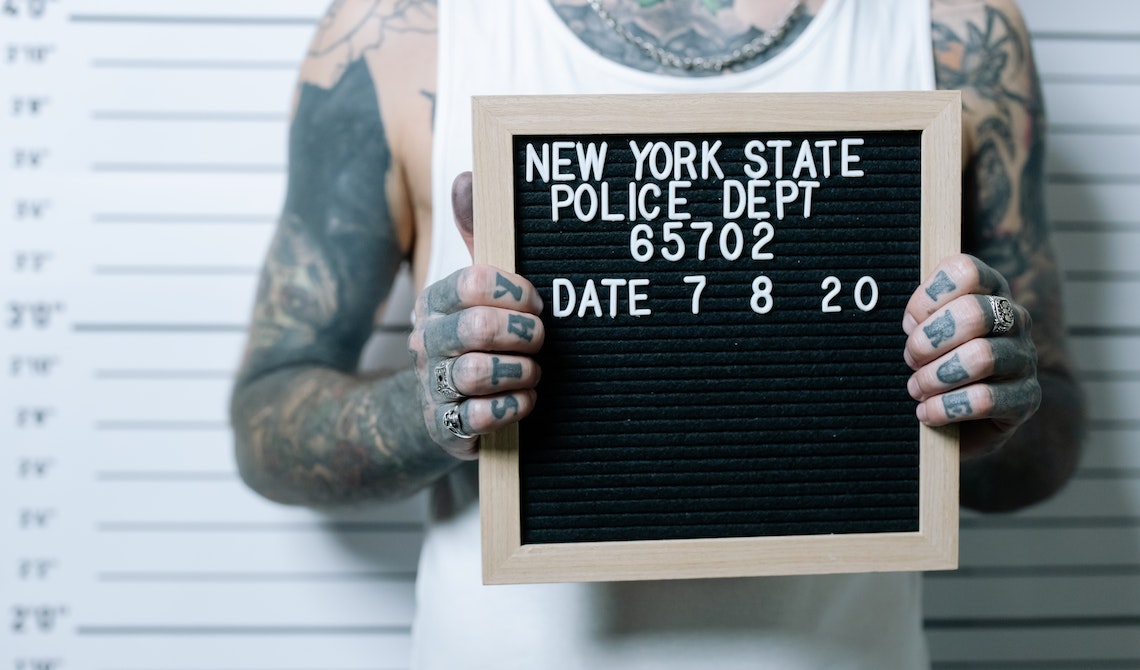 A mugshot is a set of photographs taken by law enforcement after the arrest and booking of a suspect. It serves as a public record detailing the information of a person in custody. Mugshots are part of an online database of 70 million to 100 million arrest records that you can search.
How can you find a mugshot online and offline in this vast database of records, and where can you find this information?
What are the dos and don'ts after accessing mugshot information? How can one incorporate online and offline sources for mugshots to make background checks more effective? Can you remove mugshots from the public records?
This article discusses the different ways to access mugshot information online and offline. You'll get instructions on handling mugshot files correctly and the dos and don'ts of acquiring this information.
You'll have information on ways to contact inmates in prison and tips on obtaining inmate records for background checks and identification purposes.
Finally, you'll learn how to request the removal of a mugshot from the public record in the United States.
Victims, lawyers, and law enforcement use mugshots to identify suspects or build a case correctly. Meanwhile, businesses and landlords use their access to criminal public records for background checks of their customers or tenants.
Visit LookUpInmate.org and access an organized online database of more than 7,000 correctional facilities in California, Texas, Illinois, Pennsylvania, New York, and other states in the United States. You can use this search tool to quickly check and obtain links directly to a state's public record site and get the inmate information you need.
Are Mugshots Public Records?
Mugshots are considered public records and part of the documents uploaded into the public records system after booking.
Anyone can access criminal history records through the court clerk or the court or police agency website. However, there are instances where the court seals an individual's criminal record, and you can't access the record.
How Do You Find Someone Who Was Arrested in the U.S.?
You can obtain an inmate's arrest information by visiting your court or local police department's office or website, the Federal Bureau of Investigation (FBI) website, and the Federal Bureau of Prisons inmate locator.
How Do You Search for Someone on the Database?
You can visit each court or police department website per state to check their database. However, this process will take some time, especially if you're having trouble finding a particular name or dealing with a list of similar names.
Can You View an Arrest Mugshot?
Agencies upload digitized mugshots of booked persons to a national database, which you can view. You can also get public records online or via the jail where the person was booked.
Knowing the full name, date of birth, and inmate identification number is best when searching for mugshots online.
How Do You Contact an Inmate?
Talking with inmates behind bars is not a straightforward process. You can't just walk into a prison and talk to them directly. Prison authorities impose rules and regulations on how, when, and where communication with an inmate occurs.
Here are some ways families and friends remain in contact with their loved ones inside prison.
Phone Calls to Inmates
Inmate phone calls are a popular way to talk with people behind bars. However, an inmate can contact only those whose names are on an approved list.
The inmate must initiate outgoing communication. Also, inmates can only call loved ones during the facility's hours of operation.
Sending Mail to Inmates
Families can send mail to loved ones in prison to remain in touch. Mail letters can help prisoners retain the mental voice of their loved ones.
However, like phone calls, sending mail is not straightforward, and there are rules and policies that you must follow.
For security reasons, most prison facilities only allow mail content like the following:
Postcards
Reading materials
Also, you should know that prison authorities will go through and even read the mail you've sent before they give it to the intended inmate.
There's a limit on the weight of packages you can send to people behind bars. The current weight limit in some facilities is up to 16oz.
Mail weighing more than 16oz will be returned to the sender.
Sending Money or Gifts to Inmates
Inmates can't receive cash inside prison. All cash transactions should be done through money order or deposited into an inmate account. You can also send gifts to inmates through approved vendors.
Does a Family Member Need a Lawyer?
Convictions and incarcerations are serious situations that require the help of expert advice. Families with loved ones behind bars should have lawyers to help them navigate these difficult circumstances.
Convictions will lead to criminal records that can permanently damage an individual's reputation and credibility. In some cases, convicted criminals are listed in specific records like a sex offender registry, which can remain visible in public records indefinitely.
Mugshots in the U.S.
Public records are intended to help law enforcement and civilians keep society free from dangerous offenders. However, despite the noble intention of the Freedom of Information Act in allowing transparency in criminal justice, the entire system is not free from controversy.
The U.S. Controversy of Mugshot Use
Scams and extortion have become issues linked to the public's free access to mugshot records.
For example, California law enforcement arrested Thomas Keese and Sahar Sarid, alleged owners of mugshots.com, for extortion complaints.
The state charged Keese and Sarid for posting mugshots online and demanding payment from concerned individuals to take the photos down.
The mugshot.com issue is only one of the many alleged extortion practices of websites that provide mugshot access services. This issue resulted in the California legislature imposing hefty penalties on perpetrators of this scam like the law enacted by the state, SB 1027.
This law in California prohibits people from posting booking records like mugshots and demanding money to take down photos from their sites. It's best to always go to government sources to get sensitive information like arrest records.
Finding Mugshots in the U.S.
The United States has many locations and websites where criminal records are stored. Anyone can access these locations, especially those doing background checks on individuals.
Here are some locations for criminal records in the United States:
Arresting agency's website (police department or sheriff's office)
Various websites that post arrests records online
Judiciary's website
Law Enforcement Agencies Websites: Posting Your Public Record for All to See
The law often requires sheriff's offices and police departments to publicize their records. The arrest records, including mugshots, are uploaded to websites that everyone can access. These records are publicly available to promote and ensure public safety.
Information required by law to be accessible to the public are the following:
Details of the arrested and the crime
The bond amount of the arrested individual
Date of birth of the arrested person
The location where the person is detained or incarcerated
Sealing an Arrest Record in the U.S.
The United States offers two ways for people to remove their arrest record from public view. The first way is sealing, where the arrest record is removed from public view but can still be accessed if required.
The second method is called expungement, where the record is removed from one's record as if it didn't happen.
Prominent Mugshots
There are cases where criminal records are highlighted to the public because of the gravity of the crime committed. Examples are cases involving convicted sex offenders, especially those involving minors and children.
People charged as sex offenders must be included in a public sex offender registry. Furthermore, mugshots of these individuals are distributed and posted in public places like the library and city hall.
It's not surprising that concerned citizens and organizations that promote child welfare have copies of these mugshots. They may use these photos to warn their communities of registered sex offenders and even ban them from schools, playgrounds, and areas with children.
Mugshot Extortion
Some people use mugshots for online extortion. Mugshot extortion happens when website owners comb through public records, get booking records, and post them online. These websites will then ask people, especially the mugshot's owner, a set amount of money to pull down the photo.
FOIA and Mugshots Online
Legislation has been made to curb the proliferation of mugshot records misuse. Only some states have taken the path toward limiting the release of mugshots to people without a compelling reason.
States like New York have started to apply an amendment to the Freedom of Information Act (FOIA) law. The amendment provides examples of compelling reasons, like in the case of a fugitive on the run.
Any release of information without compelling reason falls under the term "unwarranted invasion of personal privacy." The amendment limits even the release of booking information of an individual until found guilty.
Is Publishing Arrest Records Legal?
Criminal charges, court records, felony charges, and arrest charges, including DUIs, are public records. There is no legal prohibition on extracting mugshot photos from a public source and posting them on their website or social media. Arrest records are public records, and anyone can freely post these documents.
Mugshots That Are Not Online
Not all booking records can be seen on popular mugshot websites or social media. Here are a few reasons why a mugshot is not available online.
Police jurisdictions require a valid request for a mugshot release
Charges have been dropped
Arrests are mistaken identity
Booking photos are old
Convicted individuals have completed their sentences
Records have been sealed or expunged
Contacting Internet Resource Owners to Remove Your Mugshots
Requesting the removal of your mugshot photos online can be frustrating and time-consuming. Furthermore, you can't be assured that all website owners will grant your request because they have no legal obligation to do so.
What About Background Checks by Employers?
It's perfectly legal for employers to conduct background checks on their employees and applicants. Checking public records for information about an applicant can help companies make informed decisions on hiring people.
Arrest Records Search
An arrest record contains the details of an individual's arrest. A person requiring information about particular individuals can access public records to check if they have criminal records.
These records help people like employers, landlords, business owners, and financial institutions better know the people they transact with and avoid any problems.
U.S. Arrest Statistics
According to statistics, there were more than 4.53 million arrests in the United States in 2021. This figure reflects the available records in the system, and the number is increasing. You can obtain these records through offender search engines provided by websites that offer access to these records.
What's an Arrest Record in the U.S.?
An arrest record is a criminal record that details a person's entanglement with law enforcement. This record is an individual's criminal history, including other records from different agencies and judicial records from court hearings.
What's Contained in an Arrest Record?
An arrest record includes a criminal report put together by a law enforcement agency after the arrest of a person. Included in this report are the details and nature of the offense, details of the criminal charge, police interrogation, future court hearing dates, and all aspects that are involved in an arrest.
Are Arrest Records Public in the U.S.?
Yes, arrest records are public information in the United States. You can access these records through the websites of different agencies involved in the criminal justice system. Included are records of people under the jurisdiction of the Department of Corrections.
Who Can Access Arrest Records?
Anyone can access the arrest records of people managed by the criminal justice system. However, some records may be private when expunged or sealed.
How Do You Lookup Someone's Arrest Records in the U.S.?
You can use different websites provided by a county jail, state prison, police department, court, and other agencies under the criminal justice system. You can also quickly look at arrest and incarceration records through websites like LookUpInmate.org.
How to Subpoena Arrest Records in the U.S.?
You can request an arrest record for use as evidence in a criminal proceeding through a subpoena. In some cases, a lawyer needs to get information to validate or challenge the credibility of a witness by producing proof of previous criminal activity.
A subpoena is requested by filing a motion with the court. The request must state the importance of the requested record and confirm whether those documents are relevant to the case. The judge must approve the subpoena.
How to Search for an Inmate in the U.S. Prison System
You can make use of inmate locators to speed up your search. Sites like the Department of Corrections website and LookUpInmate.org can help you find the information you need through their inmate search engine and organized database.
How Do You Find Out if Someone Was in Jail in the U.S.?
You can search the national database for inmates and the different databases of prison facilities in the country. You can also search the county sheriff's office records and the Department of Corrections' files.
How Long Do U.S. Arrest Records Stay on File?
Arrest records in the United States remain on file unless expunged or sealed. However, how long a record remains searchable online depends on each state's policy.
What's the Difference Between an Arrest Record and an Arrest Warrant?
An arrest record is a document with the details of an individual's arrest and booking.
An arrest warrant is a written order issued by a judge to arrest someone.
What's the Difference Between an Arrest Record and a Criminal Record?
An arrest record has details about a person's arrest. On the other hand, a criminal record details an individual's criminal history.
How Do You Obtain Arrest Records in the U.S.?
You can request a copy of the arrest records from the police department, the FBI, and other agencies under the criminal justice system.
What Can You Do if an Arrest Record Has a Mistake?
You can contact the court that issued the record and requests an update. Mistakes in legal public records are dangerous.
How Do You Expunge Arrest Records in the U.S.?
You can expunge your records by filing a petition in court to remove your records from the database.
References
1. Prisoner money
https://www.corrections.sa.gov.au/prison/prison-life/prisoner-money
2. Sending Packages from Approved Vendors
https://www.cdcr.ca.gov/family-resources/sending-inmate-packages-from-approved-vendors/
3. Number of arrests for all offenses in the United States from 1990 to 2021
https://www.statista.com/statistics/191261/number-of-arrests-for-all-offenses-in-the-us-since-1990/