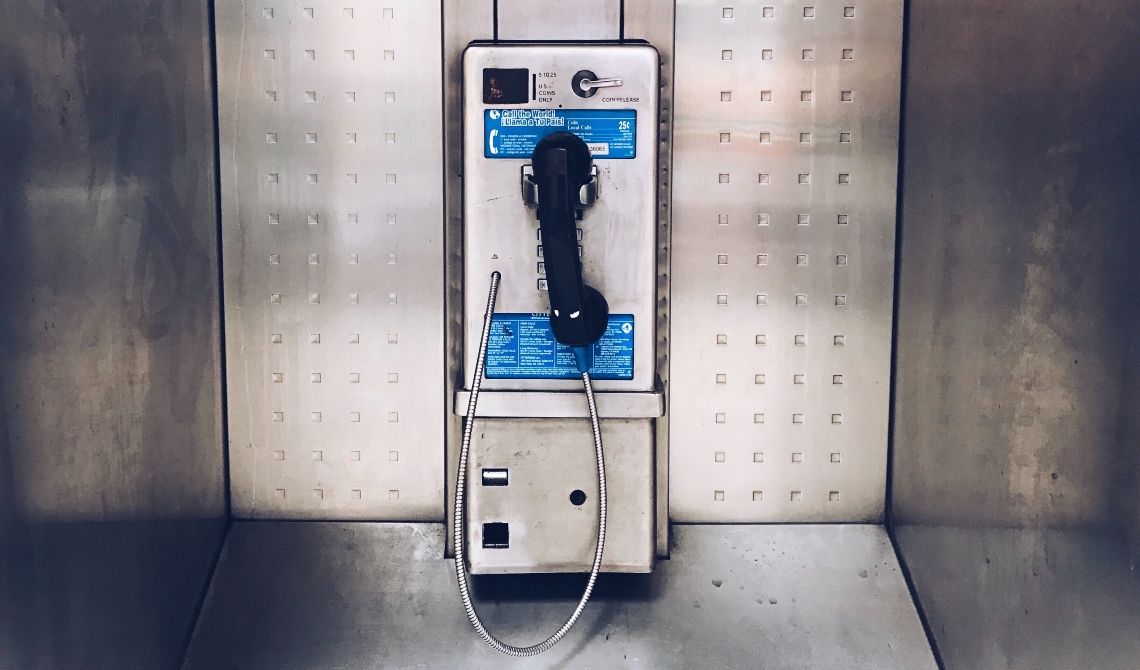 In 2021, Americans spent over $1.4 billion on prison or jail phone calls despite the rules and regulations imposed on such communications.
Hearing the voice of someone you care about is so essential that even prison walls and the high costs of phone calls won't stop people from communicating.
Some families go into debt to keep in touch with their loved ones behind bars. It shows how crucial it is for people to be able to talk to each other even when divided by prison walls.
What rules must prisoners follow when they want to call their loved ones in the outside world? How can inmates remain in touch with their family and friends despite the barriers of incarceration?
This article discusses the rules and regulations limiting prisoners' ability to talk with their families over the phone. Also, this piece tackles how family and friends can make communication with their loved ones in prisons easier.
If you want to create an account for your loved one, you'll need the contact information of the prison facility where they're housed. You can visit LookUpInmate.org and access the contact information of more than 7,000 correctional facilities nationwide.
How the Calls Work
There's a different process when people behind bars phone their loved ones outside prisons. Jails and prisons in the United States use the services of third-party companies to provide telephone call services for inmates.
Examples of telecommunications providers are the following:
Call Information
Even if prisons have telephone services, inmates can't just call anyone from jail at any time. Prison authorities have placed rules to regulate phone calls inside correctional facilities.
Here are some regulations when dealing with prison phone calls.
A prisoner must first provide a list of contact numbers that they will use. These numbers will be the prisoner's approved contact list.
A prisoner can't call anyone not included in the approved contact list.
When someone on the telephone number list doesn't want to be contacted, they can write to the correctional facility and inform them that they don't want to be included in the inmate's preapproved list.
A prisoner can use collect calls whenever they call someone on a preapproved list and have the recipient shoulder the cost.
Thus, inmates can't call cell phone numbers because mobile phones can't accept "collect calls."
Why Do You Only Get One Phone Call in Jail?
The number of phone calls to loved ones and family members depends on the correctional facility an inmate is located. In most cases, an inmate can call multiple phone numbers from an approved contact list.
Incarcerated people can only use the prison's phone system during specific hours set by prison authorities. The time of the day may vary, but in some prisons, this could be in the morning or afternoon.
How Long Can You Be on the Phone With Someone in Jail?
Each call could last for 15 to 30 minutes, although this might only be the case sometimes, especially if there's a long queue of prisoners waiting to use the phones.
The phone system has a built-in timer that warns the caller and recipient that they're reaching the maximum time for calls. The system automatically cuts the call once it reaches the time limit.
When there is a long line of prisoners wanting to call their loved ones, the call length may be shortened to accommodate the number of people in the queue.
An inmate usually has 300 minutes of call time a month. However, it can be increased during the holiday season, especially in November and December.
Do Prisons Listen to All Phone Calls?
Nearly all prisons monitor inmate phone calls to ensure safety and security. If you're being called by a loved one behind bars, remember that these calls are recorded and are subject to review.
The only phone calls that won't be recorded are conversations between inmates and their lawyers. These kinds of communications are subject to attorney-client privilege.
Despite the phone calls being recorded, it's not for public record. However, law enforcement and prosecutors may request to review the recordings in specific instances.
Telephone Service for Incarcerated Individuals
The state's Department of Corrections provides telephone service to people in prison, the designated phone service provider. This service is monitored by the Federal Communications Commission (FCC).
Together they provide a secure, safe, and regulated way for prisoners and their loved ones to communicate.
The following sections discuss the details of inmate telephone services.
Inmate Technology Services
Prisons strive to improve the phone service technology they use behind bars. However, the improvement stopped the widespread use of cell phones in prisons.
Most prisons have yet to implement the use of mobile phones, and it's considered contraband. Some prisons have gone to great lengths to limit the use of cell phones, like employing jamming devices, tracking systems, and cell searches.
However, inmate technology services aim to eventually incorporate technology into prisons by providing tablets for inmate telephone systems, e-messaging, and video visitations.
Inmate Telephone System
This telephone system allows eligible inmates to call family members from prisons or county jails. This communication service goes through phone providers in partnership with the prison facility.
Information or Registration
If you have a loved one in prison that you'd like to remain in contact with, you can register your number in the system to receive calls from prison.
When you need information like the contact number of an inmate or the prison facility's number, you can check the prison's website or use an online inmate locator like LookUpInmate.org.
Telephone Calls Can Be Placed in the Following Manner
Once the phone number is successfully registered, the inmate can place a call.
The prisoner is responsible for shouldering the cost of phone calls. However, how can inmates pay for the calls if they're behind bars?
Here are ways provided by the prison and the telephone service provider to enable inmates to handle the cost of phone calls.
Collect calls: An inmate can call "collect" to a loved one and have them pay the phone bill. If you're on the receiving end of an inmate's call, the cost will reflect on your phone bill, so remember this when you accept a call from someone in prison.
Prepaid calls: You can place money on your phone number, which gets deducted when your incarcerated loved one calls you.
Prepaid debit account: You can fund a prepaid account for your incarcerated loved one. The inmate can make calls without asking the recipient to pay the bill because the cost is deducted from the debit account.
The Following Rules Apply to the System
Here's an enumerated list of phone rules that apply to the prison telephone system.
Inmates can make phone calls during the allowed calling times set by the prison authorities.
Calls are limited. The total time limit may depend on the prison authority's discretion. However, a standard call length limit is 30 minutes per call.
A warning message will sound off when the call reaches the time limit. Usually, it's one minute before the call ends.
Inmates may have a set number of call minutes per month.
Inmates can only call landlines and postpaid and prepaid cell phones,
Inmates can't call 800 numbers or an internet service provider.
Inmates need to follow the registration requirements:
The inmate is more than 18 years old.
The recipient agrees to have their number on an inmate's phone list.
Three-way calls, call forwarding, or having the phone on speakers are not allowed. In such cases, the prison administration terminates the call immediately, imposes disciplinary action to the action, or both.
Note that prison authorities only allow inmates to talk with the specific person listed on their contact list.
If a Victim Does or Does Not Wish to Receive Calls From Inmates, Who Should They Contact? 
Suppose an inmate includes in their contact list a victim's number. In that case, the victim can raise it with the prison authorities to have their contact removed from the inmate's phone list.
Victim or their families can talk to prison authorities in person or through their hotline.
E-messaging Service
Another convenient way to communicate with a loved one behind bars is through e-messaging services. This method takes advantage of the internet to send emails to people inside prisons.
Messaging providers, like JPay, work with prisons to make electronic services accessible to inmates.
Inmate Tablets
Inmates may have access to tablets in prison that provide these gadgets. Inmates can use these tablets to read and send emails to people outside of prison.
Emails can also be a quick way to send pictures or videos to loved ones. The rules for email attachments depend on the facility where the inmate is housed.
Aside from communicating with friends and family, inmates can use tablets to learn new things and upskill. There are programs that they can access through videos on prison tablets.
Video Visitation
Some correctional facilities provide video visitation through the help of service providers like Securus. Through their help, inmates and their loved ones can meet remotely through video conferences of not more than 60 minutes long.
If you want to talk to your loved one behind bars through video visitation, it's best to contact first the correctional facility and ensure that they provide video conferencing services.
Complaints
If you have any complaints about the quality of service of the inmate telephone system, you can always raise them with the prison authorities. You can do this through the communication methods provided by the prison.
How Calls Are Made
Phone calls in prison differ from regular phone calls with people outside. Essentially, prison phone calls are regulated inside correctional facilities. Inmates must have an approved contact list and have the means to pay for the call, whether through a prepaid account or collect.
Unwanted Telephone Calls
Suppose you don't want an inmate contacting you for any reason. In that case, you can request the prison facility to remove your number from the inmate's approved contact list. The prisoner will be informed of your decision.
In New York, once you block yourself from an inmate, your number will be placed in a negative correspondence and telephone list.
Phone Blocks
If your service provider is Securus, you can ask its customer support to restrict your phone number from receiving unwanted collect calls.
There may be a similar process for other inmate telephone service providers. You need to contact their customer support.
Prohibited Calls
Aside from calls you don't want to receive, some calls are prohibited. The following is a no-call list for inmates in New York prisons.
Note that an inmate can only phone the following people if they're an immediate family member, like a spouse, brother, sister, or uncle.
Present or former employees of the following agencies and their families:

State Department of Corrections and Community Supervision
Federal, State, and local criminal justice agencies
Jurors and judges and their families
Crime partners not in prison
Victims and their families
People under court order for protection prohibiting telephone communication
What Should You Not Say on a Jail Call?
Sometimes you need to speak, but there are moments when silence is best. If you're a relative of someone spending time behind bars, it's best to remember this short list of things you shouldn't say or do while on a prison call.
Incriminating details of a case
The inmate's side of the story
Things you wouldn't want the judge or jury to hear
Sensitive topics over the phone
How to Call an Inmate the First Time: Setting Up a Telephone Account
Although there are telephone systems inside prisons and jails, there's no option for anyone outside a correctional facility to phone an inmate behind bars. Instead, the inmate is the one who'll do the calling from inside the prison.
Things That Affect an Inmate's Ability to Make Phone Calls
A significant factor affecting an inmate's ability to make a phone call is forgetting that prison phone calls are not a right but a privilege.
Individuals can only enjoy a privilege if they follow the rules and conditions. When inmates create trouble inside prisons, their phone call visits may be revoked.
Becoming Eligible to Receive Calls
An inmate is eligible to receive and make calls behind bars when they've provided a list of phone numbers for an approved contact number list. Inmates can't just use the telephones inside prison and dial anyone they want to talk to.
Intake and Classification
Prison facilities use intake and classification to know how they can help to rehabilitate individuals behind bars. A prisoner will undergo medical, physical, and psychological tests. During this classification period, a prisoner can't make or receive calls.
Reducing the Cost of Inmate Calls
Inmate phone calls are not cheap, especially for those paying inmate calls via collect. Your area's call rates per minute may be high, resulting in massive phone bills.
If you want to save money on phone calls, limit the frequency of your calls and make your conversations concise.
Although not talking to your loved one in prison is not the best decision, you may have to limit your time with them over the phone if you're on a tight budget.
The Predatory Prison Phone Call Industry Is Finally About to Be Fixed
The high cost of prison phone calls has burdened many for years. However, because of the creation of the Federal Communications Commission, interstate phone rates are slowly becoming uniform.
On January 5, 2023, the Congress enacted Martha Wright-Reed Just and Reasonable Communications Act of 2022. Signed by President Joe Biden, the new law regulates prison call prices in the country.
Regulating the Prison Phone Industry
The Federal Communications Commission (FCC) is responsible for keeping watch and regulating the costs of phone call services for inmates. The FCC has won several bouts with phone companies and successfully lowered phone rates in the United States.
Legal and Regulatory Background
The basis for the regulatory laws over prison phone calls is the decision of federal courts. These courts agree that prisoners don't have a constitutional right to unrestricted telephone communications while behind bars if other means of communication exist.
If you need a site for information about correctional facilities, visit LookUpInmate.org. You can check the phone system status of the prison as you gain access to more than 7,000 facilities in Indiana, Alabama, Georgia, North Carolina, Arkansas, and other states.
References
1. The high cost of phone calls in prisons generates $1.4 billion a year, disproportionately driving women and people of color into debt
https://www.businessinsider.com/high-cost-prison-communications-driving-debt-racial-wealth-gap-2021-6
2. How to call an inmate the first time: Setting up a telephone account
https://www.prisonpro.com/content/how-call-inmate-first-time-setting-telephone-account
3. Telephone Calls
https://doccs.ny.gov/telephone-calls
4. Inmate Technology Services
https://www.tdcj.texas.gov/offender_tele/index.html
5. Cell Phones in Prisons
https://nij.ojp.gov/topics/articles/cell-phones-prisons
6. Tablets Offer Educational Opportunities In Prison, But Quality Varies
https://www.npr.org/2020/01/02/793134372/tablets-offer-educational-opportunities-in-prison-but-quality-varies
7. Congress Enacts Martha Wright-Reed Just and Reasonable Communications Act of 2022 (updated with link to legislation) https://www.fcc.gov/congress-enacts-martha-wright-reed-just-and-reasonable-communications-act-2022-updated-link