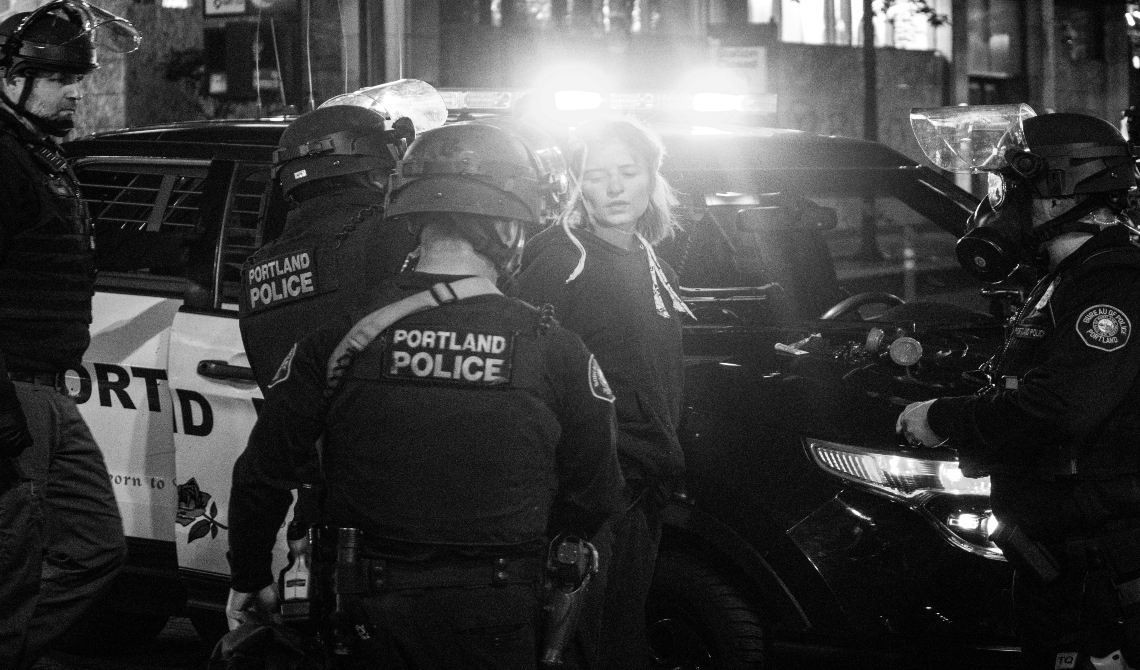 In 2021, United States law enforcement made more than 4.5 million arrests for various offenses. This number represents a significant decrease in arrests from 1990, which had more than 14.1 million arrests.
Despite this decrease, arrests in the U.S. still number in the millions, suggesting a possibility that you may know someone who got arrested at some point in their lives.
How do you determine if the police detained a loved one or someone you know? Should you consider checking public notices?
What happens when the police take someone into custody? Are there laws protecting these detained individuals?
Can you ask the police for custody records for free? When should you contact a lawyer?
This article explains how you can find out if someone is taken into police custody and whether you can check public notices for information. This article also discusses what can happen to someone taken into custody and what laws can protect them.
Additionally, this article tells you how you can get custody records from the police for free and when you should contact a lawyer to help with the detained person's case.
LookUpInmate.org's online inmate records checker is an excellent tool to help you locate a loved one in jail. By learning how to find a family member or someone close to you who may be in police custody, you can be in a better position to help them through legal means.
How to Determine if Someone Is in Police Custody
Thousands of prisons in the United States hold a total of almost two million inmates. With this huge prison population, searching for those arrested and knowing where the police detained the arrestees can be challenging.
Here are steps to consider when looking for someone who could be in police custody:
Narrow Down the State, County, City, and Jurisdiction of the Arrestee in Custody First
Because of the thousands of jails in the U.S., determining the location of the person's arrest first can help narrow down the list of places where the arrestee is in custody.
Each state, county, city, and jurisdiction has a set of laws, regulations, and policies regarding jails. For example, some cities don't have jails and instead rely on a neighboring city or county to detain arrestees.
Find an Arrestee
If the police arrested but didn't incarcerate someone, searchers could have a challenging time tracking the arrestee since the detained person might not have a jail record yet.
Some places provide online services that allow searchers to find an arrestee using a searchable database that can include other information like the arrestee's criminal history.
Call the Local Police
Searchers may need to call the local law enforcement agency if someone is detained but not imprisoned.
For example, the police caught someone for DUI (driving under the influence) the previous night but haven't filed any charges. Or someone is awaiting an arraignment or bail hearing.
Call the County Jail
You can call the local jail and ask about an arrestee if you're sure they've been arrested.
You can also check the website of the jail, police, or sheriff's department. You can enter the arrestee's information, like their name, address, date of birth, or Social Security number (SSN), to narrow your search.
If the person you're looking for has an arrest record, the results can show their charges, mugshot, and identifying information.
Call a Bail Bondsman
Bail bondsmen provide bail bonds for individuals charged with crimes but don't have enough money to post bail.
Bondsmen can't immediately tell whether someone is arrested but can usually help you find out. If you plan to bail out the arrestee, getting help from the bail bondsman can help move that process more quickly.
Bail bondsmen are often available 24 hours a day, seven days a week, allowing you to get answers even during unusual hours. They usually charge defendants a non-refundable fee of 10% of the amount of the bond.
Don't Confuse Law Enforcement With Criminal Custody
A person is in criminal custody if they're in the court's custody. If the judge finds an individual guilty of a crime, the court will decide where that person will be held for a specific period.
On the other hand, police custody is when the detainee is in the custody of the police but not necessarily in jail.
Ask to See Police Identification
When someone approaches you and claims to be a police officer, you can determine their identity by asking to see their identification.
If they aren't willing to provide identification, you can contact the police station's phone number to get the cop's identification.
Record Police Encounters With Body Cameras
Suppose you confirm with the local police department that the person claiming to be a cop isn't a law enforcement member.
Consider recording the encounter using your cellphone or body camera. Before entering the station, record that person and tell them to show you their identification.
Check the ID of Anyone Taken Into Custody
To know if someone is in custody, ask the police to release information about the person in custody. If the police are willing to provide the person's ID to you, ensure to store the information you receive safely.
Check Public Notices
Under the U.S. Constitution's Bill of Rights is a concept known as the writ of habeas corpus. U.S. courts can use this writ to determine the validity of a state's prisoner detention.
You can also check local government websites for public records regarding detainees' arrest information.
Additionally, newspapers that publish police blotter-style articles can also list arrests and crimes committed.
Don't Be Afraid to Ask Questions
Because the law requires the police to release information, you don't hesitate to ask questions if you need to find out whether a person is in custody. As long as you are polite and ask the right questions, you should be able to get the information you need.
Don't Talk Unless You're Told to
You can talk to the police officer regarding a person in custody. But you also have the right to remain silent and don't need to say anything you don't want the police to know. If you're unsure what to say, tell them you must see your lawyer first.
Check Out Who's Around When You Arrive
Upon arriving at the police station, look around to see the people inside. Check the area for signs of the presence of law enforcement, such as patrol cars and uniformed personnel.
Speak to Everyone Who Enters the Area
While waiting in the police station's lobby, consider taking some time to talk to the people in the area. Scan the area and try speaking to the people around to see if they're a cop. This way, you'll determine whether you can easily approach anyone for information regarding persons in custody.
Other Ways to Check if Someone Is in Police Custody
Besides contacting the police department for information about the detained person, you can contact their family and friends. Another way to check is by looking online for information about the person's whereabouts.
Check Online Databases: How to Find Out Online if Someone Is in Police Custody (County Jails)
County jails have policies regarding publicized inmate lists, including having these rosters available through online search tools. These tools can help searchers locate arrestees in police custody.
Police Custody Search for Regional Jails
Searching for regional jails is similar to searching for city and county jails. The first step is finding the location or region where the arrest occurred.
Some municipal police departments utilize regional facilities for custody purposes. These police departments may have websites that link to the facility's page to make the searcher's custody search convenient.
What Happens When a Person Is Taken Into Police Custody?
The police will usually detain an arrestee in a jail or facility until the police have sufficient evidence to charge that person with a crime.
If you have a loved one detained in a facility, the police must treat them according to the laws and regulations of the place where the detainees reside.
What Are the Laws Protecting People Who Are in Police Custody?
Many police powers depend on the demand for police in an area and the community's sentiments about police presence there. Additionally, governments have enacted laws protecting people in police custody because police powers in some areas were too great.
One law that can help protect persons in police custody is the right to silence. This law allows people to keep silent and not answer questions asked by the police.
The Fifth Amendment protects people from self-incrimination and imprisonment without a fair trial.
Jail and Custody Information
Different jails, police departments, and law enforcement agencies have varying hours of operation, procedures for posting bail, and processes for sending an arrestee to court.
For example, the Los Angeles Police Department's jails operate 24 hours a day, allowing arrestees to post bail in cash, surety bonds, cashier's checks, or U.S. Postal Service (USPS) money orders.
Meanwhile, in Oregon's Washington County, the Sheriff's Office allows posting bail through cash, credit card, or cashier's check. The Sheriff's Office website provides custody information like bookings, allowed property, and jail accounts.
Additionally, the U.S. Department of Justice website at www.justice.gov has a page that allows you to search for federal prisons and inmates.
U.S. Arrest Statistics
In 2020, law enforcement agencies estimated over 10,000,000 arrests in the U.S. or about 3,611 for every 100,000 inhabitants. This arrest rate was lower than the previous year's, about 3,760 per 100,000 citizens.
What Is an Arrest Record in the U.S.?
An arrest record contains a person's arrest and criminal history. Law enforcement agencies usually maintain these records at the federal, state, and local levels.
What Is Contained in an Arrest Record?
Arrest records in the U.S. typically include the following information:
The person's name, age, address, and occupation
The location and date of the arrest
The crime with which the person has been charged
The person's physical description, height, weight, and race
The bail amount set by the court
The arresting officer's name
Are Arrest Records Public in the U.S.?
Arrest records are public documents in the U.S., meaning the general public can access these records. However, some exceptions, like juvenile records, are usually publicly unavailable.
Who Can Access Arrest Records?
The general public can access limited information from an individual's arrest record. This information usually only includes the person's name and the offense for which they were arrested.
Court personnel and law enforcement officials are usually the only ones with access to an individual's arrest record.
Meanwhile, employers can request to access arrest records only if the information they need is relevant to the job they're hiring.
Landlords, on the other hand, can request records related to tenancy.
How Do You Look Up Someone's Arrest Records in the U.S.?
One of the ways to look up an individual's arrest records is to contact the law enforcement agency that performed the arrest.
Many of these agencies have online databases allowing the public to search for arrest records through the internet. However, not all agencies have publicly accessible records.
For example, the FBI (Federal Bureau of Investigation) doesn't provide online access to its arrest records. Instead, searchers must submit a request using the Freedom of Information Act.
Searchers can also ask the National Crime Information Center (NCIC) for information. The NCIC's criminal justice database includes arrest records, but only law enforcement personnel and authorized users can access this database.
How Do You Obtain Arrest Records for Free in the U.S.?
You can obtain an individual's arrest records in the U.S. for free by contacting the local police department and requesting a copy.
You can also send a request to the government agency maintaining the records by visiting the Freedom of Information Act (FOIA) website at FOIA.gov and submitting a request.
Can You Contact the Police to Find Custody Records for Free?
The writ of habeas corpus helps ensure citizens that persons in custody aren't held in secret or without the knowledge of the detained person's family and friends.
In other words, the police must inform the immediate family of someone arrested and held in police custody.
Special Exceptions
Even though several online search tools can help determine if someone is in police custody, there are some exceptions to the availability of such information.
For example, suppose federal or state law enforcement agencies arrested an individual. That person's arrest record may not appear on regional, county, or city jail rosters unless those agencies have detention beds in the local jails.
Know When to Call a Lawyer or a Detained Persons Advocate
If the police have arrested a loved one or person you know for criminal charges, contact a criminal defense lawyer or detained persons advocate for legal advice immediately.
A lawyer or detained persons advocate can let you know what's happening with the arrestee and help you take the next legal steps to assist that person.
FAQs
1. How do I find someone's charges In the U.S.?
You can contact the local law enforcement agency to get information about an arrested person's charges. Some government sites like USCourts.gov also allow you to search for court cases online.
2. How do I determine if someone is in local jail?
To determine if someone you know is in a local jail, you can visit the police department or county sheriff's office of the place where that person was arrested and ask the police the whereabouts of that person.
3. Do police reports show up during a background check search?
Police reports will appear on a background check, and all convictions and charges related to that report will also appear in criminal records.
4. How do I subpoena arrest records in the U.S.?
If you want to subpoena arrest records, you must file a motion with the court stating why you believe these records are relevant to the case.
Once the judge approves your motion, the court will notify the appropriate law enforcement agency and submit the required paperwork.
5. How long do U.S. arrest records stay on file?
The period that an arrest record stays on file depends on the state. For example, arrest records in California are usually publicly available for up to 10 years. Meanwhile, law enforcement in New York may seal arrest records after a specific time, making them unavailable for public access.
6. What's the difference between arrest warrants and arrest records?
An arrest record is a document containing an individual's arrest history information. Meanwhile, an arrest warrant is a legal document ordering a person's arrest.
A judge or magistrate usually issues arrest warrants based on probable cause that the person issued the warrant has committed a crime.
7. What makes an arrest record different from a criminal record?
An arrest record provides details of the circumstances surrounding an individual's arrest. These details include the location and date of arrest, the charges against the person, and any bail information.
On the other hand, a criminal record details a person's criminal history, which usually includes past convictions and sentencing information.
8. What can I do if there's a mistake in my arrest record?
If you see a mistake on your arrest records, take the following steps to correct this mistake:
Contact the arresting law enforcement agency and ask them to make the correction.
If the agency objects to the correction, file a complaint with the FBI's Criminal Justice Information Services (CJIS) division.
Contact your state's Identification Bureau to correct the record.
If the mistake appears on a federal record, contact the FBI or arresting agency.
If getting the record corrected is difficult, consider contacting an attorney for help.
If your records appear on third-party websites, you can request that the site remove or fix the incorrect information.
9. How can I expunge arrest records in the U.S.?
Each U.S. state has laws and procedures for expunging criminal records. However, you can generally have your arrest record expunged if:
The court dismisses the charges against you.
The judge finds you not guilty.
You complete a probationary period or deferred sentence.
References
1. Number of arrests for all offenses in the United States from 1990 to 2021
https://www.statista.com/statistics/191261/number-of-arrests-for-all-offenses-in-the-us-since-1990/
2. Mass Incarceration: The Whole Pie 2022
https://www.prisonpolicy.org/reports/pie2022.html
3. Bail Bondsman
https://www.law.cornell.edu/wex/bail_bondsman
4. Habeas Corpus
https://www.law.cornell.edu/wex/habeas_corpus
5. The Bill of Rights: What Does it Say?
https://www.archives.gov/founding-docs/bill-of-rights/what-does-it-say
6. Posting Bail
https://www.washingtoncountyor.gov/sheriff/jail/posting-bail
7. Custody Information – Booking, Accounts, and Property
https://www.washingtoncountyor.gov/sheriff/custody-information
8. LOCATE A PRISON, INMATE, OR SEX OFFENDER
https://www.justice.gov/actioncenter/locate-prison-inmate-or-sex-offender