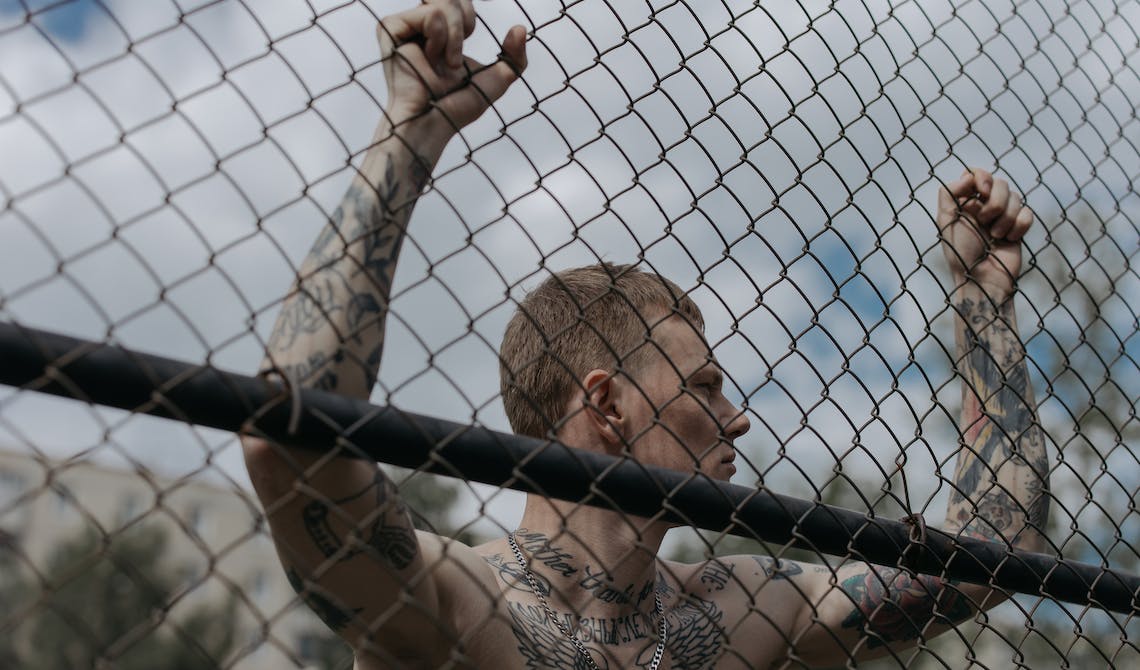 In 2017, FRONTLINE, a long-running investigative documentary series distributed by the Public Broadcasting Service (PBS), aired a documentary titled Life on Parole.
The film followed the story of four parolees navigating their challenges while on parole — from getting a job to staying sober to raising children — and doing it all under tight state supervision.
In one telling moment, Vaughn Gresham, one of the four former inmates, likened parole to a noose "that is always gonna be there."
This solemn remark captures one of the most pressing questions in many parolees' minds: "When will my parole period end?"
Suppose your loved one is a parole candidate. In that case, they may wonder what parole will be like and how long it will take.
LookUpInmate.org is a one-stop online resource for everything related to inmates and corrections institutions in the United States. Our free search tool can help you locate the federal or state prison or county jail where your loved one stays.
This article discusses parole, including its procedures, length, and conditions. Read on for more information on what people on parole can expect.
How Long Will You Be on Parole or Probation?
Probation and parole are two different types of post-incarceration supervision.
Parole is awarded to individuals who have served a portion of their incarceration sentence.
A study from The Journal of Law and Economics reported that two administrative databases suggest that the average parole time is 26.5 months.
Still, it is worth noting that the length of parole varies depending on several factors, such as institutional behavior, criminal background, and victim input.
Meanwhile, probation is usually an alternative sentence to incarceration. In 2018, an analysis of average probation term lengths indicated that the national average length of probation was 22.4 months.
Factors That Affect Parole or Probation Time
While probation and parole have significant distinctions, they have the same goal of reintegrating offenders into society while ensuring public safety. As such, authorities evaluate similar factors to determine how long the term should last.
Factors affecting probation and parole time include:
State or federal law and sentencing guidelines

Recommendations or objections from the candidate's parole or probation officer

The level of offense

Psychological evaluations

The victim's opinion
If You Are on State Parole, What Law Sets the Length of Your Parole?
State laws determine the length of your parole if you are on state parole.
Additionally, the parole term depends on your criminal conviction (the crime you were imprisoned for) and the date you committed the crime (not your sentence or release date).
What Causes the Suspension of Parole Duration?
The court could suspend and revoke parole setups for parolees who committed violations against their release conditions.
The Parole Procedure: Early Release From Prison
This parole procedure refers to the steps and considerations involved when parole boards or commissions deliberate on whether an individual qualifies for an early release.
During this period, inmates can argue their case and demonstrate rehabilitation efforts in an attempt to gain parole.
Understanding Parole
Parole allows convicted individuals to get out of jail or prison early and serve their remaining term under community control.
Below are some essential phrases and words to note regarding parole:
Parolees:

This term refers to people who have received parole grants from the parole commission or board.

Parole officers:

These professionals perform duties linked with supervising an offender's parole, including facilitating

reentry

into public life and overseeing activities to ensure the parolee's compliance with the

conditions of parole

.

Parole board:

The members of this committee conduct

parole hearings

, review

parole violation

reports, determine inmates'

parole eligibility

, and other

parole decision-making

processes.

Parole conditions:

These guidelines govern the

parole process

. They also enable parole boards to make fair and reasonable rulings regarding parole

that are

consistent with

public safety

concerns.
Overview
Parole length and conditions vary from state to state. To give you an idea of what to expect, here's an example of a parole procedure for people serving life sentences.
In California, convicted individuals serving life without parole (LWOP) are eligible for a parole hearing, typically 13 months before their minimum scheduled parole date or when they satisfy the requirements for the youth offender or elderly parole processes.
The mere fact that an offender qualifies for a parole hearing does not guarantee parole approval.
The Board of Parole Hearings (BPH) assesses whether the candidate is ready for an early release.
Individuals with determinate sentences can receive a parole suitability hearing before their supposed release date via the elderly or youth offender parole processes.
Determinate sentences have definite lengths and aren't reviewable or changeable by a parole board or any agency.
What Is Parole?
Parole is the conditional release of convicted individuals from correctional facilities before their initial release dates.
This early release lets inmates live in the community and serve the court-ordered penalty under the close supervision of a parole officer.
How Do You Get Parole?
Usually, the prison staff, including the inmate's case manager and the facility's case management review committee, provides eligible inmates with the necessary information to process their parole application.
Inmates who want parole must fill out a parole application form. Likewise, ex-parolees applying for re-parole following a revocation must submit a parole application to get the revocation form.
How Does Parole Work in the U.S.?
While parole procedures and requirements may vary from jurisdiction to jurisdiction, the principle behind this form of supervision is generally the same for each state.
In New York, the court can sentence particular people to indeterminate sentences, providing minimum and maximum jail or prison terms:
Class A-II Felonies:

Minimum term

must be between three and eight years.

Class A-I Felonies:

Minimum term

cannot be under 15 years or over 25 years.

Non-Class A Felonies:

Minimum term

is at least a year, but not to exceed a third of the maximum term.
Individuals serving indeterminate sentences can qualify for parole once they have served their minimum term of imprisonment.
If these inmates are eligible, the New York State Board of Parole will consider them for parole release.
People denied parole will have to wait up to two years for another hearing with the parole board.
Do Offenders Still Need to Apply for Parole Formally?
Yes. U.S. Parole Commission application forms are available at the applicant's institution. Offenders should apply to appear for an initial parole hearing.
How Does One Apply for Parole?
Offenders must fill out and sign an application issued by a case manager to apply for parole.
Inmates who want parole, except those sentenced under juvenile delinquency procedures, should complete a parole application.
Sometimes, the offender may prefer not to apply for parole. If this is the case, the offender receives a waiver instead of an application.
Can an Offender's Supporters and Relatives Send Material to the Parole Commission?
Yes. Documentation must be submitted at least 60 days before the parole hearing date.
The information must include the offender's complete name, federal registration number, or DCDC (District Court for the District of Columbia) number.
How Do Offenders Directly Contact the U.S. Parole Commission?
Case managers are responsible for helping inmates contact the U.S. Parole Commission. However, offenders may send mail to this address:
U.S. Parole Commission
90 K Street, NE, 3rd Floor
Washington, D.C. 20530-0001
Is Parole the Same As Probation?
People often use "parole" and "probation" interchangeably. However, understanding the distinction between these jail or prison sentences is crucial for defendants since the terms specify how inmates must behave and how their incarceration time may impact them.
Moreover, people who face criminal charges and subsequent convictions must understand the differences and similarities between probation and parole to determine the scope and duration of their conditional release.
For instance, the primary difference between probation and parole is that the latter involves a period of community supervision after an incarcerated individual has served in jail or prison. In contrast, probation is usually an alternative to a prison sentence.
Who Grants Parole?
The U.S. Parole Commission handles parole grants and cancellations for individuals subject to its jurisdiction in the criminal justice system.
However, states typically have an independent board of pardons and parole handling the process.
What Do Parole Boards Consider When Deciding Parole Applications?
Generally, the panel considers these factors during the proceeding:
Counseling reports and psychiatric evaluations

Participation in self-help rehabilitation programs, such as addiction recovery sessions and anger management classes

Vocational and educational accomplishments while incarcerated

Prison behavior as reflected by the facility's disciplinary actions or commendations

Parole plans, including details about where the applicant intends to live after release and how they plan to support themselves
What Does Parole Eligibility Mean?
The parole board awards parole to inmates the law considers eligible. Most of the time, the people given this privilege have reached a stage in their prison sentence called "parole eligibility."
At What Point Does a Prisoner Qualify for Parole?
The type of sentence defendants receive affects whether they are eligible for parole.
The parole agent also reviews relevant factors, including age, mental health condition, marital status, and criminal records. These criteria determine when the prisoner qualifies for parole.
Sentence Length
The Parole Commission's role in determining parole eligibility begins at sentencing. Eligibility becomes possible once the offender serves one-third of their incarceration term unless the court sets a minimum imprisonment time or an indeterminate sentence.
For example, an offender with a term or life sentence of 30 years can qualify for parole after serving a third of the sentence or 10 years (30 years ÷ 3 = 10 years).
Convicted Offense
States typically grant parole to individuals who have completed part of their sentence and been convicted of low-risk criminal offenses.
On the other hand, offenders convicted of arson, first-degree murder, rape, kidnapping, drug trafficking, and other serious felony crimes rarely qualify for parole.
Good Time
This phrase refers to reducing an inmate's sentence for good behavior and completing rehabilitation activities while incarcerated.
Life Sentences
Here are different life sentences a guilty defendant could get from the judge:
Life with parole (LWP)

Life without parole (LWOP), natural life, or life without the

possibility of parole

Virtual

life sentences

, for example, 40+ years of incarceration
What Is a Parole Eligibility Date?
The parole eligibility date is the earliest an applicant can receive parole. This provision shows that the parole board awards paroles and sets release dates based on the eligibility date.
What Is the Process of Applying for Parole?
Parole application may slightly differ from jurisdiction to jurisdiction. Below is an example of how parole board members decide on an applicant.
Parole Decision-Making Process
The parole process may require these five steps:
1. The court determines an offender's parole eligibility based on the judge's sentence.
Incarcerated people must qualify for parole before the release process can begin.
2. A parole-eligible inmate must appear before a parole board or commission to determine whether their return to society is safe.
3. Sometimes, the offender's victim or the victim's family testifies before the board describing their experience.
4. Based on the case's factors, the parole board decides whether to grant or deny a request.
5. The board usually requires the released parolees to report to their parole officer regularly.
Parole Board Decision
Before a parole decision hearing, the examiner reviews the case file and proposes a verdict. In most cases, the offender receives notification regarding the ruling.
The examiner can refer the case to the Parole Commission without recommendation. Recommendations provided at the meeting are preliminary. Another examiner reviews the case before rendering a final judgment.
Parole Board Hearings
A parole hearing is a process through which courts determine whether convicted individuals are eligible for release from prison to serve their sentence in the community under parole supervision.
A U.S. Parole Commission (USPC) hearing examiner leads parole hearings for federal cases.
Then, a USPC commissioner determines if the inmate qualifies for parole release based on the hearing examiner's report.
When Is a Decision Made About Parole?
It usually takes 21 days before the offender receives a letter informing them of the final parole decision.
Is It Possible for the Defendant to Appeal the Parole Decision?
An incarcerated person who has been denied parole by the parole board can usually lodge an administrative appeal with the parole board. The offender may also appeal a court decision canceling a parole grant.
The U.S. Board of Parole
The USPC is a crucial governmental body in making decisions regarding the eligibility for release and supervision of federal inmates.
Through a comprehensive assessment procedure, the USPC plays a vital role in promoting public safety while providing rehabilitation and reintegration opportunities.
Conditions of Parole
Those on parole enjoy relative freedom as long as they stick to the following rules:
Stay

within a specified region, or

don't leave

without permission from the

parole officer.

Avoid

criminal behavior and contact with victims.

Find and keep

a stable home and a job.

Abstain

from alcohol, drugs, and other intoxicating substances.

Participate

in psychological treatment or addiction recovery sessions.
The parole officer charged with ensuring the parolee complies with parole conditions can visit the parolee's residence at any time for inspection.
Parole Officers
Parole officers are law enforcement agents who supervise released inmates, ensuring that these former prisoners are not committing parole violations.
The parole officer's roles may include the following:
Evaluate

an inmate's mental health,

criminal record

, and institutional behavior to see if they merit

parole consideration.

Reduce

risks to

public safety

by closely monitoring paroled individuals' activities.

Take

proactive measures to curtail parolees' harmful activities,

such as

enforcing

curfews

and requiring substance abuse counseling sessions.
Reporting Conditions
Again, the parole officer overseeing the parolee's probation can visit their residence to ensure they comply with their probation terms.
These regular check-ins help parole officers gauge parolees' progress, resolve issues they may face, and offer assistance to facilitate their reintegration into society.
Sex Offender Registry
The Sex Offender Registration and Notification Act outlines minimum national criteria for sex offender registration practices in the U.S.
Thus, different jurisdictions may implement these requirements differently.
For instance, the New York State's Sex Offender Registration Act only covers specific sex offenses on or after January 21, 1996.
Supervision
People under community supervision must comply with their sentences, including paying fines and restitution.
Community supervision conditions may also depend on the officer or committee managing an offender's case.
Parolees must follow parole board and community supervision officers' rules and regulations.
Violations
A parolee can violate the conditions of parole in many ways, which could lead to prison reentry.
Some parole authorities impose minimal penalties for minor or technical violations, like breaking curfew, failing a urine drug test, or not reporting to a designated parole office.
Still, a major concern for those on parole is that even a minor infraction can lead to re-incarceration.
Length of Supervision
The length of community supervision depends on the nature of the crime committed by each offender.
For instance, community supervision may continue for five years for state felonies and up to 10 years for first-, second-, or third-degree felonies.
On the other hand, the program may last up to two years for misdemeanor cases.
Termination and Discharge
The conditions of termination and discharge for community supervision are generally the same for parole and probation.
However, these two community-based supervisions get governed by separate committees, resulting in differing procedures.
In New York, nonviolent criminals who satisfy the state's Correction Law requirements are qualified for merit termination of their sentences. However, violent and sexual offenders are not eligible for sentence termination programs.
Relocations
People under community supervision seeking to relocate to another location need approval from existing community supervisors. Offenders should contact the community supervision agency near the relocation site.
Relevant authorities may investigate the desired residence and transfer the offender's supervision to the receiving agency's community corrections officer.
Out-of-State Travel
Probationers or parolees must receive approval from their community supervisors before leaving.
Those under community supervision often have to answer these questions:
When and why are you planning to leave?

How and when do you plan to return?

Who will you be traveling with?

What is your planned accommodation?
Early Termination of Parole
The term "early termination of parole" means the discharge of an individual on parole from the custody of the federal or state correctional system before the expiration of their sentence.
The Parole Revocation Process
Parole revocation usually involves preliminary and final revocation hearings.
The preliminary hearing is an initial review to determine if probable cause exists to suspect the parolee violated their release conditions.
If probable cause exists, a final revocation hearing is conducted, allowing alleged offenders to defend themselves.
Parole System's Impact on the Criminal Justice System
Faulty parole systems can worsen criminal justice problems, including prison overcrowding, rehabilitation prospects, and wasted public funds.
For example, overly strict parole conditions regarding technical, noncriminal violations may increase prison reentry.
If parolees could get sent back to the facility for minor offenses, the prison population would likely remain on the rise.
The Justification for Reform
The justice system must promote fairness and public safety. It should also ensure that no individual or group is disproportionately burdened. These necessary reforms can begin with an overhaul of ineffective parole systems.
What You Need to Know About the Less Is More Act
The New York State enacted the Less Is More Act (LIM) on March 1, 2022, to restructure its parole system.
Several aspects of the law still require revision and clarification. However, specific provisions have already been implemented, including lowered penalties for technical parole violations and higher burdens of proof.
Who Does This Bill Impact?
The LIM Act impacts anyone serving an NYS-mandated sentence of community supervision and under the jurisdiction of New York's DOCCS or Department of Corrections and Community Supervision.
What Does the LIM Act Do?
Below are four significant ways the LIM Act impacts the parole system in New York.
Establishes a Method to Expedite Parole Completion via Earned Time Credits
This could lead to the following outcomes:
Most parolees get a 30-day time credit for every 30 days spent in the community.
This condition means paroled individuals with no sustained violations for 30 days get 30 days deducted from their original sentence.
Sometimes, this provision reduces parole sentences by half.
Following the law's enactment, parolees can receive retroactive time credits of up to two years.
However, any time served in prison or jail due to a violation or having an absconder status is inadmissible for credit.
An absconder is a criminal who runs away to hide and avoid prosecution.
Say the parolee gets imprisoned when the provision takes effect. In that case, time will not be credited until their release.
Eliminates Mandatory Detention and Imprisonment for Specific Technical Violations
Parolees charged with technical violations are not subject to automatic jail time. Instead, they will get a notice of violation (NOV) requiring them to appear at a community court.
Meanwhile, those charged with non-technical violations and those charged with absconding and ignoring an NOV face a court recognizance hearing within 24 hours of arrest.
The recognizance hearing determines whether the individual will remain imprisoned pending the outcome of the violation charge proceedings.
Enhances Due Process
The LIM Act also strengthens due process in the following ways:
LIM ensures access to counsel during the

parole revocation

procedure and raises the standard of proof at every stage of violation hearings.

LIM requires these hearings to occur in the community rather than inside corrections institutions.

Suppose the panel found substantial proof of violation at the preliminary hearing. In that case, the case will proceed to a final hearing.

An automatic preliminary hearing is available to anyone accused of violating parole conditions.
Imposes Constraints on Lengthy Incarceration for Technical Violations
The LIM Act also helps shorten the time spent in prison for technical infractions in the following ways:
Reincarceration does not apply to these technical violations:


Curfew violation
Failure to update the probation officer of employment status changes
Failure to pay surcharges and fees
Alcohol or substance use (except for driving under the influence cases)
Possessing a driver's license or driving a vehicle with a valid permit unless prohibited explicitly by the offender's conviction

For all other technical violations:


Fifth violation or more: 30 days
Fourth violation: 15 days
Third violation: 7 days
First and second violations: 0 days

For absconding:


Third violation: 30 days
Second violation: 15 days
First violation: 7 days
Contact an Attorney
State laws on parole violations vary.
Suppose you have questions or concerns about specific rules relevant to your case. In that case, you should seek legal advice from a knowledgeable and experienced defense lawyer.
A skilled criminal defense attorney can clarify the legislation and judicial process more thoroughly, including the finality of parole hearing outcomes.
The attorney-client relationship secures the confidentiality of your conversations with your legal counsel.
Say you do not have the money to hire a private attorney. In that case, you can seek free consultations through government programs or nonprofit legal clinics.
Lastly, browsing online resources may offer additional helpful insights.
FAQs
1. Do all states have parole?
Most states use parole supervision as their primary system for early release from jail or prison.
That said, some states have abolished their parole systems and replaced them with fixed-term (determinate) sentencing systems that do not rely on discretionary release.
In states that no longer provide parole, most still offer a limited parole system for people serving life sentences or serving time under the state's former parole system.
2. Who is responsible for overseeing and tracking prisoners on parole?
The U.S. Parole Commission oversees federal inmates released on parole. Meanwhile, the state parole boards have jurisdiction over convicted individuals serving time in state corrections facilities.
3. Is parole always an option?
No. An inmate may not be subject to parole consideration in cases of particularly high-level criminal charges, like a violent felony. State sentencing guidelines often dictate whether the defendant has committed severe crimes.
4. Is it possible for a prisoner to have multiple parole hearings?
Yes. However, there's a mandatory waiting period before people can re-apply for a parole hearing.
5. Is a prisoner obligated to accept parole once it is granted?
The answer to this question depends on the state in charge of the parole candidate. In states that allow this option, parole-eligible inmates may refuse to sign certifications of release (or equivalent documents), disqualifying them from parole supervision.
6. What are some examples of the conditions that may be imposed on parole?
Listed below are some general and special conditions the court may impose on parolees:
Not going to high-risk areas, such as clubs or bars

Reporting in person at the designated probation or

parole office

Avoiding interaction with people with

criminal histories

When mandatory, submit to urinalysis or blood test

Not possessing firearms or other potentially lethal weapons

Paying probation or supervision fees

Following all existing local and state legislation

Not relocating or changing careers without approval from community supervisors

Not leaving the designated state or city without authorization
7. What are the consequences if the conditions of parole are violated?
Some parole agencies impose minimal penalties for technical or minor violations, such as breaking curfew, failing a urine drug test, or not reporting to the appropriate parole office.
Meanwhile, high-level violations, such as illegally possessing firearms and threatening victims, often lead to immediate parole revocation.
8. How is one notified of hearings?
A case manager informs the offender regarding the scheduled parole hearing. The initial hearing typically occurs within a few months after the individual's admission to the facility.
9. What happens at a parole hearing?
A parole hearing lets the offender argue their case for parole, tackling concerns like criminal history, offense details, prison accomplishments, release plan, and potential difficulties ahead.
During the deliberations, the parole board or commission considers public safety and the applicant's rehabilitative needs.
10. What kind of job can a parolee get?
Generally, parolees can have any post-release occupation, provided the job is legitimate. Ideally, the job generates enough income to sustain dependents.
Case managers or parole officers may make recommendations based on the parolee's needs.
For example, they might argue that a high-risk individual should get full-time work in one location instead of multiple part-time jobs in various places.
11. What do parolees do if they have no home to go to?
One primary concern of parole agencies is the parolee's post-release living arrangements.
No rigid rule requires parolees to have and live in their own homes.
While parolees' usual plan is to live with their respective family members or relatives, it's not always advisable to do so.
In such cases, the Parole Commission may deem an independent living situation more suitable to the parolees' and the community's needs.
12. Is it possible for an offender to have access to their file prior to the hearing?
Yes. The offender may receive a notice of hearing form indicating they can review their institutional records before the hearing.
Some parts of the file may be censored depending on the law. However, the offender may request a summary of the document's censored lines and paragraphs.
The offender must inspect these files as the Parole Commission or a parole board uses them to determine hearing outcomes.
13. Can the offender have someone accompany them into the hearing room?
The notice of hearing form allows the offender to designate a representative for the hearing. The offender should give the authorized agent advance notice so that they can prepare well for the hearing.
In addition, with the hearing examiner's approval, this representative would have access to the hearing room and make a brief statement addressing the offender's concerns.
14. Besides the offender, who else will be present during the parole hearing?
Generally, the Parole Commission hearing examiner facilitates the hearing. Also, the case manager typically attends the hearing. Meanwhile, observers may sometimes request access to the hearing room.
These are usually institution staff members or personnel of the Parole Commission. Anyone who wants to object to an offender's parole can do so at the hearing.
15. Are the hearings recorded?
Yes, the authorities record the interview. Note that some Office of Hearings and Appeals (OHA) records are accessible to the public under the Freedom of Information Act (FOIA).
Under this law, parolees may request the recordings of the hearing.
16. Does the judge or any other court official recommend parole to the commission?
Yes. The judge who sentenced the defendant, the Assistant U.S. Attorney (AUSA) who prosecuted the case, and the defense attorney may advise regarding parole.
17. Is it common for the hearing examiner to follow the final recommendations made by the institution staff?
Yes. However, an institution's staff report is just one of the many factors the examiner and the commission consider.
So, while the staff members can make recommendations, the parole board does not have to subscribe to their judgments.
18. How do the following situations impact parole decisions?
Here's how various factors affect parole outcomes:
Institutional misconduct:

Bad behavior while incarcerated weakens the argument for parole but does not automatically preclude the applicant from consideration.

An alien facing deportation:

Parole may be awarded to an alien subject to deportation, either conditionally outside the U.S. or to an immigration detainer.

A case under appeal:

Having a pending case in court does not affect

parole decisions

, as inmates can appeal their sentences and convictions.

The detainer's presence:

This factor does not necessarily result in parole refusal. An inmate may be paroled with a detainer indicating an actual release to another jurisdiction's custody.
19. Will parole be granted if there is an outstanding committed fine?
Suppose the offender has an outstanding committed fine. In that case, they must take care of it before the Parole Commission can decide on the sentence's "time portion."
The usual way to address this concern is to pay the fine. Suppose the applicant cannot do so due to insufficient funds or assets. In that case, they can apply for an indigency certificate, exempting them from paying the fine.
20. Are reasons provided when parole is not granted?
Yes, the hearing examiner will explain the recommendations regarding the offender during the hearing, and the notice of action will state the reasoning behind the final decision.
21. If parole is not granted to the offender at the initial hearing, will they be granted another hearing?
While jurisdiction policies may vary regarding the waiting time for re-application, state and federal courts allow specific offenders to apply for another hearing.
Federal court rules that if the sentence is less than seven years, the offender can have another hearing after 18 months from their last hearing.
Meanwhile, if the sentence lasts seven years or longer, the next hearing may take place 24 months from the applicant's last hearing.
22. If the Commission does not grant parole to the offender earlier, can they be considered for parole later, closer to the end of their sentence?
Suppose the sentence lasts five years or more. In that case, the offender is subject to mandatory parole upon completing two-thirds of the term unless specific conditions apply.
For example, the Parole Commission may deny the applicant parole for the following reasons:
The offender has repeatedly violated institutional guidelines.

There is a reasonable probability the defendant will commit a

new crime

.
23. Will an offender have a hearing just before the "two-thirds" date?
If the convicted individual is serving a sentence of five years or more, the case will be reviewed on the record just before the "two-thirds" date arrives.
24. Can an offender choose to waive parole at the two-thirds point of their sentence?
Yes. When the offender waives parole at this point, they will get released on their mandatory release date.
25. If someone is paroled after two-thirds of their sentence, are they required to comply with parole conditions like any other parolee?
Yes. A parolee must comply with the terms of the release. If they fail to do so, the court may revoke the parole. Parolees will remain supervised until their sentences expire unless the parole board or commission terminates supervision earlier.
26. If parole is not granted to an offender at any point during their sentence, when will they be released?
Unless the offender forfeits all statutory good time, they will get an early release via the mandatory release provision.
The institution officials compute the mandatory release date based on how much extra "good time" the offender earned and much statutory good time the offender can get.
27. If the Parole Commission grants parole, when can a parolee expect to be released?
Suppose the Parole Commission has approved the parolees' final post-release plan after examining the designated probation officer. In that case, the Commission can set a date for the parolee's release, usually shortly after the Commission awards the parole.
28. What type of release plan must be in place?
Release plans may vary depending on the facility's recommendations, the applicant's circumstances, and perceived needs.
Still, a release plan generally includes a suitable housing arrangement and a verifiable job offer.
29. How can a parolee secure employment while still in the correctional institution?
Family members, friends, nonprofit organizations in the community where a parolee plans to live, or former employers can help the parolee secure employment before their scheduled release.
Some parolees may get detained in community corrections centers where they can also find legitimate employment.
30. Is a parolee obligated to return to the community they came from?
Most of the time, parole commissions return the parolee to where they got convicted.
The paroled individual's former community may offer the best opportunity for reintegration.
Suppose the parole authorities think the chances of successful reintegration are higher in another location. In that case, they may require the parolee to live in a different judicial district.
31. To whom and when does a parolee need to report after being released?
Paroled individuals must report to a designated probation office (shown on the release form) soon after their return to the community.
This activity will continue and may vary in frequency depending on the assigned officer's instructions. The community supervisor documents the parolee's progress (or regress) for future evaluation.
32. Under what circumstances is a parolee granted parole or mandatory release?
The notice of action or the release certificate contains the conditions for the parolee's early release.
Meanwhile, the community control conditions for people denied parole may appear on the certificate of mandatory release.
33. Can the commission modify any of the conditions of release?
Suppose a parolee thinks the conditions are unfair. In that case, they may ask the case manager for an appeal form and file it with the Regional Commissioner within 30 days of the initial release.
After considering the appeal, the Commission will notify the parolee. While the appeal is pending in court, the parolee should continue to follow the parole terms.
34. Are the conditions subject to change after a parolee's release? Can additional conditions be imposed?
The probation officer or the Commission may propose changes or additions to the conditions. The parolee gets notification of any such proposal and is allowed several days to submit a written response to the Commission.
35. Is it possible for a parolee to be mandated to reside in a halfway house or undergo treatment for substance abuse while under supervision?
Federal law allows the Commission to require parolees to participate in any program mentioned during their supervision.
A parolee usually receives notice in advance and may give feedback regarding the proposal to the Commission for consideration.
36. May a parolee own, use, or possess firearms after release?
Except in exceptional situations, the law prohibits anyone who committed a felony from possessing ammunition and firearms. Generally, parolees may not possess firearms or ammunition.
37. How long will a parolee remain under community supervision after release?
Parolees remain under the jurisdiction of the Parole Commission and their probation officer for the duration of the sentence unless the Commission terminates community control earlier.
38. How does the commission or parole board decide whether to terminate supervision early?
A probation officer reports to the Commission about a parolee's adjustment to community life.
After reviewing the report and considering recommendations, the Commission may end parolee supervision earlier than the original agreement.
39. What happens if a parolee violates the mandatory release or parole conditions?
A probation officer files a written report regarding the violation to the parole board or commission.
The board members or the commissioner determines the proper sanctions, including the possibility of issuing an arrest warrant or a hearing summons.
The probation officer must report all violations but may also recommend that the parolee be reinstated to community supervision. The probation officer's recommendation is a primary factor the parole authorities consider.
40. Who issues a summons or warrant if a parolee violates parole or mandatory release?
The parole board or commissioner issues a warrant or a summons to an offender who violates the parole conditions.
41. After a summons or a warrant is issued, what happens then?
Here's what could happen after the parole authorities issue the warrant or summons:
The

probation officer

may take the parolee into custody or bring them to a court hearing.

The officer informs the parolee of their legal rights and performs a preliminary interview.

The

probation officer

then discusses the new charges and reports to the board (for state cases) or the Commission (for federal cases), stating

probable cause

for violation and revocation of probation.

The offender receives a copy of the recommendation and its rationale.

The regional commissioner or parole board members determine whether to reinstate the parole or hold a revocation hearing.

Suppose a parolee is proven guilty of the new offense. In that case, they skip the preliminary interview and go straight to a corrections institution for a revocation hearing.
42. May a parolee have an attorney at the revocation hearing and preliminary interview?
Yes. Parolees are legally entitled to an attorney of their choice. The court may appoint one if the parolee cannot afford a private lawyer. The parolee must inform their attorney regarding the time and place of the hearing.
43. Where are the revocation hearings held?
Generally, hearings regarding revocation occur after the offender has been returned to a federal facility.
For individuals under federal jurisdiction, such institutional hearings may begin within 90 days of the alleged offender's custody.
Still, an applicant for parole revocation may have the hearing at their home community or the community where they were arrested if there are sufficient grounds for doing so.
44. If the offender's hearing is held in a federal institution or facility rather than locally, may they also have an attorney and witnesses?
Offenders are not entitled to appointed counsel but may hire attorneys independently. Attorneys can only act as the alleged offender's representatives.
45. Suppose the commission revokes the mandatory release or parole. Does a parolee get any credit on the sentence for the time already spent under community supervision?
Generally, if an offender commits a new crime, they are not eligible to credit for any time spent under supervision.
This rule does not apply if the alleged offender serves under a YCA (Youth Corrections Act and NARA (Narcotics Addicts Rehabilitation Act of 1966) commitment.
Also, no credit is given for any time a parolee purposefully failed to report or respond to a parole officer or after a parolee absconded from their area and the parole officer did not know where they lived.
Suppose a parolee violates any other noncriminal condition. In that case, they get credit for all their time under community control.
46. Suppose the parolee's parole is revoked rather than reinstated to supervision or is not re-paroled immediately. How long must the paroled individual serve before the commission reviews their case again?
The Commission uses its guidelines when determining the length of time a parolee must serve. The rules apply to inmates requesting their first parole hearings. Exceptions and deviations from the policies may be allowed for good cause.
47. Will offenders still be eligible for parole under the D.C. Revitalization Act?
Under this law, the power to refuse and award parole for all D.C. (District of Columbia) defendants convicted of felony crimes went from the D.C. Board of Parole to the USPC on August 5, 1998.
The new law does not change an offender's parole eligibility. The mandatory release date, parole eligibility date, and full-term date will follow D.C. law.
48. What if a prisoner is overdue for a hearing?
Inmates encountering this problem should ask their case manager to place them on the facility's next docket. Re-application is usually optional.
References