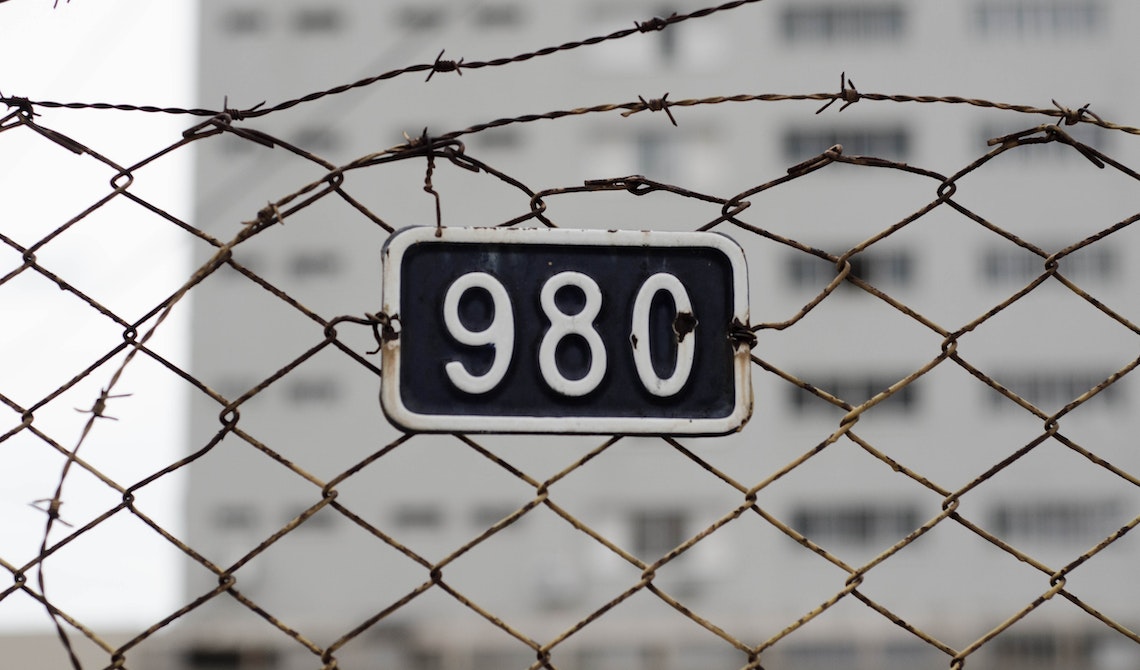 According to 2020 data, one in seven criminals is serving a life sentence in the United States, totaling about 203,865 individuals.
As of July 2022, the Georgia Department of Corrections (GDC) reported 7,597 inmates serving life sentences. Additional statistical information on the state's life sentences inmates is available on the GDC website at gdc.ga.gov.
How long does an offender serve a life sentence in Georgia? What are the conditions to be eligible for parole? Can you reduce your sentence in Georgia?
This article provides readers with in-depth information on serving a life sentence in Georgia and how you can qualify for parole in that state. Topics such as the longest and shortest life sentences, what "25 to life" means, and whether you can challenge your life sentence are also covered in this article.
Do you have a loved one serving a life sentence in Georgia or other U.S. states? Search for them with lookupinmate.org's online inmate search platform. This tool provides an easy and convenient way to look for an incarcerated loved one.
How Much Time Must You Serve a Life Sentence in Georgia?
If you committed a crime in Georgia on or after July 1, 2006, you could be sentenced to 60 years. For drug offenses, criminals who complete seven years in prison are eligible to be considered for parole.
Since the late 1990s, the Georgia parole board has sharply decreased its use of clemency, especially for violent and sex-related crimes.
Thus, Georgia has reduced the number of inmates eligible for parole. Concurrently, the state increased the time inmates must spend in prison.
How Long Did a Life Sentence in Georgia Take Before 2006? What Does a Life Sentence Mean?
Depending on the state that hands down the prison sentence, a life sentence can last anywhere from 15 years until the end of a person's natural lifespan.
A grave crime such as murder is typically punishable with a life sentence without release after conviction. This case is considered a true life sentence, meaning the criminal will likely die in prison before being released.
In Georgia, the minimum penalty for a murderer sentenced to life imprisonment before July 1, 2006, and who already served a life sentence is 25 years.
On the other hand, a prisoner in Georgia serving life imprisonment before July 1, 2006, for violent offenses such as murder or rape may be eligible for release after 14 years of their term.
How Do You Reduce Your Sentence in Georgia?
If you wish to modify your sentence after a Georgia court trial, you can file a motion lowering your sentence. You must file that motion within one year of your sentence or 120 days after your appeal receives a verdict, whichever is later.
How Long Is Life With Parole in Georgia?
Prisoners in Georgia serving a life sentence for a serious felony may qualify for parole after 7, 10, 14, 25, 30, or 60 years, depending on their crimes' severity.
Since Georgia changed the minimum timelines of its life sentencing laws in 2006, defendants sentenced for violent felonies must now serve 30 years before becoming eligible for parole.
Mandatory Sentences in Georgia
Georgia passed its "seven deadly sins" law in 1995. This law states that certain crimes warrant automatic or mandatory life sentences regardless of extenuating or mitigating circumstances.
According to this law, the following crimes qualify for a non-parolable sentence of at least 10 years for the first offense:
Kidnapping
Armed robbery
Rape
Aggravated sodomy
Aggravated sexual battery
Aggravated child molestation
Offenders sentenced for any of these felonies are not eligible for parole and must spend 100% of their sentence behind bars.
Meanwhile, the minimum sentence for murder in the first offense is life imprisonment without parole eligibility for 25 years.
For the second offense of any of these "seven deadly sins," including murder, the offender gets life without the possibility of parole.
Parole Eligibility in Georgia
The Georgia State Board of Pardons and Paroles has a broad, encompassing authority regarding who qualifies for parole and when they can get it.
As a reference, the following general guidelines governing parole eligibility in Georgia apply to the Board's decision-making for handing out parole:
General Provision on Parole Eligibility for Sentences Less and More Than 21 Years
If you are not a recidivist (reoffending criminal) and your offense has no mandatory minimum time, your sentence will likely be decided based on the general guidelines of parole eligibility.
After receiving an aggregate sentence less than 21 years, you can be eligible for parole consideration after nine months or one-third of the sentence, whichever is greater.
Meanwhile, if you receive an aggregate sentence of 21 years or longer, you can be considered for parole after seven years.
General Parole Guidelines for Crime Severity Levels of IV or Less
Based on Georgia's parole board policy, defendants whose offenses qualify as crime severity level (CSL) IV or less can be considered for a parole before the completion of one-third of their sentence.
General Parole Guidelines for Crime Severity Levels of V or Greater
Georgia's parole board may vote on the cases of defendants whose offenses are CSL V or greater before the offenders' parole eligibility date. Those dates usually equate to one-third of the offenders' sentences.
Despite this early voting date, the Board will not release defendants on parole before the date of their parole eligibility.
Guidelines on Sentences Two Years or Less, Regardless of CSL
The parole board treats sentences of two years or less uniquely. Defendants with such sentences typically get placed on a fast track, wherein the parole eligibility general provisions do not limit the parole consideration for these defendants.
For example, a defendant serving a two-year sentence or less and meeting other criteria specified by the Georgia Department of Corrections can get transferred from county jail into a three- or six-month strategic intervention program (SIP) at Coastal State Prison.
Upon successful program completion, the offender can be released on parole by the parole board.
Statutory Exceptions to the General Parole Eligibility Rules: First Offenders, Recidivist Offenders, Life Sentence Prisoners, and "Seven Deadly Sins" Convicts
The general rules for parole eligibility provide statutory exceptions for the following individuals:
First offenders: Under the Official Code of Georgia Annotated (OCGA) §17-10-1(b), an offender committing a crime for the first time can qualify for parole consideration immediately upon sentence imposition.
Whether the State Board of Pardons and Paroles agrees to consider the individual for parole earlier than the regular schedule is a separate decision to clear.
However, by having the judge note explicitly on the final disposition sheet that the offender is sentenced under OCGA §17-10-1(b), the Parole Board becomes authorized to consider the defendant for parole earlier than the usual schedule.
Repeat offenders: Based on the OCGA §17-10-7, offenders previously convicted of serious violent felonies and convicted again of such felonies must be sentenced to life without parole.
Furthermore, defendants convicted four or more times of any felony must be sentenced to the maximum time allowed for that felony. These offenders will no longer be eligible for parole for that sentence.
Life sentence prisoners: The OCGA §17-10-6.1 addresses life sentences for serious violent felonies. Individuals sentenced to life imprisonment for such crimes committed between January 1, 1995, and June 30, 2006, can qualify for parole consideration after serving 14 years.
Meanwhile, offenders with life sentences for these crimes committed on or after July 1, 2006, can qualify for parole after serving 30 years.
Upon initial parole consideration, the parole board can grant parole to the individual or establish the next consideration date, typically within the next eight years.
Offenders with consecutive life sentences: The OCGA §42-9-39 addresses consecutive life sentences with at least one life sentence imposed for murder.
Defendants with consecutive life sentences for such offenses, at least one involving murder, committed between January 1, 1995, and June 30, 2006, will serve consecutive 10-year periods per sentence, up to a maximum of 30 years. Afterward, these offenders can qualify for parole consideration.
Meanwhile, offenders with consecutive life sentences due to such crimes committed on or after July 1, 2006, will serve consecutive 30-year periods per sentence, up to a maximum of 60 years. Defendants can be eligible for parole consideration afterward.
"Seven deadly sins" offenders: According to the OCGA §17-10-6.1, defendants convicted of serious violent felonies committed after July 31, 1994, and receiving term-of-year sentences will not be eligible for parole.
This exception addresses serious violent felonies categorized as the "seven deadly sins," including murder and felony murder (first-degree murder).
Notification Requirement Under OCGA §42-9-46
The OCGA §42-9-46 specifies that if the Board considers you for parole under OCGA §42-9-45(c) before considering the eligibility requirements in OCGA §42-9-45(b), the Board must notify the sentencing judge, district attorney, and registered victim or victims in writing 10 days before the defendant's parole consideration.
The individuals or entities notified can appear before or submit a written statement to the parole board to express their views on the defendant's parole.
Parole Board Authority to Establish Exceptions to the General Provision Controlling Parole Eligibility According to OCGA §42-9-45(c)
Statutory provisions do not directly establish or address all parole eligibility issues. Instead, the parole board has the authority to establish its rules and regulations based on OCGA §42-9-45(c).
How Long Is a Life Sentence? How Long Does a Life Sentence Last?
Criminal sentencing laws and the possibility of parole can vary depending on the state or jurisdiction, nature of the crime, and date of the offense.
Additionally, state law changes can occur anytime. Thus, the date of the crime is also an essential consideration in determining sentence length.
Searching for a loved one in prison can take too much time and effort. lookupinmate.org allows you to search by jail name, type, or state, all in one place. We have access to more than 7,000 correctional facilities in the U.S. to help you find the jail records you are looking for and reconnect with your loved one.
What Is the Longest Life Sentence?
In the United States, the longest life sentence is 99 years in Alabama.
However, other sentence terms, such as life without parole, which applies in several states, are longer.
In Illinois, Iowa, Louisiana, Maine, Pennsylvania, and South Dakota, life sentences are given without the possibility of parole.
What Is the Shortest Life Sentence?
In some states, a prisoner under specific circumstances can qualify for parole after serving a life sentence for two years. These variable life sentences are typically given for crimes requiring additional rehabilitation or stricter parole conditions for offenders.
How Long Are Two Life Sentences in Jail?
In the United States, prisoners serving a life sentence for 25 years may be eligible for prison release. However, if they serve two consecutive life terms, they must wait a minimum of 50 years before becoming eligible for parole.
Can You Get Out of Jail Earlier Than Sentenced?
Based on the parole system, an offender has the opportunity to get out of jail early. However, courts usually hand down split sentences for repeat offenders and serious crimes.
For example, a defendant with a 20-year sentence can have 10 years to serve in jail followed by 10 years of probation out of jail.
Why Do Judges Sentence Over 100 Years?
Different countries typically sentence criminals with varying sentence lengths for various offenses.
In the United States, one common reason for sentencing an offender to a lengthy jail term is to admit multiple offenses committed by that same individual. Each offense receives a separate sentence. Thus, more offenses can extend the offender's time in jail.
What Is a Determinate vs. Indeterminate Life Sentence?
A determinate life sentence is an exact time, usually based on legislation, that a convicted individual must serve when they get sentenced.
Meanwhile, an indeterminate life sentence is an imprisonment term with no definite duration on when the state can release the offender on parole after serving their minimum sentence.
What Does "25 to Life" Mean?
Sentences like "25 years to life" or "15 years to life" are examples of indeterminate life sentences.
On the other hand, "life without the possibility of parole" and "life without mercy" are considered determinate life sentences.
Can a Minor Get a Life Sentence?
In 2011, the U.S. Supreme Court ruled that life sentences without parole for crimes not considered intentional homicide violated the Eighth Amendment's ban on cruel and unusual punishments.
However, a 2021 vote eventually weakened this ruling. One of the changes is that a judge no longer needs to make a finding of permanent incorrigibility (being incapable of reform) before assigning a minor to life without parole.
Some states, including Georgia, Florida, Idaho, North Carolina, and Tennessee, allow juvenile life sentences without parole.
However, other states such as California, Colorado, Ohio, Texas, and Washington have banned such sentences. Some of these states no longer have individuals serving time.
What Is the Difference Between Consecutive and Concurrent Life Sentences?
Concurrent sentences stem from a single event and are usually served simultaneously. On the other hand, consecutive life sentences get served one after another to double or triple the sentence length or cause it to continue indefinitely.
Depending on the crime's nature, a judge can decide to make a concurrent life sentence consecutive and vice versa.
What Is a Double Life Sentence?
Double or back-to-back life sentences are two or more consecutive life sentences handed down to an offender. Courts often use these sentences to lower the offenders' likelihood of being released from prison.
This sentence is often customary for offenders convicted of multiple murders in the United States.
Why Do Judges Give Multiple Life Sentences?
A judge can give multiple life sentences to reduce the chances of appeal.
For example, the judge can assign concurrent life sentences if one incident has multiple victims. This way, even if one case loses the appeal, other life sentences can still hold up.
Additionally, a judge can use consecutive life sentences to penalize the defendant more severely. This method can increase the time the offender must serve without the possibility of parole and reduce the likelihood of one case losing in appeal.
Why Is It Called a Life Sentence?
A life sentence is so-called because an offender convicted with this sentence is meant to spend their remaining life in prison unless they get paroled, pardoned, or their sentence commuted.
Is a Life Sentence Actually for Life?
Certain life sentences do not necessarily result in the individual's incarceration for the rest of their life, especially when these sentences allow the offender to be eligible for parole or probation.
For homicide cases involving numerous victims, the court can hand down multiple life sentences. In some cases, such sentences can extend the jail term to encompass the criminal's remaining life.
Is Life Sentence Better Than Death Penalty?
Trials for life without parole typically cost thousands of dollars less than death sentence trials.
Life without parole trials are shorter, allow for fewer appeals, involve fewer defense attorneys, and usually result in plea bargains before going to trial.
How Can You Challenge a Life Sentence?
In most states, there are three ways you can petition for a life sentence to be overturned:
File an appeal to overturn the sentence.
Petition the state governor for the sentence to be commuted.
File a writ of habeas corpus questioning the validity of the state's detention of the offender. The success of habeas corpus can increase based on the severity of the punishment.
For instance, in the instance of the death penalty, habeas corpus can overturn a life sentence nearly 50% of the time.
Parole Decisions for Lifers
Offenders serving life sentences for which the law authorizes parole automatically qualify for parole on the date permitted by relevant statutory and constitutional laws.
The following are questions individuals with life sentences should consider regarding parole eligibility:
Can You Qualify for Parole on a Life Sentence?
A convicted offender is not eligible for parole if they receive a life sentence without the possibility of parole.
States often reserve life sentences without parole for offenders whose crimes involve aggravating circumstances sufficient to warrant a death sentence. States can also sentence repeat offenders convicted of violent felonies to life imprisonment without parole.
However, if the sentence is life in prison with the possibility of parole, the offender can qualify for parole in the future.
What Is a Life Without Parole Sentence?
This conviction is a jail sentence wherein the criminal will be imprisoned for the rest of their lives. The offender will not qualify for conditional release until they have served their entire sentence.
How Long Does Receiving Parole Take for a Life Sentence?
The time for an offender sentenced to life to receive parole depends on the state's laws.
For example, in Georgia, a murderer serving a life sentence has a minimum penalty of 25 years before parole eligibility.
Some Other Definitions
The following are essential terms and definitions related to life sentencing in Georgia.
Aggravated Assault (Georgia Law)
An individual commits aggravated assault when they attack:
With an intent to murder, rob, or rape
With a deadly weapon or any object, instrument, or device that, when used offensively, is likely to or will result in serious bodily injury
By discharging a firearm from inside a motor vehicle, without legal justification, toward another individual or individuals
Aggravated Battery
Aggravated battery involves an individual maliciously causing bodily harm to another, causing the victim to be deprived of a body part by rendering that part useless. Severely disfiguring the victim's body or a part of it also qualifies for aggravated battery.
Cruelty to Child in the First Degree
This act is the willful deprivation of a child of necessary sustenance to the point that the child's health or well-being is endangered.
Maliciously causing excessive or cruel physical or mental pain to a child below 18 years also qualifies as first-degree child cruelty.
Felony Murder
Felony murder is when the offender committing a felony kills an individual accidentally (without specific intent to kill).
This conviction makes any participant criminally liable for any deaths occurring during or in accomplishing that felony.
Forgery
Forgery occurs when an individual intending to defraud knowingly makes, possesses, or alters any writing in a fictitious name.
Forgery also occurs when the offender claims the writing is made by another individual, at a different time, with different provisions, or by the authority of someone who gave no such authority.
Malice Murder
This act is any murder committed with an intent to kill or with express or implied malice.
Public Intoxication
Public intoxication typically involves loud or disruptive behavior that often interferes with other individuals' enjoyment of public spaces.
References
No End In Sight: America's Enduring Reliance on Life Imprisonment
https://www.sentencingproject.org/publications/no-end-in-sight-americas-enduring-reliance-on-life-imprisonment/ 
Page 4 of Inmate Statistical Profile
https://gdc.ga.gov/sites/default/files/pdf/Profile_lifers_2022_06.pdf