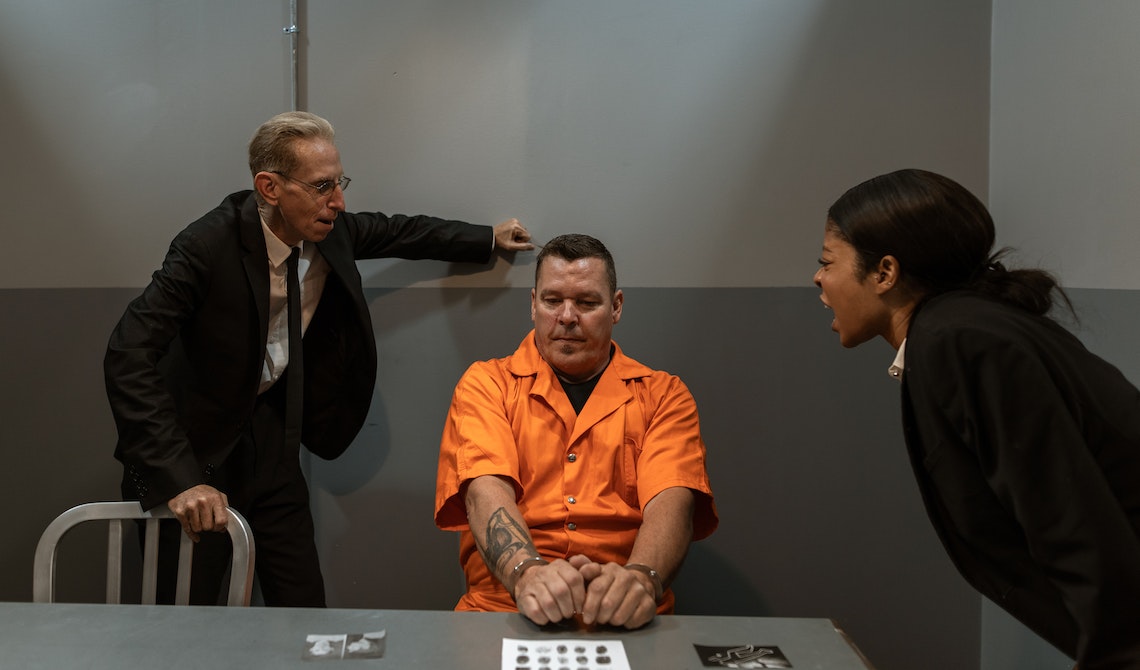 Everyone should be aware of prison rights and prisoner mistreatment, especially the families of incarcerated individuals inside one of the more than 7,000 prisons in the United States. 
What are the different rights of prisoners? What are actions considered a violation of their rights, what is prisoner abuse and what course of action can one take to resolve these abuses?
This article provides a comprehensive guide to people who experience mistreatment and abuse inside prison facilities. It provides sections dealing with various topics about mistreatment, prisoner abuse, and steps you can take to resolve these violations. 
If you need an all-in-one database of all prison facilities in the United States, you can visit our website lookupinmate.org. This website houses facilities' contact information in each state. 
If Your Loved One Is Being Mistreated: Where Do You Report Inmate Abuse?
If your incarcerated loved one is mistreated or if you suspect inmate abuse, you can contact the correctional facility to file your complaint. 
In cases like health care, inmates have the right to receive adequate medical attention. 
If jails and prisons do not have access to appropriate health care and an inmate did not receive medical treatment upon an arrest, you must inform the police or prison facility of the condition of your loved one.
You should understand the policies for such cases. Sometimes, the inmate's family may bring or provide the needed medication. You can also contact the medical staff or prison health care providers if your loved one does not receive treatment.
Agencies like the American Bar Association (ABA) and the American Civil Liberties Union (ACLU) may help you in resolving mistreatment incidences that happened to an inmate. 
Can You Sue a Jail for Mistreatment?
There are legal options to address abuse and mistreatment suffered by inmates. Depending on the situation, you can sue prison staff for mistreatment, especially when evidence is present.
However, you should have the help of a civil rights attorney who knows the ins and outs of prisoner abuse cases and civil rights violations. 
These attorneys will help you file a lawsuit against people in a government-run institution such as a jail, state penitentiary, or federal prison. 
Understanding Your Rights in Jail or Prison
Before filing a complaint against a possible rights violation, one must first understand the constitutional rights protected by the Eighth Amendment of the U.S. Constitution. These rights are:
Right to communicate
Right to read
Right to medical care
Right to adequate food and water
Right to clothing and shelter
Right to practice any religion
Right to sue and complain about mistreatment by prison staff or government officials
Identifying Abusive Treatment and Gathering Evidence
After understanding the rights of an inmate, you need to identify what kind of abuse happened and if there is evidence. 
The following are some of the mistreatment that happens inside prisons or jails. 
Sexual abuse or physical abuse by inmates or prison guards
Verbal abuse
Discrimination in jail
Harmful conditions inside the prison
No access to food, water, and medical care 
You need to talk to a civil rights attorney to handle these instances and seek advice on what course of action to take. 
A civil rights case is serious, and a legitimate lawsuit will mean an investigation, examination of surveillance tapes, records of visitation, and more. 
Following the Prison Litigation Reform Act
Though you can opt to file a lawsuit against possible mistreatment cases, one must consider the Prison Litigation Reform Act (PLRA). 
It is an act passed by Congress in 1995 that sets restrictions on prisoners' ability to file a lawsuit about their prison conditions. The PLRA prevents frivolous lawsuits and allows correctional officials to resolve the problem first before escalating to the courts.
Mistreatment in Jail and Prison
Inmates have constitutional or legal rights that prison staff must protect. However, cases of mistreatment still happen inside correctional facilities in the United States. 
Mistreatment in jails and prisons comes in many forms, and the following are the most common cases:
Physical assault by a prison personnel
Psychological abuse
Negligence in maintaining prison conditions
Harassment from other inmates
Sexual abuse and assault
Failure to provide nutrition or medical care
Abuse of power by prison personnel
Corruption by prison personnel
Any of the mentioned abuses is regarded as maltreatment and justifiable cause to file a complaint. 
Filing a Lawsuit for Inmate Mistreatment: What Legal Recourse Can Abused Inmates Pursue?
Prison abuse violates the constitutional rights of prisoners. If this abuse happens, inmates can pursue legal action to defend their rights. Actions that an inmate may take are the following:
Filing a complaint with the jail, state prison, or federal penitentiary
Filing a civil rights lawsuit in a state court or federal court
Prisoner victimization lawsuit leads to two kinds of solutions in favor of the plaintiff or the person who files the lawsuit. The remedies are monetary damages and injunctive relief. 
Monetary damages – This remedy means the victim will be compensated monetarily through presumed or punitive damages.

Presumed damages are the direct monetary cost of the abuse to the victim. It may include medical bills, the cost of therapy, and rehabilitation. 
Punitive damages are fines to punish the guilty party for committing inmate abuse.

Injunctive relief – This remedy means that the prison will change its policies or improve its facilities to prevent abuse in the future.
Reporting Mistreatment
Reporting mistreatment is encouraged because it is the only way to protect inmates' rights inside prisons. 
An inmate or a family member can report any abuse to prison staff. Individuals can also course their complaints to the Department of Correction's (DOC) inmate grievance system and report them to the DOC's Office of Special Investigations and Intelligence. 
How Do You Report a County Jail?
An inmate may call any prison officials to report an abuse case in county jails. Prisoners can talk to their families about the abuse and course the complaints through the proper channels.
File a CRIPA Complaint
CRIPA, or Civil Rights of Institutionalized Persons Act, provides a fast process for inmates to file complaints of abuse and violations they have experienced in prison. 
The reports are directed to the Department of Justice (DOJ) federal prosecutors, who then course them to the agencies like the FBI for investigation. 
Upon receiving the complaint, the DOJ communicates with the state or local facility to address the problems and make reforms before escalating it to the courts. 
The DOJ may file a lawsuit or press civil rights charges in the federal courts if the problem is not addressed. 
CRIPA is limited to systemic abuses and does not cover federal prisons and personnel.
What Is the First Step in Filing a Complaint?
First, you must ensure that your party wants to file a complaint. 
Second, identify the sources of abuse and anyone who contributes to the mistreatment. 
Third, understand the possible grievance system you can use to address your complaints. 
Fourth, determine the outcome you want to happen after filing the complaint. 
Finally, prepare for the complaint and be ready for possible investigations that may follow. 
What Actions Should Be Done in a Complaint?
When you report an inmate abuse issue, you must provide the facility name where the abuse happened and also the name of the perpetrator.
Anonymous reports about inmate abuse allegations are not allowed unless it is a general complaint. 
How Do You Write a Letter of Complaint?
If you send a complaint letter, you should keep in mind the following tips:
Write in a polite tone and manner.
Always introduce yourself in the letter.
Always mention when you wrote the letter.
You should clearly state the name of the receiver.
You should write the issue briefly, concisely, and in an organized way.
What Are the Stages of Complaints?
Prison facilities have procedures set in place to address complaints from inmates. However, the complaint is first resolved by prison staff before it is resolved through the courts. 
If the complaint is not resolved through talks, a grievance form is accomplished by the inmate and submitted to the prison facility. 
This form formally starts the complaints process, which results in investigations.
File a Federal Civil Rights Suit
Inmates can file a civil rights lawsuit if there are substantial violations against the constitutional rights of an incarcerated individual. 
If there are invasive searches and excessive force done against an inmate, it may violate the Fourth Amendment. 
If there are instances of cruel and unusual punishment inside a prison facility, it may violate the Eighth Amendment.
If there are racial slurs and other discriminatory behavior inside prison, then such situations may violate the 14th Amendment. 
Civil rights lawsuits may result in prison or jail reform, and there are instances where inmates may be compensated.
Contact a Civil Rights Attorney
Navigating the prison grievance system is difficult, especially for those unaware of their rights. It is best to have the help of an experienced civil rights lawyer for civil rights cases. 
You can look into several law firms that specialize in providing legal services for incarcerated individuals and protecting inmate rights in the United States. 
How Can a Lawyer for Inmates' Rights Help?
A lawyer depends on the amount of evidence gathered about the abuse. If the evidence is not substantial, then the case will not go forward. 
A prison lawyer must also help the inmate navigate the exhaustion policy.  In many prisons, inmates with grievances must exhaust all remedies the prison complaint system provides before lawsuits are filed in court.  
This policy is stated in the Prison Litigation Reform Act, where exhaustion means to use all administrative avenues inside a facility before addressing it in court. 
What Are Four Types of Victimization That Take Place in Prisons?
In the United States prison system, inmates may encounter four types of victimization inside a facility. The four types are:
Sexual – The nonconsensual sexual assault or abusive sexual contact from a fellow prison inmate or a staff of the prison facility. Sexual cases are one of the most traumatizing for the prisoner.
Psychological – The act of hurting an inmate emotionally and mentally. It may be verbal abuse or anything that makes prisoners feel bad. 
Economical – The act that hurts the economic capability of an inmate with no justification. 
Social – The unjustified act of depriving inmates of their social needs. 
What Are the Four Legal Foundations of Prisoners' Rights?
The Department of Justice, alongside federal courts, acknowledges the four legal foundations of prisoners' rights in the United States. 
The four foundations are the following:
The United States Constitution – The supreme court has recognized these foundations. However, these rights can be restricted when maintaining a facility's order, safety, and security.
Federal Statutes – The Civil Rights Act of 1871 protects inmates from lawless activities by state officials. 
In section 1983, civil liabilities are imposed on people who deprive another individual of their rights that are guaranteed by the Constitution. Federal statutes are also federal laws that are implemented across the United States.
State Constitutions – States may provide legislation to reinforce the rights already granted by the U.S. Constitution. 
State Statutes – Prisoners may file a complaint and receive damage compensation when prison officials fail to provide or protect inmates' rights inside a correctional facility. The statutory obligation may differ from state to state. 
What Is Considered Prisoner Abuse?
Prisoner abuse is the mistreatment of a person who is under arrest or incarcerated. 
Mistreatment includes actions that harm an inmate physically, emotionally, and psychologically. 
Examples of abusive actions are: 
Unjustified corporal punishments, such as beating and hitting
Deprivation of inmate's sleep 
Abuse that may damage one's mental health, such as taunting or bullying
Sexual abuse and assault
Another form of prisoner abuse is subjecting inmates to severe pain during interrogation. These actions violate prisoners' rights, which the U.S. Constitution protects. 
How Are Prisoners Mistreated?
Mistreatment is an unsanctioned punishment of prisoners by correctional officers. It is the infliction of corporal punishment through inhuman treatment like solitary confinement in a dark cell and reduction of diet. 
There is also the use of restraining instruments such as chains, straitjackets, and handcuffs and the action of stripping inmates in cold weather, and other forms of unusual punishments.
Prisoner's Rights: What Rights Do Inmates Have?
The following are the forms of abuse that inmates can experience, the prisoner's rights against this abuse, and the course of action to take if they experience this mistreatment. 
Experiencing Assault or Excessive Force in Prison
Your Rights
Inmates are protected from assault or excessive force by the Eighth Amendment.
Inmates may not be subjected to malicious, sadistic, and harmful use of force. 
Officials should prevent risks that they know well. Failing to respond to these risks is considered a violation. 
  What to Do if You Believe That Your Rights Have Been Violated
Tell prison staff about the abuse. Gather evidence.
Consult legal representation when applicable.
Facing Religious Discrimination in Prison
Your Rights
Inmates have freedom of religion and cannot be forced to accept the religion of prison officials, get punished, or undergo discrimination.
Inmates have the right to practice their religion, including religious diet, activities, observances, clothing, and even grooming practices. 
What to Do if You Believe That Your Rights Have Been Violated
Tell staff about the abuse. Gather evidence.
Consult legal representation when applicable.
File a complaint with the Department of Justice Special Litigation Division.
Experiencing Discrimination or Abuse in Prison for Being a Transgender
Your Rights
Transgender inmates are protected from violence, unlawful segregation, discrimination, and abuse. 
The Prison Rape Elimination Act requires the implementation of housing for all transgender inmates. 
The Eighth Amendment protects transgender inmates' rights. 
What to Do if You Believe That Your Rights Have Been Violated 
Tell staff about the abuse. Gather evidence.
Consult legal representation when applicable.
File a complaint with the Department of Justice Special Litigation Division.
How Are Prisoners' Rights Violated?
A prisoner's rights are violated when acts are made towards them that go against the U.S. Constitution. 
Some violations include excessive force resulting in personal injury, denial of necessities and services such as medical care, and subjecting inmates to discrimination. 
What Is the Purpose of the Prisoner Complaints System?
The purpose of the prisoner complaints system is to provide an avenue inside the correctional facility to address problems and issues that inmates may experience during their incarceration. 
This system provides a faster way to resolve issues than a lawsuit. 
Fighting for Your Rights
Many civil rights groups are dedicated to enforcing prisoner rights inside correctional facilities in the United States. 
Groups such as the American Civil Liberties Union are among many that advocates inmate rights. 
What Rights Should Inmates Not Have?
Though inmates have rights, their crimes result in the loss of others. The rights that inmates lose are their:
Right to privacy inside prison cells  
Right against warrantless searches
Right to various employment laws such as the minimum wage
Right to privacy of communication, such as in phone calls and correspondence
Liberty and freedom of movement 
Additional Resources
Prison Activist Resource Center (PARC) – a resource that supports prisoners' rights
National Prisoner Resource List (NPRL) – a resource for finding places where inmates and families to support health care and outlets for creativity
Lookupinmage.org is another resource that offers a comprehensive database that may help people find correctional facilities, inmates, and prisoner records from more than 7,000 prison facilities in the United States. 
References
Prisoner Abuse Law and Legal Definition
https://definitions.uslegal.com/p/prisoner-abuse/
Maltreatment of prisoners
http://encyclopedia.uia.org/en/problem/maltreatment-prisoners