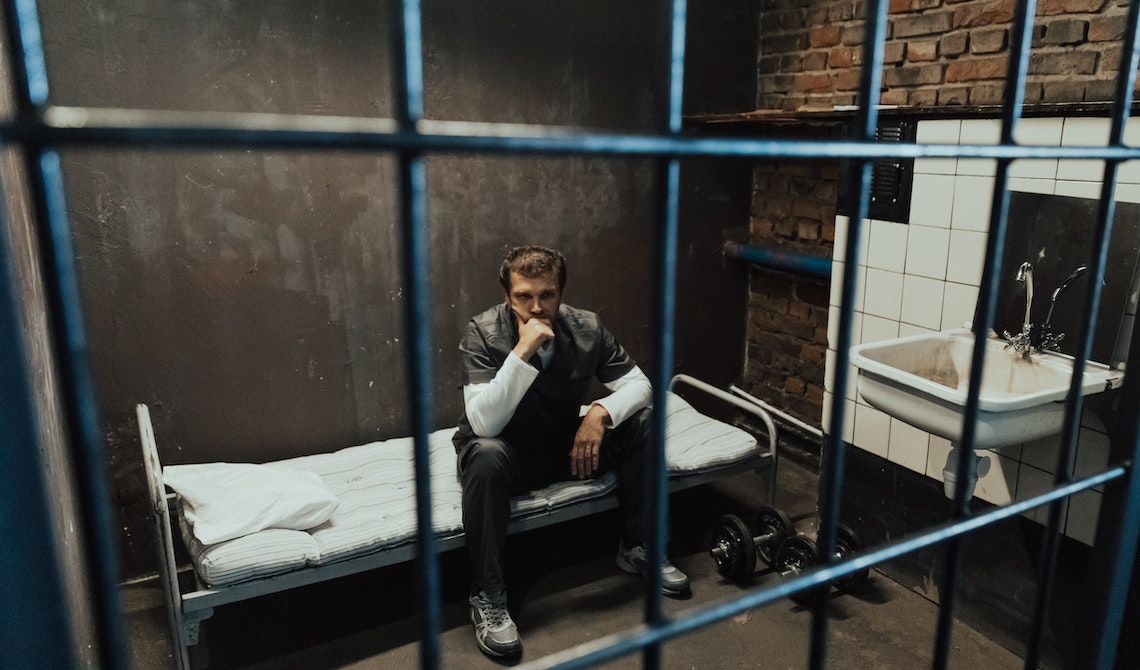 The Federal Bureau of Prisons (BOP) runs 122 prisons, also called institutions, throughout the United States. These prisons operate at five security levels to confine offenders appropriately. One of these prison types is the minimum security prison.
As of June 2022, inmates in minimum security institutions numbered 22,535, or 14.3% of all federal inmates.
If you are wondering what a minimum security prison is, how it differs from other prison types, the kinds of criminals who serve time in a minimum security institution, and the factors that determine a federal prison's security level, then read on. 
lookupinmate.org provides a comprehensive information source about minimum security prisons in the United States. In this article, you will learn about the various minimum security prison types, the list of such prisons per state, and the different security levels within the federal prison system.
What Is the Lowest Level of Prison?
The BOP classifies its prisons into five security levels: minimum, low, medium, high, and administrative. The lowest level is the minimum security prison.
Remember that security levels are usually based on:
The presence of towers, security barriers, external patrols, or detection devices
Housing type within the institution
Internal security features
Staff-to-inmate ratio
Facilities with different security levels and are close to one another are called prison complexes.
What Is a Minimum Security Prison?
Minimum security institutions, also called federal prison camps (FPCs), are prison facilities with limited or no perimeter fencing, a relatively low staff-to-inmate ratio, and dormitory housing.
Some BOP institutions have a minimum security camp, called satellite prison camps (SCPs), adjacent to the main facility. These camps provide inmate labor to the primary institution and offsite work programs.
Community Confinement Centers (CCCs)
CCCs are prison facilities at the lowest minimum security prison level. They are sometimes called halfway houses or residential reentry centers.
These facilities house inmates whose release date is near, typically around less than a year left. Thus, CCCs can house inmates from all security levels.
Other CCC inmates include those sentenced by federal courts to community confinement.
CCCs often include community treatment centers, restitution centers, alcohol or drug rehabilitation centers, or mental health facilities. These prisons also provide inmates with vocational training, educational programs, and employment searches, which the prisoners can pursue during nonresidential hours.
Types of Minimum Security Prisons
The BOP operates two types of minimum security federal prisons:
Federal Prison Camps (FPCs): These facilities are standalone full minimum security prisons and offer more activities and programs than SPCs.
Satellite Prison Camps (SPCs): These camps are adjacent to higher security institutions. SPC inmates provide labor services to the central institution.
The federal prison system has only seven standalone FPCs, namely:
How Are Minimum Security Prisons Different From Other Prisons?
One significant difference between the minimum and higher security prisons is that minimum security prisons typically have no barriers between the camp and the outside world.
Minimum security inmates are provided an admission and orientation handbook. This document outlines the program rules, regulations, and procedures during admission.
Since there are no walls or razor wire fences, minimum security federal prisoners can be tempted to walk away. However, recapture is almost always a certainty, and the severity of negative consequences of escaping federal prison can deter inmates from attempting escape.
Criteria for Serving Time in a Minimum Security Prison
For a federal inmate to serve time in a minimum security prison, they must:
Be within 10 years from their release date
Have a documented history of violence over a specific period, usually at least 10 years
Have no history of escape attempts
Minimum Security Work Cadre Inmates
Work cadres provide direct support services to administrative security metropolitan correctional centers, metropolitan detention centers, and federal detention centers. Cadre inmates help maintain the daily institutional operations in these centers.
Work cadres are the final type of minimum security placement. This placement type differs significantly from regular Federal Prison Camps.
Work cadre inmates live in an administrative security facility, segregated from other inmates. However, cadre inmates are often in daily contact with the general population of other inmates designated to all security levels.
A cadre work environment typically has various constraints like living in a high-rise detention facility, being exposed to heightened noise levels, or being locked in a cell at night, limiting the inmates' freedoms. This limitation may cause some inmates to dislike cadre work assignments or placement.
Minimum Security Camps (Federal Prison Camps): What Are Minimum Security Camps Like?
Minimum security federal prisons typically provide dormitory-style housing for inmates.
Since there are no fences or perimeter guards, FPCs only house the most low-risk inmates. They have significant freedom of movement and can access the library, recreation, and email. Inmates can play basketball, do workouts in the gym, and easily move around the facility.
Some FPCs are near military bases, and inmates can help serve the labor needs of these bases.
Many federal prison facilities have SPCs adjacent to the main facility. SPCs provide inmate labor to the primary institution and offsite work programs.
What Kind of Criminals Go to Minimum Security Prisons? Who Goes to Federal Prison Camps?
Minimum security prisons house prisoners who:
Are serving shorter sentences
Are convicted of white-collar crimes
Have a minimal criminal history
Have no history of violence
Camp inmates are typically low-level, nonviolent offenders with no significant history of institutional disciplinary violation or escape. These inmates usually have less than 10 years left on their sentence.
List of Minimum Security Prisons by State
While state prisons operate under that particular state's Department of Corrections, federal minimum security prisons operate under the BOP.
If you are looking up an inmate, here are the minimum security state prisons in the U.S. and their addresses:
Alabama
FCI Aliceville Camp: 11070 AL-14, Aliceville, AL 35442
FCI Talladega Camp: 565 E Renfroe Rd, Talladega, AL 35160
FPC Montgomery: Montgomery, AL 36112
Arkansas
FCI Forrest City Camp: 1400 Dale Bumpers Rd, Forrest City, AR 72335
Arizona
FCI Phoenix Camp: 37900 N 45th Ave, Phoenix, AZ 85086
USP Tucson Camp: 9300 S Wilmot Rd, Tucson, AZ 85756
California
USP Atwater Camp: 1 Federal Way, Atwater, CA 95301
FCI Dublin Camp: 5701 8th St, Dublin, CA 94568
FCI Herlong Camp: 741-925 Herlong Access Rd A-25, Herlong, CA 96113
FCI Lompoc Camp: 3600 Guard Rd, Lompoc, CA 93436
USP Lompoc Camp: 3901 Klein Blvd, Lompoc, CA 93436
FCI Mendota Camp: 33500 W California Ave, Mendota, CA 93640
CI Taft Camp: 1500 Cadet Rd, Taft, CA 93268
FCI Victorville Camp: 13777 Air Expressway Blvd, Victorville, CA 92394
Connecticut
FCI Danbury Camp: 33 1/2 Pembroke Rd, Danbury, CT 06811
Colorado
FCI Englewood Camp: 9595 W Quincy Ave, Littleton, CO 80123
FCI Florence Camp: 5880 Hwy 67 South, Florence, CO 81226
Florida
FCI Coleman Camp: 846 NE 54TH Terrace, Sumterville, FL 33521
FCI Marianna Camp: 3625 FCI Rd, Marianna, FL 32446
FCI Miami Camp: 15801 SW 137th Ave, Miami, FL 33177
FPC Pensacola: 110 Raby Ave, Pensacola, FL 32509
Georgia
USP Atlanta Camp: 601 McDonough Blvd SE, Atlanta, GA 30315
FCI Jesup Camp: 2600 US-301, Jesup, GA 31599
Illinois
FCI Greenville Camp: 100 U.S. HWY. 40, Greenville, IL 62246
USP Marion Camp: 4500 Prison Rd, Marion, IL 62959
FCI Pekin Camp: 2600 2nd St, Pekin, IL 61554
USP Thomson Camp: 1100 1 Mile Rd, Thomson, IL 61285
Indiana
FCI Terre Haute Camp: 4200 Bureau Rd N, Terre Haute, IN 47802
Kansas
Kentucky
FCI Ashland Camp: KY-716, Ashland, KY 41102
USP Big Sandy Camp: 1197 Airport Rd, Inez, KY 41224
FMC Lexington Camp: 3301 Leestown Rd, Lexington, KY 40511
FCI Manchester Camp: 805 Fox Hollow Rd, Manchester, KY 40962
USP McCreary Camp: 330 Federal Way, Pine Knot, KY 42635
Louisiana
FCI Oakdale II Camp: 2105 East Whatley Rd, Oakdale, LA 71463
USP Pollock Camp: 1000 Airbase Rd, Pollock, LA 71467
Maryland
FCI Cumberland Camp: 14601 Burbridge Rd SE, Cumberland, MD 21502
Massachusetts
FMC Devens Camp: 42 Patton Rd, Ayer, MA 01432
Minnesota
FPC Duluth: 4464 Ralston Dr, Duluth, MN 55811
Mississippi
FCI Yazoo City Camp: 2225 Haley Barbour Pkwy, Yazoo City, MS 39194
New Hampshire
FCI Berlin Camp: 1 Success Loop Rd, Berlin, NH 03570
New Jersey
FCI Fairton Camp: 655 Fairton Millville Rd, Bridgeton, NJ 08320
FCI Fort Dix Camp: 5756 Hartford St & Pointville Road, Fort Dix, NJ 08640
New York
FCI Otisville Camp: 2 Mile Drive, Otisville, NY 10963
North Carolina
FCI Butner Camp: 3000 Old 75 Hwy, Butner, NC 27509
Oklahoma
FCI El Reno Camp: 4205 OK-66, El Reno, OK 73036
Oregon
FCI Sheridan Camp: 27072 SW Ballston Rd, Sheridan, OR 97378
Pennsylvania
USP Canaan Camp: 3057 Eric J. Williams Memorial Dr, Waymart, PA 18472
USP Lewisburg Camp: 2400 Robert F Miller Dr, Lewisburg, PA 17837
FCI Loretto Camp: 772 St Joseph St, Loretto, PA 15940
FCI McKean Camp: 6975 PA-59, Lewis Run, PA 16738
FCI Schuylkill Camp: Interstate 81 and 901 W, Minersville, PA 17954
South Carolina
FCI Bennettsville Camp: 696 Muckerman Rd, Bennettsville, SC 29512
FCI Edgefield Camp: 501 Gary Hill Rd, Edgefield, SC 29824
FCI Estill Camp: 100 Prison Rd, Estill, SC 29918
FCI Williamsburg Camp: 8301 US-521, Salters, SC 29590
South Dakota
Tennessee
FCI Memphis Camp: 1101 John A Denie Rd, Memphis, TN 38134
Texas
FCI Bastrop Camp: 1341 State Hwy 95, Bastrop, TX 78602
FCI Beaumont Camp: 5560 Knauth Rd, Beaumont, TX 77705
FCI Big Spring Camp: 1900 Simler Dr, Big Spring, TX 79720
FPC Bryan: 1100 Ursuline Ave, Bryan, TX 77803
FMC Carswell Camp: Naval Air Station, J St, Bldg 3000, Fort Worth, TX 76127
FCI La Tuna Camp: 8500 Doniphan Rd, Anthony, TX 79821
FCI Seagoville Camp: 2113 N Hwy 175, Seagoville, TX 75159
FCI Texarkana Camp: 4001 Leopard Dr, Texarkana, TX 75501
FCI Three Rivers Camp: 1700 TX-72, Three Rivers, TX 78071
Virginia
USP Lee Camp: Hickory Flat Rd, Pennington Gap, VA 24277
FCI Petersburg Camp: 1100 River Rd, Hopewell, VA 23860
West Virginia
FPC Alderson: Glen Ray Rd, Box A, Alderson, WV 24910
FCI Beckley Camp: 1600 Industrial Rd, Beaver, WV 25813
FCI Gilmer Camp: 201 FCI Ln, Glenville, WV 26351
USP Hazelton Camp: 1640 Sky View Dr, Bruceton Mills, WV 26525
FCI McDowell Camp: 101 Federal Dr, Welch, WV 24801
FCI Morgantown: 446 Greenbag Rd, Route 857, Morgantown, WV 26501
Wisconsin
FCI Oxford Camp: County Rd G and Elk Ave, Oxford, WI 53952
The Federal Prison System
The federal prison system's institutions have five categories:
Minimum security institutions have dormitory housing, limited or no perimeter fencing, and a low staff-to-inmate ratio. These institutions have a work- and program-oriented environment, where inmates can help serve the labor needs of the adjacent institution or nearby military base.
Theoretically, inmates are free to walk away from these facilities. However, prisoners who escape and get recaptured can face severe consequences, like being prosecuted for escape and serving their remaining time in more secure facilities.
Low security federal correctional institutions typically have double-fenced perimeters, dormitory or cubicle housing units, and strong work- and program-oriented components. Low security FCIs have a higher staff-to-inmate ratio than minimum security facilities.
Medium security FCIs have tighter security perimeters, often comprising double fences and electronic detection systems. These facilities have mostly cell-type housing units, a higher staff-to-inmate ratio than low security institutions, numerous work opportunities and treatment programs, and greater internal controls.
High security institutions, also called United States penitentiaries (USPs), have stricter security than medium security FCIs, often featuring reinforced fences or walls. USPs have single- and multiple-occupant cell housing units, the highest staff-to-inmate ratio, and tight inmate movement control.
Administrative facilities are institutions tasked with special missions, including: 
Detaining pretrial offenders
Confining extremely dangerous or escape-prone inmates
Treating prisoners with severe or chronic medical conditions 
Factors to Determine Federal Prison Security Level
You can figure out the security level of a federal prison by observing these factors:
Presence of mobile patrols driving around the facility's perimeter each day
The presence of gun towers around a prison's outer perimeter, wherein armed BOP guards monitor movement and activities from within those towers
Existence of perimeter barriers separating the prison from the community
Availability of detection devices, like metal detectors and sound-guns that can overhear prisoner conversations
Status of internal security, including door locks and window bars
Conditions of inmate housing, whether the correctional facility confines people in cages, locked rooms, or open dormitories
The ratio of staff members to inmates
Other Different Security Levels
Aside from minimum security, here are the different security levels of federal prisons:
Low Security Federal Correctional Institutions (FCI)
Low security FCIs detain federal inmates from all backgrounds with no extensive, documented criminal histories.
Inmates with a history of violent behavior can be confined in low security FCIs, provided that several years have passed since their last documented act of violence.
Medium Security Federal Correctional Institutions (FCI)
Medium security prisons confine prisoners with any sentence length and from any background.
Often, inmates in a medium security FCI have extensive criminal histories and are serving sentences longer than 30 years.
United States Penitentiaries (USP)
USPs typically confine federal prisoners with an extensive history of violence. Examples of individuals or groups in a USP are gangs, organized crime groups, and numerous individuals with no expectation of living normal lives as law-abiding citizens.
Some individuals sentenced extensively for high-dollar crimes can also serve time in USPs. Federal prisoners in USP share common areas within the facility.
Complex
Federal Correctional Complexes (FCCs) comprise institutions with various missions and security levels near each other.
FCCs tend to increase efficiency by sharing services, enabling staff to gain experience in facilities with varying security levels, and enhancing emergency preparedness with additional resources from nearby facilities.
Administrative Level
Administrative facilities confine offenders with special circumstances, like pretrial offenders, inmates with chronic health issues, or highly violent inmates.
Administrative facilities include:
Metropolitan Correctional Centers (MCCs)
Metropolitan Detention Centers (MDCs)
Federal Detention Centers (FDCs)
Federal Medical Centers (FMCs)
Federal Transfer Centers (FTCs)
Medical Center for Federal Prisoners (MCFP)
Administrative Maximum Security Penitentiary (ADX)
Federal Inmate Criteria to Be Held at the Administrative Level
Federal inmates must fit into any of these criteria to be held at an administrative facility:
Inmates who have active judicial proceedings: Administrative facilities are like temporary jails, where people wait to be transferred to a permanent facility.
Prisoners needing medical attention: Many FMCs have affiliations with local hospitals in neighboring communities.
Inmates in transit from one facility to another: The primary inmate transit center is the FTC at the Oklahoma City airport.
Prisoners classified as dangerous or prone to escape: Facilities handling these inmates include the special management unit or administrative maximum unit.
How the BOP Designation Process Works
After imposing the imprisonment sentence, the BOP determines the defendant's facility for serving their sentence.
The court clerk uploads the signed judgment order and transmits it to the U.S. Probation and Pretrial Services, which then adds and transmits the presentence report (PSR) to the U.S. Marshals Service.
After receiving the documents, the U.S. Marshals Service transmits them, including additional forms determining jail time credit for the time already served, to the BOP Designation and Sentence Computation Center (DSCC). The DSCC decides the offender's classification and designation.
If the judgment order the BOP receives does not include the statement of reasons (SOR), the DSCC staff must make reasonable efforts to obtain a copy from the court or probation office.
The SOR may contain information overriding the PSR and affect security classification decisions during designation. Thus, obtaining the SOR helps ensure that the BOP follows the court's intentions when designating a facility.
The DSCC consists of one designation team and 17 classification teams based on the district the inmate is sentenced.
The designation team comprises eight designators who process transfers and nine senior designators who process initial designations and other transfers.
Five medical designators assign prisoners to FMCs and medical or mental health care facilities. Four specialist designators handle special cases, including Residential Drug Abuse Program (RDAP) transfers.
Security Level Scoring and Designation by Designations Staff
During an inmate's designation to a specific institution, DSCC scores the defendant to determine their security level. The designation staff reviews these factors when scoring an inmate:
Court recommendation, if any
The severity of the current offense
Criminal history category
Voluntary surrender status
History of violence
History of escape
Drug or alcohol abuse during the last five years
Detainers, if any
Age
Education level
Most factors can raise the defendant's score and, hence, the security level. However, a court order allowing the defendant to surrender voluntarily to the designated institution can lower the score.
In case the inmate voluntarily surrenders on the same day they get sentenced, or if they are a supervised release violator, they will not receive a point reduction.
Inmate-Staff Relations
The BOP considers all staff members as correctional officers first, treating inmates in a firm but fair manner, and are not expected to form close bonds with inmates.
In higher-security prisons, inmates and staff typically have minimal interactions. Lower security levels and less strict controls may help lessen the tensions between these groups.
Staff members are responsible for maintaining the facility's order, inspecting places regularly, and conducting searches on individuals.
In low security prisons, as long as an inmate is respectful of authority, does not pose significant problems, and has good critical-thinking skills, they are likely to serve their sentence without much interference.
Public Safety Factors
Certain inmates are classified under specific groups based on their public safety factors:
Disruptive group: This group is a prison gang identified by prison staff and certified by the BOP as being disruptive to BOP's internal operation or engaging in illicit activities in the facility.
Sentence length: Inmates with more than 10 years left to serve will, at the minimum, be housed in a low security facility unless this PSF is waived.
Offenders with more than 20 years left to serve will be detained in a medium security facility at the least.
Prisoners, including those with non-parolable life sentences, whose time left to serve is more than 30 years, will be detained in a high security institution.
Threat to government officials: An inmate considered a "threat to government officials" under the BOP's central inmate monitoring system will, at the minimum, be housed in a low security level facility unless this PSF is waived.
Greatest severity offense: An inmate's classification in the BOP's offense severity scale falls under the "greatest severity" range if the inmate did one or more of these offenses:

Aircraft piracy
Arson
Assault
Carjacking
Drug offenses
Escape from secure custody or closed institution
Extortion using weapons or threat of violence
Kidnapping through abduction, unlawful restraint, or ransom money
Robbery
Sexual offenses or transportation with coercion or force
Homicide or voluntary manslaughter
Distribution of automatic weapons, export of advanced weaponry, or the brandishing or threatening use of such weapons
Use of chemicals or toxic substances as weapons to threaten human life
Possession or use of explosives
Espionage, treason, sabotage, or related offenses

Deportable alien: This PSF applies to any inmate who is a non-U.S. citizen, including long-term detainees, and requires placement in a low security facility at the minimum.
This PSF is not applicable when the Executive Office for Immigration Review (EOIR) or the Immigration and Customs Enforcement (ICE) deems that deportation proceedings are not warranted.
Serious escape: A prisoner who escaped from a secure facility, open institution, or program with a threat of violence will be housed in a medium security level institution unless the PSF is waived.
Prison disturbance: Inmates under this PSF are involved in more than one violent incident within a facility and found guilty of one or more prohibited acts, including engaging in a riot.
Unless the PSF is waived, male inmates classified under this PSF are detained in high security institutions while female inmates are placed in the Carswell administrative unit.
Violent behavior: A prisoner whose historical or current confinement involves convictions for severe violent incidents during the last five years is assigned to a low security level facility at the minimum unless the PSF is waived.
Juvenile violence: This PSF applies to juvenile offenders with any documented evidence of violent behavior resulting in a conviction, finding of guilt, or delinquency adjudication.
The term "violence" under this PSF is the aggressive behavior resulting in, or likely to cause, serious bodily harm or death. Such behavior includes intimidation involving a weapon, aggravated assault, or arson.
Serious telephone abuse: Inmates who have used a telephone to perform criminal activities fall under this PSF.
Not all inmates who committed a crime involving a telephone can get assigned to this PSF. However, those assigned are housed, at the minimum, in a low security level institution unless the PSF is waived.
Management Variables
Management variables (MGTVs) can override a defendant's PSF or security score. MGTVs include these terms:
Release residence: The BOP can assign an inmate to a facility near their release residence, even if the inmate's score will require a facility with a different security level.
Population management: The Bureau can decide to place an inmate in a facility with a higher security level if the lower security institution the inmate qualifies for is overcrowded.
Judicial recommendation: The BOP can utilize this MGTV to place an inmate in a lower or higher security level than the inmate's security score requires.
Medical or psychiatric treatment: This MGTV applies to inmates needing medical or psychiatric treatment available only in a facility outside their security level.
Central inmate monitoring assignment: Some inmates require monitoring or separation from other prisoners, causing management concerns that limit placement options. The BOP can permit placement outside normal guidelines under these conditions.
Waived PSF: This MGTV applies to inmates whose PSF has been reviewed and approved for a waiver and places the inmate at a different security level than if the PSF was implemented.
Work cadre: The regional director can authorize work cadre inmates to perform work outside the institution's perimeter at secure facilities that do not have satellite camps.
If this placement is outside regular security level scoring guidelines, the BOP can apply this MGTV to let the inmate participate in the work cadre.
Long-term detainee: Long-term alien detainees typically do not receive subsequent custody reviews like regular BOP non-alien inmates. The BOP assigns this MGTV should circumstances require these long-term detainees to transfer to a higher or lower security facility.
Only the BOP detention services branch of the central office's correctional programs division can approve this MGTV.
Lesser security: The BOP can decide if an offender has a lower security risk than their initial security level score suggests. In this case, the Bureau can apply this MGTV to detain the offender in a facility outside standard guidelines.
Greater security: The Bureau may believe that an offender poses a higher security risk than their assigned security level indicates. The Bureau can apply this MGTV to place the inmate in a higher security facility.
This MGTV places the offender one security level higher than what their score requires otherwise and applies to:
Offenders with long records of prior arrest and few convictions
Nonviolent offenders with a history of poor adjustment under community supervision or probation
Offenders who had disciplinary problems during a prior incarceration
Inmates with significant financial resources or foreign ties
Inmates with an organized crime involvement history
Central Inmate Monitoring Information
The central inmate monitoring (CIM) system is a prisoner classification tool that monitors inmates with special security management needs.
Such inmates include:
Those with documented needs to be separated from other inmates
Prisoners who receive widespread publicity
Inmates who pose threats to government officials
Individuals needing special supervision in determining prison placement
After DSCC Designates an Inmate
After the DSCC makes a designation, the center sends the information to the U.S. Marshals Service and pretrial services. The marshal then notifies the inmate of the designation.
In cases when the notice is not sent or received, the defendant's counsel should communicate with the U.S. Marshals Service or pretrial services to determine the defendant's designated institution.
If the inmate is currently detained in a federal institution, the inmate may obtain the notification information from a staff member, who can retrieve it from the BOP's computer system.
Suppose the inmate is in a nonfederal facility. They may be unable to obtain the designation information since the staff cannot access the computer used by the BOP and the U.S. Marshals Service.
If the inmate cannot obtain this information, their defense counsel may consider obtaining it from the marshal.
Although marshals are under no obligation to disclose that information, some can do so.
The BOP has a strict policy of not releasing the designation information to the public, including defense attorneys and non-law enforcement entities.
Securing a Favorable Federal Prison Placement and Transfer
The previous practice of designating an inmate was to assign them to a security level and designate them to a BOP facility with the corresponding security level.
Nowadays, aside from getting assigned to a security level, each incoming inmate receives a presumptive medical care level corresponding to the appropriate medical services the inmate requires.
The inmate also receives a presumptive mental health care level based on their mental health condition.
When an inmate receives the three assignments, the BOP assigns them to a facility that meets each requirement and is designated for service.
For example, the BOP classifies an inmate as minimum security with a care level of 2 (chronic but stable) and mental health care level of 1 (minimal or no mental health intervention needs). The inmate can then be confined at most BOP minimum security camps accepting prisoners with such level assignments.
References
About Our Facilities
https://www.bop.gov/about/facilities/federal_prisons.jsp
Prison Security Levels
https://www.bop.gov/about/statistics/statistics_inmate_sec_levels.jsp