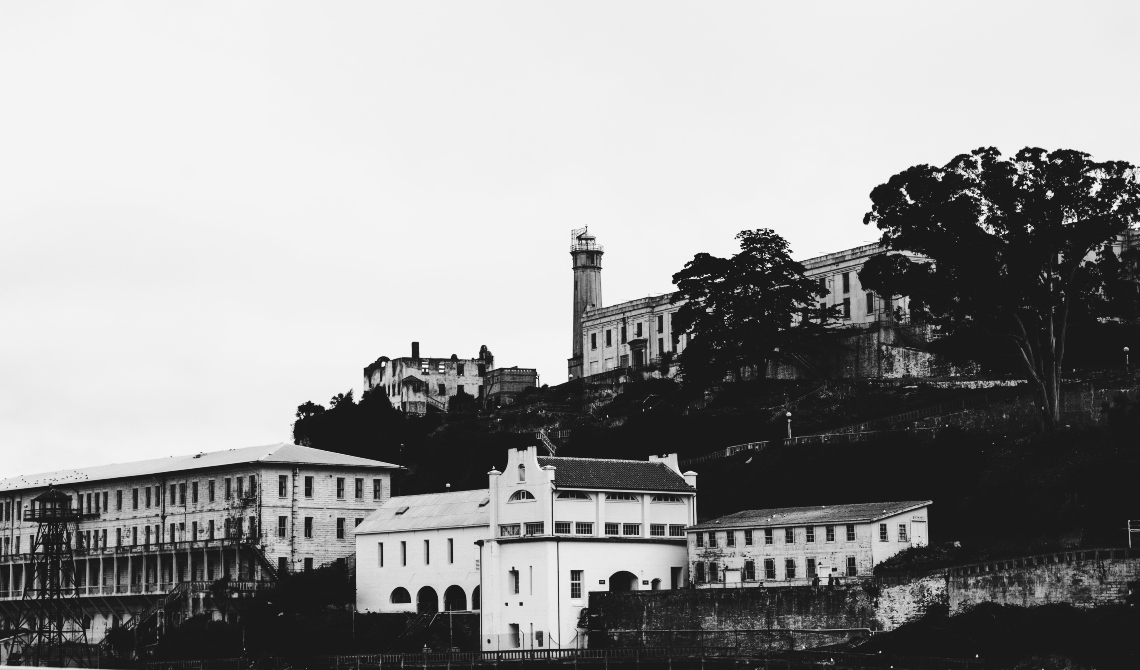 Did you know that the Federal Bureau of Prisons has over 34,000 employees working together to manage more than 159,000 inmates in federal custody as of February 2023? The Bureau aims to protect society by providing a safe, cost-efficient, and humane environment for confining offenders in federal prisons.
Yet, what is the Federal Bureau of Prisons, and what is its history, organizational structure, responsibilities, and obligations?
What is the difference between federal and state prisons? What crimes are most inmates of federal prisons incarcerated for?
This article discusses the Federal Bureau of Prisons. You'll understand the Bureau's history, organizational structure, and duties and responsibilities to its incarcerated population.
In addition, this write-up tackles the federal prisons in the United States and how federal prisons are different from other correctional facilities. You'll get an overview of the demographics of the incarcerated population in federal prisons.
The article will also discuss the types of federal prisons and their security levels, including how inmates can file complaints while imprisoned.
The Federal Bureau of Prisons works hand-in-hand with the entire criminal justice system to ensure the safety of society and rehabilitate its incarcerated population.
You can support loved ones serving time in these facilities by constantly communicating with them and helping them address their issues and complaints.
LookUpInmate.org can provide you with the entire list of federal prisons in the country, their contact information, contact person, and address. You can quickly contact prison authorities and work with them to help your loved one start their journey of change for the better.
Federal Bureau of Prisons Organization
The Federal Bureau of Prisons, or BOP, is a federal law enforcement organization that manages federal prisons in the United States. This agency is responsible for the custody and care of more than 159,000 federal prisoners in the country as of February 2023.
Central Office
The Central Office is the headquarters of the BOP located in Washington, D.C. As of February 2023, Director Collete S. Peters manages the Bureau of more than 34,000 employees. The Central Office is responsible for developing the national programs of the BOP.
Regional Offices
The BOP has six regional officers throughout the country to provide oversight and technical assistance to federal facilities in each region.
Other responsibilities of a BOP regional officer are the following:
Conduct workshops and specialized training programs
Conduct conferences
Assist in state and local criminal justice agencies
Provide offender placements in RRC (residential reentry centers)
Residential reentry centers provide community-based programs that can help federal offenders with their reentry into the community. The six BOP regional offices are the following:
The office is at 302 Sentinel Drive, Annapolis Junction, MD  20701.
The office is at 400 State Avenue, Suite 800, Kansas City, KS 66101.
The office is at U.S. Custom House, 7th floor, Philadelphia, PA  19106.
The office is at 3800 Camp CRK PK SW/BDG 2000, Atlanta, GA 30331.
The office is at U.S. Armed Forces Reserve CMPL, Grand Prairie, TX 75051.
The office is at 7338 Shoreline Drive, Stockton, CA  95219.
Individual Facilities
Aside from the regional offices, there are 122 federal prisons, 22 residential reentry management offices, and two staff training centers.
History of the Federal Bureau of Prisons
The BOP has a rich law enforcement history in the United States. It all started when the federal court system was created through the Judiciary Act of 1789 to house federal prisoners.
By the 1890s, seven facilities were built to house incarcerated people in federal custody.
Three Prisons Act of 1891
The federal prison system (FPS) started when Congress passed the "Three Prisons Act." The first three prisons were United States Penitentiary (USP) Leavenworth, USP McNeil Island, and USP Atlanta. The Department of Justice has limited oversight over these three prisons during that time.
The Federal Bureau of Prisons' Creation
In 1930, Congress formally established the Federal Bureau of Prisons. The Bureau's goal was to provide more progressive and humane care for inmates in federal custody. By the end of the same year, the BOP operated 14 institutions housing over 13,000 federal inmates.
Exponential Growth
The number of Inmates in federal custody didn't rapidly increase, but the facilities under the BOP did. By the end of 1980, the number of BOP facilities almost doubled from 24 to 44 institutions.
However, during the 1980s, federal inmates also increased in numbers from 24,000 to 58,000 before the decade ended.
Prison Records
The BOP has a list of records that anyone can access through the help of inmate locators.
You can visit LookUpInmate.org and search for inmates in federal custody. The site has a database of federal prisons, making it a handy tool for searching for people behind bars.
Federal Prison Records 1870 to 1981
The National Archives and Records Administration (NARA) keeps files of incarcerated people and prisons in the early times. It has records of inmates of federal prisons, including defunct prisons like Alcatraz and Leavenworth.
You can search their inmate records from these closed prisons on the NARA website.
Federal Prison Records 1982 Present
The BOP maintains records of its inmates released after 1982 up to the present. For records before 1982, NARA has a complete list.
As of February 2023, the Federal Bureau of Prisons is still in the process of transferring all of BOP's pre-1982 inmate records to the NARA database.
How Are Federal Correctional Institutions Different From Other Prisons?
Some may wonder about the difference between federal and state prisons. Why is there a need to have two different correctional institutions for state and federal offenders? The answer lies in the government structure of the United States.
Federal laws apply to everyone in the U.S. In contrast, state and local laws apply only to people under the state and local jurisdiction.
Federal prisons house individuals who have been found guilty of breaking federal laws. Some examples of federal laws are those concerning immigration, bankruptcy, and tax evasion.
Inmate Demographics
The BOP reports that 159,240 people are incarcerated in federal prisons as of February 2023. Most of those incarcerated are due to drug offenses (45%). Most inmates serve a term sentence of five to ten years (25.7%).
Security Level
The BOP reports the following demographic concerning security levels as of February 4, 2023:
Note: "Unclassified" refers to inmates who have not been assigned a security level.
Minimum security institutions are also federal prison camps or FPCs.
Inmate Characteristics
Here are other demographic data regarding inmates inside federal prisons. Note that figures represent the number of inmates and their percentage as of February 4, 2023.
Ethnicity:

Non-Hispanic (110,731 or 69.6%)
Hispanic (48,346 or 30.4%)
Gender:

Female (10,982 or 6.9%)
Male (148,095 or 93.1%)
Race:

Asian (2,296 or 1.4%)
Black (61,060 or 38.4%)
Native American (4,119 or 2.6%)
White (91,602 or 57.6%)
Prison Staff Characteristics
As of February 2023, the BOP is the workplace of 34,404 employees of different races and ethnicity. To further show the diverse characteristics of the Bureau's prison staff, here is a breakdown of staff ethnicity inside the BOP.
African American: 7,266 (21.1%)
Asian: 834 (2.4%)
Hispanic: 4,612 (13.4%)
Native American: 416 (1.2%)
White (non-Hispanic): 21,276 (61.8%)
Facility Characteristics
The BOP reports that as of February 13, 2023, 145,582, or 92% of all federal offenders, are housed in BOP-operated facilities. On the other hand, 13,658, or 9% of federal inmates, are housed in other types of facilities.
Who Goes to Federal Correctional Institutions?
According to the BOP, most inmates in federal prisons consist of people awaiting trial or people convicted of committing a federal crime.
There are cases where federal prisons house felons convicted of non-federal crimes. An example is the District of Columbia and states with unique circumstances and agreements.
What Are Most Federal Prisoners in Jail for?
According to the statistics reported by the BOP, most of the inmates inside federal prisons are due to drug charges. Forty-five percent of federal prison inmates have drug convictions.
U.S. Federal Prison Security Levels
The BOP currently has five prison security levels to house inmates with different federal offenses. These prisons or facilities have the following designations: minimum, low, medium, high, and administrative.
Facilities with more than one security level and located close to each other are called federal correctional complexes or prison complexes.
Meanwhile, a facility for detaining convicted individuals during pretrial is called an administrative facility.
Examples of these facilities are the following:
Metropolitan Correctional Centers (MCCs)
Metropolitan Detention Centers (MDCs)
Federal Detention Centers (FDCs)
Federal Medical Centers (FMCs)
Federal Transfer Center (FTC)
Medical Center for Federal Prisoners (MCFPs)
Administrative-Maximum Security Penitentiary (ADX)
What Is a Low-Security Prison?
The BOP's design for low-security prisons typically includes double-fenced perimeters, cubicle or dormitory housing, and inmate work programs. The facility has a low staff-to-inmate ratio compared to medium- and high-security prisons.
Another term for low-security prisons is federal correctional institutions or FCI.
What Are Low-Security Prisons Like?
The atmosphere inside low-security prisons is relatively safe compared to higher levels. Overcrowding is an issue with low-security prisons, but these facilities offer a relaxed atmosphere. Gang involvement and violence are minimal in these facilities.
It's also noteworthy that most low-security prisons have dormitory-style housing resulting in limited privacy and communal showers and bathrooms.
Culture in Low-Security Federal Prisons
Low-security prisons have few disturbances despite the presence of gangs in some facilities. Sex offenders and inmates who had testified in court are also relatively safe.
How Many Federal Prisons Are There in the U.S.?
There are 122 federal institutions in 37 states. These are managed by regional centers that provide the necessary support to ensure smooth daily operations.
Which States Have Federal Prisons?
There are 37 states in the country that have federal prisons. You can refer to the list when contacting these correctional institutions.
All Federal Prisons in the USA
Here are the United States penitentiaries (USP) per state:
Alabama
Aliceville FCI
Montgomery FPC
Talladega FCI
Arkansas
Arizona
Phoenix FCI
Safford FCI
Tucson FCC
California
Atwater USP
Dublin FCI
Herlong FCI
Lompoc FCC
Los Angeles MDC
Mendota FCI
San Diego MCC
Terminal Island FCI
Victorville FCC
Colorado
Englewood FCI
Florence FCC
Connecticut
Florida
Coleman FCC
Marianna FCI
Miami FCI
Miami FDC
Pensacola FPC
Tallahassee FCI
Georgia
Hawaii
Illinois
Chicago MCC
Greenville FCI
Marion USP
Pekin FCI
Thomson USP
Indiana
Kansas
Kentucky
Ashland FCI
Big Sandy USP
Lexington FMC
Manchester FCI
McCreary USP
Louisiana
Massachusetts
Maryland
Michigan
Minnesota
Duluth FPC
Rochester FMC
Sandstone FCI
Waseca FCI
Missouri
Mississippi
North Carolina
New Hampshire
New Jersey
New York
Brooklyn MDC
New York MCC
Otisville FCI
Ray Brook FCI
Ohio
Oklahoma
El Reno FCI
Oklahoma City FTC
Oregon
Pennsylvania
Allenwood FCC
Canaan USP
Lewisburg USP
Loretto FCI
McKean FCI
Philadelphia FDC
Schuylkill FCI
Puerto Rico
South Carolina
Bennettsville FCI
Edgefield FCI
Estill FCI
Williamsburg FCI
South Dakota
Tennessee
Texas
Bastrop FCI
Beaumont FCC
Big Spring FCI
Bryan FPC
Carswell FMC
Fort Worth FMC
Houston FDC
La Tuna FCI
Seagoville FCI
Texarkana FCI
Three Rivers FCI
Virginia
Washington
West Virginia
Alderson FPC
Beckley FCI
Gilmer FCI
Hazelton FCC
McDowell FCI
Morgantown FCI
You can log on to https://www.bop.gov/locations/list.jsp for a complete list of all federal prisons in all states.
List of Low-Security Federal Prisons by State
Here is the list of low-security federal prisons or federal correctional institutions by state:
Alabama
Arkansas
Arizona
California
Dublin FCI
Lompoc FCI
Terminal Island FCI
Colorado
Connecticut
Florida
Coleman Low FCI
Miami FCI
Tallahassee FCI
Kentucky
Louisiana
Oakdale I FCI
Oakdale II FCI
Michigan
Minnesota
Mississippi
North Carolina
New Jersey
Ohio
Pennsylvania
Allenwood Low FCI
Loretto FCI
Texas
Bastrop FCI
Beaumont Low FCI
Big Spring FCI
La Tuna FCI
Seagoville FCI
Texarkana FCI
Virginia
Here are other facilities of the BOP:
Federal Prison Camps:
Alabama
Florida
Minnesota
South Dakota
Texas
West Virginia
Federal Transfer Center:
Metropolitan Detention Center:
Women's Prisons in the U.S.
The BOP has 29 facilities for female inmates with minimum, low, and administrative security levels. Aside from these prisons, the Bureau provides two federal medical centers (FMC) for women.
There are 12 minimum security level or federal prison camps (FPC) and five low-security prisons in the country. Examples of these facilities are FPC Alderson in West Virginia and FMC Carswell in Fort Worth, Texas.
Designation and Sentence Computation Center
After an inmate receives their sentence, the BOP determines where the offender will serve their sentence according to the following:
The security level and staff supervision required
The security level and staff supervision provided by the institution
The medical classification and care level required by an inmate
The institution's level of care
The inmate's program needs treatment for substance abuse, vocational training, education, individual and group counseling, and medical or mental health treatment
Various administrative factors like bed capacity, judicial recommendations, security measures, security of victims, witnesses, and the general public
Federal Bureau of Prisons Directory
The BOP provides a directory of all its federal facilities for easy access by the public. You can search the BOP's directory to find an inmate, especially your incarcerated loved one.
How to Locate a Federal Inmate Using Lookup Inmate
There are two ways to search inmates using LookUpInmate.org. You can search for inmates by inputting their full name, age, sex, and race.
The second option is to search the site using an inmate's identification number given by the BOP.
How to Locate a Person Held for an Immigration Violation Using Lookup Inmate
Immigrants violating border regulations are incarcerated in detention centers like the FDC SeaTac in Washington, near the Seattle–Tacoma International Airport. The detention center was designed to house sentenced male and female inmates, including holdover, pretrial, and immigration detainees.
As of February 4, 2023, there are 7,460 people inside bars due to immigration cases. You can locate detained immigrants through the services like LookUpInmate.org and get the needed information to call the detention office directly.
You can also contact the immigration court for a particular case or call the Office of Enforcement and Removal Operations to find detained immigrants 18 years and older.
Send Money to an Inmate
People can send money to inmates even inside federal prisons. Here are ways to do this so that people's loved ones behind bars can purchase things they need from the prison commissary.
How to Send Money to an Inmate at a State or Local Prison
If you have people you love incarcerated in a state or local jail, you first need to create an inmate account for them. You can send money to their account through money transfer or mail.
How to Send Money to an Inmate at a Federal Prison
Sending money to people in federal prisons works the same way with state prisons. Federal prisons have commissaries where inmates can purchase things they need. Inmates can use the money deposited in their account to buy things they need or want in a commissary. You can send money electronically or through the mail.
Complaints About Federal, State, and Local Prisons
Inmates can file complaints and seek help if they suspect unfair treatment or abuses inside a correctional institution.
How to File a Complaint About a Local, County, or State Prison
You can submit a complaint about a local, county, or state prison by doing the following:
File a formal complaint with the local or state prison facility.
Contact the state's Department of Corrections office if the issue isn't immediately resolved.
Contact the state's governor to air grievances.
How to File a Complaint About a Federal Prison
In cases where suspected abuse or negligence happened inside federal prisons, you can do the following to submit a complaint:
File a formal complaint with the facility where the inmate is incarcerated.
File a complaint directly with the BOP regional office.
Contact BOP headquarters or the Department of Justice – Office of the Inspector General, the agency that oversees the BOP.
Note that you can give reasonable time before going to the next step of the complaint process. You should always, whenever possible, seek legal advice regarding inmate complaints.
References
1. Federal Prison System
https://www.gao.gov/federal-prison-system
2. Federal Bureau of Prisons
https://www.bop.gov/
3. Prisons and Prisoners
https://www.usa.gov/prisons