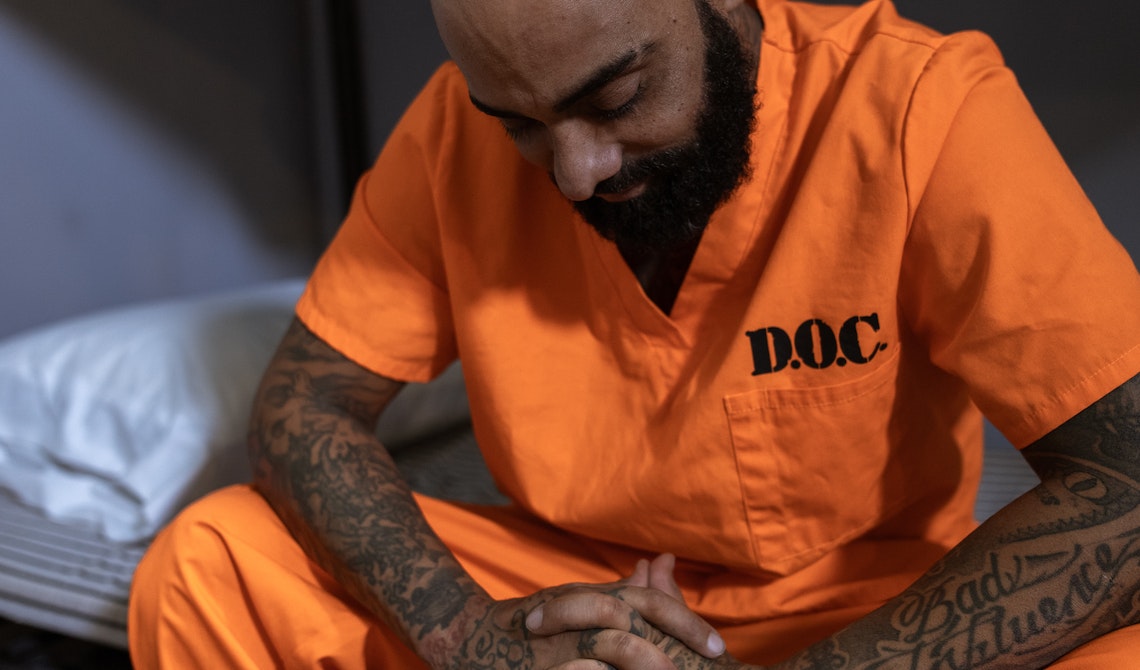 The popular Netflix sitcom Orange is the New Black begins its first episode tackling the issue of prison uniforms.
In one scene, Piper, the main character, is notified that she has to wear orange until her new attire arrives. Orange uniforms are for newbies, while khaki-colored ones are for regulars.
While this show is fictional, it reflects some things that are true about real-world prison systems in the United States (U.S.) and their rules concerning jail wear and other clothing items. In the case above, the facility used different-colored uniforms to group inmates according to their incarceration experience.
If you're like most people, you likely think prisoners typically wear only two outfits: black-and-white striped uniforms and orange jumpsuits. You probably get this idea from pop culture. But what do prisoners wear in real life?
LookUpInmate.org is a free online resource for everything related to detainees, jail, and prison inmates in the U.S. Our website features an inmate search tool to help you locate your loved ones in any federal or state prison and local jails nationwide.
This article discusses prison wear, including its variants, history of evolution, and impact on prison life.
What Do Prisoners Wear and Why?
Male and female inmates usually wear uniforms inside and outside prison walls.
However, these uniforms are not always jumpsuits, like most movies and TV shows portray.
More often than not, prison uniforms consist of work shirts and pants. Facilities require inmates to wear prison uniforms for the following reasons:
Distinguish offenders from the staff

Indicate the inmate's custody level

Make prisoners more identifiable to the public, reducing their chance of escape

Encourage equality among incarcerated individuals rather than disclosing their socioeconomic status

Limit the possibility of concealing

contraband

by not including pockets

Instill "external discipline" so passersby know they're in jail or prison
What Kind of Clothes Do Inmates Wear?
Each jurisdiction has policies regarding what inmates can (and cannot wear) while under custody. However, as indicated above, inmates in the U.S. typically wear clothes designed for physical labor.
History of Inmate Uniforms in American Jails
Here's a brief timeline of how inmate uniforms in the U.S. developed:
Late 18th century:

American colonists built jail centers modeled after European ones.
These detention facilities were initially disorganized and allowed inmates to buy what they wanted, including food and clothing, from outside the prison walls.
1790: In Philadelphia, reformers advocated for progressive laws, including standardizing inmate clothing production to foster uniformity within the correctional system.
Other states, like New York, used brightly colored clothing items to mark inmates.
1815:

During this time, the black and white striped

inmate uniform

became more popular due to parodying in visual media.
Authorities designed this clothing to ensure that escape attempts are lessened and make prisoners feel more humiliated — as the colors symbolize prison bars.
1900s:

Many

correctional facilities

abandoned the black and white striped uniforms due to their association with chain gang labor.
However, prison systems continue to design inmate clothing to make the separation between offenders and law-abiding citizens apparent.
One notable example of this trend was former Arizona County Sheriff Joe Arpaio's policy requiring inmates in Tent City jail (located in Maricopa County) to wear pink underwear.
2015:

The United Nations (

U.N.

) revised its 1957

Standard Minimum Rules for the Treatment of Prisoners

, also known as the

Nelson Mandela Rules

. Rule 19 proposes the following:
Prisoners not allowed their

own clothing

must be provided with clothing appropriate for the climate and their health. Such clothing should not be degrading or humiliating in any way.

All clothing should be clean and well-maintained. A change of underwear and a wash as often as necessary are essential to maintaining

hygiene

.

Inmates may wear their personal clothes or other inconspicuous clothing during authorized trips outside the prison.
Common Clothing Rules in American Jails
Incarcerated individuals may not destroy, alter, or mark any clothing the correctional facility issues. Additionally, jails and prisons usually prohibit inmates from bringing extra clothing or items.
During cold seasons, most prisons provide enough clothing to keep inmates warm.
Prisoners typically have to wear their outfits the following way when leaving their housing units:
Inmates should w

ear pants above the waist level, so

they

can't roll up their pants or tuck them into shoes or socks.

Inmates cannot fold collars inside their shirts.

Male inmates should wear shirt-tails tucked inside their pants.

Incarcerated individuals must always keep footwear laced and tied (when applicable).
How Prison Uniforms Have Evolved Over Time
American jail and prison uniforms have evolved from black and white stripes to neutral- and bright-colored ones.
Own Clothes
As in the earliest prisons, some institutions allow incarcerated people to wear civilian clothes, usually street clothes. Additionally, some facilities let offenders choose clothing items of different styles or colors.
Black and White Stripes
Some prison administrators still think this classic uniform should be reintroduced to today's inmates.
They argue that monochrome-themed clothing is more recognizable to the general population as prison wear.
For example, in 2014, William Federspiel, a Saginaw County Sheriff, switched orange jumpsuits to black and white striped prison uniforms.
Orange Jumpsuits
In the early 90s, correctional institutions began requiring inmates to wear orange jumpsuits in particular situations, such as during transportation or temporary detainment.
Offenders outside jail commonly wear orange jumpsuits to make them more visible.
What Are the Different Types of Prison Uniforms?
A prison uniform may come in different sizes and styles, including jumpsuits, scrubs, jeans, and shorts.
Some uniforms require hats, while others do not. Below are some clothing items inmates in the U.S. typically wear.
One-piece jumpsuit

.

A two-piece

prison clothing

set consisting of a short-sleeved shirt and pants with elastic waistbands. This type of uniform comes in muted colors like khaki or olive.

Some

correctional facilities

allow convicted individuals to wear shorts.

Usually

, the facility

issues

knee-length shorts and matching shirts.
Generally, inmate shorts do not have pockets and elastic waistbands. Also, these clothing items often come in solid colors.
Standard Colors and Their Meanings
As mentioned, uniform colors vary from prison to prison. Typical prison uniform colors in the U.S. include the following:
Orange:

This color is non-specific and is often used in prisons to indicate any status. Orange usually represents a

general population

status and is also used to identify people in work-release programs.

Khaki or Yellow:

These colors may represent outside offender work crews. Khaki and yellow also signify low risk.

Green or Blue: Low-risk inmates usually wear this color. Inmates on work details or those charged with misdemeanors and other nonviolent offenses may wear green or

dark blue

jumpsuits.

White: People in segregation units wear this color. For example, death row inmates may

be required to wear

a white uniform. White uniforms

also

indicate no yard time and limited spending in some places.
That said, a prisoner wearing a white uniform may also be currently participating in work release or education programs.
Why Do Prisoners Wear Orange?
Offenders generally wear orange while on the move or in a temporary facility. The prison uniforms they wear in their "home" prison are usually gray, beige, or navy blue.
Orange Isn't Always the New Black: Behind Bars, Clothing Matters
In prison, the color of your clothing usually signifies who you are, your status level, and whether you're a respected individual or a maximum security inmate.
Prison clothing also matters as it may indicate whether the inmate has medical needs.
Can Inmates Wear Civilian Clothes?
Federal prisons and state jails require inmates to wear issued uniforms.
However, county jails may sometimes allow offenders to wear their own clothes while in their holding cells. Most inmates wear designated uniforms only after joining the facility's general population.
Prison facilities consider civilian clothing and outfits other than prison-issued ones a security risk.
Dress-Out-Box
Some correctional facilities allow friends and family to send inmates a package of clothing to wear within the specified day of their release. This box is labeled "Dress Out Clothing."
Most facilities provide a list of authorized clothing. For example, prisons do not allow too revealing outfits or camouflage clothing.
Attire Restrictions
Again, rules regarding attires vary from facility to facility.
For example, when visiting a CDCR (California Department of Corrections and Rehabilitation) institution, you must remember these four rules:
Do not wear clothing similar to that worn by prisoners

.

Do not wear clothes similar to those worn by custodial staff

.

Dress modestly and conservatively

.

Do not wear

clothing

that cannot be removed and will not pass a metal detector (for example, an underwire

bra

or a shirt with metal buttons). Here are additional items you cannot wear when visiting a CDCR facility:
Clothing exposing the breast, genitalia, or the buttocks area

Tight, form-fitting outfits

Strapless, halter-style, midriff-bare, sheer, or transparent clothing

Dresses, skirts, or shorts exposing more than two inches above the knee

Wigs, hairpieces, extensions, or other headpieces, except when medically necessary and authorized by the prison staff

Hats or gloves, except when the visitor has prior approval or during bad weather conditions
Overview
As indicated above, visitors should wear clothing that enhances a family atmosphere, including cover-ups with suitable undergarments, comfortable footwear, and weather-appropriate items when necessary. The facility will refuse entry to anyone wearing inappropriate clothing.
Make sure you understand the dress code for visitors. If you are unsure about your clothing, you should carry a change of clothes.
Dress Code Prohibitions
While they might differ regarding specifics, institutions usually have standard dress codes for visitors.
For example, in New York, facilities under the governance of the Department of Corrections and Community Supervision (DOCCS) prohibit the following clothing:
See-through clothing, midriffs, and bare backs

Short or athletic shorts,

d

resses with plunging necklines, low or backless tops

Shirts displaying obscene

images

, derogatory language, or

designs

promoting illegal activities

Skirts or shorts shorter than mid-thigh

Bathing suits
If in doubt, avoid wearing clothing you think most people consider inappropriate. Visitors who do not follow the dress code will not be allowed into the facility.
Visitor Checklist
The checklist below can help you prepare for your visit:
Verify whether the individual is still available for visitation and whether or not they have been transferred.

Check

the visiting regulations regarding clothing and jewelry.

Suppose you are bringing a child, and you are not the parent or legal guardian. In that case, you must have the child's parent or legal guardian sign a notarized statement.

Bring a valid photo ID (identification).

Contact the facility before leaving your house if you have made special arrangements.

Ensure your vehicle is free

from

contraband

and hazardous items. If you find any, remove the items before entering the

correctional facility

grounds.
Laundry, Clothing, and Bedding in Prison
These basic things and activities are essential for inmates. Here's what convicted individuals should expect while confined in prison.
Laundry in Prison
Federal and state prisons typically assign inmates numbers and bags to go with incarcerated people's laundry.
On their designated laundry days, inmates can bring up their dirty clothes in approved laundry bags, and the facility's laundry services will handle washing and drying.
Bedding in Prison
Prisoners usually place their dirty bedding and the rest of their clothes in their laundry bags and send them to be cleaned together.
Inmates who turn in dirty bedding sometimes get new ones. The rules depend on local practice and are outlined in the institution's admission and orientation handbook.
FAQs
1. Which uniform style is worn by most inmates?
Again, inmates across the country wear different kinds of uniforms. Facilities have preferences depending on their system and procedures.
For example, some inmates wear orange jumpsuits made from easy-to-clean polyester or cotton. Prison officers can quickly identify incarcerated individuals thanks to the uniform's bright orange tint.
These jumpsuits may also have short sleeves, long legs, and an exposed front zipper.
Lastly, the facility may provide a white t-shirt for inmates to wear under the robe for ease and comfort.
2. What kinds of accessories usually come along with jail uniforms?
Aside from the uniform, incarcerated people usually get essential items like socks, shoes, and belts from their correctional facility.
The shoes may be crafted from durable materials like canvas or leather to last long.
Belts are generally black or brown, and socks are usually white. Some prisons provide gloves and headgear to protect inmates when working outdoors.
3. What brand of clothes do prisoners wear?
Facilities do not use particular brands as inmate uniforms. They usually offer generic-looking outfits.
For example, the Federal Bureau of Prisons allows authorized customers to buy articles of clothing from its general store.
4. Do female prisoners get bras?
Female inmates can keep wire-free bras. Inmates can also wear other underwear items provided they differ from gym shorts or swim trunks.
5. What do female inmates wear?
Rules concerning female inmates' clothing vary from jurisdiction to jurisdiction. Many countries require female prisoners to wear a full prison uniform.
Generally, today's uniforms only serve to differentiate inmates from civilians and staff and identify custody levels.
So, female inmates wear the same essential clothing as their male counterparts, such as navy or dark blue and white shirts and blue, denim, or chambray pants.
Inmates who work on the perimeter, including those outside the prison walls, may wear green jumpsuits and work boots.
References