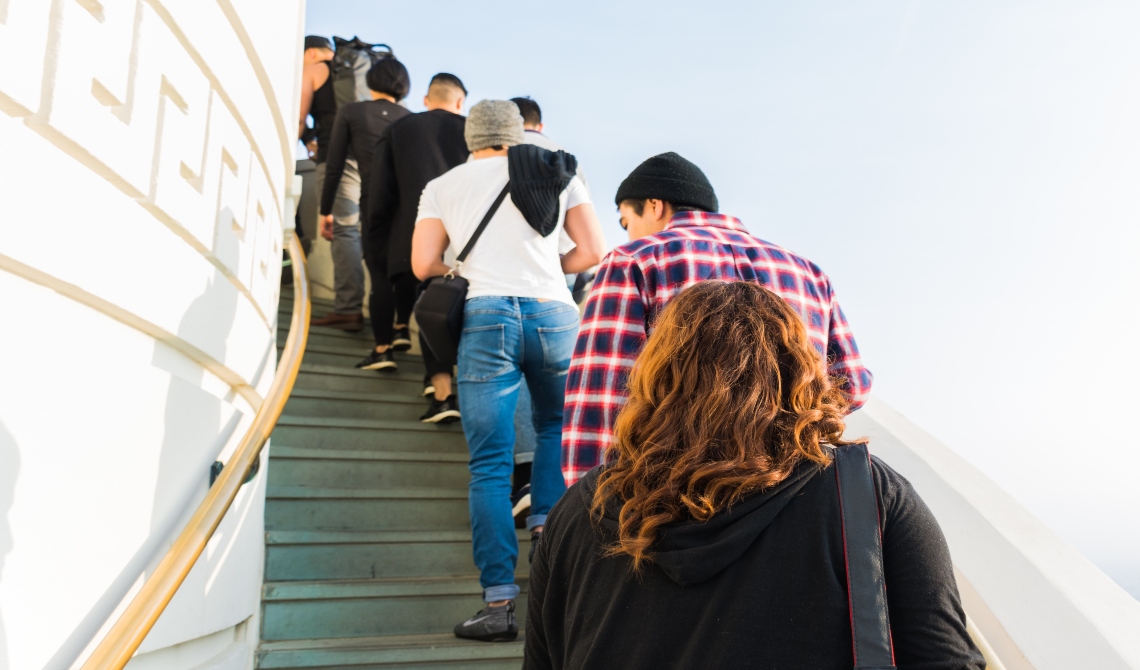 One in four Americans has a family member in prison. Research shows that communication between inmates and their families positively impacts health, improves learning, and reduces recidivism rates. These statistics show the importance of familial communication with individuals inside correctional facilities.
However, visiting an inmate is not as simple as visiting your friend or neighbor. There are limitations and restrictions that you should know that may hinder your chances of meeting up with your loved ones behind bars.
Many questions might confuse family members, especially those visiting an incarcerated loved one for the first time. These questions may include the following:
Do you need to register first before visiting an inmate?
Can you just walk in and register during the visit?
What are the policies you need to follow when visiting an inmate?
Should you inform the facility beforehand of your visit?
As you read this article, you'll learn more about inmate visitation policies, including whether the facility needs to be informed beforehand of any visits.
You'll learn the registration process and when you can schedule your visits.
You'll also get information on what you can bring, what to wear, and other regulations to comply with when visiting incarcerated loved ones.
There's a sense of joy in meeting someone you love in person. Nothing compares to a face-to-face meeting, even if you've constantly communicated by phone or online.
The emotional stress of being physically and emotionally separated from someone you love because of incarceration can be hard to bear. The U.S. government knows these emotional needs, so visits are allowed and encouraged.
If you plan to visit a loved one behind bars, you can use LookUpInmate.org to help organize your visit. This website lets you access information like visiting hours and things you can bring when visiting an inmate. LookUpInmate.org has links to more than 7,000 correctional facilities in the country.
How Do You Schedule a Visit to a U.S. Jail?
Planning an inmate visitation begins by learning the policies set by the correctional facility where your loved one is held. You can find the location of your incarcerated loved one through inmate or facility locators like LookUpInmate.org.
Remember that communication and contact visits from family members can impact the lives of your loved ones in prison for the better. Visitation and communication with a loved one behind bars are crucial, so making time for those activities is best.
To plan your visit, you must understand the rules and regulations inside prison facilities.
The Department of Corrections (DOC) and the Bureau of Prisons (BOP) manage the U.S. prison system. Learn the policies of these agencies and the correctional facilities where your loved one is to schedule an inmate visitation.
Visit an Incarcerated Individual
When you want to visit an inmate, you must have your visit approved by the jail or prison. Some facilities require you to complete a visiting application or a short questionnaire, while others do not.
You should contact the prison authorities of the correctional facility where your loved one is incarcerated to know if they have this requirement.
Who Can an Inmate Add to Their Visiting List?
Not everyone can visit an inmate inside a correctional facility. The BOP states that only the people listed by an inmate in a visitor list can be approved. So, if you're not included in an inmate's approved visiting list, chances are you won't be allowed to visit.
An inmate can add a person to their visitation list if they're included in the following:
Immediate Family Members
Mother
Father
Step-parent/s
Foster parent/s
Brothers
Sisters
Spouse
Children
Relatives
Grandparents
Uncles
Aunts
In-laws
Cousins
Other types of approved visitors
No more than 10 friends or associates
Foreign officials
Members of religious groups, including clergy
Members of civic groups
Employers (former or prospective)
Sponsors
Parole advisors
Attorneys
Visitation Rules for Wards
The wards or prison officers inside a correctional facility can regulate the duration of a visit to an inmate. However, the BOP approved a four-hour visit duration for inmate visits.
Most prisons do provide more hours for family visits. Still, the length of these visits may vary, mainly to avoid overcrowding.
Before You Travel to a Unit
Jails and prisons have regulations that should be followed regarding inmate visits. You should observe the guidelines and procedures to avoid being denied a visitation request.
Be Prepared
When you visit a prison or jail, you must be prepared. Many things could happen that may affect your visit. Cases of lockdowns, prison transfers, and other events may require you to reschedule your visit. However, did you know that not adhering to a prescribed dress code can cause a visit denial?
Dress Code (In-person and Online)
It may be too much of a restriction, but the BOP aims to maintain a family environment inside prison facilities. The BOP lists the clothing you shouldn't generally wear when visiting an inmate. However, prison facilities can have other clothing they disapprove of visitors wearing.
Revealing shorts
Halter tops (tank tops)
Bathing suits
See-through garments of any type
Crop tops
Low-cut blouses or dresses
Leotards
Spandex
Miniskirts
Backless tops
Hats or caps
Sleeveless clothing
Skirts two or more inches above the knee
Skirts or dresses with a high-cut split in the front, back, or side
Clothing that resembles inmate clothing (khaki or green military-type clothing)
Plan Your Trip
Some compare visiting an inmate with traveling to another country. You must follow the rules inside that country or face penalties, imprisonment, or deportation. It's the same with visiting a prison. You need to follow the regulations, or you can get denied visits to your imprisoned loved one.
One thing that you should consider is the visiting hours inside prisons. However, these schedules may vary from prison to prison.
On-Site Visitation Rules
When you visit someone in prison, you must consider the prison's visiting schedule. For most facilities, weekends are the preferred time to visit. However, due to this preferred schedule, Saturdays and Sundays may also be packed with visiting requests.
Factors that can also affect visiting schedules are prison location, prison type, and availability of visiting space.
Times
Visiting times may vary in different prisons. You may need to contact the prison facility to know their visiting schedules. Here's an example of visiting hours from the Jefferson County Sheriff's Office in Colorado:
9:00 AM to 10:30 AM
1:10 PM to 4:30 PM
7:40 PM to 8:30 PM
Online Visitation Rules
Suppose you can't travel immediately or too far to visit an incarcerated loved one. In that case, you can still contact your incarcerated loved one through video visitation. This type of visitation is a modern way of keeping in touch with your loved one behind bars. You can easily talk through gadgets like your computer, cellphones, or tablet.
Video visitations may vary from prison to prison, and it's best to check the facility's rules for video visitation. For example, the Pennsylvania Department of Corrections allows up to six visitors on a video call. An inmate can have six video visits per month.
Meanwhile, in Virginia, you need to file a video visitation application before talking to your loved one behind bars online.
Times
Scheduling for online visitations depends on the hours provided by the correctional facility. However, some prisons will have schedules similar to in-person visits. It's best to inquire about visitation information and schedule visits with the prison officers of the facility your loved one is currently detained in.
Trusty Schedules
Inmates with trusty and gateway schedules or systems should inform their visitors of these processes. For instance, in the El Paso County Jail, the inmate must inform visitors of Trusty schedules to avoid visiting complications. The video visitation staff cannot access inmate Trusty and Gateway schedules.
The Trusty Program is one of the internal programs where inmates are placed, depending on where the county's classification unit deems them fit. Other programs include the Reintegration Program, Volunteer Program, and the Progressive and Regressive Housing Program.
Similarly, Gateways is also an El Paso County Jail internal program that promotes non-taxpayer or self-supported inmate work.
Visitation Cancellations
Visit cancellations can happen anytime, and inmates and family members can cancel their scheduled visits. However, in facilities like the El Paso County Jail, the prison can also cancel scheduled visits because of factors like the following:
The inmate has already exceeded the number of allowed visitations
The visitor's profile was not filled out completely (e.g., the form has a missing photo ID)
The visit was not scheduled on an inmate's unlock time
Visitation Days and Hours
The BOP has set general guidelines on the visiting schedule for family members. Here is a list of visitation days and hours for family members.
Sunday: 7:30 AM to  2:30 PM
Monday: 2:00 PM to 9:00 PM
Tuesday: No visitation
Wednesday: No visitation
Thursday: No visitation
Friday: 2:00 PM to 9:00 PM
Saturday: 7:30 AM to 2:30 PM
Holidays: 7:30 AM to 2:30 PM
Visitation Check-In
When you visit, you should be in the facility a few minutes ahead of schedule. However, you should expect to be searched and to fill out paperwork. It's part of the security process to ensure that no contraband is delivered to an inmate.
You'll get checked for prohibited items like cigarettes, especially in tobacco-free prisons. Also, you may be strip-searched, especially if the prison officials suspect that a visitor has contraband.
You can refuse to be strip-searched and still be allowed to visit. However, there are cases where strip searches are required, mainly due to an inmate's security level.
Visitation Bans
Not following the rules and regulations inside a prison facility can result in a visitation ban. You must adhere to the protocols in the facility where your loved one is incarcerated.
Remember that visitations can help loved ones behind bars cope with their situation and help them carry on without succumbing to stress and depression from life in prison. So, make the most of these visits, follow the policies, and help someone who has lost their way get back on track.
FAQs
1. Do I get to see the inmate? Can I bring anything in for an inmate?
As long as someone is on the approved visitors list, they can meet with the incarcerated individual upon scheduling. They can kiss, shake hands, or hug. However, these are all regulated by guidelines. Facilities may have varying lists of things you can't bring during an inmate visit.
In places like the El Paso County Jail, you can bring your ID, eyeglasses, small bills, and change. You can use this money to purchase items from vending machines inside the visitation room.
Friends and family can't bring any contraband inside a visiting area. This act can lead to the revocation of their visiting privileges.
2. How early should I arrive for my visit?
Arriving ahead is always preferred, especially since you may have to provide additional information required by the prison. It's best to be at the facility 10 to 15 minutes early.
3. What should I do when I arrive for my visit?
When you arrive, you'll go through security checks. You must provide your identification card before being directed to the visiting area.
4. What kind of identification do I need?
You can bring your driver's license or any card or document with your photo, full name, date of birth, contact information, or phone number if needed.
5. What happens if I'm late for my visit?
You can still visit your incarcerated loved one but use the time remaining. The prison facility generally doesn't adjust schedules even if visitors are late. You can book your next visit online through kiosks in the facility (if the prison has one).
6. How long are the visits?
The length of visits may depend on the prison. For example, in El Paso County Jail, a 30-minute in-person communication is a typical timeframe adopted.
On the other hand, the BOP states that by law, inmates get at least four hours of visiting time per month. However, prison wardens can provide more time or restrict visitation hours depending on their discretion, mainly to avoid overcrowding.
7. Can I leave money for the inmate?
If a lockbox service is available, you can leave money for an inmate by depositing it in the account. If the service isn't available, you can deposit money to an inmate's trust account for them to have money to purchase items from the commissary.
8. During my internet visit, why is the sound distorted? Why does it have an echo?
Your microphone may pick up the sound coming from your speaker. It creates a looping feedback or an echo. Using headphones or earphones when talking to your loved one behind bars through video conferencing is best.
9. How do I get approved to visit an inmate in the U.S.?
To get approved to visit an inmate, you must be included in the approved visitors' list made by an inmate. According to the process outlined by the BOP,  the inmate will send their family or friend a form informing them they're on the approved visiting list.
The form is then filled out by the family member and sent back to the facility, and it will be up for approval. Prison personnel may also call someone on the approved list for more identification.
10. Does it take long to get approved to visit an inmate in the U.S.?
Approval times may vary in different prison facilities. For example, getting a visitation approval may take four to six weeks in California. It's also worth noting that approval time in other states may vary in duration, so you should plan your visits accordingly.
References
1. Half of Americans Have Family Members Who Have Been Incarcerated
https://eji.org/news/half-of-americans-have-family-members-who-have-been-incarcerated/
2. General Visiting Information
https://www.bop.gov/inmates/visiting.jsp
3. Inmate Visitation
https://www.cor.pa.gov/family-and-friends/Pages/Inmate-Visitation.aspx
4. Video Visitation
https://vadoc.virginia.gov/family-and-friends/visiting-an-inmate/video-visitation/
5. SET visit hours
https://www.bop.gov/locations/institutions/set/SET_visit_hours.pdf
6. Sending Money to Incarcerated People
https://www.cdcr.ca.gov/family-resources/send-money-to-an-inmate/
7. Visiting an Inmate: Answers to Common Questions & Things you should know
https://www.prisonpro.com/content/visiting-inmate-answers-common-questions-things-you-should-know