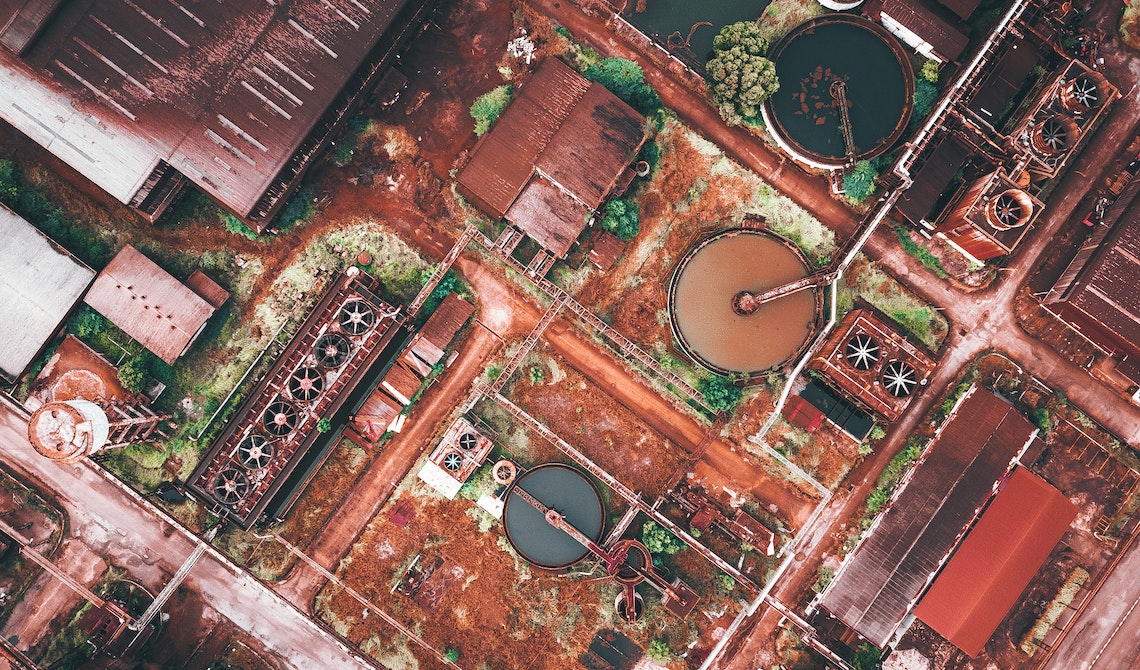 The Eastern State Penitentiary was the largest and most expensive prison in America. The building was built in 1829 and is one of Philadelphia's historical attractions. 
The former prison draws almost 250,000 visitors annually, mainly due to its Halloween tours in the fall. Its management also offers year-round art installations and electronically guided tours that feature interviews with guards and prisoners.
Standing on a 9.8-acre property on Fairmount Avenue, the looming, Gothic-style structure with 30-foot-high stone walls and foreboding guard towers has attracted filmmakers in the past three decades. 
The prison appeared in the sci-fi movie "Twelve Monkeys," the drama-thriller "Return to Paradise" (1998), the revival film "Animal Factory" (2000), and "Transformers: Revenge of the Fallen" (2009).
The Eastern State Penitentiary was the world's model prison during its heyday. Hundreds of jails across the British Empire, South America, Europe, Russia, China, and Japan looked to the 19th-century facility for their prison design.
What made this prison an example for the world to follow? What led to the facility's closure and popularity as a haunted attraction?
This article will take you back to the storied past of this national historic landmark. Read on also to discover how this tourist destination made a mark in the field of prison architecture.
lookupinmate.org provides information on over 7,000 U.S. correctional facilities, including the city of Philadelphia's county jails and prisons today. The site's database also features Pennsylvania's state and federal prisons.
Eastern State Penitentiary: A Prison With a Past
The idea behind Eastern State Penitentiary's construction came when Philadelphians started thinking of prison reform shortly around the time of the U.S. Constitution's ratification in 1788.
The Philadelphia Society for Alleviating the Miseries of Public Prisons, which included the city's prominent citizens, expressed concern over the conditions of prisons.
Philadelphia's own Walnut Street Jail held youth and adults facing various criminal charges. 
Jail officials offered no protection for law offenders confined at the facility. The prison was dirty, with no dividers or heating system, and detainees typically died of cold or lack of food.
Members of the civic group met at the home of Benjamin Franklin in 1787 in hopes of using private, solitary confinement to replace overcrowded prisons and public punishments.
Overview
After 30 years, the society—whose notable members included physician and philanthropist Dr. Benjamin Rush—successfully convinced the Philadelphia government to build a prison on the state's outskirts.
In the 1800s, jails are based on two prison systems: New York State's Auburn System and the Pennsylvania System. 
The Eastern State Penitentiary embodied the Pennsylvania System, while other prisons followed New York State's Auburn System as a model. 
British-born architect John Haviland's hub-and-spoke design for the penitentiary featured seven cellblocks. The blocks extended outward from a central station, where prison officers could monitor inmates.
Each vaulted cell had a skylight and a Bible, based on the reformists' belief that the prison's setup would lead to reflection and penitence, resulting in offender rehabilitation.
The number of cellblocks eventually rose to 15 as the facility took in more inmates. The total number of cells reached a thousand and the prison held over 1,800 inmates at a given time.
The penitentiary admitted 80,000 men and women until it closed in 1971.
Admission and Other Information
Since 2003, the Eastern State Penitentiary has been offering an audio tour titled "Voices of Eastern State." 
Visitors can listen to interviews of former prisoners, guards, and wardens and narrations by American actor Steve Buscemi.
Admission tickets feature this guide-led tour and discussion plus the "Hands-on History" experience or short tours (5 to 20 minutes each) around several prison spaces that become accessible on schedule.
Daytime tickets sell for $17 for adults, $15 for seniors, and $13 for students (requires ID cards) and children aged seven to 12. 
Meanwhile, kids below seven years old can go in for free.
Daytime tours run from 10 AM to 5 PM. The "Night Tours: Summer Twilight" runs every Thursday to Sunday from 6 PM between May 6 to September 4.
For discounted night tour rates, buy tickets online. Thursday and Sunday tours cost $19, $24 on Fridays, and $29 on Saturdays.
Why Visit
The prison tours offer a glimpse into the inmates' world during the penitentiary's 142-year operation. 
The prison's design was the most modern of its time. Inmates enjoyed centralized heating and running water before the White House. 
Visitors to Philly can include the Eastern State Penitentiary in their itinerary as the building is within the vicinity of the city's other must-see sights. 
The Philadelphia Museum of Art is several blocks east of the prison.
Moreover, the prison's location—2027 Fairmount Avenue—is accessible by public transportation.
The Who's Who of Eastern State: Who Were the Famous Criminals at the Eastern State Penitentiary?
Several top U.S. criminals served time at Eastern State Penitentiary, from a few months to several years.
Al Capone
One of the prison's most notorious inmates was Al Capone, who was the leader of a Chicago-based gang. He was involved in gambling, prostitution, and narcotics trafficking and spent eight months at the facility. 
But his presence is one of the highlights of the Eastern State Penitentiary Historic Site's tours. Conservationists recreated his 1920 cell and opened it for public viewing in 2019.
Visitors will find two beds in gangster Al Capone's cell as he shared the unit with an embezzler, Bill Coleman.
William Francis "Slick Willie" Sutton
Willie Sutton, one of the first fugitives listed on the FBI's 1950 Top Ten list, stayed in the Eastern State Penitentiary for 11 years for robbing more than 50 banks. He was dubbed the "gentleman thief" because he did not fire a gun in any of his robberies.
He was a master of disguise and pulled off his heists by dressing up as a policeman, maintenance staff, or mailman.
Sutton and 11 other inmates attempted to escape this prison through a tunnel. But the famed bank robber was recaptured immediately. 
He was later moved to Philadelphia's county jail, where he failed in his jailbreak attempt anew.
Morris "The Rabbi" Bolber
Morris Bolber served a life sentence for being a leader in the murder-for-hire ring of cousins Paul and Herman Petrillo. The gang targeted unhappily married women, offering them "love potions" containing arsenic to poison their husbands.
Bolber and his cohorts later split the husbands' insurance benefits with these wives. The scheme resulted in the deaths of at least 30 people within five years until 1937.
What Is the Eastern State Penitentiary Famous for?
Eastern State Penitentiary's primary crowd pleaser is its festival-style evening activities during the Halloween season.
For the past 30 years, "Terror Behind the Walls" has been the name of this popular nighttime tour, which includes six attractions. 
In 2021, organizers changed the program title to "Halloween Nights," which has 15 attractions, including access to hidden nooks. 
The after-dark tours include five haunted houses, immersive walk-through environments, a 3D fun house, vampire-themed bars, and live performances. 
Meanwhile, shows include large-scale video projections with special effects on the historic prison's stone walls.
Is Eastern State Penitentiary Really Haunted?
The prison may have symbolized America's break from the traditional justice system that relied on corporal punishment. 
Yet there are sources, including paranormal researchers, who reported that incidents of madness, torture, and suicide occurred within the prison's high stone walls. 
According to a 2013 National Public Radio online article, some sightings include ghostly faces on cellblock 4, shadowy figures appearing on the walls on cellblock 6, and cackling noise and echoing voices on cellblock 12. 
How Scary Is the Eastern State Penitentiary? 
People generally end up seeing and experiencing what they expect to encounter in life. This principle can apply when one visits the Eastern State Penitentiary expecting to find something scary. 
Nevertheless, younger audiences may still find it hard to appreciate discussions about mass incarceration. Therefore, the facility is not open to children aged six and below. 
The prison's premises are naturally more frightening during Halloween Nights as the interiors, and other installations are set up for that purpose. 
Although various accounts say that officials eventually had to install torture-like apparatuses,  you will not find any of these tools on display. 
Reports say that the torture equipment included a water bath, where officers may have submerged inmates in ice-cold water before "hanging" the prisoners on a wall at night. 
Prison authorities would also strap inmates to a mad chair or iron gag, the second of which bound prisoners' mouths to an iron collar.
Meanwhile, the "hole"—a hardly breathable underground cell—under cellblock 14 became the destination of some hardened inmates. 
Evening tours are the same as daytime tours, except that dining enthusiasts are in for a treat. The Triple Bottom Brewing Company provides drinks and snacks at the penitentiary's The Fair Chance Beer Garden, which opens at night.
Events and More
Eastern State Penitentiary's year-long calendar includes family-oriented activities apart from the regular daytime and seasonal night tours.
Moreover, members can benefit from lectures about criminal justice reform and preservation efforts at the penitentiary. If you are interested, visit easternstate.org for more information.
What Happened to the Eastern State Penitentiary? A Philadelphia Prison's Grim Past 
Eastern State Penitentiary lost its "model" status in a few decades. Some foreigners returned from their visits with negative feedback.
After the British writer and social critic Charles Dickens visited the place in 1842, he said solitary confinement at the prison was a "secret punishment" that was worse than physical torture. 
As early as the 1890s, jail cells had to accommodate two occupants as offender admissions rose. The penitentiary gave up the strict solitary prison model in 1913. 
History Behind the Walls: How Philadelphia's Most Famous Haunted House Began
The good intentions for the Eastern State Penitentiary's inmates did not work out in the long haul.
Less than ten years after its opening, the Prison Discipline Society reported that isolation resulted in poor mental health among inmates. Prisoners went insane, even suicidal.
Designed for "All-Seeing" Surveillance
Haviland adopted the U.K.'s prison model for Eastern State Penitentiary—a radial design with a central observation hub. 
British philosopher Jeremy Bentham coined the term "Panopticon" for his concept of arranging prison cells in a ring shape.
At the center of the structure was a surveillance post where officers could observe all the prisoners simultaneously without leaving their station.
The cost for the penitentiary's construction was almost $780,000 or more than $16 million today.
Crime and Punishment
According to the original design, the prison would allow the confinement of 250 inmates in "solitude with labor."
The Pennsylvania system's correctional theory of prohibiting contact between prisoners guided the operations of the penitentiary. 
The facility distributed masks to inmates that they would wear when leaving their cells. Doing so was meant to discourage communication among prisoners. Prison cells also featured individual exercise yards and doors with a feeding hole to further limit interaction.
Inmates offset the cost of their incarceration by doing shoemaking, chair caning, or weaving inside their cells.
Construction began for additional cellblocks in 1911. The new blocks lacked the facilities that were available in the first units, like the skylights, lighting, and plumbing system—including flush toilets that were a technological marvel at that time.
As years went on, prison officers lost control of some inmates who refused to do their work duties. European migrants had added to the Eastern State's population by this time. 
Some prisoners sabotaged or used their tools to craft knives for attacking guards.
As mentioned, the penitentiary's authorities later devised torture regimens for prisoners, deviating from the original designers' intent to do away with physical punishment.
Closing and Abandonment
Inmates set the Eastern State Penitentiary on fire in 1933 and 1934 in protest of insufficient recreational facilities, overcrowding, and low wages. Prison officials also had to deal with escape attempts and riots.
The damages left by the 1961 riot were too expensive to repair. State officials decided to close the prison in 1971 as the surrounding area grew into a working middle-class residential neighborhood. 
Eastern State Penitentiary became an abandoned building for over a decade after housing short-term prisoners.
Remaking a Place of Punishment
From 1974 to the mid-1980s, there were proposals to demolish and convert the penitentiary for commercial use. Philadelphia Mayor Wilson Goode wrote the city Redevelopment Authority to reject proposals for the conversion of the property. 
Then, a group known as the Eastern State Task Force—who reportedly convinced Goode to preserve the prison—organized Halloween programs from 1991 to raise funds.
That same year, Pew Charitable Trust issued a grant that stabilized the preservation efforts of the prison. The first public tours began in 1994, with visitors wearing hard hats and signing waivers.
References