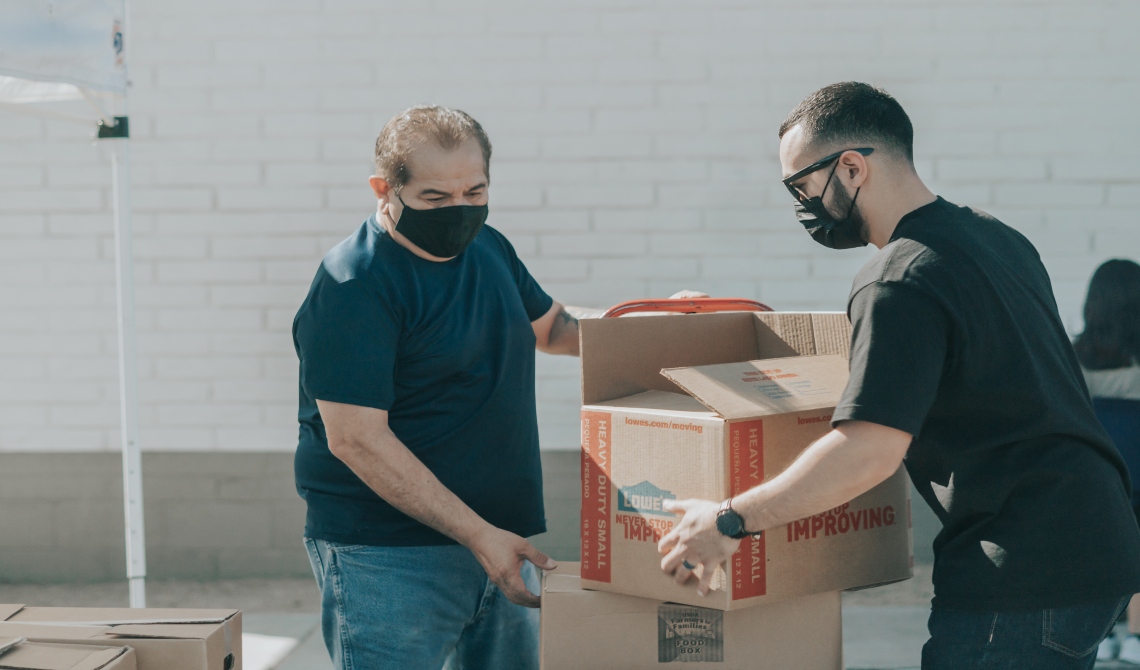 Giving Care packages is a simple act of kindness that can change the outlook of a person behind bars. Receiving items from loved ones in times of hardship can uplift distressed souls and give them consolation.
Most inmates inside correctional facilities battle against isolation, loneliness, and regret, which are sometimes unbearable. Care packages can help reduce those stressful feelings.
If you want to make a loved one in prison feel supported, knowing the custom packages you can send, such as an Access Corrections package, is a good start. But what items does this package contain?
Is there a limit to how many you can send to an inmate? Can you send an Access Corrections package multiple times in a month or year?
How much is an Access Corrections package, and where can you get one? How can you give it to an inmate?
This article will discuss Access Corrections and their money, mail, and package services to help families support their loved ones behind bars.
You'll get information about the package service offered by Access Corrections, the items you can include, and the methods for sending these packages to an inmate.
Furthermore, you'll learn how many packages you can send to an inmate and how many times you can share this kind of support in a month or year.
The U.S. government encourages an inmate's family to cooperate with programs designed for inmate recovery and rehabilitation. An example is Access Corrections, which offers an easy way for families to send money, mail, and packages to their loved ones behind bars.
If your loved one is behind bars, you can help them by supporting their recovery through expressions of love and simple acts of kindness. A package full of essential needs wrapped in love and care can pave the way for genuine change in an incarcerated person's life.
You can visit LookUpInmate.org and get information on more than 7,000 correctional facilities in the United States. Contact the facility your loved one is in and arrange for Access Corrections packages to be sent to them during special occasions.
Can You Send Care Packages to Inmates?
Inmates' families can send care packages to their loved ones behind bars. The Department of Corrections (DOC) has created methods for families to send items to support a loved one behind bars.
One of these methods is sending care packages, which family members can give to people behind bars. The items inside these care packages are purchased from approved vendors.
A care package started way back in 1946 as a way to help World War II refugees. These packages were distributed by a humanitarian organization called CARE (Cooperative for American Remittances to Europe).
This group delivered aid to an estimated 60 million people who suffered during the war. Because CARE sends these packages, the term "care packages" became known.
How to Send Money or Care Packages to Inmates
Families can't send items directly to an inmate. The reason for this restriction is to reduce the risk of families sending contraband to prison. States like California have approved vendor lists where families can buy the items they want to be included in a care package for their loved one in prison.
Money sent to an inmate goes to an inmate account. This account is, in essence, an inmate's bank account where their families can deposit money. Inmates can use the money in their account to buy things sold at a prison commissary.
All funds sent by inmates' families are pooled into an inmate trust fund managed by the Bureau of Prisons (BOP). The purpose of the commissary trust fund is to provide inmates with a chance to purchase items and necessities not provided by the BOP.
Send Money via Access Corrections
Access Corrections is a third-party vendor that provides ways to send money and mail to inmates. Aside from monetary aid, here are other Access Corrections services provided for families and friends of inmates behind bars:
Access Corrections technology analyzes Secure Deposits, Secure Mail, Secure Payments, and Secure Photo activities
Access Secure Deposits gives families and friends a secure way to send money to their inmate loved ones
Access Secure Mail offers inmates the ability to send emails to inmates
Like items and packages, money can't be sent directly to inmates. However, you can deposit funds into an inmate's account using other methods.
Aside from Access Corrections, you can send money through third-party vendors, like Western Union, Moneygram, and JPay, and even through money orders and checks via the United States Postal Service (USPS).
Inmates need money even in prison, but it doesn't always mean that the money is used to buy things at the commissary. Here are other reasons why inmates need money:
Inmates need money for discretionary spending
Inmates need money to pay restitution, especially when paying damages or fines
Online
You can send money to an inmate's account via electronic funds transfer or EFT. The direct deposit method ensures that money is transferred to an account safely and securely.
Prison facilities usually have third-party vendors offering direct deposit or EFT services. Families can go to these vendors and deposit money into an inmate's account without even personally visiting the jail.
An example of third-party vendors is Access Corrections. You can send money through its online transfer services. You'll only need the following information:
State
Name of the facility
Case ID
Inmate's first and last name
Payment options include a credit card or debit card (Visa or Mastercard).
By Phone
Some third-party vendors offer money transfers by phone. You can signup for a new account at Access Corrections using your Visa or Mastercard.
You'll need to call 1-866-345-1884 to send money over the phone. You pay a service fee for every transaction.
In Person
You can visit a Department of Corrections (DOC) office and deposit the money you want to send to an inmate. Some DOC offices have kiosks where you can send money electronically.
You can use the Access Corrections lockbox service if you don't have a credit or debit card and can't send money orders or checks. You just need to complete a form and deposit the amount you want to give to an inmate. The process can take up to 48 hours for the inmate to use the money.
Access Corrections has walk-in deposit services. You just have to visit any office partnered with the company and deposit the money you'll send to an inmate.
Smart Phone App
Third-party money transfer vendors have mobile apps you can download to access their services conveniently. You can download the Access Corrections app from Google Play Store on your mobile phone. You can link the app to your bank account and quickly send money to an inmate's account.
Aside from Access Corrections, other vendors provide similar money transfer services through mobile apps. Western Union, JPay, and Moneygram have apps that you can use to transfer funds to an inmate without needing to personally visit the bank or a kiosk in a DOC cashier's office.
Send Care Packages via Access Securepak
Access Securepak is one of the most comprehensive custom package programs in the United States. This correctional industry program provides families and friends a convenient way to send multiple items to a loved one behind bars. Access Securepak is created to prevent the entry of contraband inside prison.
Access Securepak is a convenient commissary that provides a wide selection of products that can be given to inmates in most prisons, like facilities in Colorado. This program has basic needs from food, snacks, hygiene products, clothes, and even electronic devices, like televisions and radios.
The company provides a user-friendly inmate package program, making it one of the go-to commissary vendors for prison facilities.
Suppose you want to send your loved one behind bars a care package. You can use the services of the Access Securepak custom package program to help you customize that care package bundle.
You can send such a package through two main methods: online and by phone.
Online
You can send a care package via the Access Securepak program by creating an account on the website. You'll then be asked to complete an order form and choose the items you'll put into a package.
Other third-party vendors also offer care package services for families of incarcerated individuals. For instance, in California, the state provided a list of vendors allowed to offer commissary services in the state's correctional facilities. Other states also have their preferred care package providers for their jurisdictions.
By Phone
If you can't order care packages online, you can order items to send to an inmate by phone. You can call 1-855-768-0789 to place your orders. You can also order through mail at the following addresses of approved vendors:
Access Securepak,
10880 Linpage Place,
St. Louis, MO 63132
Access Securepak
P.O. Box 50028 Sparks, NV 89435-0028
(800) 546-6283
Union Supply Direct
P.O. Box 619059
Dallas, TX 75261-9059
(866) 404-8989
(562) 361-5711
Also, you can contact Access Securepak through fax at 1-866-754-2813 or visit www.accesscatalog.com for inquiries about care packages.
Send Care Packages via Keefe
The Keefe Group is one of the vendors that has provided commissary services for different prison facilities in the United States since 1975. The Keefe Group has different operating companies that also provide commissary services to prisons. The companies belonging to this group are the following:
Access Corrections
Access Securepak
Keefe Commissary Network
Keefe Supply Company
ICSolutions
Advanced Technologies Group
You can send care packages via the Keefe Group or through its affiliates. This commissary service provides items not mainly provided by the Bureau of Prisons. The items made available by the Keefe Group include the following:
Package-label foods, like seafood, meat snacks, ready-to-eat meals, cookies and crackers, ramen soup, candy, cheese products, chips, and nuts
Hair and skin products, like shampoos, conditioners, lotions, shaving products, deodorants, toothpaste, mouthwash, vitamins, and supplements
Apparel and footwear, like jeans and denim, shirts, shorts, sweats, underwear, hats, jackets, shoes, and boots
Electronic and mechanical devices, like televisions, typewriters, CD players, portable radios, headphones, watches and clocks, fans, and batteries
How Many Packages Can an Inmate Receive?
As much as families want to support their incarcerated loved ones, there is a limit to how many packages an inmate can receive. States may differ in their rules regarding limitations, but typically, $100 is the limit per package ordered.
The package amount is in addition to the $100 bi-weekly limit for inmate purchases in a commissary or prison store.
Aside from the price limit, you can send packages per quarter (an example is January to March, April to June, July to September, and October to December). Such is the reason why care packages are also called "quarterly packages". Note that in some states, you can send packages every month.
Who Owns Access Securepak?
Access Securepak is a subsidiary of the Keefe Group, LLC. The group's headquarters is in St. Louis, Missouri. The Keefe Group has facilities throughout the country, including 22 distribution centers and manufacturing facilities where commissary items are processed.
If you need information on different jails, prisons, and detention centers in the country, visit LookUpInmate.org. You'll have access to a vast database of contact information that may be useful for sending care packages to inmates.
References
1. Send Packages
https://www.doc.wa.gov/corrections/incarceration/send/packages.htm
2. Sending Packages from Approved Vendors
https://www.cdcr.ca.gov/family-resources/sending-inmate-packages-from-approved-vendors/
3. BOP Trust Funds
https://www.gao.gov/products/ggd-94-149r
4. Direct Deposit (Electronic Funds Transfer)
https://www.fiscal.treasury.gov/eft/
5. SENDING MONEY TO AN INMATE ONLINE OR BY PHONE THROUGH ACCESSCORRECTIONS.COM https://doc.nv.gov/Inmates/Inmate_Banking_Services/Online_AccessCorrections/
6. Send Money
https://www.nyc.gov/site/doc/inmate-info/send-money.page
7. Friends and Family (SecurePak) Program – How it Works
https://www.michigan.gov/corrections/services/family-information/family-and-friends-securepak-program-how-it-works