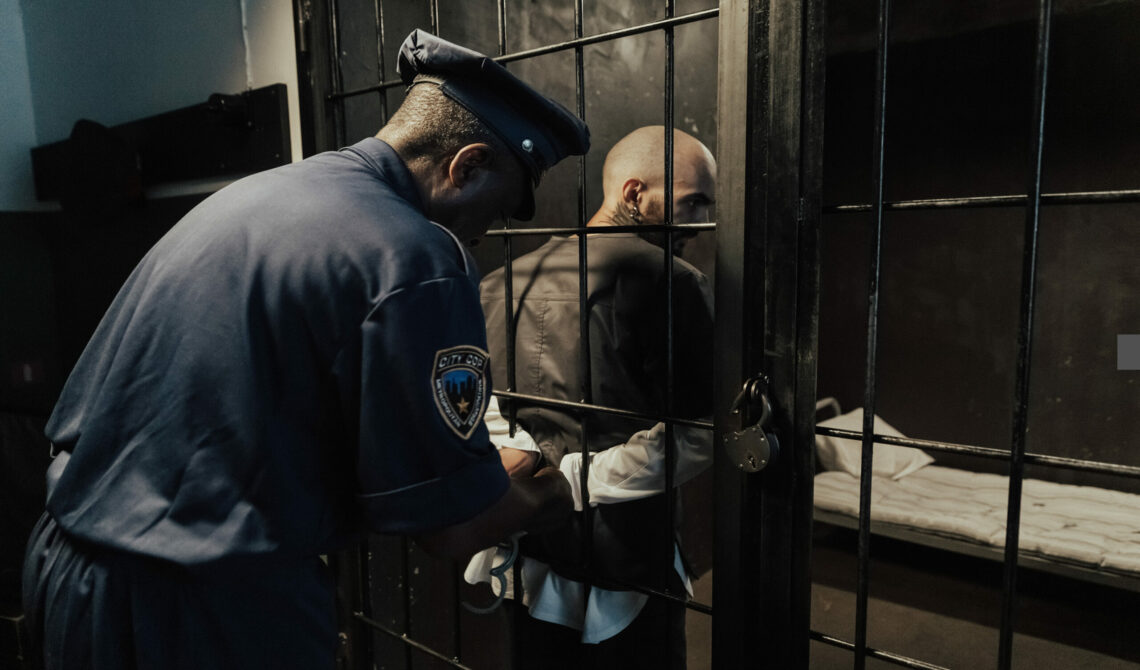 DOs or detention officers are the silent heroes of the U.S. justice system. They are not the typical roles one would vie for when considering joining the U.S. law enforcement service.
These officers face one of the world's harshest and most challenging working environments as they function inside correctional facilities.
These prison personnel watch out for inmates who break the rules, search for and remove contraband in prisoners' cells and resolve fights or gang activity.
DOs ensure the safe imprisonment of inmates by enforcing orders while performing administrative tasks such as booking-in procedures.
However, individuals who stayed on to become exceptional prison officers become game-changers in their field.
By coming alongside people at the lowest points of their life, detention officers can be a positive influence that inmates never had. These officials can help prisoners recognize that they can write a new chapter in their unfinished life.
Are you considering becoming a detention officer? You might be wondering what it takes to be eligible for the position.
LookUpInmate.org is a one-stop inmate lookup site where you can access inmate records and other pertinent information related to various detention facilities across the United States.
In this article, however, we will discuss the critical role of detention officers in managing jail or prison operations to make inmates stay accountable and safe while in custody.
You will also discover how detention officers compare with correctional officers, a closely allied position in the U.S. justice system.
What Does DO Stand for in Jail?
DO stands for detention officer. These officials typically work in county jails, the sheriff's office, juvenile offender centers, and smaller facilities unlike correctional officers.
There are over 53,700 detention officers across the U.S., with 61% of the figure made up of male officers. The average age of these officials is 40 years old.
Job Description of a Detention Officer
A detention officer's responsibilities usually include the following:
Processing Inmates and Ensuring Their Welfare
Detention officers handle the processing of new inmates by preparing their medical and property documents and processing fees related to their accounts. These officials also orient inmates about the facility's rules and compose court dockets and other forms.
Moreover, these officers monitor inmates' movements anywhere in their facilities, from their cells to the bathrooms, showers, cafeterias, and recreation areas.
DOs also ensure that inmates are not harming themselves or others.
Additionally, the care of the inmates' welfare is in the hands of detention officers, as they are responsible for distributing meals, snacks, and hygiene products. DOs also authorize and oversee visits or phone calls.
Changing linens, administering medication to inmates, and organizing mails are also part of DOs' job.
These officers also break up quarrels and report any misdemeanor to the facility's warden.
Escorting Inmates for Appointments Outside the Prison
Detention officers attend to the safe transport of prisoners from their detention centers to the courtrooms or medical facilities for health exams or treatment.
Maintaining Physical Facilities
Besides searching inmate cell blocks for illegal items, detention officers also manage the physical upkeep of the entire prison. Their responsibilities usually include the following:
Conducting perimeter checks outside the facility.
Inspecting the building for necessary repairs.
Escorting a staff member who needs to do any repairs or maintenance.
Work Environment
Most officers work in shifts and may render over 40 hours a week. They will likely be on duty at night, on holidays, and on weekends.
The situation inside jails can be volatile and stressful, depending on a correctional facility's security level.
These officials may have to end inmates disputes or apply first aid during a medical emergency. During these situations, detention officers must stay calm and resolve issues efficiently and promptly.
DOs also exercise their physical strength and skills in deploying law enforcement equipment when an incident calls for it.
Detention officers may also need to counsel prisoners experiencing mental health problems or emotional difficulties. Interacting with inmates this way can prevent the risks of self-harm and suicide.
People aspiring to work as DOs must have the following attributes:
Effective communication skills to instruct inmates, relay messages from supervisors or colleagues, and answer questions clearly
A physically fit body to endure standing for long periods and stay productive during extended work hours
Excellent leadership qualities to guide inmates and ensure that they adhere to rules
Effective problem-solving and decision-making skills for making choices in the best interest of the facility, inmates, and officers, such as determining which inmate to place in solitary confinement
Problem-solving skills also include ensuring the inmates' welfare, from providing bedding to arranging medical appointments.
Pay
The detention officers' income depends on their level of education and tenure.
The average entry-level salary of detention officers—those who spent less than a year on the job—is $31,633. In Los Angeles, the starting pay of these officials is $49,276.
Meanwhile, the average earning of early career officers or DOs who have served one to four years on the job is $35,617.
When these officials reach 10 to 19 years of service, they can receive as much as $54,859. On the other hand, those with over 20 years of service can get $71,025.
The incomes of detention officers are the highest in these five areas:
San Francisco, California ($71,987)
New York City ($64,619)
Boston, Massachusetts ($63,319)
Las Vegas, Nevada ($61,005)
Los Angeles, California ($60,832)
Detention officers also receive benefits, which include health insurance (which covers vision and dental services), paid leaves, life insurance, long-term disability, short or long-term disability, retirement pay, and ongoing training.
How to Become a Detention Officer
The minimum requirement for detention officers is a high school diploma or an acceptable equivalency diploma (GED). The hiring correctional facility will provide on-the-job training.
However, some correctional institutions require a bachelor's degree in criminal justice, social work, or a related course.
Additionally, some locations require applicants to have one to three years of full-time experience as military, corrections, or law enforcement officers.
To have the edge over other aspiring candidates, you must get a professional certification from the American Correctional Association. This certification can be very helpful if you are applying as a juvenile detention officer.
Admission procedures usually include a physical agility test and drug screening. A background check should show that applicants were not involved in any criminal activity in the past.
Meanwhile, the on-the-job training usually features self-defense and firearms proficiency instruction along with lessons on legal restrictions and how to deal with accused felons.
What Is the Difference Between a Detention Officer and a Correctional Officer?
Some prison systems use these terms interchangeably to refer to officials who supervise inmates.
However, in general, correctional officers (COs) serve in federal and state prisons. In contrast, detention officers work at more local-level facilities such as the county sheriff, county jail, or local juvenile detention center.
Local governments run jails as short-term facilities for inmates sentenced to incarceration for a year or less.
Meanwhile, the Department of Corrections or the BOP (Federal Bureau of Prisons) operates state or federal housing facilities that hold inmates sentenced to incarceration for more than a year. These prisons also house more inmates compared to jails. Some prisons are privately operated, just like jails.
Also, detention officers oversee arrested individuals awaiting trial. In contrast, the inmates under the correctional officers' custody generally include people who have already received prison sentences.
The term jailer is also often used interchangeably with correctional officers. However, "jailer" is usually used as a title in city or county jails, where people stay for a shorter time than in prisons.
Comparing Detention Officers and Correctional Officers
Besides working in a different setting, correctional officers differ from detention officers in their educational backgrounds.
Correctional officers require more than a high-school diploma, which is the fundamental academic prerequisite for aspiring detention officers.
According to the BOP's qualifications list for entry-level (GS-05) COs, applicants should have completed a four-year bachelor's degree course or at least three years of full-time experience from:
Social casework in a counseling or welfare agency
Responsible rehabilitation work
Classroom teaching
Supervising community action or recreational programs
Managing workflow in an organization or business
Persuasive sales work other than over-the-counter sales
Meanwhile, applicants to GS-06 posts must have rendered nine semester hours or 14 quarter hours of graduate study in these courses:
Criminology
Criminal justice
Social science
Law or another related field of study
Those who have served one year as a detention officer or in another capacity, such as the jobs below, may also apply for a correctional officer GS-06 post instead of graduate studies:
Correctional officer
Mental health residential facility worker
Sheriff
Deputy sheriff supervising inmates in a jail
Police officer
Border patrol agent
State trooper
Park ranger
Entry-level applicants should be 36 years old and below. There is an age exception for applicants with prior military service with federal civilian law enforcement and special civil service retirement coverage.
Correctional officers share the same median annual pay as bailiffs at $47,920. Moreover, correctional officers are entitled to federal government benefits such as commuter subsidy, life and health insurance, and a retirement savings plan.
Compared to COs, bailiffs enforce the law within courtrooms during legal proceedings. Bailiffs are also called marshals or court officers.
The states offering the highest pay for these officials are the following:
California ($81,170)
New Jersey ($73,490)
Massachusetts ($72,260)
New York ($71,160)
Oregon ($68,790)
These figures are based on the 2021 Bureau of Labor Statistics data.
Responsibilities of a Correctional Officer vs. a Detention Officer
Detention Officer
A detention officer's duties include overseeing people who temporarily stay in their facilities—such as "weekenders" or those jailed for nonviolent crimes—before facing pre-trial proceedings.
These officers can work toward becoming deputy sheriffs or county sheriffs in the future.
The career progression can be unique, depending on your area. At the Los Angeles Police Department, one can apply for senior detention officer after 18 months as DO.
After working as a senior officer for six months, one can apply to become a principal detention officer.
Correctional Officer
Correctional officers share many duties with detention officers, from maintaining peace and order among prisoners to escorting and transporting inmates to and from their facilities for court hearings and hospital or other healthcare-related visits.
Just like detention officers, correctional officers also inspect prisoners' cells, visitors, and mail for prohibited items.
But since correctional officers typically manage prisoners at larger institutions, they face a higher risk of injuries or illnesses amid the volume of inmates coming from various criminal backgrounds.
These officials are highly tolerant of stressful situations, including regular verbal and physical confrontations with inmates. They also have excellent interpersonal and conflict resolution skills to pacify issues between prisoners.
These officials use handcuffs and leg irons to restrain violent inmates and return them to their cells when necessary.
Moreover, correctional officers are hyper-aware of their surroundings. They document inmate conduct, reporting any behavioral changes among prisoners and spotting unsafe conditions at the facility.
This awareness helps with averting escape attempts and intervening in any crisis. Recognized as peace officers, correctional officers have arrest powers like police officers for recapturing inmates.
FAQs
1. What is the head of a jail called?
A warden is considered the chief executive of a U.S. jail. The term warden is also the same title used for the top position at prison facilities.
2. What does a warden do?
A jail warden's primary responsibilities include:
Ensuring compliance of staff and inmates to jail laws and facility's procedures for day-to-day operations.
Investigating alleged inappropriate behavior and enforcing any necessary disciplinary action.
Identifying staffing needs and distributing personnel accordingly.
Managing budgets and monitoring expenses.
3. What time do prisoners go to sleep?
Inmates sleep at different times, depending on the facility they are in and the institution's schedule for its prisoners. Every inmate follows a daily schedule featuring count times (roll call) and assigned tasks.
For example, in the North Carolina Department of Public Safety's 24-hour prison schedule, the inmates' sleep time is at 11 PM.
References