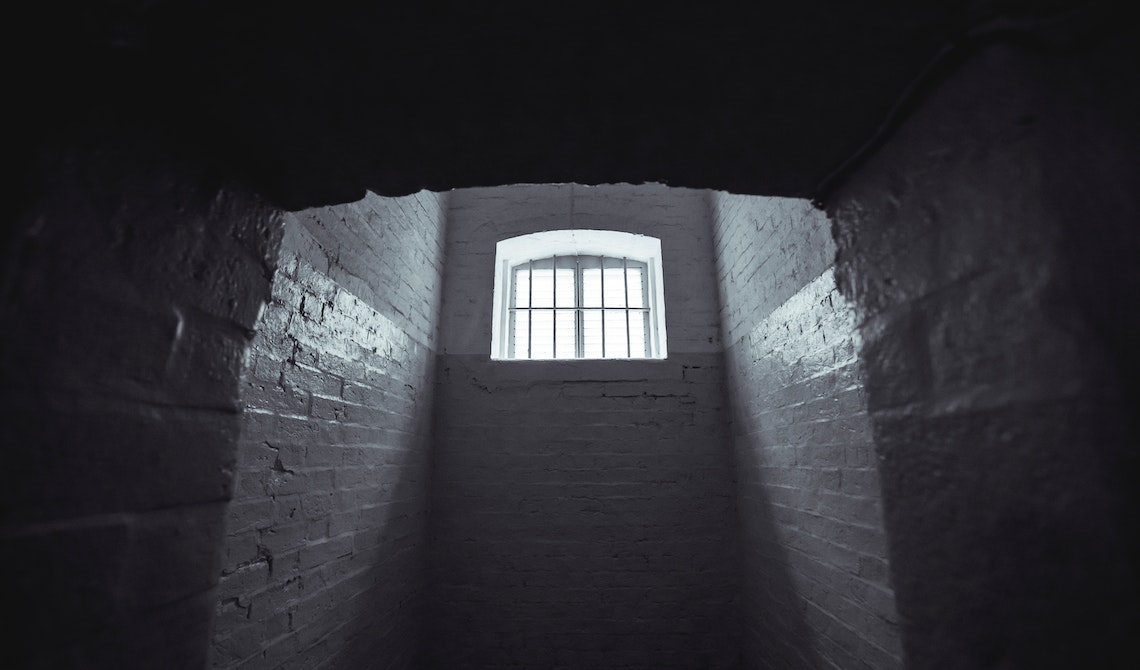 While the average person may know a thing or three about life behind bars, the lifestyle of prisoners is not really a topic known to the public. Civilians can't freely peer inside different incarceration facilities at any time. However, it's interesting to know what's behind the steel bars and how people inside jail cells actually live.
You may wonder what life is like inside a prison cell. What utilities will you typically see inside a jail cell? How big are these prison cells?
It's also equally interesting to know what prison cells look like in other countries and how facility managers treat their prisoners.
This article will take a peek inside a prison cell and give you an overview of what life is like inside a correctional facility. It will also paint a picture of the physical dimensions of a typical jail cell and the utilities it has inside. 
This write-up will also show you what prison facilities in different countries look like and how other countries treat prisoners.
If you want to check on how incarcerated family or friends are, visiting loved ones inside prison can be difficult, especially with all the regulations in place. Thus, having information about the policies for visiting inmates in different prisons in the United States and access to a database of correctional facilities can come in handy. 
You can visit LookUpInmate.org and get information like the facility's contact numbers, addresses, and even details about a specific inmate's records. Access information on more than 7,000 prison facilities in Los Angeles, Miami, Dallas, Chicago, Cleveland, and other cities in the United States, including county, state, and federal prisons.
Life in a Prison Cell
The United States prison system holds over two million people inside the different correctional facilities in the country. For comparison, people living inside prison cells in the U.S. outnumber the total population of Bahrain. 
You can imagine the sheer number of people sharing an experience of living in a confined living space with the most basic facilities (bed, sink, and toilet) available. It's a life of being subjected to rules, regulations, and daily routines imposed inside a facility.
How Big Is a 2-Man Jail Cell?
Many use jails and prisons interchangeably, but the two have different purposes. Jails are detaining areas for people awaiting trial, while prisons are facilities where inmates serve long sentences.
However, jail cells and prison cells have almost similar designs and purposes. In a typical county jail, the dimensions are 50 square feet of floor space with a height of 8 feet. 
Also, the Department of Corrections (DOC) requires that jails should be able to accommodate two inmates at a time. So, the standard size of a jail cell is a two-person room. 
Are There Cameras in Jail Cells?
Electronic surveillance has been an essential tool for security, and it's not uncommon to find these kinds of cameras inside jails and prisons.
Prisons in the United States are placed under close surveillance inside jail cells to monitor inmates continually. 
Is There a Toilet in a Jail Cell?
The DOC requires a prison-type toilet for inmate use as part of the requirements of a jail cell. All prisons and jail cells must have porcelain or stainless steel toilets, and inmates have the right to 24-hour access to these facilities.  
What Is in a Typical Jail Cell?
As mentioned above, a typical jail cell is big enough to house two inmates. The cell should have a toilet, metal bunk beds that can accommodate two inmates, a sink, and a window to view the outside. Some cells have prison cell bars or jail cell doors. 
In the case of solitary confinement, these cells can only house one inmate. Still, they have a toilet, sink, bed, and window. 
These Prison Cells Around the World Show How Differently Countries Treat Their Criminals
Governments of other countries treat their inmates differently, and prison conditions vary worldwide. The facility's condition dramatically affects inmates' experiences while serving their sentences in these correctional institutions. 
What Prison Cells Around the World Look Like 
Prison cells differ from country to country, and each facility has a unique way of treating prisoners. Some prisons have cells specifically designed to house the most dangerous criminals. 
In other countries, prison cells look like small apartments designed for rehabilitation and reintegration. Here are some of the famous prisons from different countries worldwide. 
Aranjuez Prison, Aranjuez, Spain
This Spanish facility is labeled a "five-star" prison with 36 jail cells for family use, a daycare, and walls decorated with Disney characters. Here, inmates can live regular lives with their families and children. However, children can only be with their incarcerated parents until they are three.
Luzira Prison, Kampala, Uganda
Luzira Prison is Uganda's sole maximum security prison. The facility is intended to house 3,000 inmates, but as of 2017, the population has grown to 8,500 and counting. Inmates work in this facility and help grow, harvest, and distribute crops to feed the prison population.
Bastoy Prison, Horten, Norway
Bastoy Prison functions more like a small community than a prison. This facility is the largest low-security prison in Norway. Inmates serving sentences in this prison are just over 100 male inmates as of 2020. The prison provides wooden cabins, furnishings, and television for inmates.
Halden Prison, Halden, Norway
A welcome feeling of comfort greets visitors to Halden Prison in Halden, Norway. You'll see a prison with game rooms, workshop areas, and apartment-style units where groups of eight inmates live together. 
The facility is surprisingly quiet, and the prison guards share waffles and coffee with everyone to enjoy. Halden is the complete opposite of a dark prison cell. 
Onomichi Prison, Onomichi, Japan
Japan's response to the "geriatric crime wave" is to improve care for the growing number of senior adult inmates in facilities like Onomichi Prison. However, a corrections officer may need to function as a nurse because of the increasing population of senior adult inmates.  
Norgerhaven Prison, Veenhuizen, Netherlands
The Netherlands raised the level of prison comfort by providing inmates access to beds, furniture, refrigerators, and televisions inside their cells. Crime rates in the country are so low their facilities are rarely crowded. 
HMP Addiewell, Lothian, Scotland
Addiewell is called the "learning" prison because inmates join purposeful activities focusing on learning and skills, programmed interventions, and jobs. The prison also adopted the "peer model" system, where individuals showing role model characteristics are placed in positions where they can help and influence others. 
Black Dolphin Prison, Sol-Iletsk, Russia
Black Dolphin Prison is a maximum security facility that houses some of the most notorious serial killers, terrorists, and cannibals in Russia. The facility has over 700 inmates who are kept under 24-hour video surveillance. The name "Black Dolphin" comes from the dolphin statue seen in front of the facility. 
Champ-Dollon Prison, Geneva, Switzerland
The function of Champ-Dollon Prison is to provide a holding cell for prisoners before a trial and sentencing. The facility's inmate population is made up mostly of prisoners awaiting trial. The prison provides inmates with spacious, clean rooms with cell interiors that bring comfort to the inmates. 
Las Colinas Detention and Reentry Facility, Santee, California
This detention and reentry facility focuses on innovative methods to prepare inmates to reenter society and reduce recidivism rates. Las Colinas features innovative structural designs not typically seen in conventional prison architecture.  
Landsberg Prison, Landsberg Am Lech, Germany
Landsberg Prison is a Bavarian imprisonment facility steep in history. In this old prison, Adolf Hitler wrote his book "Mein Kampf," which served as the foundation of Nazism. Also, behind its iron bars, 252 Nazis were executed for war crimes.   
Abashiri Prison, Abashiri, Japan
Abashiri Prison was founded in the 1890s to house dangerous criminals.
The original buildings were turned into a museum, giving the public a view into prison life during the Japanese Meiji Era. A new facility was constructed and is still operational. 
Cebu Provincial Detention and Rehabilitation Center (CPDRC), Cebu Province, Philippines
This Philippine prison situated in Cebu province is a maximum security facility that houses the famous "dancing inmates" that caused a sensation in social media. The inmate's dancing popularity is due to the choreographed exercise routines which are part of the prison's fitness program.
Penal De Ciudad Barrios, Ciudad Barrios, San Miguel, El Salvador
The Penal de Ciudad Barrios is a maximum security prison in El Salvador that houses mainly gang members. The prison population had blown to 2,500, with more than 30 people living in a single cell. It's not uncommon to see in these jail cells hammocks stacked upon each other for the sleeping quarters of each inmate. 
Oslo's Skien Prison, Oslo, Norway
Skien Prison allows inmates to have private bathrooms, television, and video games inside their cells. One of the facility's notorious inmates is the serial killer Anders Breivik, who's been serving 21 years for his killing spree that claimed 77 lives and injured dozens more.
Otago Corrections Facility, Milburn, New Zealand
Otago Corrections Facility can house 454 inmates in relative comfort. The prison allows amenities inside cells, like television sets and personal belongings. Furthermore, prisoners have access to health facilities and a library. 
The Maula Prison, Lilongwe, Malawi
Maula Prison is a severely overcrowded correctional facility in Malawi. Stock photos available on the web taken by journalists that ventured into this South African prison show hundreds of people crammed into cells designed for 60 individuals.
ADX Florence, Colorado, United States
If Alcatraz Island Prison is in San Francisco, California, the "Alcatraz of the Rockies" is in Freemont, Colorado. ADX Florence holds dangerous inmates that are extreme security threats.
ADX Florence is a control unit prison with more controlled custody than regular high-security prisons. It is the model for other Supermax facilities in the country. 
Haiti's Civil Prison, Arcahaie, Haiti
Haiti's pretrial detention policy contributed to overcrowding in the country's civil prison in Arcahaie. The prison's cramped jail cells and little to no access to a healthcare facility contribute to its unhealthy living conditions. Haiti's civil prison population is 11,253 (as of 2021), and 81.9% of inmates are pretrial detainees. 
UN Detention Unit, Outside The Hague, Netherlands
The United Nations Detention Unit, or UNDU, is an autonomous facility inside a Dutch prison complex in the Scheveningen district outside The Hague. The UNDU is mandated to hold in custody individuals detained under the authority of the ICC (International Criminal Court).
Petak Island Prison, Vologda, Russia
Petak Island prison holds around 193 inmates serving life sentences in this isolated Russian facility. Inmates live in deprived conditions, spending 22.5 hours a day inside small two-person cells with little to no amenities like toilets, sinks, and wash areas. 
San Quentin State Prison, San Quentin, California
The San Quentin State Prison is California's oldest correctional institution. It was founded in 1852 to address the rampant crime issues that plagued the area. Today, the facility holds more than 3,000 inmates, housed in four large cell blocks, a maximum security facility, a minimum security dormitory, a firehouse, and a healthcare building. 
Evin Prison, Tehran, Iran
Evin Prison is a facility once used for political enemies of Shah Pahlavi's administration. Thousands of political opponents were thrown into Evin Prison and endured inhumane conditions, torture, and executions. 
HM Prison Dartmoor, Princetown, England
HMP (His Majesty's Prison) Dartmoor is an old institution built in the 1800s to house prisoners of the Napoleonic wars. Its most famous escapee was Frank Mitchell, or the "Mad Axeman."
Today, Dartmoor holds low-category prisoners and encourages them to join programs to help them once they're released. Showers and telephones used to contact families are free. 
Quezon City Jail, Quezon City, Philippines
Quezon City Jail deals with severe overcrowding inside its jailhouses, which is why it is labeled as the "Philippines' Most Crowded Jail". More than 4,000 inmates populate the facility intended to house only 800 people. Most of the prisoners are incarcerated due to drug offenses. 
El Buen Pastor Women's Prison, Bogota, Colombia
El Buen Pastor holds around 55,000 women inmates in harsh and cramped conditions. However, despite their quality of life, they regularly have extravagant beauty pageants, which is entertainment for thousands of women serving their sentences. 
Pelican Bay State Prison, Crescent City, California
Pelican Bay State Prison is a maximum security facility in California with 1,500 inmates. These incarcerated individuals spend 22.5 hours inside windowless solitary confinement cells. Inmates in Pelican Bay don't receive visitors and have no physical interaction with other people except during feeding time. 
San Pedro Prison, La Paz, Bolivia
The San Pedro Prison in La Paz, Bolivia, is a "village prison." When you enter its gate, you'll be greeted by a self-managing prison society that looks like a small "barrio" (district). San Pedro has stalls, restaurants, and colorful walls. Inmates live with their families inside this prison facility. 
Rikers Island Prison, New York, United States
New York City's main prison facility is Rikers Island. The island is between Queens and the Bronx, accessible only through the unmarked Francis Buono bridge. Rikers Island is often regarded as the world's largest penal colony.
Neve Tirza, Ramla, Israel
Neve Tirza is the only women's prison facility in Israel. It holds around 200 female inmates living in less desirable conditions. Up to six women are housed in one cell. The ages of inmates inside Neve Tirza range from 14 to 70. 
Bordeaux Prison, Montreal, Canada
Bordeaux Prison now takes on a new name fit for its desire to become a modern prison. It's now called Montreal Detention Center, which juts out of the landscape like an imposing French castle, complete with new prison surveillance technology, to house inmates. 
Altiplano Prison, Almoloya De Juarez, Mexico
El Altiplano Prison, also known as Almoloya, is Mexico's maximum security prison. The prison housed famous drug lords like Rafael Quintero. The prison currently has 724 inmates but is plagued with high-profile criminals escaping its walls. 
Kashimpur Central Jail, Gazipur, Bangladesh
Kashimpur Central Jail is one of the 68 jails in Bangladesh that is overcrowded. The Bangladesh government has proposed to create makeshift facilities to provide cells for more than 80,000 inmates crammed in the congested jails of this country. 
The Federal Correctional Institution, El Reno, Oklahoma
This Federal Correctional Institution is located in Oklahoma's Canadian County. It's a medium-security facility with satellite camps. The prison is designated for male offenders and now holds around 1,226 inmates in a facility that houses only 936.  
Desembargador Raimundo Vidal Pessoa Penitentiary, Manaus, Brazil
Riots, murders, and uprisings plagued the Desembargador Penitentiary in Brazil, which is now closed. Many incarcerated individuals linked to drug gangs were held inside the walls of this former correctional facility in Manaus, Brazil. 
References
1. Mass Incarceration: The Whole Pie 2022
https://www.prisonpolicy.org/reports/pie2022.html
2. Smallest Countries 2023
https://worldpopulationreview.com/country-rankings/smallest-countries
3. CORRECTIONS, CRIMINAL JUSTICE, AND LAW ENFORCEMENT
https://ilga.gov/commission/jcar/admincode/020/020007010000800R.html
4. For World Toilet Day, "Sanitation is a Human Right" on 19 November
https://www.ohchr.org/en/statements/2017/11/world-toilet-day-sanitation-human-right-19-november
5. Aranjuez: Spain's `five-star' prison for families
https://www.taipeitimes.com/News/editorials/archives/2007/02/11/2003348580
6. Uganda Prisons transfers inmates over congestion
https://www.monitor.co.ug/News/National/Uganda-Prisons–transfers–inmates-congestion/688334-3979238-povekiz/index.html
7. Bastøy: Norway's Island Prison Where Inmates Work, Ski And Watch TV
https://www.forbes.com/sites/davidnikel/2020/07/01/basty-norways-island-prison-where-inmates-work-ski-and-watch-tv/?sh=3c9cb561babe
8. No country for old men: Japan's elderly inmates prefer jail
https://www.sbs.com.au/news/article/no-country-for-old-men-japans-elderly-inmates-prefer-jail/jl68bo70i
9. Addiewell
https://www.sps.gov.uk/Corporate/Prisons/Addiewell/HMP-Addiewell.aspx
10. Unique And Luxurious Prisons – Champ-Dollon Prison
https://www.indiatimes.com/culture/travel/unique-and-luxurious-prisons-champ-dollon-prison-298127.html
11. Las Colinas Detention and Reentry Facility (LCDRF)
https://glumac.com/project/las-colinas-detention-and-reentry-facility/
12. Las Colinas Detention and Re-entry Facility
https://www.balfourbeattyus.com/our-work/project-portfolio/las-colinas-detention-and-re-entry-facility
13. Landsberg Prison
https://www.frankfallaarchive.org/prisons/landsberg-prison/
14. Abashiri Prison Museum
https://www.japan-guide.com/e/e6867.html
15. Cebu governor brings back 'dancing inmates' show
https://newsinfo.inquirer.net/1626810/cebu-governor-brings-back-dancing-inmates-show
16. CIUDAD BARRIOS: THE MAXIMUM SECURITY PRISON OF THE MARA SALVATRUCHA
https://www.oldskull.net/fotografia/ciudad-barrios-la-carcel-de-maxima-seguridad-de-la-mara-salvatrucha
17. Norwegian mass killer Breivik has not reformed, must stay in jail, prosecution says
https://www.reuters.com/world/europe/norwegian-mass-killer-breivik-has-not-reformed-must-stay-jail-prosecution-says-2022-01-20/
18. The World's Most Secure Buildings: ADX Florence Prison
https://www.identiv.com/resources/blog/the-worlds-most-secure-buildings-adx-florence-prison
19. Prisoners in Haiti Still Face Horrendous Conditions
https://www.identiv.com/resources/blog/the-worlds-most-secure-buildings-adx-florence-prison
20. World Prison Brief data
https://www.prisonstudies.org/country/haiti
21. United Nations Detention Unit (UNDU)
https://www.irmct.org/en/about/functions/detention-irmct/united-nations-detention-unit-undu
22. International Criminal Court
https://www.icc-cpi.int/sites/default/files/iccdocs/PIDS/publications/DetentionCentreEng.pdf
23. World's most barbaric and brutal prisons
https://www.educationworld.in/worlds-most-barbaric-and-brutal-prisons/
24. SAN QUENTIN STATE PRISON INMATE SEARCH AND PRISON INFORMATION
https://waukeganweb.net/california/state/san-quentin-state-prison/
25. V. Detention Centers and Ill-Treatment
https://www.hrw.org/reports/2004/iran0604/5.htm
26. Dartmoor Prison Musuem
https://www.dartmoor-prison.co.uk/
27. Life inside the Philippines' most overcrowded jail
https://edition.cnn.com/2016/08/21/asia/philippines-overcrowded-jail-quezon-city/index.html
28. Cassie Sainsbury: Inside Colombia's El Buen Pastor women's prison
https://www.abc.net.au/news/2017-05-04/cassie-sainsbury-inside-el-buen-pastor-womens-prison/8493100
29. INSIDE PELICAN BAY STATE PRISON
https://solitarywatch.org/resources/multimedia/photography/inside-pelican-bay-state-prison/
30. Photo Extra: Inside a Bolivian Prison Village
https://orionmagazine.org/photo-extra-inside-a-bolivian-prison-village/
31. What is Rikers Island Prison?
https://www.unitedstatesnow.org/what-is-rikers-island-prison.htm
32. Behind the bars in Israel's only female prison
https://www.jewishnews.co.uk/behind-bars-in-the-real-orange-is-the-new-black/
33. Montreal Detention Centre
https://www.exp.com/experience/detention-centre-bordeaux-prison-of-montreal-2/
34. Where is the Altiplano prison, the maximum security prison?
https://www.milenio.com/policia/penal-del-altiplano-ubicacion-de-cefereso-1-en-almoloya
35. Makeshift sheds proposed as jails overcrowded
https://www.newagebd.net/article/48895/makeshift-sheds-proposed-as-jails-overcrowded
36. El Reno Federal Correctional Institution
https://www.prisonpro.com/content/el-reno-federal-correctional-institution
37. Building of former Vidal Pessoa prison should be transformed into space for social services, says city hall
https://g1.globo.com/am/amazonas/noticia/2022/02/01/predio-da-antiga-cadeia-vidal-pessoa-deve-ser-transformado-em-espaco-para-servicos-sociais-diz-prefeitura.ghtml