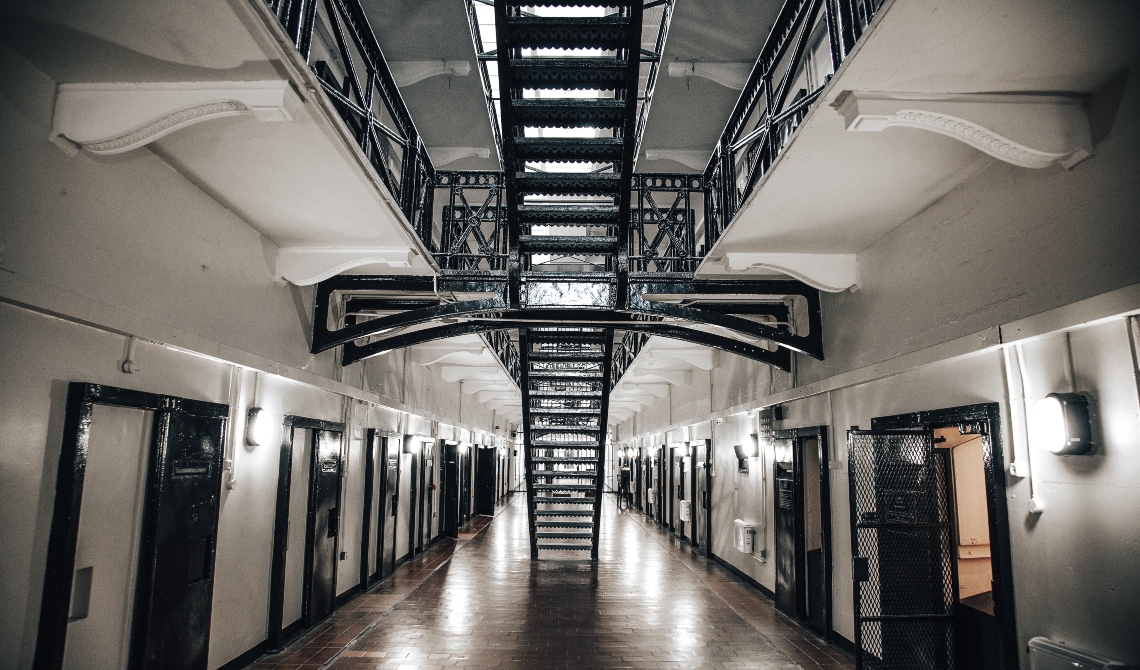 In their 2021 Data Matters report, the United Nations Office on Drugs and Crime reported approximately 11.7 million incarcerated individuals worldwide at the end of 2019.
That population is roughly the same as that of countries like Belgium, Burundi, Bolivia, or Tunisia.
The United Nations (UN) believes the increased prison population has negatively affected inmates, their families, and society.
Some of the negative consequences of the gradual increase in imprisonment around the globe include the following:
Exceptionally high cost of incarceration

Inhumane prison conditions

Prisons have become dangerous places when they should have been rehabilitation facilities
Several countries have addressed the global prison crisis by launching penal reform projects, including revamping correctional systems. 
Today, "luxury prisons" in many places concentrate on rehabilitation rather than punishment of incarcerated persons. The primary purpose of a prison affects how inmates behave and react to their situations. 
If you want to learn more about U.S. prisons, including federal and state prisons, LookUpInmate.org has the information you need.
Prison Cells
That Are More Luxurious Than Your College Hostel Room
Luxury prisons feature recreational amenities and services to help inmates reintegrate into society. 
These facilities differ from typical jails and prisons because they focus on restorative justice instead of punishing inmates with long-term prison sentences and inhumane conditions.
Specific situations vary depending on the luxury prison. However, these facilities share the same objectives for inmates: successful reentry to the community and a reduced risk of recidivism (tendency to reoffend).
Luxury prisons achieve their goals by creating and operating humane prison systems. For instance, some prisons may provide amenities such as:
A personal

prison cell

for each inmate

Private bathrooms

Libraries with outstanding book selections and features

Beauty treatment salons or centers

Entertainment spaces with TVs and videogames

Kitchenettes

Sports facilities, including fully equipped gyms, basketball courts, and outdoor amusement parks

Conference rooms
Who Has the Best
Prison System
in the World?
Each country has regions or jurisdictions that differ in their approach to crime-related issues, such as increasing crime rates and incarceration rates. This variation makes it difficult to pinpoint which country has the best prison worldwide.
However, research indicates that Scandinavian countries that uphold stability within their prison systems have significantly lower recidivism. 
This observation may be why most individuals consider prison living conditions in Sweden, Norway, and Iceland the best in the world.
Dark hallways, iron bars, bland food, and a general atmosphere of dread dominate many people's minds when considering prisons. These observations may apply to the worst prisons in the world. 
However, in recent years, due to criminal justice system reforms, some countries have begun developing prison systems that uphold inmates' human rights.
The following sections describe and enumerate the most humane prisons in each country.
Bastoy Prison, Norway
Bastøy Prison is a minimum security facility on Bastøy Island, Norway, about 75 kilometers south of Oslo. The correctional facility is nearly an hour's commute from Oslo.
Originally a penal colony for boys, the facility attempts to become "the world's first ecological prison." 
Reports suggest that recidivism in Bastøy Prison is at 16%, a low rate compared to the national average of about 70%.
 Inmates in the facility reside in wooden cottages and work on the prison farm.
Halden Prison, Norway
Norway's Halden Prison, or Halden Fengsel, is a maximum security institution with minimal security measures. 
Additionally, Halden Prison is Norway's second-largest prison, built to rehabilitate inmates. 
Halden Prison's interior design resembles life outside of the prison, and inmates play sports, listen to music, and socialize with the unarmed staff to foster an inclusive atmosphere. 
Halden Prison has received praise for its commendable surroundings and won the 2010 Arnstein Arneberg Award for interior design.
HMP Addiewell, Scotland
Another prison, HMP (His Majesty's Prison) Addiewell in Scotland, functions as a "learning prison" and provides 40 hours of purposeful activities for each inmate weekly. 
Otago Corrections Facility, New Zealand
The 335-bed Otago Regional Corrections Facility (ORCF) is the third of four new prisons constructed under the Department of Corrections Regional Prisons Development Project.
There are separate units within a large open area with a highly secure perimeter. Amenities and lodgings include kitchens, workshop spaces, and program rooms.
Justice Centre Leoben, Austria
The Justice Centre Leoben is a prison complex and a courthouse in Leoben in Styria, Austria.
The facility offers kitchenettes and private bathrooms, which makes detention in the justice center look like a vacation.
Aranjuez Prison, Spain
The incarceration of a parent (a wife or a husband) can negatively impact the children left behind. Additionally, children may become orphaned or homeless if their parents go to prison.
However, the Aranjuez Prison in Spain provides programs where parents can live in prison dormitories. This arrangement is best for parents because it allows them to be present for their children.
Champ-Dollon Prison, Switzerland
The maximum security of Champ-Dollon offers spacious, clean rooms with basic amenities for convicted individuals, making it a comfortable environment for eligible inmates. 
Jva Fuhlsbüttel Prison, Germany
Fuhlsbüttel is a city portion in the Hamburg-Nord district of Hamburg, Germany. The community is home to Hamburg's international airport and a prison institution used as a concentration camp during the Nazi regime's rule.
Due to boundary changes, JVA Fuhlsbüttel prison is now in Ohlsdorf, Hamburg. 
The JVA maintains a 63-bed prison hospital providing medical care to inmates. The facility also offers services comparable to those offered by a public hospital.
Sollentuna Prison, Sweden
The Sollentuna prison in Sweden is among the most luxurious prisons in Europe. One report indicates that inmates in Sollentuna prison have kitchens that allow them to cook meals. 
Incarcerated individuals also have couches for watching TV and a well-equipped gym to exercise.
San Pedro Prison, Bolivia
El Penal de San Pedro (Saint Peter's Prison), or San Pedro Prison, is the biggest correctional facility in La Paz, Bolivia. The institution is a semi-autonomous society. 
In contrast to most prisons, San Pedro's inmates work in the community, own or rent their own homes, and usually live with their families.
Ullersmo Prison
Ullersmo Prison is Norway's biggest prison and home to those inmates with maximum sentences. While Ullersmo is the residence of many of Norway's more violent criminals, it is still committed to rehabilitating human beings. 
The prison offers a school and workshops for inmates to learn skills like auto repair and carpentry.
An Overview of
Norway's Prison System
Norway has 57 prisons and a total of 3,600 cells (70% high-security cells). 
The biggest prison has 400 cells, while the smallest only has 15. The typical Norwegian prison has 70 cells.
One of the most notable differences between the incarceration systems of Norway and the U.S. is that Norway lacks large, central jails. 
Instead, the Norwegian prison system operates a small, community-based correctional facility dedicated to inmates' rehabilitation and reintegration into society.
There's a practical reason for many prisons in a sparsely populated country. 
The Norwegian authorities believe incarcerated people should be geographically close to home to maintain relationships with friends, spouses, and family.
Many Norwegian prisons allow offenders to entertain visitors thrice weekly. They even support conjugal visits with spouses. Relationships are strongly emphasized, so incarcerated people have a solid social network after release.
How Norway Turns Criminals Into Good Neighbours
Norway has long been listed as number one on several lists highlighting the world's best and most welcoming prisons. 
Since the 1990s, Norway's prison system has become a place representing healing, comfort, and inclusivity. 
Changing its attitude and approach towards incarcerated individuals, Norway is developing high-functioning members of society. 
In return, formerly incarcerated persons gain skills to contribute to Norway's economy. 
Norway's Humane Approach to Prisons Can Work Here Too
Norway operates prisons that have earned the reputation of being some of the world's most humane correctional facilities. Unknown to many, the country came to this insight the hard way. 
Until recently, Norwegian correctional officers run facilities like their American counterparts. Norway institutions quickly disciplined inmates for minor offenses and isolated them in cells.
However, a significant change happened in the 1990s. Norway restructured its prison system to focus on rehabilitation and reintegration into society, which helped slash recidivism to approximately 20%. 
In the U.S., a similar initiative began in 2015: Amend. Since its inception, Amend has arranged for U.S. legislators and prison governors to visit Norway to see how its prisons work. 
Amend has inspired American prisons to open discussions regarding inhumane practices like the abuse of force and solitary confinement.
Much more can be done to counter incarceration's harm to American communities. Amend is just one part of the solution.
The Elimination of Life Sentences
Norway prohibits life sentences. Meanwhile, one inmate at the Halden facility is serving 15 years for murder. 
In one interview, Fredrik (the man convicted of murder) discussed his prison time and progress since starting his sentence. 
He has published prison cookbooks, earned a diploma in graphic design, and excelled in multiple exams. In addition, he is studying physics and hopes to pursue higher education after completing his sentence.
The Benefits of Norway's Prison System
Here are three potential advantages of Norway's prison system:
Reducing the inmate population returning to prison means more people can contribute to

Norway

's economy once their sentence ends

Among the

prison population

that did not have a job before their arrest, there was a 34% rise in the number of people partaking in job training courses and a 40% increase in employment levels. 

Norway's prison system

provides inmates with education-based knowledge and skill sets that have long-term economic advantages and

can

enhance their quality of life.
Impact on Norway's Recidivism Rate
Before Norway's prison revisions in the 1990s, the prison population had a recidivism rate of 60% to 70%. 
Today, Norway's recidivism rate for re-convictions within two years is 20%, the lowest rate in the world.
The rehabilitation program in Norway's prison system is mainly responsible for the low recidivism rate. Another crucial factor is that Norway seeks to preserve the humanness of prisoners during their time in incarceration.
Why Norway Is Uniquely Positioned to Design and Implement Its System
Due to various factors, Norway's prison system is known as one of the best in the world. 
Firstly, rather than simply punishing incarcerated individuals, Norway focuses on rehabilitation and elimination of the root causes of criminal activity. 
Secondly, the system focuses on mental health by offering comprehensive counseling and therapy services to reintegrate inmates into society. 
The low reoffending rates in Norway are due to the humane conditions of their facilities, including private rooms, access to fridges, and an environment that encourages responsibility and autonomy.
Why Norway Is Uniquely Positioned to Implement Its System
Could Norway's strategy for criminal rates work elsewhere? That's a tricky question. 
Other nations and states in the U.S. have attempted to emulate Norway's strategy. In fact, North Dakota and Oregon both adopted new prison policies after visiting Norway.
However, determining whether Norwegian-style prison policies could work in the United States or other Western countries is challenging.
One of the main reasons Norway's prison system is successful is that it has widespread public support. 
Norway's citizens firmly believe that the goal of prison should be to facilitate the successful reintegration of inmates after their release, not to implement punishment to increase their suffering.
What Country Has the Harshest
Prison System
?
Each country or jurisdiction implements varying levels of prison restrictions. Consequently, it is near impossible to determine which location has the strictest regulations. However, maximum security prisons are typically the most restrictive worldwide.
Which States Have the Nicest Prisons?
There is no specific country that has the best prison. However, many experts suggest that the Nordic countries, including Finland and Norway, have some of the best prisons worldwide.
References
1. Data Matters
https://www.unodc.org/documents/data-and-analysis/statistics/DataMatters1_prison.pdf
2. Addressing the global prison crisis
https://www.unodc.org/documents/justice-and-prison-reform/UNODC_Strategy_on_Addressing_the_Global_Prison_Crisis.pdf
3. Norway's Prison System: Inv s Prison System: Investigating Recidivism and Investigating Recidivism and Reintegration
https://digitalcommons.coastal.edu/cgi/viewcontent.cgi?article=1032&context=bridges
4. Norway's Prison System: Investigating Recidivism and Reintegration
https://digitalcommons.coastal.edu/cgi/viewcontent.cgi?article=1032&context=bridges
5. Bastøy Prison: Creating Good Neighbors
https://pulitzercenter.org/stories/bastoy-prison-creating-good-neighbors
6. Halden Prison
https://www.atouchoflight.org/halden-prison
7. Addiewell
https://www.sps.gov.uk/Corporate/Prisons/Addiewell/HMP-Addiewell.aspx
8. Otago Corrections Facility
https://hawkins.co.nz/projects/otago-corrections-facility/
9. 'Prison, not punishment': These are some of the nicest jails around the world
https://www.wionews.com/photos/prison-not-punishment-these-are-some-of-the-nicest-jails-around-the-world-421573
10. What We Can Learn From Norway's Prison System: Rehabilitation & Recidivism
https://www.firststepalliance.org/post/norway-prison-system-lessons
11. Norway's Humane Approach to Prisons Can Work Here Too
https://magazine.ucsf.edu/norways-humane-approach-prisons-can-work-here-too